Simple Machines Forum (SMF) is one the best bulletin board software solutions around today, a lot of users believes that simply installing the software and creating topics and post is enough to rank a forum high in Goggle and other major search engines.
This insinuation isn't totally wrong considering that the software itself is optimized for search engines and works seamlessly with various modifications (mods) to give both search engines and users a friendly experience.
Here are the top 10 tweaks and modifications to create a forum that is 100% search engine optimized (SEO).
The SMF SEO Tweaks
1. The Faster, The Better!
To make an SMF forum rank high in search engines, the load time, response rate, and overall speed of the website must be taken into consideration.
First, you need to make sure that your forum is hosted with any of the top web hosting companies around and uses the Cloudflare web performance and security services.
Then, optimized the forum for speed using the tips and tweaks found here and here.
2. Low Spam Means High Trust
If your forum is a niche one or just focuses on a particular topic group, manually approving only highly useful and SEO-optimized content will be the best for it as this will make your forum an authority in its niche.

Allowing link spam and low-quality content (Spam) won't help your forum in any way. I'll recommend reading our earlier article on how to stop link spam and bots registration on SMF forum for tips on how to make your forum free from bots and link spammers.
For high traffic forums, the mods below will help you to run a search engine optimized forum that's free from spam, bots, and link farmers.
The SMF SEO Mods
3. Link Control
Links and linking format is an important part of Search Engine optimization. In SMF SEO, the method of linking will make your forum stand out from others.
I won't recommend making all links "dofollow" for non-moderated forums as that will be like encouraging link farmers, spammers, and malicious users.
There is a mod that gives you control over how links are displayed in your SMF forum, it allows you to set-
post count under which users can't post external links
post count under which user's external links are nonactive
post count under which user's external links are nofollow
This way you can control, what links are rel="nofollow", rel="follow", external, nonactive or text links.
4. Optimus Brave
Optimus Brave Mod for SMF takes care of every options needed to give your forum a good shape in the eyes of google and other tops search engines around.
With the Optimus brave modification, you can create an SEO-friendly –
Sitemap
Meta tags
Robots text (robots.txt for search engines)
Add Verification Meta tags
Add traffic counter and sundry
The Optimus brave mod is a big player when it comes to simple machines forum search engine optimization (SMF SEO).
5. Related Topics
Interlinking of posts and pages is an important factor in search engine optimization of forums, bounce rate also is another factor to consider when improving the visibility of your forum in search engines.
Related topics mod for SMF can reduce bounce rate significantly as well as improve the internal linking of your forum pages.
6. Pretty Url
Popular CMS solutions out there have an option for this, using SMF doesn't mean you should annoy your users by forcing them to bookmark a topic they would like to visit again.
Pretty Url Mod for SMF makes your URL easy for both humans and search engines to relate fine with. It will not double your organic traffic but will produce a friendly URL structure for your visitors.
7. Social Media Sharing
Social Media presence for your content is another factor most search engines (including Google) use to rank your website.

Adding a social media sharing button/icon for your forum will improve your forum SEO and increase organic traffic.
There is this mod and this too that can help you integrate a social sharing button to a forum.
8. Google Tagged
Google Tagged works like an SEO tagging system that automatically creates linked topic tags based on what brings a visitor to that particular topic.
These tags are displayed at the bottom of the topic thread, it can really strengthen the page authority for the search terms.
9. NoFollow All Links / SEO and XML Sitemap
NoFollow All Links mod works best for entertainment and gossips forums that have no need to distribute link-juice. It adds rel="nofollow" tag to both types of URL ([iurl][/iurl], [url][/url]) tags.
You can use it for a forum that isn't moderated to prevent malicious users from getting you into Google's black book.
It is advisable to opt for the link control mod in number 3 above to have a balance between nofollow and dofollow links.
SEO and XML Sitemap mod, on the other hand, is a nice XML sitemap mod that can be used for forums that aren't using the XML sitemap functions of the Optimus brave mod.
10. SMF SEO Pro Mod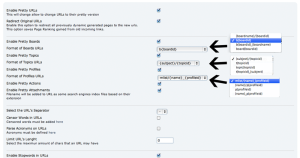 SMFPacks SEO Pro modification a premium mod that lets you optimize a forum for search engines. It is like a combination of pretty URL, SEO Sitemap, and link control mod.
It does optimize a simple machine forum for search engines using sitemap, robots.txt, and sundry. You can read more about SMF SEO pro mod from http://www.smfpacks.com/seomod