Ever wondered what's actually SaaS? Yes, it is short for "Software as a Service," but what type of software solution is called a SaaS? Just like our post on the best SaaS hosting options for startups, this article explains SaaS, as well as lists the best SaaS solutions for modern businesses.
In times like this, your business needs to adopt various innovative tech solutions for automation – to simplify demanding, routine business tasks. This will help to improve efficiency and productivity among your employees. With SaaS solutions, you can simplify and automate several day-to-day business operations.
What is Software as a Service (SaaS)?
Put simply, Software as a Service (SaaS) is a business solution delivery model that eliminates the need for hardware and software installation. What does this mean? It means that SaaS makes your business software solution accessible via the internet – on any device. Hence, there's no need to install the software on computer systems or any hardware system at all.
So to say, SaaS solutions run through the cloud; thus, anyone can easily access the application on any device (mobile phones or smartwatches) or system (PC or MacBook). Companies that provide SaaS applications may contact a 3rd-party cloud storage SP to host their SaaS solutions. In contrast, big companies like Microsoft deliver SaaS solutions through their (own) cloud service; so, there's no 3rd-party involved.
A lot of companies, organizations, agencies, and businesses are embracing SaaS because it eliminates the cost of purchasing and maintaining physical hardware systems while still delivering the needed solution to all the companies' employees and/or clients, customers.
What Are The Best SaaS Of 2021?
Come along with me as I walk you through the best SaaS of 2021 and beyond. Hereunder are companies that provide and leverage SaaS architecture to deliver various services in Tech, Business, and eCommerce niches.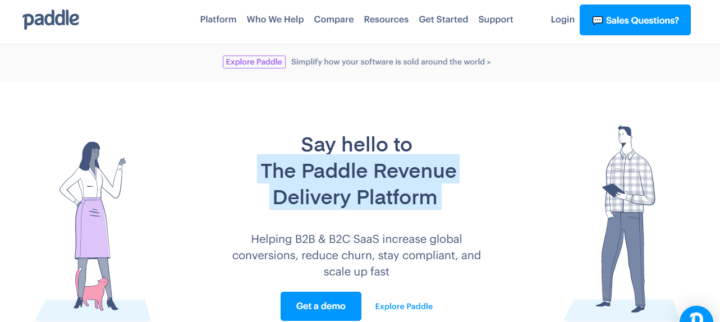 Paddle is a company that helps SaaS providers to deliver their services and products to end-users. The company serves a global audience and has, over the years, improved in its service operations.
Basically, Paddle isn't a SaaS provider per se; however, the company leverages SaaS infrastructure to help companies that provide Software as a Service applications and products to deliver their offerings to clients and customers.
In simple terms, Paddle is a centralized, all-in-one platform, built for modern SaaS delivery. Paddle is flexible and provides room for companies to scale up and operate with full integrity and compliance.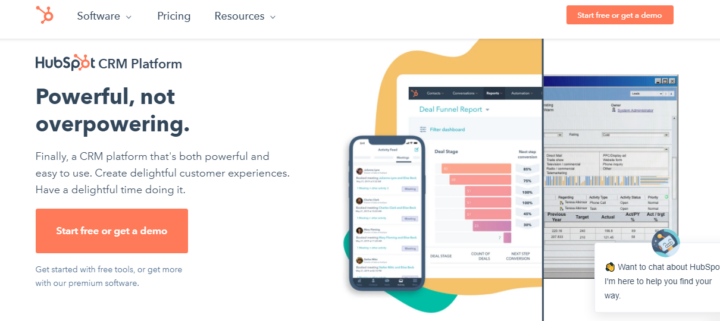 Hubspot is a Business to Business Software as a Service (B2B SaaS) company, which means the company allows other businesses access to their SaaS platform. However, in the actual sense, Hubspot is a software company that provides comprehensive marketing and accounting solutions to businesses and individuals using SaaS infrastructure.
Interestingly, Hubspot also offers business automation solutions, CRMs, and various other applications to aid modern businesses. It is a vast company with a lot to offer – Hubspot products have been recognized various Top 50 and Top 100 business solutions by G2.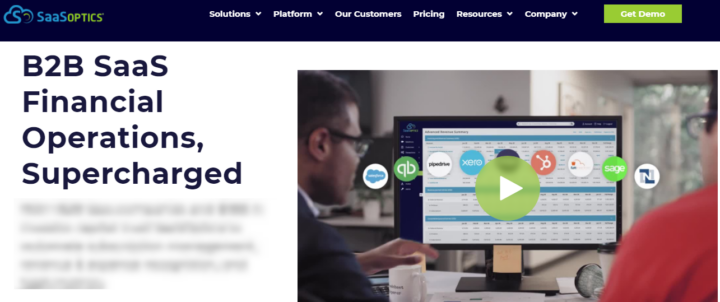 SaaSOptics is quite similar to Paddle; in fact, it is often mentioned as an alternative to Paddle. Well, the company does pretty well and serves a global audience too. According to the company's publication, over 900 B2B Saas companies trust and use SaaSOptics to deliver their products and services to end-users.
However, SaaSOptics focuses on streamlining B2B businesses' day-to-day subscription management processes. The company also provides detailed financial metrics, analytics, and customer lifetime value. It is possible to integrate SaaSOptics with other business solutions.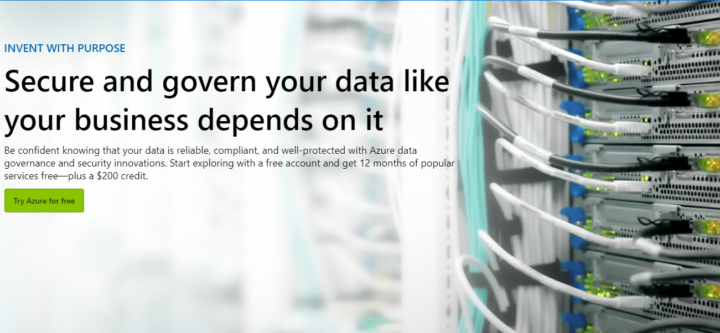 Yes, Microsoft is one of the largest and most reliable providers of SaaS solutions, products, and services. Microsoft's SaaS is Office 365, and it is available to other businesses and companies; thus, making Microsoft fall under B2B SaaS service providers. In addition to Office 365 SaaS, Microsoft also offers IaaS and PaaS, integrated into a single product, Azure.
More so, Microsoft provides several cloud-based business solutions for individuals and companies. One of the reasons to go with Microsoft SaaS solutions is that you'd be able to seamlessly integrate the SaaS solution with other software products by Microsoft.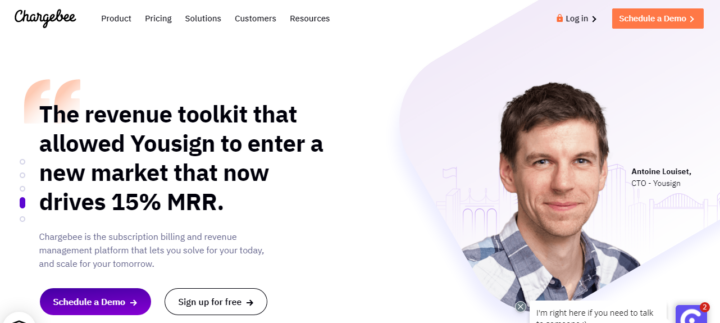 Started in 2010, Chargebee is a company that helps SaaS service providers to effectively manage subscription billing; it is also a revenue management platform that provides you with a ton of cutting-edge solutions to tackle everyday business needs. Chargebee is also scalable, and often seen as an alternative to Paddle and SaaSOptics.
Some interesting features of Chargebee include deferred revenue reporting, churn reporting, revenue recognition tools, and report builder. Chargebee currently has 3000+ customers it serves daily.

The US tech giant, Google, is among the forerunner SaaS companies globally. Apparently, the company provides several products and services, which are delivered through its own cloud storage server. Google offers a comprehensive, integrated suite of products for SMEs, big companies, and entrepreneurs (individuals).
Interestingly, most Google products are available for free for personal users. Also, Google does resell its cloud services to other SaaS companies; this makes Google a B2B, B2C SaaS company.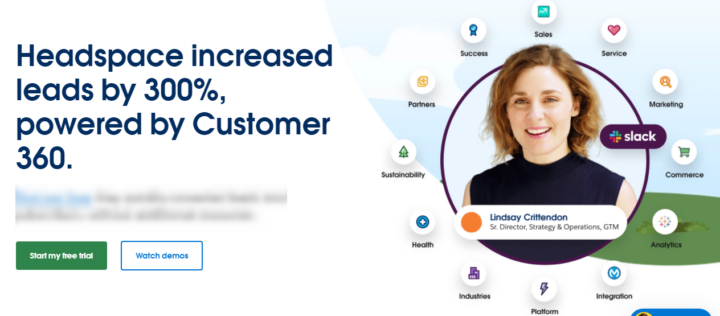 Salesforce is an American cloud-based software developer; its product includes CRM systems, SaaS business solutions, and enterprise applications that improve customer service and facilitate marketing automation. The company boasts of 150,000+ customers across continents.
More so, Salesforce is both a Software as a Service (SaaS) company and Platform as a Service (PaaS) company, with quite many products to offer. Furthermore, Salesforce cloud-based apps can integrate with other business solutions.
8. FastSpring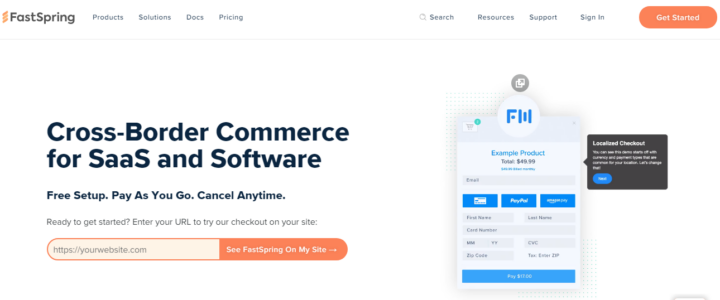 FastSpring is a SaaS company the provides eCommerce businesses and companies with a full suite of products and services to help them sell their services to targeted end-users. To put it in simple terms, FastSpring helps SaaS service providers to sell their SaaS apps and products to increase revenue, and also gain access to a bunch of handy cloud-based business tools.
The company's Full-service eCommerce Platform is available in 200+ regions, with over 20 currencies and 15 languages supported. You can use FastSpring as an alternative to Chargebee, Paddle, and the likes.
What More?
Companies like Zoom and Grammarly are also SaaS companies because they deliver their produces and services over the cloud. SaaS applications are also called "web-based" apps; they run through the internet, and thus, you can access them from any device or system. If you're looking to improve efficiency and reach more customers, SaaS is the answer.