Soundbars are increasingly becoming the favorite sound system of many homeowners; not only are soundbars more flexible and space-saving, but they also come with much more advanced "smart" techs than typical home theaters. If you're considering buying a soundbar for your home, you might want to consider these top options that support Amazon Alexa.
Alexa's built-in support means you can control the soundbar with voice commands, which is pretty cool – you don't always have to be with the remote or walk to the soundbar to adjust the volume or other settings. These soundbars are powerful and deliver high-fidelity room-filling sound with deep punch for your playbacks. You will find these soundbars in online stores or offline audio shops.
The Best Soundbars with Alexa Support
Hereunder are the best-performing soundbars with Alexa AI full support.
1. Beam (Gen 2)

Dolby Atmos
Apple AirPlay 2
Voice-enabled
Touch controls
TV remote sync
WiFi
HDMI eARC
Sonos Beam soundbars are incredible and fall among the best options in the market. The Gen 2 soundbar, particularly, comes with a wealth of modern technologies that would trigger your fantasy. It is a compact smart soundbar with Dolby Atmos and connects to your home WiFi.
This latest-gen Sonos Beam soundbar connects to the Amazon Alexa app and is also compatible with Google Assistant for voice control. You can connect to your streaming app and enjoy rich playback from the soundbar when your TV is off. More controls are available on the Sonos app.
2. YAMAHA YAS-109 Sound Bar

DTS Virtual
Bluetooth and Wi-Fi
HDMI
Voice control
The minimalistic design is the catch, and the multiple connection options make it easier to set up your new YAMAHA YAS-109 soundbar. This hi-fi soundbar is suitable for movie and music playback; it features dual built-in subwoofers that deliver deep punches to lows and mids.
Thanks to the built-in Alexa support, you can control the bar using voice commands. YAMAHA YAS-109 is also perfect for gameplay; it's low-profile makes it fit into any space discretely, and the premium finish would easily blend with any home decor.
3. Samsung HW-MS650 Soundbar

3.0 surround sound
HDR 4K Pass-Through
Voice control
WiFi
High-Res Audio (24-bit)
Samsung isn't only good at making high-end smartphones, it's a notable name in the consumer electronics market. This Samsung soundbar is one of the best smart options in the market, and it's quite affordable compared with its competitors. It comes with a unique distortion-canceling technology and OneRemote.
The sleek profile blends seamlessly with home decor, and you won't find it difficult to locate where to place the bar. HW-MS650 can also be mounted on the wall; it supports 4K pass-through, so you can enjoy playbacks from your UHD Blu-ray player or any other 4K player. This soundbar can also connect to streaming services for music playback.
4. Polk Audio React

Bluetooth
HDMI
Voice control
Streaming
3D virtual surround sound
Polk React soundbar is one of the cheapest out there, and it doesn't lack smart features. Built with Alexa support, you can control this soundbar using voice commands. It doesn't support WiFi connectivity, which is the major drawback it has compared with the soundbars listed earlier in this article.
The Polk React soundbar offers almost everything you need in a smart speaker system.  Setting up this soundbar is straightforward, and the sound is decent, accompanied by a punchy bass response for your music playback and gameplay. You can connect to streaming services and enjoy swift playbacks.
5. Bose SoundTouch 300

4K pass-through
WiFi
Voice Control
NFC Pairing
Dolby Digital
DTS
We're discussing soundbars that support Amazon Alexa, and the Bose SoundTouch 300 is one of the finest options you'd get out there. It is a super-smart, intelligent sound system that delivers room-filling, high-fidelity sound that goes along with deep bass response for more intensity.
The HDMI connectivity with 4K pass-through supports lets you enjoy your premium movies and songs. Also, this soundbar supports Dolby Digital audio with DTS. The design is stunning and would easily blend with any home decor. With WiFi connectivity support, you can stream your favorite songs wirelessly.
6. Denon HEOS HomeCinema HS2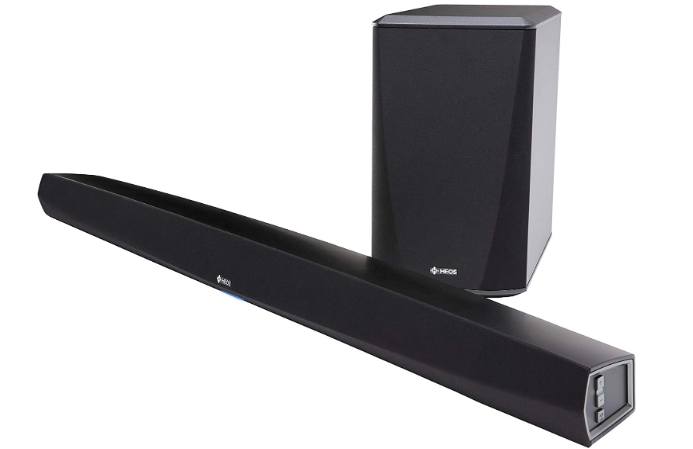 AirPlay 2
Dolby Digital Plus
DTS
HEOS technology
Voice control via Alexa
HDMI ARC
You'll experience a whole new level of entertainment and pure sound playback with the Denon HEOS HomeCinema HS2 soundbar. It comes with quite many technologies and a dedicated subwoofer unit for deep bass response. This soundbar comes with bi-amplified mid-woofers and tweeters with advanced DSP processing.
HDMI ARC is supported, and Dolby Digital Plus – plus DTS – is available too. Also, you can stream your favorite songs via various wireless technologies, such as Airplay2 and Bluetooth. Hands-free voice control works via Amazon Alexa – you can also enable HEOS Home Entertainment Skill.
7. VIZIO V-Series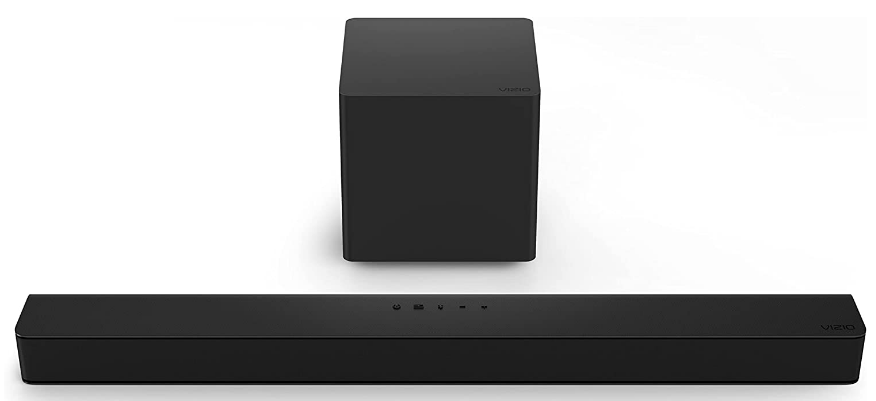 DTS Virtual: X
Dolby Audio
Dialogue EQ Mode
Wireless sub
At 30 inches wide, this soundbar delivers crisp sound with deep punches for your rock music and gameplay. Vizio is notable for making impressive soundbars, and this V-Series model is one of the best you can get – it comes with a wireless subwoofer that completes it a 2.1 surround sound system.
The design of this soundbar is pretty unique – with rounded corners – so it fits easily into any space. You can hide this soundbar close to the TV and connect it wirelessly to the subwoofer. With support for DTS Virtual:X and Dolby Audio, this sound system produces rich sensations for every media you play through it.
8. Polk Command Bar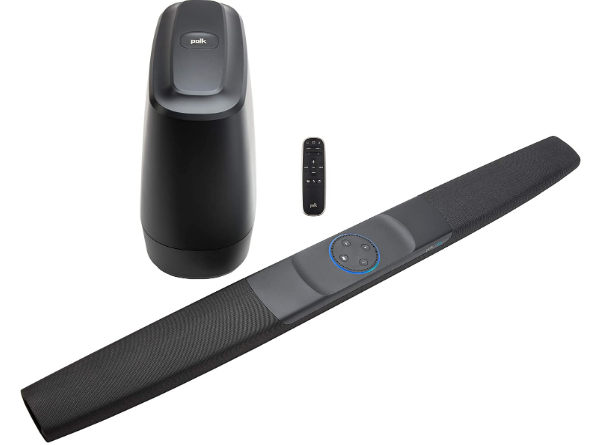 Built-in Alexa support
WiFi
HDMI ARC
Multi-Room Music
FireTV compatible
Dolby and DTS
This smart-looking soundbar comes with a dedicated subwoofer, and it is packed with plenty of impressive features. Starting with the distinctive design, you'd fall in love with the Polk Audio Command Bar; it has built-in Alexa support for voice controls. You can easily connect to your devices using the HDMI ports.
WiFi support lets you connect and stream your playlist from various streaming services. Command Bar comes with Polk's patented Polk Voice Adjust technology, which customizes voice levels to reproduce clear, crisp dialogue for your playbacks. This soundbar is intuitive and practical – sold for around $300.
9. Sonos Arc

3D sound
Dolby Atmos
Apple AirPlay 2
WiFi
Voice control
Sonos Arc is a brilliant soundbar with Alexa support built-in, so you can control your sound hands-free. It supports Dolby Atmos, and you can sync the soundbar to function with your TV remote. Although you'd be spending close to one grand to have this soundbar, its multiple features and technologies would make you see reasons for such a high price.
The Sonos Arc supports both Amazon Alexa and Google Assistant. This soundbar is tuned to perfection with Enhanced Trueplay tuning technology for crisp room acoustics. You can connect to your streaming service and enjoy seamless streams – Apple AirPlay 2 is also supported.
10. Yamaha YAS-209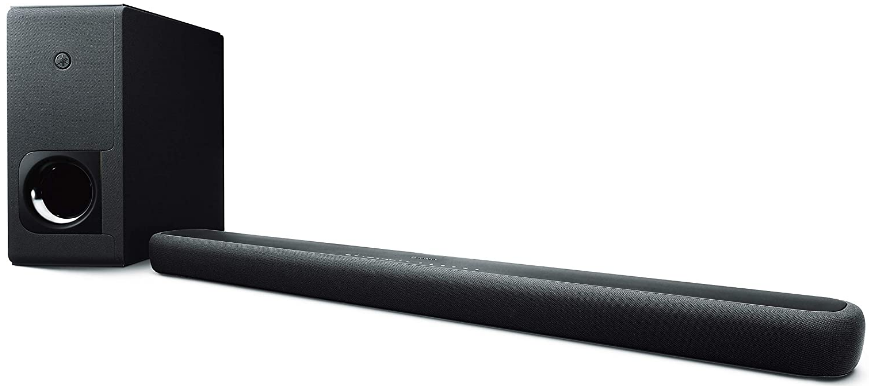 HDMI ARC/CEC
DTS Virtual:X
WiFi
Dolby Atmos
Dedicated subwoofer
With a $350 budget, this might be the best-ever smart soundbar you'd be so proud to have bought at the price. Yamaha YAS-209 is the higher variant of the YAS-109 listed earlier in this article. This model comes with higher specs and delivers more precision and punchy response.
The Yamaha YAS-209 delivers room-filling 3D surround sound, and with Alexa built-in, playing songs from Amazon Music and other streaming services just got easier. You can also connect this device to your home WiFi and control your other smart home gear with Alexa support.
What More?
These are the top best soundbars with Amazon Alexa support; you can control them using Alexa voice command. More interestingly, these soundbars feature modern connectivity ports and technologies so you can connect your devices seamlessly and enjoy unlimited entertainment.