Snapchat and TikTok filters have popularized funny face appearances while making videos or taking pictures. These funny faces apps will transform your face into different humorous countenances to attract more views and reactions to your picture or video.
Posting on social media with funny countenances is now the "selling point" of most social media influencers. These apps let you turn your face into that of a pet animal or choose an emotional face (smiling, crying, moody, etc). Interestingly, some of these apps come with built-in photo editing modules so you can customize your pictures.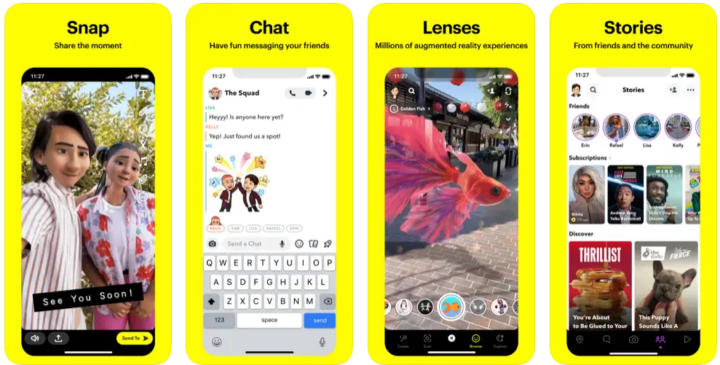 Starting with the commonest one everyone knows, Snapchat. The Snapchat app has moved from being a mere social network to share snaps to a photo/video app with lots of exciting and funny preset filters.
On the Snapchat app, there are lots of lenses, bitmojies, and filters to try out – a majority of which could transform your face entirely to an appearance with a distinctive countenance. Snapchat is completely free on Android and iOS app stores.
2. FaceApp: Perfect Face Editor (Android | iOS)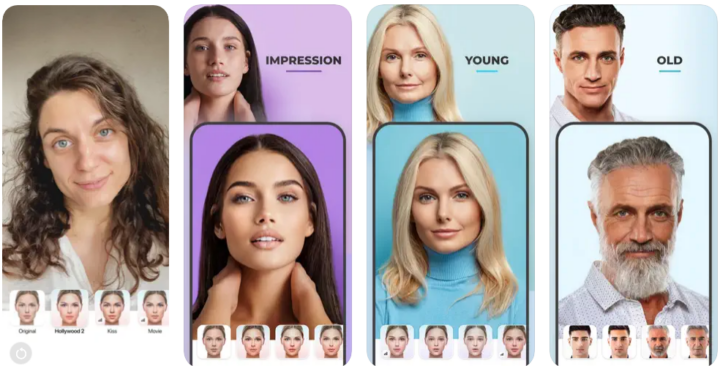 FaceApp is one of the most interesting funny face applications for iPhone and Android devices. Starting with the intuitive interface and easy-to-use built-in editor, the app lets you transform your facial looks in a variety of ways.
The FaceApp app features an AI photo editing module; you just need to take a selfie, and FaceApp lets you transform the selfies into multiple unique portraits. There are over 500 million mobile phone users who have downloaded this app.
3. Funny Face Camera (Android | iOS)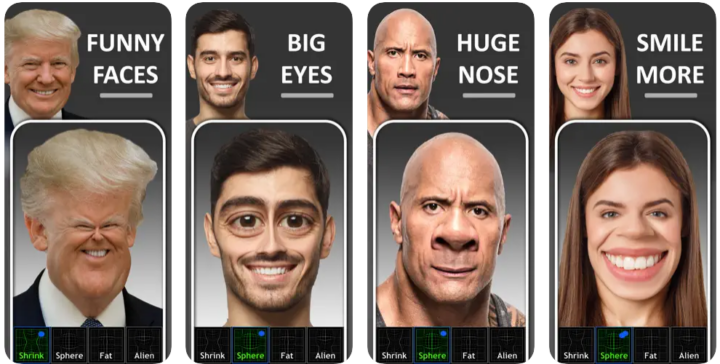 The app name says it all; this is a funny face app for Android and iOS devices. Funny Face Camera comes with plenty of filters for changing your facial expressions and countenance. It also features a built-in photo editor with basic editing tools.
The massive collection of funny face effects available on this app makes it one of the best out there. Also, there are funky stickers to add to your photos, too, to make them more enticing and engaging. This app is entirely available for free on app stores.
4. Crazy Helium Funny Face Voice (iOS)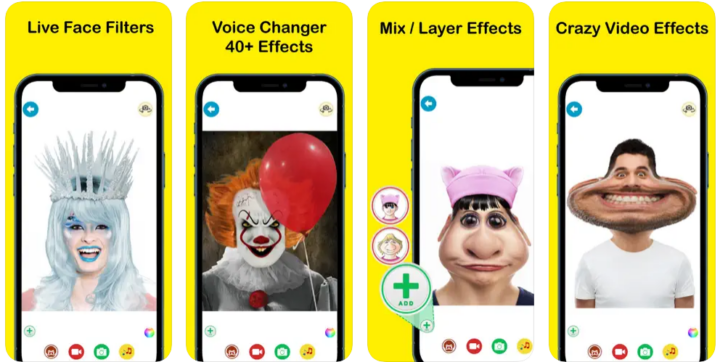 Quite, unfortunately, this app is only available to iPhone users. It is a free mobile photo app with over 500 funny face filters – really interesting ones, by the way. You can also use this app to record videos with a funky filter that disguises your facial looks.
Crazy Helium Funny Face is really packed with a lot of fun stuff, and you can as well choose voice effects to change your actual tone. There are quite many impressive stuff to do with this app if you've got an iPhone.
5. YouCam Fun – Live Face Filters (Android | iOS)

Here's another impressive app that lets you make caricatures that are quite attractive and engaging. The YouCam Fun app is available for iOS and Android smartphones; the interface is pretty intuitive across devices, and there are plenty of filters to try out.
Video recording with fun stickers and filters is available on iOS 8.0 or newer (for iPhone users). YouCam Fun also comes with stickers you can add to your photos and videos. The interface is interactive, and you can easily navigate the available tools.
6. Sweet Snap: Beauty Face Camera (Android | iOS)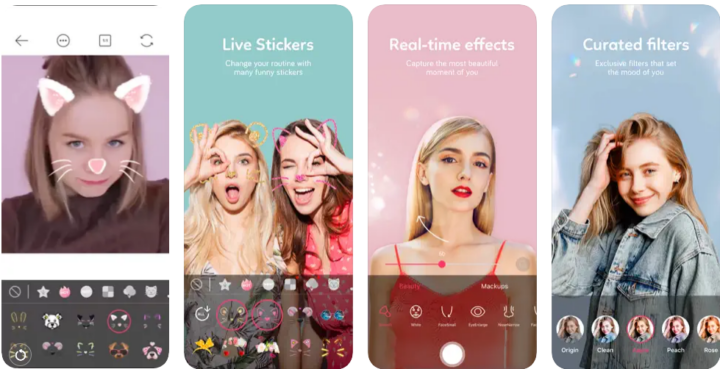 The Sweet Snap app lets you turn your face into a hell of a funny caricature. It might not have the best user interface, but it doesn't the necessary features needed on a funny face application, and it's entirely free to use across iOS and Android platforms.
This app has been downloaded over 100 million times across app stores and scored high positive reviews. The built-in editor lets you make professional touches on your photos with the many editing tools available.
7. Face Changer Camera (Android)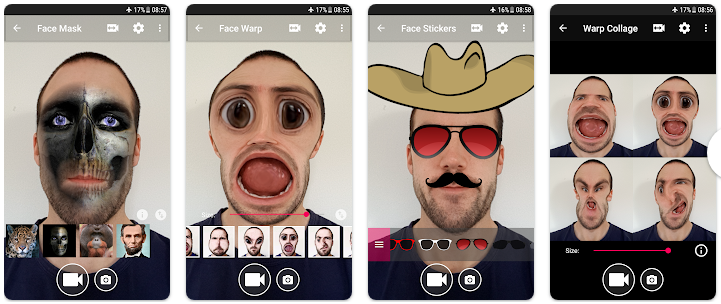 Your pictures will never be boring again with this app; yes, that's because this app lets you do a lot of things to a selfie portrait to make it look much better or funky. It is a photo/video editor so that you can add funny faces to your videos and photos.
Face Changer Camera is only available on Android Google Play Store. As with the others on this list, it is a free app, and you won't find it difficult to navigate the interface. Also, this app can be used to blend two faces into one – pretty interesting!
8. Face Changer 2 (Android)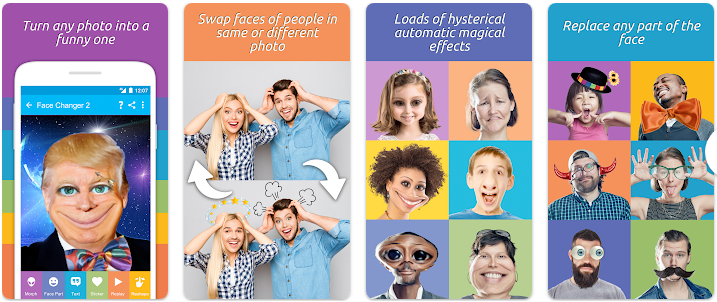 Yet again, this is an Android-only funny face app. For Android device users, the Face Changer 2 app lets you choose from a plethora of presets to choose how you want your face to appear in a photo.
Also, it supports face swaps and morph effects – just in case you want to look like an alien, well, that was a joke. Face Changer 2 offers over 600 stickers for photo editing; the built-in editor is pretty sophisticated, and you'd love it.
9. My Banuba Family: Face Swap (Android | iOS)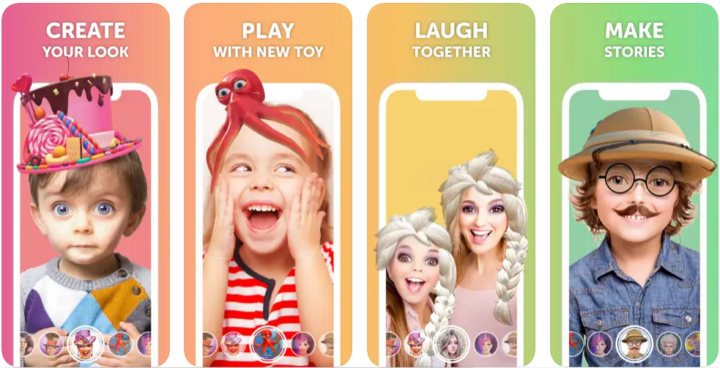 If you'd love some really crazy stuff, then this is the app for you. My Banuba Family is a funny face app that allows you to swap faces and add stickers to your photos and videos. The app equally comes with a lot of features, and the photo editor is properly equipped.
To an extent, this funny face app is different from the other ones on this list; you can add live effects and music t make your picture more realistic. My Banuba Family works for photos and videos – it is an ideal option.
10. Face Warp – Funny Photo Editor (Android | iOS)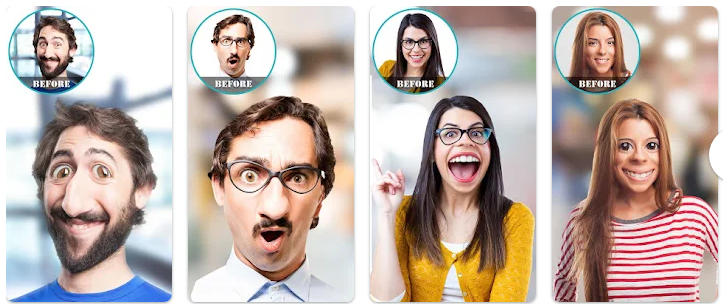 There's endless fun with the Face Warp photo editor app; first of all, the editor interface is impressive, and then there are lots of filters, stickers, and other stuff to explore. This app will polish your photo creativity skills and provide you with very funny pictures.
Using this application is simple – you just import a photo and start editing. More so, this app can be used to animate photos so that they appear very beautiful – use pinch-zoom for more detailed editing. You can change faces at ease using Face Wrap.
11. Face Swap Live (Android | iOS)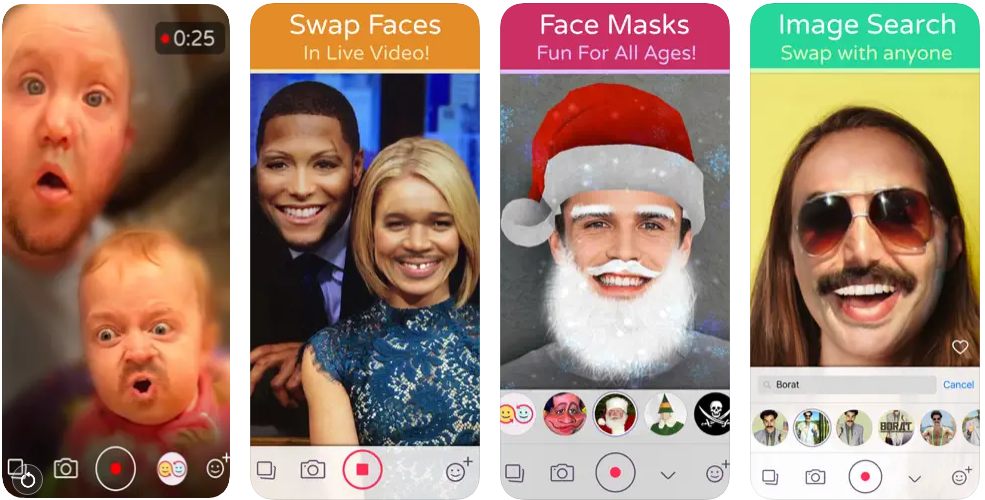 Looking for a funny face app that works perfectly for making videos? Here's one for you. The Face Swap Live app allows you to switch faces in a live video or picture. It works similarly to other ones listed in this article – featuring a standard built-in editor module.
This app comes with many masks and FX you can wear on your face to make an expression or pass a message using your video. Face Swap Live is available on the iOS platform for iPhones and iPads.
12. Selfish – Funny Face Masks (iOS)

Lastly on this list is the Selfish app, a well-thought funny face app with thousands of face filters. It supports in-app purchases to unlock more of its premium features. The Selfish photo editor lets you do a lot of customization to your photo and share them anywhere. It works perfectly on iPhone/iPad devices running iOS 10.0 or later.
What More?
These are the top 12 best funny face apps to install and use on your iOS or Android device. They help to spice up the photos and videos you share on social media every day.