It's no surprise that many people want to cut down on cable TV subscriptions, and the direct alternative is live TV streaming services. Live TV streaming services like FuboTV are among the most popular because they allow you to stream a wide variety of digital content and TV channels for free.
FuboTV has a lot to offer its users, and the service is accessible from a variety of devices, including gaming consoles with support for streaming services' app installation. But, FuboTV isn't like PlutoTV which covers a wide sphere; FuboTV is sports-focused, which means that most of the channels it broadcasts live are sports channels.
Notwithstanding here is the complete list of FuboTV channels, plans, and prices for all services offered by the streaming network. There are hundreds of channels to stream on FuboTV, you'd definitely find the right channel you want to watch.
FuboTV Network Overview
FuboTV is inarguably the world's most resourceful sports-focused live TV streaming service, offering channels that cover top leagues and teams and host popular shows, movies, and other exciting digital content you may want to watch.
However, FuboTV is an American company; its services are only available to people living in the United States, Canada, and Spain. Also, FuboTV content is based on the country you're streaming from. Notwithstanding, you will enjoy the following popular sports: CPL, EPL, MLB, NFL, NHL, NBA, MLS, and international football.
FuboTV launched on January 1, 2015, initially as a soccer streaming service, but the service has expanded its tentacles to other entertainment genres. Recently, the company made a statement that it has around 1.231 million subscribers in North America as of Q3 2022.
Full List Of FuboTV Plans, Prices, and Channels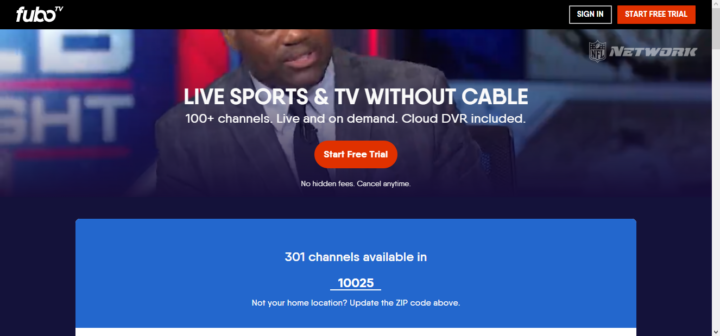 Hereunder is a complete list of TV channels you can stream on FuboTV if you live in a supported region.
The number of channels you'd get with FuboTV depends on your subscription plan; the least subscription gives you 48 channels and the highest subscription gives you 218 channels. You could still get more channels by subscribing to any of the available add-ons.
1. FuboTV Latino
48 channels and 100+ sporting events
250 hours of space for Cloud DVR
Share on up to 2 screens at once
$24.99/mo for the first month
Channel List
bein Sports
bein Sports n
TUDN
Zona Futbol
ESPN HD Deportes
Fox Deportes
Univision Chicago
Galavision
Unimas
NAT GEO Mundo
GolTV
TyC Sports
Sony Cine
Nuestra Tele
TUDNxtra1 to TUDNxtra11
Telefe
Tr3s
Discovery Familia
Discovery En Espanol
Estrella TV
bein Sports Xtra n
The Weather Channel (en Espanol)
TG En Espanol
Canela TV
Euronews
Tastemade en espanol
Cine Estrella TV
Estrella News
Cine Latino
Wapa America
Estrella Games
Television Dominicana
Tigo Sports
NTN24
Catv
Hogar TV
Fubo Latino Network
2. FuboTV PRO
148 channels and 100+ sporting events
1.000 hours of space for Cloud DVR
Share on up to 10 screens at once
$74.99/mo
Channel List
ABC
CBS
Fox
NBC
Sports Chicago
Sports Chicago+
Marquee Sports Network
FS1
NFL Network
bein Sports
bein Sports n
bein Sports4 to bein Sports8
TUDN
TUDNxtra1 to TUDNxtra11
Bravo
E
Food Network
Fox News
HGTV
MSNBC
USA
CBS Sports Network
BIG Network
Golf
FS2
The Hallmark Channel
Hallmark Movies Mysteries
Hallmark Drama
Oxygen True Crime
ESPN
SYFY
TasteMade
FreeForm
FX
FXX
National Geographic
Disney Channel
NBC News Now
Disney Junior
Disney HD
ESPN 2
ABC NewsLive
Gusto TV
Cleo TV
Fox Soul
Dove Channel
ABC Localish
Womens Sports Network
PG
ion Plus
tv
The Pet Collective
Bloomberg TV
Great American Family
Curiosity
TasteMade Travel
Fox Weather
LiveNow (Fox)
AXS TV Now
SpeedVision
Court TV
ion Mystery
The Design Network
TasteMade Home
Swerve Sports
Fail Army
ion
Dark Matter
Scripps news
TG Junior
jtv
QVC
Law & Crime
EarthxTV
Magnolia Network
PAG 12
Origin Sports
Comedy Dynamics
the BobRoss Channel
Toon Googles
GRIT
Infast
THE Big Dish
Bounce
BET Star
CMT
VH1
Discovery
Comet
CNBC
Universo
GalaVision
Universal Kids
Univision Chicago
Telemundo
Estrella TV
News 12 New York
Trvl Channel
Comedy Central
MTV
Nickelodeon
Nick Jr
Paramount Pictures
TV Land
Motor Trend
OWN
TLC
Animal Planet
ID
CBS News
Fox Business
The Weather Channel
LX news
Local Now
Accu Weather
Newsmax
NewsNation
Unimas
Cozi TV
Get TV
Pop TV
Smithsonian Channel
bein Sports Xtra
bein Sports Xtra n
Fubo Sports Network
Fubo Sports Network 2
Fubo Movie Network
Crackle
PopCornFlix
3. Fubo Elite
209 channels and 130+ events in 4K
Free additional 50 channels (Fubo Xtra Add-On)
The News Plus add-on gives you additional 11 channels
1,000 hours of space for Cloud DVR
Share on up to 10 screens at once
$84.99/mo
Channel List
All channels in Fubo Pro, plus additional channels included with the add-on packages, Fubo Extra and News Plus.
FUBO Extra:
Cooking Channel
Game Show Network
CNBC World
Tennis Channel
MTV U
MTV live
AHC American Heros Channel
Discovery Family
FXM
ESPN Network SEC
Justice Central TV
The Elvis Presley Channel
NBA TV
NHL Network
MLB
Sony Entertainment
Zona Futbol
INSP
Teennick
Nicktoons
Nickmusic
MTV2
Logo
BET Jams
MTV Classic
BET Soul
BET Her
Destination America
Discovery Life
SCI
ASSN ESPN
Nat GOE Wild
PaG12 Networks
ESPN U
UST
ESPN News
Great American Living
True Crime Now
Circle
Nosey
Real Nosey
Retro Crush
Outside
Revry LGBTQ TV
911
Weather Spy
IN Wonder
People Are Awesome
Poker Go
AT Home with Family Handyman
News Plus:
TYT
Ticker News
African News English
Bloomberg TV+
euro News
i24
NewsNet
CNBC World
Bloomberg Originals
Revry New
Cheddar News
4. Fubo Premier
218 channels and 130+ events in 4K
Free additional 50 channels (Fubo Xtra Add-On)
The News Plus add-on gives you additional 11 channels
1,000 hours of space for Cloud DVR
SHOWTIME – live and on-demand shows
Share on up to 10 screens at once
$94.99/mo
Channel List
Includes all channels in Fubo Pro and Fubo Elite plans, plus additional channels from the showtime add-on.
Showtime Add-on:
Showtime
Showtime WEST
Showtime 2
Showtime Showcase
Showtime Extreme
Showtime + BET
Showtime Next
Showtime Women
Showtime Family
FuboTV Add-ons
There are several add-ons offered by fuboTV; these add-on packages come with different prices and offerings.
Cloud DVR 250 ($9.99/mo)
Increase your available Cloud DVR space by additional 250 hours.
Cloud DVR 1000 ($16.99/mo)
Increase your available Cloud DVR space by additional 1000 hours.
Family Share ($5.99/mo)
Increase the number of persons you can share your fuboTV subscription with. This allows you to add more family members for simultaneous streams.
Unlimited Screens ($9.99/mo)
Watch on up to 10 devices at once on your home internet connection, or two screens while on the go.
SHOWTIME + STARZ + MGM+ ($19.99/mo)
Watch the indicated premium channels without commercials to interrupt your viewing. Live and on-demand are available too. This also saves you a reasonable amount compared to when you activate these services individually.
SHOWTIME ($10.99/mo)
Stream Showtime acclaimed original series, boxing, blockbuster movies, and other exclusive content from SHOWTIME's library.
STARZ ($8.99/mo)
Get all STARZ live channels, plus on-demand access to all STARZ shows and movies.
MGM+ ($5.99/mo)
Watch more acclaimed original series and blockbuster movies from the MGM+ library.
Pantaya ($5.99/mo)
Stream a wide variety of Spanish-language blockbusters, comedies, classics, originals, rom-com, and exclusives in one place.
Summary
These are all the stuff you'd get by subscribing to a qualifying FuboTV plan. The service adds more premium add-ons from time to time. You can keep an eye on its add-ons page for new add-ons you may want to add to your existing subscription. As for free content, you'd get 7 days of a free trial when you sign up for FuboTV (as a new user).