Now a lot of you might be wondering how your friend was able to catch that MewTwo from three states over without ever seeing the sight of grass. Well, did you know that you can spoof your location in Pokemon GO to ensure that you never miss out on a big raid just because it's too far away from you?
But how do you do that? What sorcery do you require to be able to travel virtually to a place far away? Well, that is what I'm here to teach you. The ways of location spoofing!
The process is quite simple; however, we still need to find the right tool for the job, which is exactly what we will do in this article. So without wasting any more of that precious time of yours, let's jump into it.
The best way for Pokemon Go Spoofing on iPhone with Foneazy MockGo
To get things started, let's talk about one of the best options available to you when it comes to spoofing apps on the internet. After weeks and weeks of trying out different applications, I came across what seemed to be the holy grail of location spoofers, such as iMocker, Foneazy MockGo, What stands out is the MockGo application.
This application not only allows you to teleport to a certain location but also comes with a plethora of features, such as auto-walking, setting up movement speed, and picking out favorite spots to teleport directly to. For people looking to use MockGo, here are some of the advantages of using the app to spoof locations:
Advantages of Using MockGo
Doesn't require a jailbreak of your device
Lets you change your location to anywhere in the world
You can enter coordinates to the location of your choice
Lets you set realistic speeds for movement
Can change the GPS settings of up to 5 devices simutanously
Supports joystick, GPX import, location history, and favorite list
Works with the newest iOS and iPhone models
How to Teleport in Pokemon Go with MockGo
Start off by launching MockGo on your computer. Connect your iOS device to the computer and click the "Start" button to begin.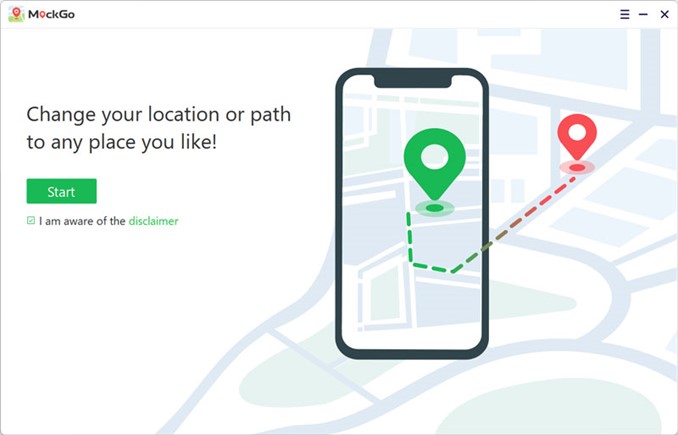 The program will show you your current location on a map. Enable the "Teleport Mode" by clicking the first icon in your upper right corner.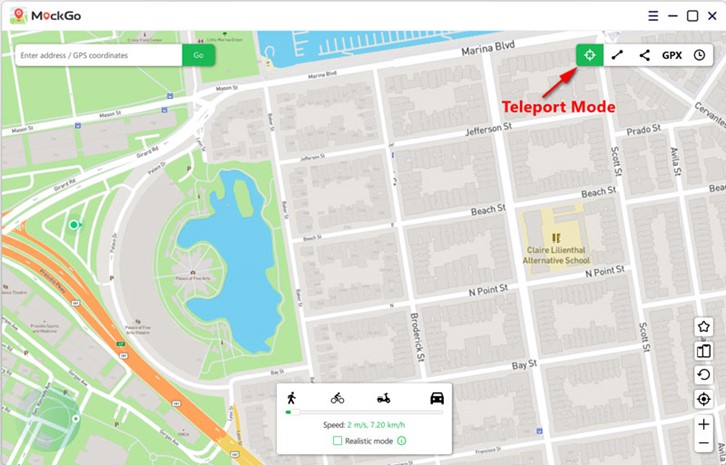 Now type in your required location address or coordinates via the search bar and click the "Go" button.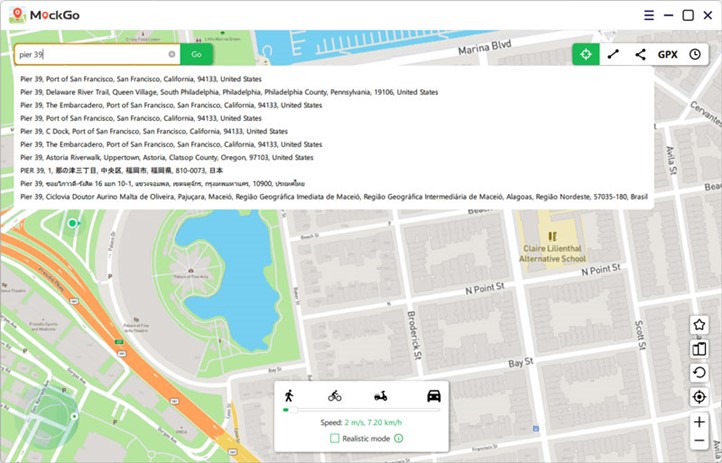 Now the MockGo map should show you the place where you want to go. Click "Move Here" in the popup window to teleport your GPS location.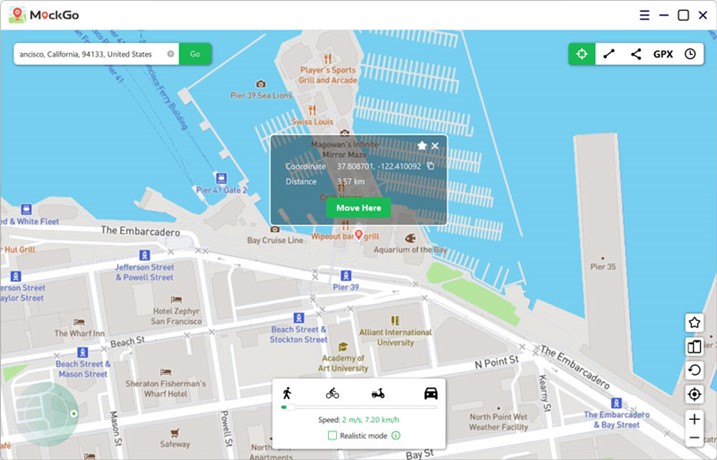 How To Auto Walk in Pokemon Go with Foneazy MockGo
Choose 'One-stop Mode' on the app.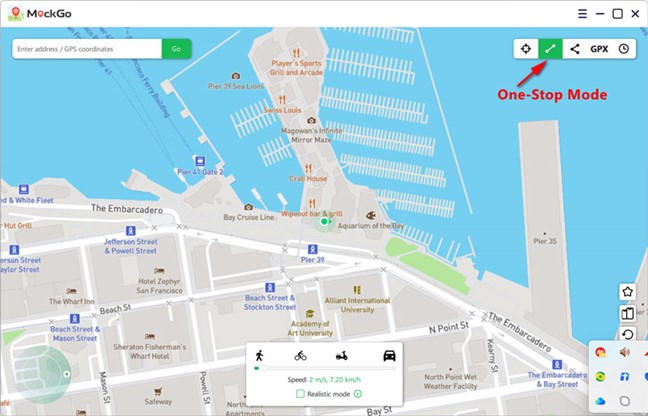 Click on the starting and ending destinations for your walk or movement. Now click on 'Move Here' to proceed.

You can now pick how many times you want to make that journey or the speed at which you want to move. You can even pick the realistic walking option to vary your speed to make the movement look natural.

Now click on the 'Start' button, and your GPS location will keep changing along the selected route as if you're walking.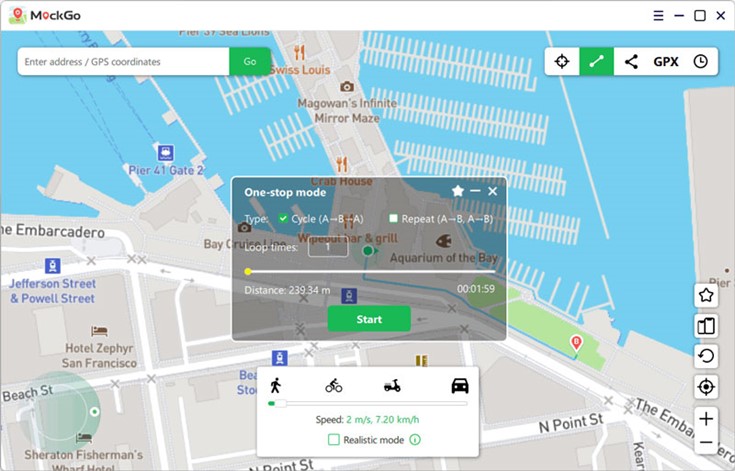 Change GPS Location with iPogo Location Spoofer
Another app known to be good with GPS location spoofing is iPogo. It's like a modded version of Pokemon GO and lets you travel to different locations from the comfort of your home. I've tried it for my iPhone, and it worked like a charm. But I did have to keep cooldown time in mind whenever I used it
iPogo's Main Features

Works with the latest Android and iOS
Makes it easy for you to jump locations
Boosts the amount of Pokemon you come across
Blocks out non-shiny Pokemon so you get the best
Automatically releases low-value Pokemon to free storage
If you're hooked and want to use the tool, here's what you need to do:
Download a jailbreak package for your phone using Cydia Impactor..
Once the phone is jailbroken, download the iPogo IPA file from a credible website.
Run the app and log into your Pokemon GO account.
Open settings and then click on 'Activate'.
Enter your app code and activate to change locations in the Pokemon GO game.
Important Note: This app does not come with a built-in cooldown feature so you have to give the game a rest whenever you spoof your location or else you might get banned.
iPokeGo for Pokémon Go
Similarly, iPokeGo is another crowd favourite app on the internet, praised for its location spoofing capabilities. It improves your Pokemon GO experience by letting you change your location as you want and introducing you to areas with new Pokemon. However, this tool does claim that you need to take steps on your end to make sure you don't get caught by Niantic.
iPokeGo's Main Features

Lets you change your radar position

Displays reward stops, Pokemon Gyms and battle arenas

Lets you cover distances to special Pokemon

Tells you how much time is left for any event

Gives you alerts if your favourite Pokemon are nearby on the map
Now, let's take a look at how to use the app:
Install Cydia Impactor on your computer and download the latest IPA file of iPokeGo.

Connect your iOS device to the computer via a lightning cable.

Run the Cydia tool and add the IPA file to the tool's interface.

Add your Apple ID credentials and the app ill be installed onto your phone.

Go to Settings > General > Device Management.

Select the new profile for the app you just installed and add it to the Trusted List.

Open the app and Pokemon GO to make customizations according to your need.
Important: This method requires jailbreaking your device so make sure you know what you're doing before agreeing to the process.
Tips for Avoiding Bans while Spoofing in Pokemon Go
One of the biggest issues when using spoofing apps is the threat of being banned from the game due to suspicious movement and activity. To avoid this, follow these tips:
Be vigilant to abide by the terms and conditions of the game and not outright do anything that will get you banned.
Make sure to use the right and authentic tools to spoof your location. There are many poor-quality spoofing apps that end up having your account banned.
For added security, consider adding a VPN layer of protection when using the spoofing while playing the game.
Remember to respect cooldown timings and not overuse the location-changing option. If you travel great distances in a short period of time, you will be detected.
Avoid using bots to collect more Pokemon while playing the game since this type of activity tends to be picked up the fastest.
Lastly, don't go for tools that jailbreak your phone unless you absolutely have to.
FAQs about Pokemon Go Spoofing
Naturally, with so much at stake, you'd have some questions. I'm here to help you through them!
Q1: Do I have to jailbreak the device?
No, jailbreaking is not a necessity when it comes to location spoofing. There are many authentic apps out there, like MockGo, that can safely spoof your location without needing to jailbreak or alter your device.
Q2: Is MockGo Safe to Spoof?
Yes, MockGo is safe to spoof when playing Pokemon GO or using any GPS-enabled app because it doesn't get detected and helps you create realistic movement patterns. Plus it comes with a cooldown timer so you stick to the rules after every spoof.
To conclude
Now you have every possible way to spoof your Pokemon GO location for iOS in 2023. Although some tools require you to jailbreak your device, it is always better to avoid something like that since jailbreaking leaves your device vulnerable.
Instead, you should focus on an app like MockGo that is safe to use and doesn't get detected. Moreover, it doesn't make any harsh changes to your device's operating software.