Most of the social Apps you use to track and keep the record of your GPS location. It doesn't only raise privacy concerns but also makes the user experience annoying. It's just like being virtually watched by a couple of strangers.
Worldwide, users go to a great extent to make it impossible for such Apps to track their exact location using different tricks, Apps, and techniques. However, most of them aren't reliable for long-term use. Either some of them contain too many Ads, need a complex process to be followed, or involve a risk of getting accounts banned from Snapchat.
One of the safest and most reliable ways to change your location on a Snapchat iPhone is using UltFone iOS Location Changer. We'll talk about it in this guide about Snapchat and how to spoof pokemon go, how it works, and how you can set it up for faking your location on Snapchat. Before that, let's get into its little details and background.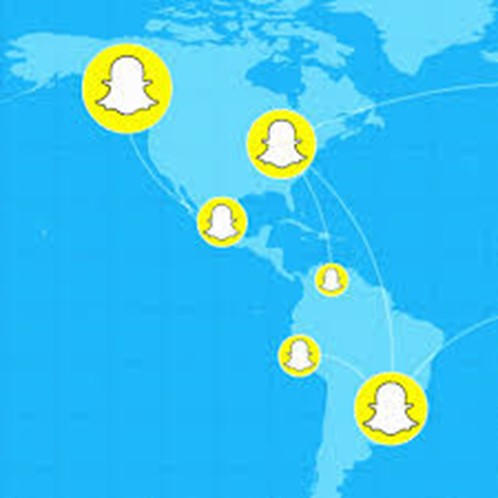 What Do You Need to Know About Snap Maps?
Snapchat has a map feature that lets you visually see on the map your buddies (Snapchat Contacts). The snap map allows you to see your Snapchat contacts' actual time location and share it with them. If you have turned on the live location option in the App, it'll share your real-time location.
Let's say your best friend went abroad on summer vacation. If you've added them to Snapchat contacts, you can see their real-time location without asking them to share it.
Before the snap map feature, sharing the real-time location with your contacts wasn't that convenient. The iPhone had a location-sharing feature, but it only worked for iPhone users.
With the launch of Snap map, it got pretty much more effortless for users to share their real-time location. Where Snap map is a convenient feature for the users, at the same time, it can be frustrating to the users who have privacy concerns, and to change Snapchat location is the best alternative.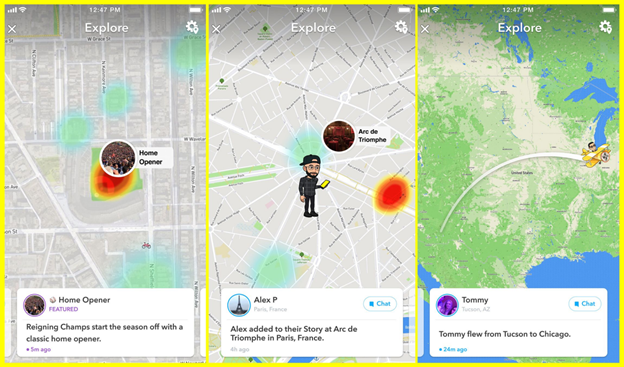 Can You Spoof or Fake Snapchat Location On iPhone 14?
Spoofing your location isn't a new thing; people do it frequently for different purposes. However, spoofing your location on android phones is just like a piece of cake, as it's more flexible than the iPhone and iPads.
Faking your Snapchat location on iPhone 14 might seem daunting since iOS is quite a secure and closed system. However, if we get into little details of how spoofing the location works, it'll be easier to answer the question, "Can you Fake a Snapchat location on an iPhone?".
Spoofing your Snapchat location on your iPhone is all about sending the altered GPS coordinates to the servers of the location where you virtually exist. In other words, your iPhone will send the GPS coordinates of the entered location to the server; hence, the snap map will show it on the map to your Snapchat contacts. This is exactly how the Snapchat gps spoof works.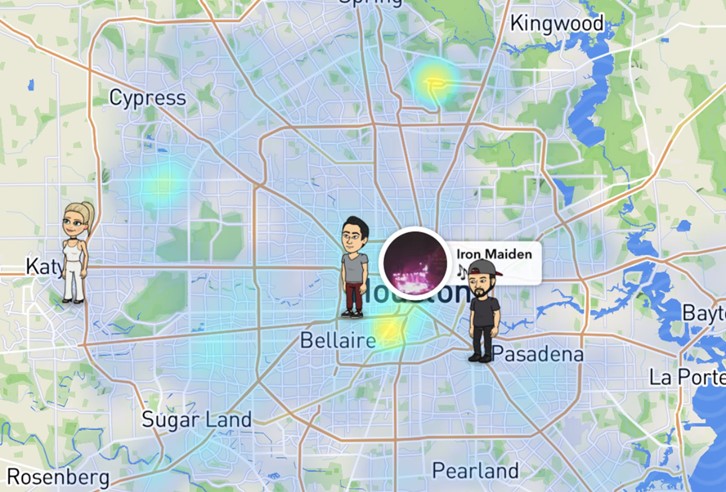 Is It Possible to Spoof Your Snapchat Location on iPhone with One-Click Process?
There are numerous ways to spoof your Snapchat location on an iPhone, with the exception of a one-click process. And that's what makes them unreliable for long-term use or even difficult for users who don't need to spoof their location frequently. Since you have to follow a lengthy and complex process to set it up.
Some spoofing software works pretty well, but they offer it for a limited period of time, and you have to pay for the full version to keep using it. We compared the best spoofing software of its league and came up with the ultimate results.
UltFone iOS Location Changer is one of the best tools to spoof your Snapchat location on your iPhone with a one-click process. It's computer-based software that allows you to set up the whole process within the convenience of a few clicks and forget about it as if you ever did anything to your iPhone. It's that much simpler!
Here's a list of UltFone iOS Location Changers that you'll get to enjoy:
The one-click process to change your GPS location.
Compatible with most location-based Apps such as Pokemon, Snapchat, and WhatsApp.
Control your virtual moment on the map with a joystick.
Allows you to add a GPX file to enter the desired route for the spoofing location.
Supports all the latest iOS 16/iPadOS 16 versions and is compatible with all the latest models of iPhone 14/13 series.
How to Spoof Your Snapchat Location on iPhone using UltFone iOS Location Changer?
UltFone iOS Location Changer is one of the best location spoofing software in its league. The best part is that it's compatible with all location-based Apps such as Facebook, and Pokemon. So, if you want to try any venture to make your friends believe you are on a trip, it's easily possible with UltFone iOS Location Changer.
Here's how to change your Snapchat location using UltFone iOS Location Changer.
Step 1
Download the UltFone iOS Location Changer from the official website, install it, and launch it on your computer. From the software interface, make your way to the Change Location tab, and hit the ENTER button.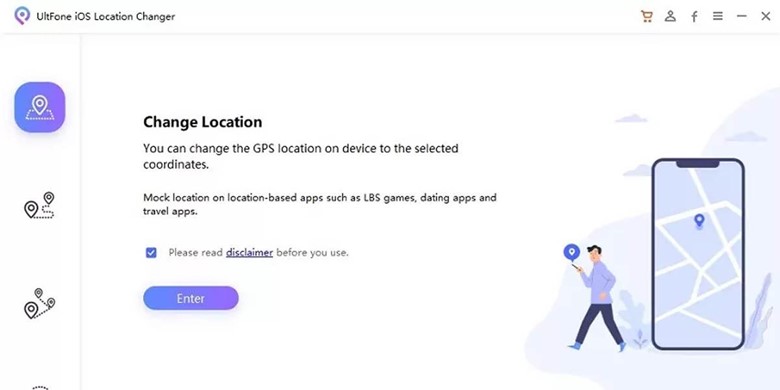 Step 2
And Select an iDevice to be connected on the next screen. In the Change location screen, you can search, enter, and pinpoint the desired location on the map to alter your GPS coordinates. Once you have input your desired GPS coordinates to spoof your location, click on Start to Modify.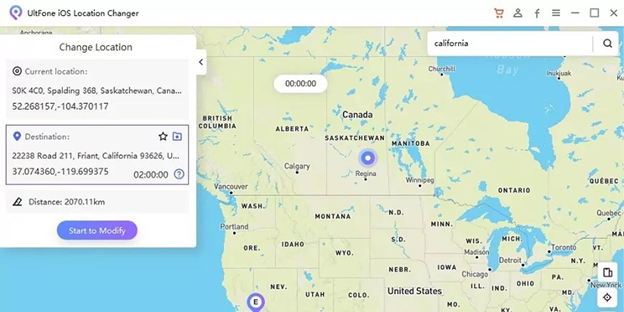 Step 3
Open up the Snapchat App on your iPhone, ==> navigate to the snap map to verify the altered location, ==> You're 100% set and can now enjoy roaming the world virtually on the snap map.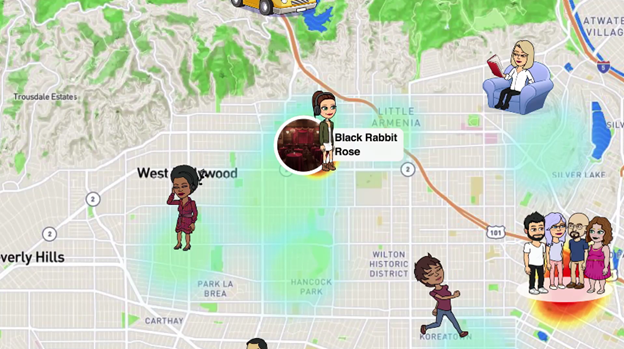 UltFone IOS Location changer Quick Overview
Pros:

Spoofing your device location doesn't require jailbreaking.
It supports iOS 16 devices and will be compatible with the upcoming iPhone 14.
No Risks of Pokemon Go/Snapchat GPS Spoofing.
Cons:

A single drawback of this tool is that it is not available for free after completing three free trials.

Conclusion
This article discussed how you could easily change/spoof your Snapchat location on your iPhone and you can also use the same method to spoof Pokemon Go. There are several ways to change your Snapchat location on your iPhone. However, we discuss the best ones that offer a reliable user experience.
UltFone iOS location changer offers the one-click ultimate solution for spoofing your location on your iPhone. It allows you to change your location conveniently with a few clicks without getting involved in any complex and technical method. We have tried and tested the software across the board and it has passed with flying colors time and again! Thus, you can give it a try? The download is 100% free.