Many writers, mostly copywriters, use popular word processors such as Microsoft Word to write, edit, and format texts. Notwithstanding, many writers/editors and even non-writers also use Google Docs because of its collaborative features. There's no doubt that Google Docs is one of the best document/text editor apps used by many people across all tech platforms.
However, when it comes to creating content and articles for different purposes, the original writer may not be too sure of certain words and sentences. In a bid to point out those uncertain phrases, sentences, or words, the writer may "strikethrough" those words – this gesture points out to the editor or proofreader that the writer isn't too sure of what he/she has written there.
This also comes in handy when there are many writers working on some content. If one of the writers isn't sure of certain sentences, the writer may "strikethrough" the words instead of deleting them entirely; thus, when other writers come across the sentence, they can decide to rewrite the sentence or leave a suggestion (add comments).
With "Strikethrough" playing an important role in collaborative writing and even individual writing, some writers may want to know the quick ways to strikethrough in Google Docs – maybe, using keyboard shortcuts.
2 Ways to Strikethrough on Google Docs
Here, I have pointed out the two possible ways to do strikethrough when you're working with Google Docs or when you're about to write, edit, or format texts with Google Docs.
1. Using Keyboard Shortkeys

Apparently, there should be some key combinations that could strikethrough selected texts in Google Docs, right? Well, there is. Whether you're on Mac or Windows PC or even a Linux-based system, there are key combinations to strikethrough texts on Google Docs.
MacBook: ⌘ + Shift + X
Windows and Linux-based PCs: Alt + Shift + 5
To display all other shortcuts, use Ctrl + ? (for Windows) and ⌘ + / (for macOS).
2. From The Menu Bar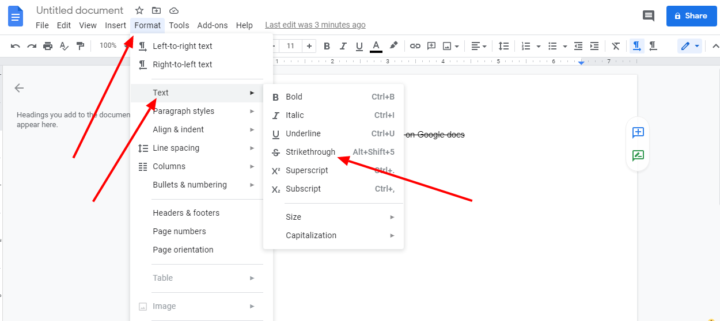 Another way to strikethrough some selected texts on Google Docs is by using the "Strikethrough" option available in the "Text" context menu. To access this, follow the steps below:
Highlight the texts/words you wish to strikethrough
Go to "Format" on the menu bar
Click on "Text" and then select "Strikethrough."
What More?
These are the only two ways to strikethrough selected texts in Google Docs. If going through the menu bar would take much of your time, simply use the keyboard shortcut to get it done ASAP.