Creating catchy videos (that actually get the viewer's attention) to publish on TikTok can be stressful; you may need to add special effects, filters, or even annotations to make the video appeal to your followers. However, when you use the right video editing software – everything could be smooth and seamless with zero learning curve.
Tik Tok is inarguably the "craze" of the moment; almost everyone using the platform tries to make daily videos to share with other "TikTokers" to gain more popularity, build an audience, increase their "influencer" profile, and for many other purposes, including entertainment.
Unfortunately, there is no official Tik Tok desktop app that you can install on Windows or MacBook computers. Hence, in this article, I'd be explaining how you can create Tik Tok videos and edit them professionally using a full-featured video editing software for PC users – VidClipper.
How Are Tik Tok Videos Made?
Well, the chances are that you already know and must have used the built-in video editing tools available on Tik Tok mobile app. The app lets you record videos and edit them on the go; however, the editing options you're provided with are limited and may not match your video creation purposes. Thus, you may yet need an external video editor.
But the challenge is this; people tend to know if they can edit videos they've already published on Tik Tok. Well, that's possible, but you'd only be left with minimal editing options. The best technique normally would be to delete the video and make a new one instead. This time, it'd be a nice idea to use the VidClipper Video Editor and edit the video to your taste.
Introducing VidClipper Video Editor
VidClipper is a professional, easy to use video editing software for Windows PC users. It provides an intuitive, easy-to-navigate interface with various video editing tools that virtually match all video editing needs.
This software features a massive collection of filters, transition templates, a sophisticated music library, and many more tools for handling professional video editing jobs. Creating Tik Tok videos with VidClipper is a "breeze," and you'd definitely end up making vivid clips that'd stun your audience on the platform.
How to Make a Unique Tik Tok video with VidClipper Video Editor
Firstly, you'd need to download and install VidClipper on your PC. At the moment, this video editing software is only available for Windows OS (Unlike Qshot Video Maker, another of their tool that's available for Android and iOS devices).
Secondly, you'd need to pre-record the video using Tik Tok or any other application that allows you to record videos. After the recording, you would need to copy the recorded video to the PC where you installed VidClipper and then proceed with the editing functions.
The first and second "tips" above are simply prerequisites, below are the actual steps to create a Unique Tik Tok video with VidClipper Video Editor.
Step One: Launch VidClipper and Choose an Orientation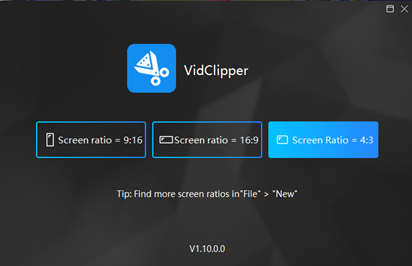 There are three orientation styles supported by this software, 9:16, 16:9, and 4:3; however, other screen orientations are accessible from "File" >>> "New." It would be great to use 9:16 orientation to view the video in the exact way it'd appear on mobile devices (and on Tik Tok, when uploaded).
Step Two: Upload the Recorded Video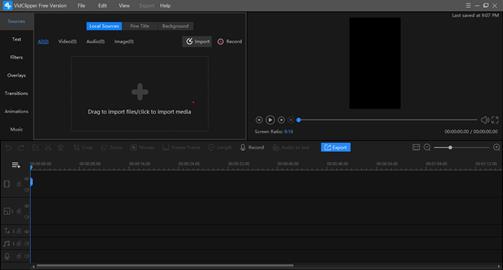 There are many ways to upload your video; you can drag and drop it on the app's interface or use the native "import files" option. You can upload multiple videos at a go.
Step Three: Start Editing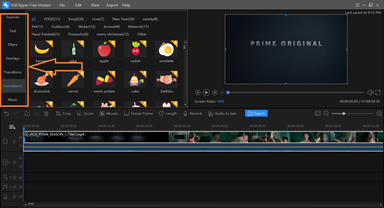 Now you can start editing your videos using the various tools accessible from the left pane. Go to the "Text" option to add custom texts, navigate to "Overlays" to add overlays, move to "Filters" to beautify your video, and just like that; you can access and add so many features to your videos to make it stand out.
Also, you can add custom sounds/music to your videos, as well as insert animations – all in the bid to create a catchy video for your Tik Tok audience.
Step Four: Export or Save the Edited Video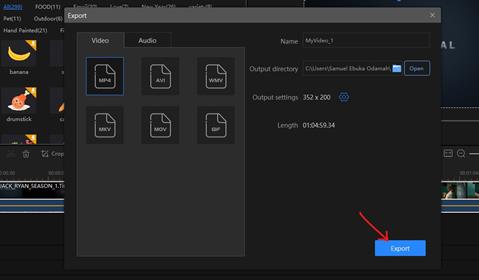 After you have finished editing your video to your satisfaction, click on the "Export" button to export and save the video on your local storage disk. Interestingly, you can choose to save the video as GIF, AVI, MP4, or any of the supported six (6) video output formats.
Customize the video output settings by clicking on the settings "gear" icon beside "Output Settings." In the resulting dialogue box, you can adjust the video quality, bitrate, etc.
Remember to give your video a name before clicking on the "Export" button.
What More?
After editing the video and saving it on your PC, you'd also need to copy it to your mobile phone. Afterward, launch the Tik Tok app, and when you open the video recording interface, don't record a new video; click on the "Upload" button, which sits at the bottom-right corner, to the right of the record button.
Clicking on that icon would pop up your gallery, and from there, you can search and select the video you edited with VidClipper Video Editor. Interestingly, when you load the edited video into Tik Tok's built-in video recording/editing interface, you can further edit the video by adding the app's special effects, filters, icons, etc. Upload/share your video when you're completely satisfied with the editing you've done so far.
In Summary:
VidClipper Video Editor, while not an official Tik Tok video editing software, lets you edit Tik Tok videos like a pro. With this handy windows utility software, you can make amazing TikTok video creation. It supports various tools and features that are excellent for making impressive Tik Tok videos that'd increase engagement, reactions, and multiple re-shares.