In today's guide, you'll learn how to track your boyfriend's phone location like a pro using Spyier, a specialized app for tracking user's activities. With this special tool, you'll get a real-time location and all the places he's visited. You can even use the Geofencing feature of the tool to know when he goes to certain areas. The Spyier tool is silent all through, and you will get all the tracked details online.
Why Track Your Boyfriend's Phone Location?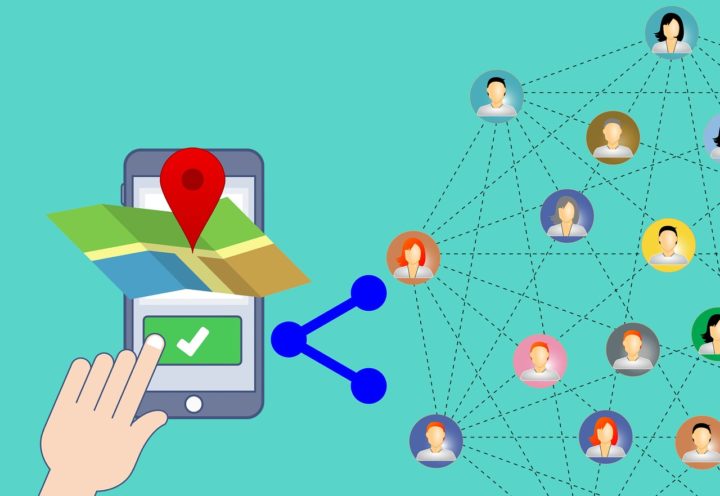 Well, this is a valid question, considering the many logical reasons why tracking his phone location shouldn't be your first point of call. But then, your boyfriend may tell you that he is in a meeting, but he is somewhere else, and you're curious about his real or actual location.
How can you know if it's real, even if he has already called or texted you about it? You can choose to believe him or find a way out.
If you are on the latter, we understand the suspicion. Luckily, there is a way to tell his real-time location without letting him know. Tracking solutions have developed to the point of getting the necessary information silently.
Since your boyfriend will never buy the tracking idea, here is how to track your boyfriend's phone location. He will only know the day he goes to a different place than agreed after lying to you.
How to Track Your Boyfriend's Phone Location with Spyier
Several third-party cross-platform solutions will track a phone in real-time. The problem is that you have to deal with the many solutions that demand some tricky procedures. However, if you just met Spyier, then it's time to see what the official page holds.
It's one of the few solutions that will take you five minutes at most to start using. If your boyfriend just left his phone to go to the shower, you have enough time to set up something.
The simplicity and fastness have enabled millions of people across the world to acquire it. That implies you can believe the masses that approve of it as being a reliable solution. Back to tracking phones, Spyier works on both Android and iOS devices.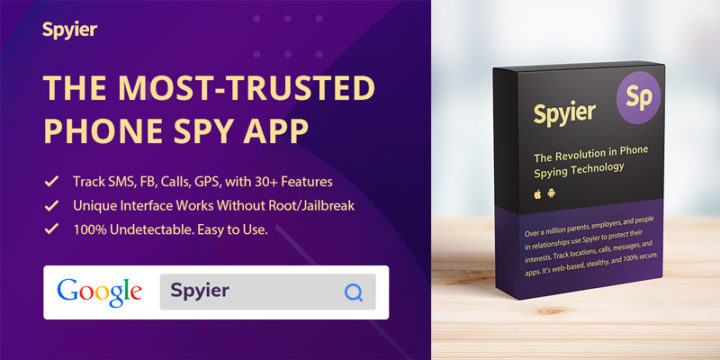 Since your boyfriend is using either, you are sorted out when it's time for acquisition. Before the setup process, Spyier will not ask you to root or jailbreak his phone. It's already equipped with cutting-edge technologies that enable tracking without altering the phone.
It's also vital to note that your boyfriend will not see the app on his phone. When deployed, it hides using the stealth mode feature. That allows you to track the cellphone undetectably while he suspects nothing.
If he uses an Android, Spyier will work after a one-time installation. That is when you activate the stealth mode in the process. For iOS, you only need to input his iCloud ID on the main website after the account registration.
You will depend on your account after the setup is complete. That implies you will be going online every time you want to know where the man is. You can check out this post for tips on phone tracking or read on for more on how to track a cell phone location after acquiring it.
The Tracking Process
Here are the detailed steps to track your boyfriend's daily movements, cell phone location, etc., just like a professional private investigator.
What You Need
His Android phone or device should be running on Android OS 4.0 (aka – Ice Cream Sandwich) and above. If he has an iPhone, Spyier works with iOS 7.0 or newer.
For Android, get your boyfriend's phone to install the app once. In iPhones, use his iCloud login details.
There must be an Internet connection and a valid email address.
Steps to Track the Phone
Step 1: Register an account on the main website. After that, choose your boyfriend's phone OS and proceed to pay for one of the best plans.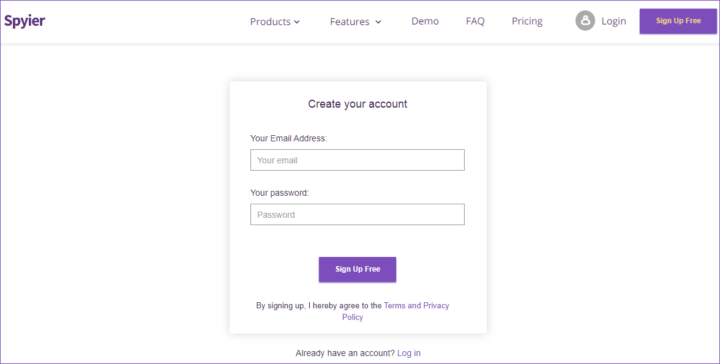 Step 2: Once you make the purchase, an email will arrive with all the confirmation details and setup instructions. In Android, you will also get a link.
Step 3: In iOS, log into your account and input your boyfriend's iCloud credentials. Next, select the phone he is using and wait for the syncing.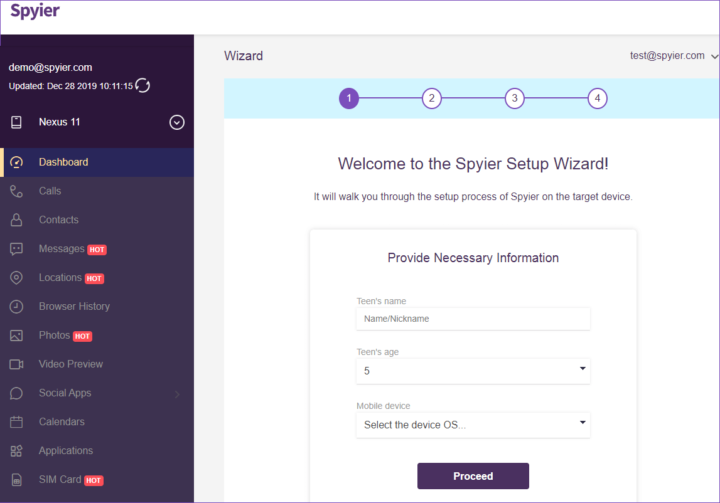 Step 4: For Android, use the link sent to your email to install Spyier on his phone. Ensure that you activate the stealth mode and then wind up the installation process.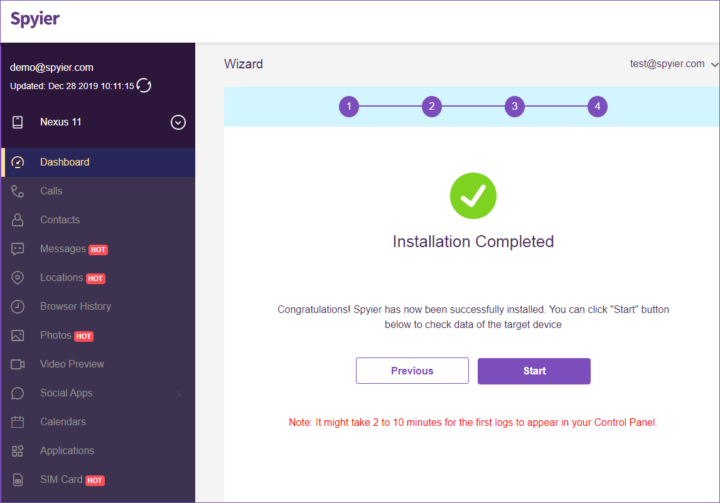 Step 5: When you get back to your account, there will be a dashboard with all the features.
To track the location, use the Locations link in the menu.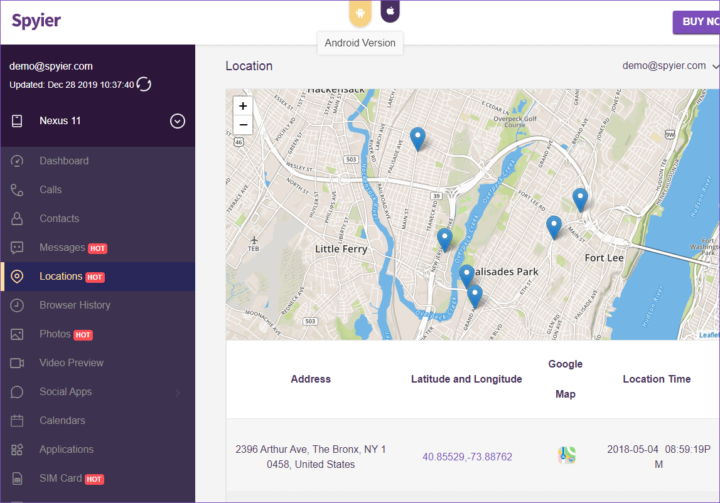 For alerts, utilize the Geofencing function.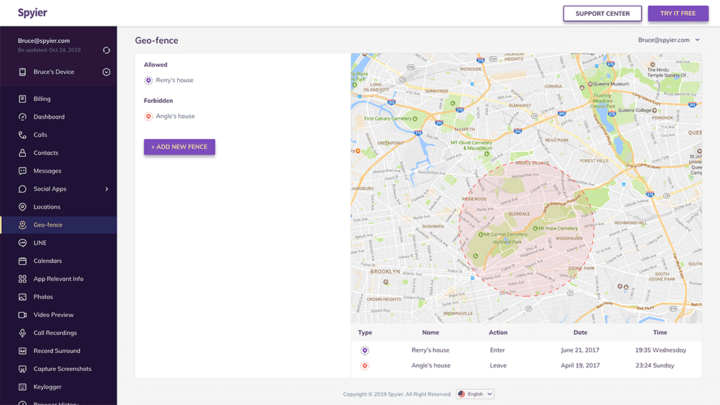 Spyier Phone Location Tracking Features in-Full
Here are some of the most striking features of Spyier, the tool for tracking your boyfriend's cell phone location like a pro.
Real-Time Location Tracking
Spyier uses the GPS or connected Wi-Fi to tell where the phone is and where it has been. When you click on it, you will see the exact location and other previously visited places while on the dashboard.
The details will also contain the coordinates and timestamps.
Geofencing and the Alerts
Does your boyfriend go to places you suspect? The Geofencing option will tell you more about that. It helps you set up the perimeters around the wanted areas. You will also input an email to notify you when he enters or leaves the marked zones.
After that, wait for Spyier to alert you when he visits the places.
SIM Card Location
Spyier can also detect the SIM Card in use and also tell where it's going. Under this category, you get all the SIM details and a small map showing you the location. Since the guy changes the SIM Cards often, you can know about that by inputting your email.
In case a SIM swap happens, the solution will let you know. This feature is only available if you will be tracking an Android.
Apart from tracking, other features can tell you about his phone activities. They include calls, SMSs, social media, photos, and videos. To see the 35+ features in action, visit the main website, and check on the demo page.
The control panel assists you in tracking your boyfriend regardless of where you are. It does that by being compatible with all browsers. If you are on a smartphone, tablet, or computer, the vital requirement will be an internet connection.
As you track your boyfriend's location, Spyier makes sure that you are the only one viewing the information. It does that by not storing the details you receive online. Instead, it syncs when you access your account.
Conclusion
Next time your boyfriend lies he is with his friends in a park, you will know better. Spyier will be on his phone telling you his every move and where else he was. It will do that silently to avoid unwanted confrontations.
When it's time to get rid of it, you can do so remotely via your account. So, you can track your partner and stop without saying a single word.