Yeah, even professional musicians and hobbyist singers use mobile music-making apps for various purposes. There are pretty many good apps to have on your phone as a band member or amateur musician; these band apps are unequally important in the sense that you've got to choose specifically based on the features you're looking out for.
The majority of these apps for bands are free mobile applications with in-app purchases. This implies that the apps are free to install on your device, but you may need to pay to unlock some of the finest features that perform the function(s) you need. Hereunder are some of the best apps for newbie and hobbyist musicians.
The 15 Best Apps For Bands and Amateur Musicians
Hereunder are 15 of the best apps for bands, hobbyist entertainers, and mature musicians. They'll fill in for your day-to-day music creation needs.
1. uFXloops Music Studio (Android)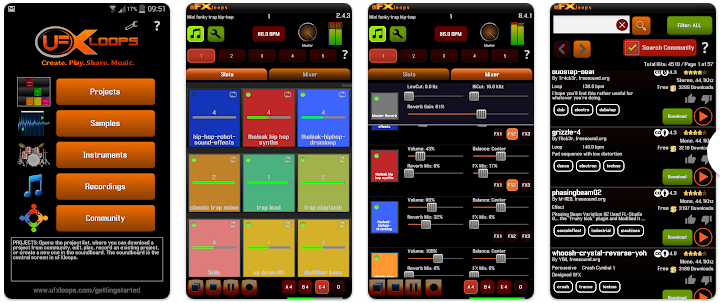 The uFXloops mobile app is an ideal start for the amateur and hobbyist musician. It is a "mini studio" in your hands – providing you with the basic studio tools you need to make good sounds and music. uFXloops Music Studio comes with a free loop sequencer, beatmaker, sampler, mixer, song maker, and soundboard.
Basically, uFXloops is a community-based Soundboard Composer DAW designed to make mixes and recordings much easier for amateurs and professionals. With the app, you can create new songs weekly or remix songs as often as you can. The interface is intuitive, and there are over 3000 instrumental songs. UFXloops is only available for Android.
2. Ultimate Guitar (Android | iOS)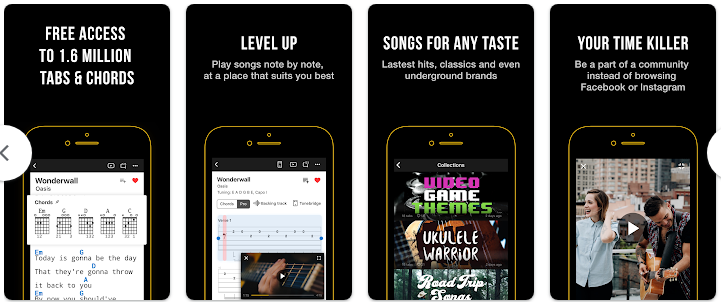 Love guitar, bass, and chords? If you do, then you'd definitely love this app! Ultimate Guitar is available on iOS and Android app stores as a free – with in-app purchases – app to access the "world's largest" catalog of guitar, bass & ukulele chords, tabs, and lyrics to learn the songs you love.
The app is built with multiple features – you can search for songs easily, and you choose any difficulty level f your choice. Ultimate Guitar also lets you adjust tuning and rate songs on the platform. It is recommended if you play guitars – so you can learn from professional guitarists.
3. Garageband (iOS)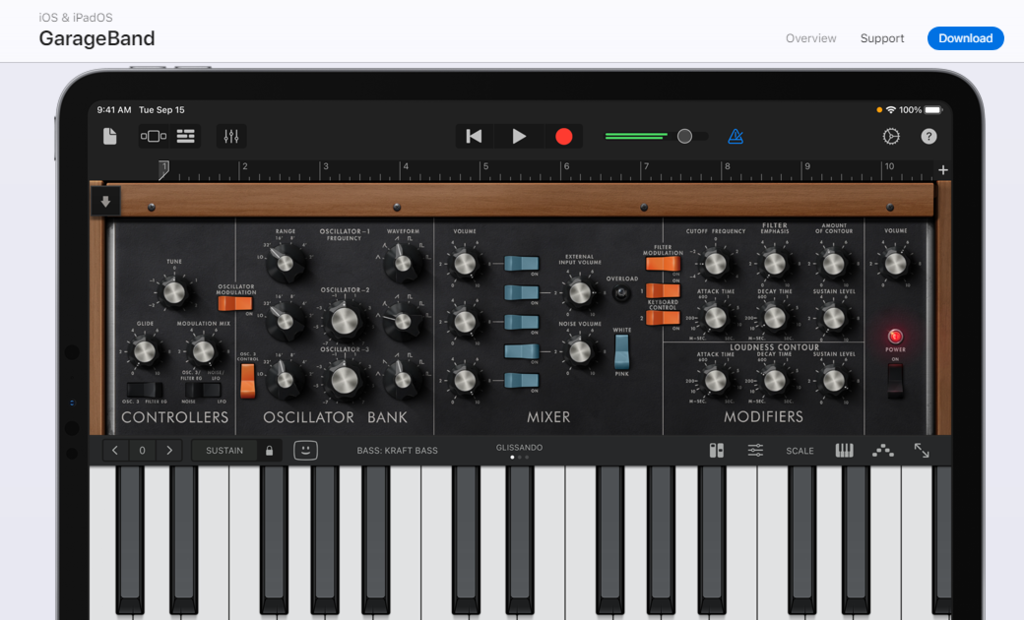 The Garageband app is a free one for iOS users packed with several handy features and sound-making tools. Installing the Garageband app basically turns your iPhone into a mini music studio, thanks to the built-in multiple recording and editing tools. Also, this app grants you access to various instruments to create any type of sound.
GarageBand is developed and owned by Apple Inc., so it is available across Apple products using macOS, iPadOS, and iOS. With the Garageband app, you can also make podcasts. One of the most impressive features of this app is the learning center, where you can take real music lessons.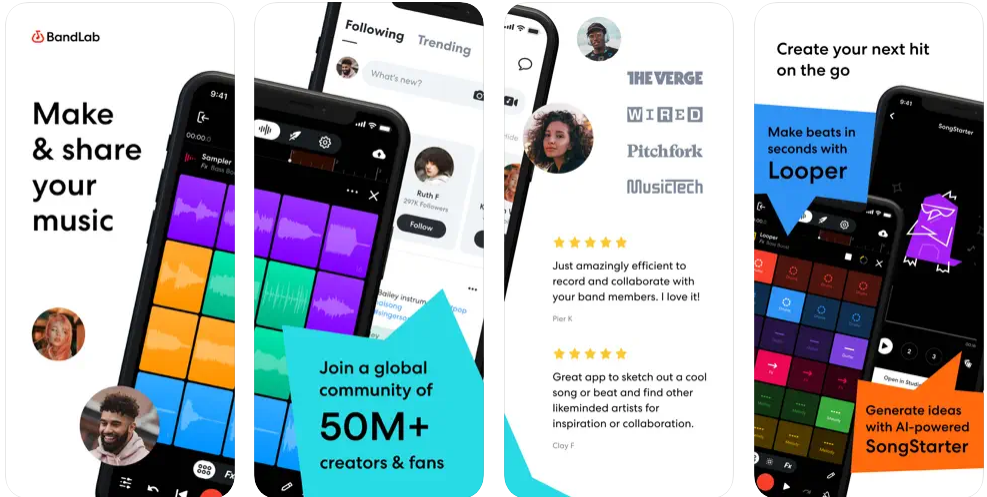 You've got to love this one because it provides you with the tools to create band songs and also provides a means to earn from your creations. The Singaporean company BandLab Technologies offers the BandLab mobile app, which is a social music platform where song lovers have access to create music, collaborate, and engage with each other, regardless of their location. The BandLab app has over 50 million registered users and offers so many useful tools for solo musicians and bands.
5. ASR Voice Recorder (Android)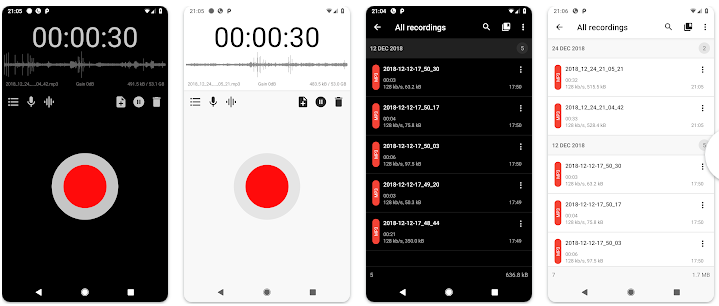 ASR Voice Recorder is basically a voice recording app, as the name implies. However, it comes with a few more features that make it better than the stock recorder app on your Android device, including an integral audio conversion tool. But, ASR Voice Recorder is only available on Android.
The ASR Voice Recorder can save recordings in different audio formats, including WAV, mp3, M4A, OGG, and others. More interestingly, this app has a built-in automatic recording engine; it stops (pauses) recording when you're silent and resumes when you start speaking again.
6. Beatwave 3 (iOS)

Mix, create, produce, and share; these are what the Beatwave 3 app lets you do from your iPhone device. Beatwave 3 is built for amateurs and hobbyists, but it is still a decent tool for professionals. The Beatwave 3 app feeds you with the right tools to create any type of song and goes on to provide you with the tools you need to make the song outstanding.
With the Beatwave 3 app, you can mix and loop your arrangements to create that perfect sound you want. The app provides you with all the tools to fine-tune your songs so they sound just the way you want. The integrated rhythm keyboard and drum generator help you come up with impressive melodies and drum tracks, even as an amateur.
7. Pocket Pitch (iOS)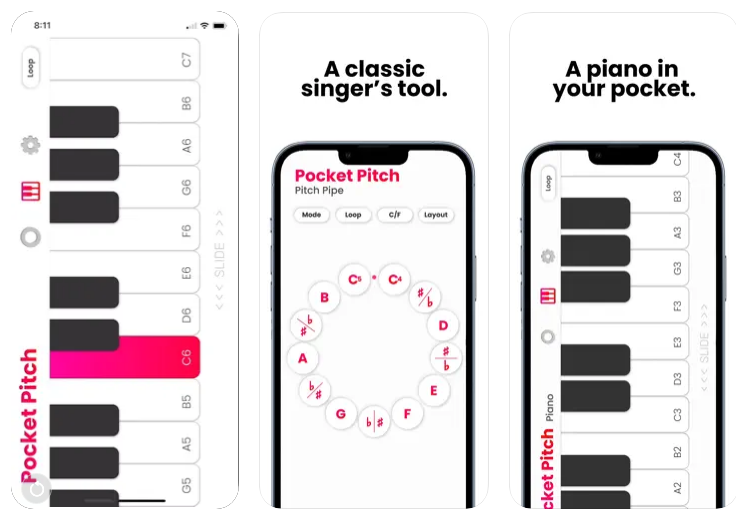 Here's an ideal app every singer or musician should have on their phone(s). Pocket Pitch is a simple-to-use mobile app to identify and play notes. The app combines a piano and pitch pipe function – the two quintessential tools of singers.
Pocket Pitch's Pitch Pipe feature functions the same as a regular pitch pipe. You can use this app to tune your voice and any instrument; the keyboard feature allows for up to 6 pitches octaves, perfect for vocal warm-ups or plunking out notes.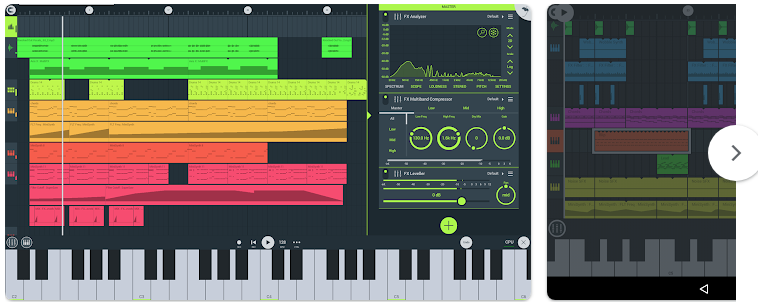 FL Studio is a full digital audio workstation software developed by Image-Line; it is a powerful tool for bands and musicians. Interestingly, there's a mobile app version that puts everything the standard FL Studio software has to offer into your pocket. The FL Studio app is available across all mobile platforms and features a pattern-based music sequencer.
Also, on the app, you can access high-quality synthesizers, samplers, drum kits, and sliced-loop beats. Although most of the app's features are available for free, you need to pay to unlock their full potential. Finally, you can capture recorded performances, load multiple formats (WAV, MP3, AAC*, FLAC, MIDI), and share your songs across platforms/devices.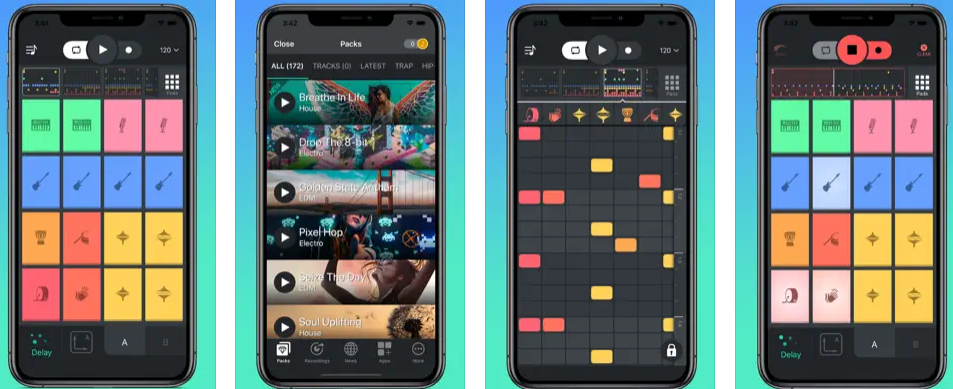 Beat Snap is a mobile drum machine and drum pad controller app available across Android and iOS platforms. It is pretty easy to use and helps amateurs to create impressive beats as quickly as possible. The app comes with over 130 sound packs for different genres and allows you to record up to 32 sequences.
On the app, there is six live-controllable FX with two grids and 16 responsive pads to fine-tune your sounds. Beat Snap can store up to 200 instruments and 500 sounds. With the Beat Snap app, you can go from being an amateur to becoming an intermediate producer or musician pretty very quickly.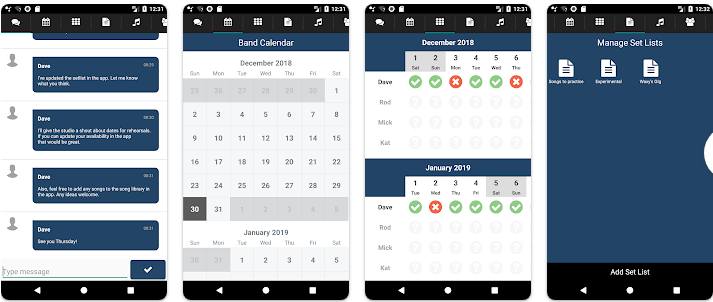 The Band Mule app is for bands, but it still makes a great choice for music groups. It is a mobile app that brings the members of a band together – into a platform where they can easily connect/chat with one another, share files, and plan out their gigs. Band Mule is more like a calendar app for bands and music groups.
11. n-Track Studio DAW 9 (Android | iOS)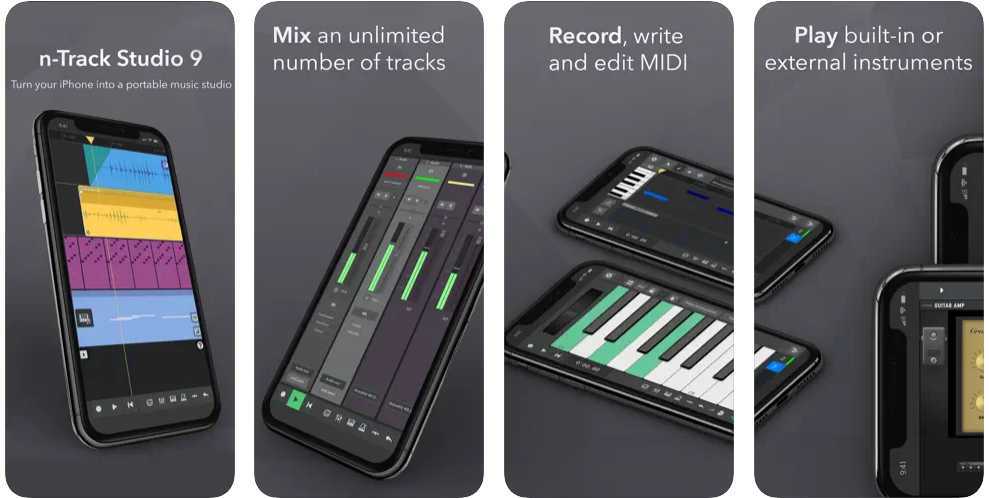 Getting the n-Track Studio DAW 9 app on your smartphone simply turns the mobile device into a mini portable music studio with all the tools and features you'd find on full studios.
The n-Track Studio DAW 9 comes with all the necessary tools to create any type of song, including integrating a 64-beat audio engine with two effects for every tract and support for multichannel USB.
With the n-Track Studio DAW 9 app, you can record unlimited audio, MIDI & drum tracks, mix them and add effects (guitar amps, vocal tunes, reverbs, and much more. This app lets you edit songs, collaborate, and share your creation with other people.
12. Cleartune (Android | iOS)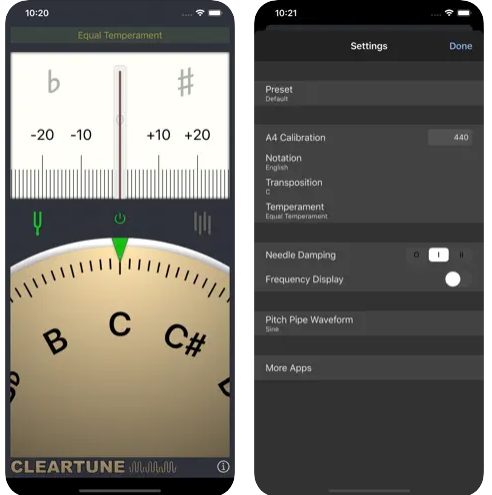 Cleartune is an intuitive app for amateur musicians and bands. It comes with a suite of features and tools to help bands and singers. The Cleartune app has pretty many premium features that need to be activated by paying for them.
More interestingly, this app is recommended and used by some of the world's finest bands, including The Killers, Gorillaz, and The Black Keys. Cleartune is both a pitch pipe and chromatic instrument tuner app – it uses your phone's mic.
13. Hip-Hop Producer Pads (Android | iOS)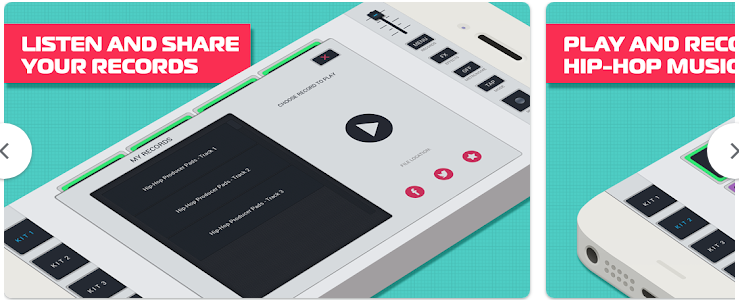 Hip-Hop Producer Pads is equally one of those apps to help you as an amateur musician or band. It is basically a virtual sampler and drum machine that provides you with the tools to create your own Hip-Hop tracks. Of course, the app supports loops, samples, and one-shots.
With this app, virtually anyone can make melodies on the fly. You can also play the tracks/melodies with your friends. If you wish to become a song producer someday, Hip-Hop Producer Pads can be a great way to start your producing journey without spending much on equipment.
14. MultiTrack DAW (iOS)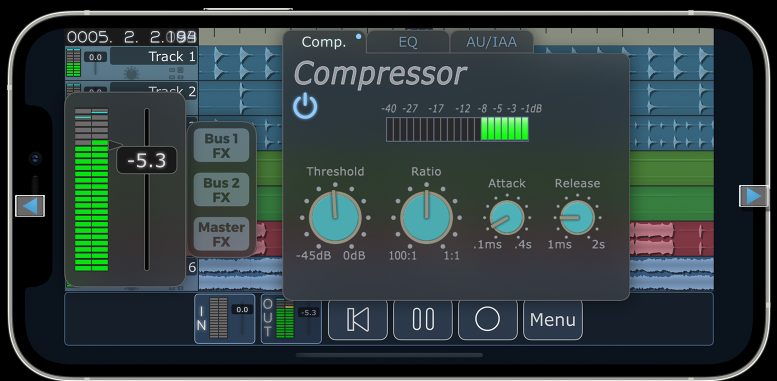 Well, just like other DAW mobile apps, the MultiTrack DAW app turns your iPhone device into a mini studio you can take with you anywhere you go. The app lets you record as many times as possible to achieve your desired result. On the app, there are pretty many tools to adjust and edit your recordings to appear the way you wish.
The MultiTrack DAW supports multiple audio formats – you can import audio from third-party sources, such as your local music library. You can also mix, cut, and re-record songs until they become as perfect as you wish. MultiTrack DAW is simply a handy tool for bands and singers.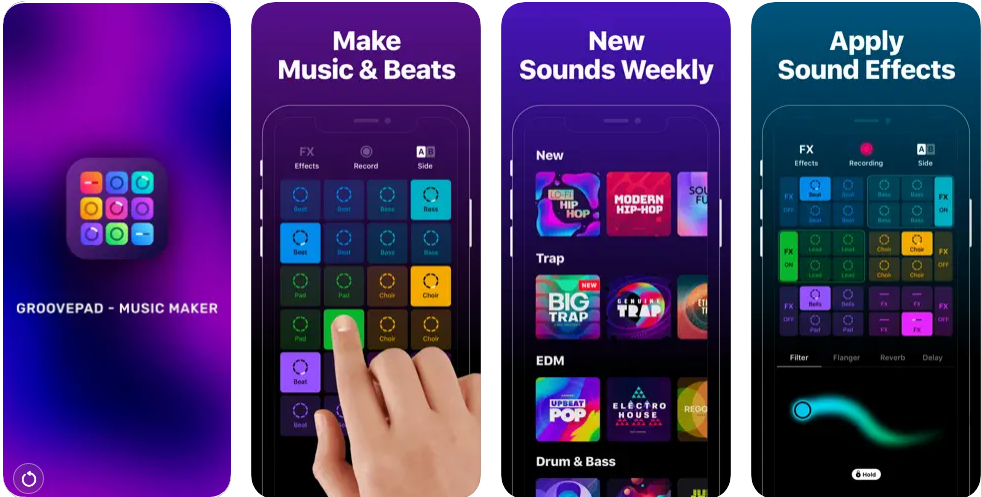 Groovepad is a music- and beat-making mobile application available for iOS users only. It is a powerful mobile studio and one of the best to use out there. The app comes with basic features such as reverb effects, delays, and a soundtrack library. There's a premium version of the app that removes ads for you and grants you access to more exciting features.
Summary
These are the best 15 apps for amateur musicians and bands. You can download and install these apps from the Apple app store or Google play store. They are pretty feature-rich, intuitive, and free to install.