Video creation and editing are high-level activities currently due to the increased usage of video content in different commercial practices. Whether you are posting videos for entertainment or as a marketing tactic for businesses, adding creativity and effects to the clips would increase engagement potential. Therefore, many companies use Adobe products like Premiere Pro as the best video editor for PC.
This software offers multiple video editor versions for professional editors with high-quality video editing functionalities, an expanded Adobe stock library, and other benefits, like After Effects and Premiere Pro. However, it's hard for beginners to get started. So knowing another reliable alternative to use would help. Wondershare Filmora is one such solution, with an easy-to-use interface, high-quality features, a rich in-built library, and multiple advanced editing functions.
In this article, you will learn about Wondershare Filmora and how it can supercharge your business and video creation needs in 2022.
Why Should You Look for an Adobe Alternative?
Adobe Premiere Pro is better for specific uses like non-linear video editing and audio customizations. Alternatively, Adobe After Effects offers optimized 3D/planar camera tracking and a simple keyframe workflow. Both plans cost high amounts.
While they are useful for professional video editing experts individually, people must use both software types to get the whole gamut of feature-based benefits. With Filmora video editor, they get all in a single comprehensive platform.

Unlike Adobe Premiere Pro or After Effects apps, Filmora is also made easy for non-technical users. While it does possess professional-level functions like keyframing and audio ducking, the usability is simpler here due to an intuitive UI design.
Users can easily find and use multiple pre-set features, including this app's extensive Stock media library, NewBlue Fx, and Boris FX. These make it easy to be creative with projects, even with the Free plan. Paid users can further expect Wondershare Cloud support with their plans while using Filmora as their preferred video editor software for windows.

Detailed Look at Filmora Features and Benefits
On multiple fronts, Filmora proves itself as the better video editor for windows and Mac. So, focus on learning about all the available features to understand why it is a notable alternative to Adobe.
Easy usability, learning curve, and support

Filmora comes with an intuitive and easily navigable interface with smooth functions. All elements are easy to find in the editor and home page of the application, like Instant Mode, New Project, Cloud Project, AI Portrait, etc.
During the editing work, one can easily drag their file and drop it onto the video editor timeline to begin the process. You can also drag the audio file to the timeline and edit both in sync.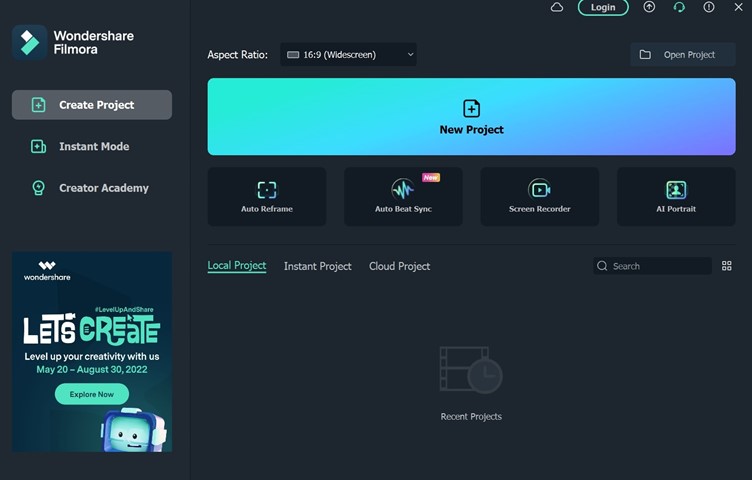 Overall, the learning curve in this software is very simple, and even beginners can adapt to it well. On the website, multiple tutorials are available detailing how to utilize all advanced functions on this subscription-based and free video editing software.

You can click on the Online Help button on the top-right side of the home screen to access the user guide or the Support Center icon for technical support.

Speed Ramping

This video editor comes with robust Speed Ramping functionality that is unavailable in most other editor software types. You can adjust the speed during the editing through the editor timeline. There are 6 pre-set speed options available, like Bullet Time, Montage, Flash in, Jumper, etc.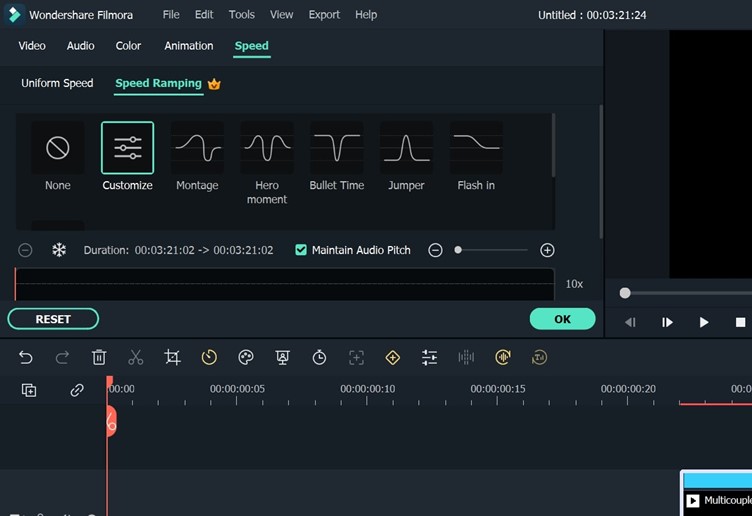 Besides that, you can easily adjust the speed using the Customize button. To open this feature, left-click on the video you dragged to the editing timeline and choose Speed Ramping.
Stock Media

Like Adobe editing software types offer Adobe Stock images and sounds, there is a pre-set Stock Media library in this windows video editor. You can click on the Stock Media tab at the top left side of the editing screen and see multiple categories, like Favourites and those from Stock image providers like Giphy and Filmstock.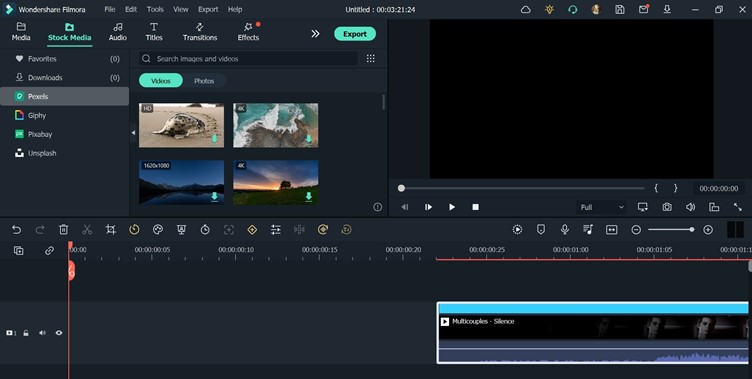 Advanced editing effects like NewBlue, BorisFX, etc., are available for paid customers through FX plugin support.
Masking and Blending

With Filmora video editor, you can apply the masking and blending modes to mix multiple video clips cohesively with pre-built layering techniques. Here, you can make changes to the mask's placement, height, and width and add overlays to the video files.
Around 15 different blending modes are available.
Instant Mode

This is an advanced feature of this free video editing software that editing experts find very helpful. Accessible through the home interface, one can get instant optimized video projects without customized editing steps.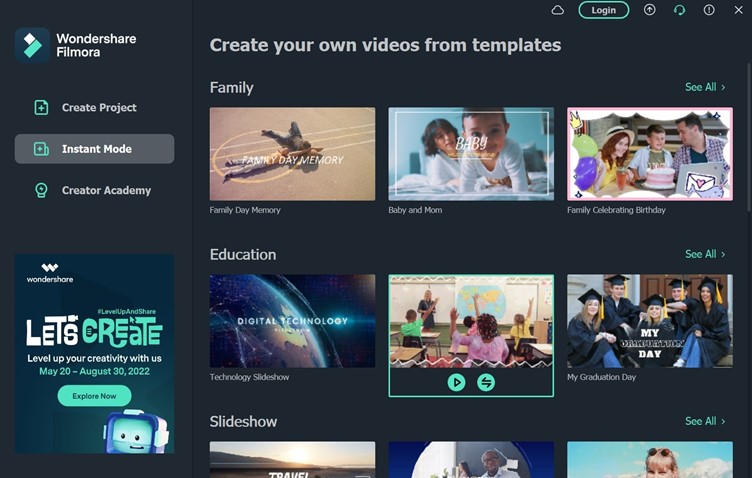 The software does the work for you and delivers the final video file, adding one of the 115 pre-set templates after analyzing the media file you add. The AI algorithm changes the necessary effects and styles of the video and provides a preview too. To note, this is a Windows-based feature only.
Audio Effects

Compared to most other video editor software types, multiple audio alternation effects and features are available on Filmora. For example, you can use the Silence Detection function to find specific areas with no sound quickly.
Additionally, use Audio Visualizer through the editing tools to see the beats in the music clips in a visual format to adjust the right moments in the video to add the sound. Remove unwanted sounds from clips with the Audio Ducking function.
Audio Beat Sync (Automated)

The software detects the video file you add and automatically alights the right music with the footage. It analyses the song's beat points and applies them to the video effects instantly, with jitter or overexposure effects.
The audio synchronization function is also available for editing experts to match multiple video clips with sound clips in one scene.
AI Portrait

The AI algorithm in Filmora analyses and remove the background from videos with total accuracy.
You can automatically add AR stickers to the video clips out of the 70+ options for AI portrait/sticker effects available. This is available through the Home page of the software.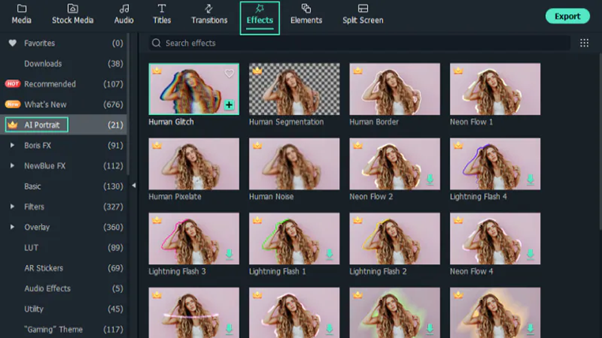 Color adjustment

There are features to change the coloring in the video files after you click on the Tools tab to find the Color option.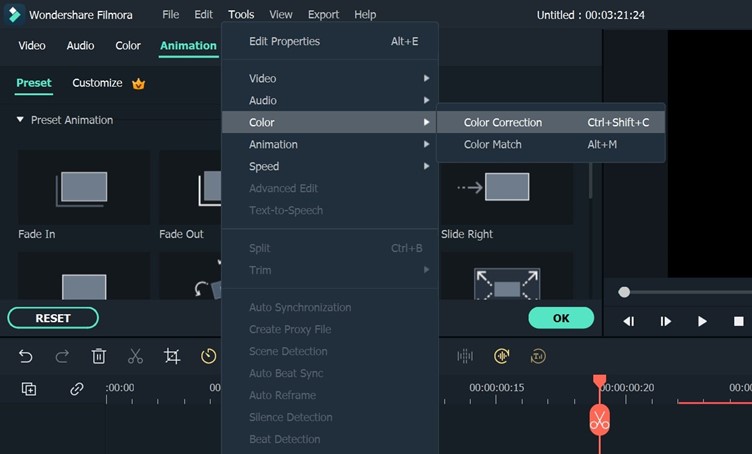 Under that, you can select either Color Correction for optimized color-based adjustment or the Color Match option.
KeyFraming

You can adjust the video files with scaling changes, like rotating, narrowing, or enlarging the clips through the Keyframing option. Here, you can set your keyframe beginning and ending points, and the software will automatically carry out the video animation work.
Choose out of 80 different preset animation templates, make scaling changes, and choose the animation location, transparency, etc., through the Keyframe editing view of this video editor.
Price
Regarding price, Adobe product costs start at USD 20.97/month for After Effects, USD 20.97/month for Premier Pro.
Comparatively, the feature-rich Filmora video editor costs the following on a time-based subscription model for individuals.
Annual– USD 49.99/ year

Perpetual– USD 79.99/ lifetime

Business/ education users can get a complete plan with customized pricing or a pre-set Team plan, with editing functions, multi-user control, free updates, and free senior-level tech support.
My Verdict
​Overall, Wondershare Filmora has a wide range of advanced and standard-level functions compared to most other video editors online. The AI algorithm here is high-quality and sensitive, easily analyzing and optimizing the videos within a short timeframe. Similarly, the manual-based customization features include many unique options not seen in the market.
So, while it does cost a relatively high amount, the benefits are worth the shot as an Adobe video editor alternative.