Every month the competition within the digital market is getting more intense. Many businesses are significantly improving their online marketing to keep up with the rapid pace of winning new customers or clients. Along with well-designed & easy to navigate website, contact forms are one of the most crucial parts of the website in order to get in touch with your customers/clients.
If you want to make a unique impression on your target audience with a WordPress website then adding a contact form is a huge plus. And, it can be done easily by clicking a few buttons or installing a fresh new plugin.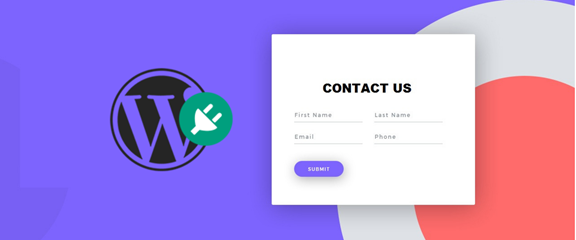 There are many contact form WordPress plugins available free and with paid versions which you can download and integrate with your WordPress site to make it more attractive.
But, having the best contact form plugin is very crucial because ultimately you need to build a robust and easy communication between you and your customers through a WordPress website. And to make sure you can effectively communicate with your potential customers.
In this blog, we have compiled 13 best contact form builder plugins that should be on your WordPress website. Come along with me as I take you through the list.

One of the most popular contact form plugins is WPForms which can work on every device including desktops, tablets, and mobile phones. Its easy drag-and-drop interface allows you to do tasks around the website more conveniently.
The forms are highly optimized for web and server and increase the conversions. One can include forms to their web pages, blog posts, and create CSS forms also.

This plugin comes with the pre-built set of form templates that save your time and efforts. You can easily, add, remove, and re-arrange necessary flew whenever required.

If you want to build beautifully designed forms then FormCraft contact form is the best choice. This is easy to navigate and used to display pop-up forms on any page, develop one-page payment forms, insert math formulas, etc.

You can make attractive forms by including maps, multimedia content, and other widgets with this plugin. Further, you can view analytics, add reviews, make submissions, and increase conversions rate through your WordPress website.

Main features:

Built-in conditional logic


Support high-definition image


More than 23 fields to select forms

These form builder plugins are used to create powerful, complex contact forms easily quickly. One can build multiple page forms and schedule forms to display for the specified time period. For easy access, you can save all the submission data in your WordPress database.
Moreover, configure the entry list to show only desired columns, view entries in detail and transport entries into a CSV file. With paid versions of Gravity Forms integration of third-party tools like PayPal, Dropbox, and AWeber, is possible.

Key Features:

Fully customizable


Configure email notifications easily


Built-in conditional logic.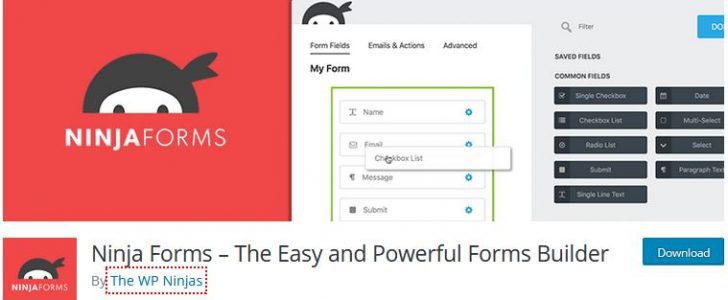 These contact forms are the best-rated and have a beautifully visual interface. Ninja Forms are free and bring you with super customer support and regular updates. You can create interactive contact forms using this plugin with fewer efforts.

You can extend the functionality of Ninja Forms by adding premium features such as including the form with email marketing services such as Campaign Monitor, PayPal payment integration, and much more.

There are a lot of support, documentation, and guides available for this plugin to use efficiently. You can take advance settings such as custom variable equations, currencies, and restrictions in order to make it more powerful.

JetPack is a security module for WordPress and it contains a series of tools which offer you easy social media integration, traffic analysis, stats reporting, CSS editor, and content focused widgets, etc. You can simply activate contact form in the WordPress editor settings.

Pros of JetPack:

Already installed and used in many WordPress sites.
With the help of the Contact Form module, one can insert a customizable contact form anywhere on your WordPress website.
Jetpack contact form plugin provides flexibility with fields like add new ones & remove old ones to publish the more effective forms on your WordPress website.
Formidable Forms are popular forms among WordPress users. With its drag & drop form builder, you can easily build customized contact forms. Formidable Forms are available with free & paid versions.

You can create directories & listings, graphs and display statistics from form entries, and perform powerful calculations. There are a number of paid add-ons available such as AWeber and MailChimp which can be integrated into this plugin to enhance its functionalities.

Key Features:

Drag & drop interface.


A huge number of email notifications.


Using the XML format easy Import and export forms

With over 3 million installations, this is the most downloaded contact form. It supports CAPTCHA, Ajax-powered submitting, and Akismet spams filtering. Contact Form 7 is the most responsive plugin to add unlimited forms to your WordPress website.

You can add MailChimp Extension, Conditional Fields, and Dynamic Text Extension, etc. If you are looking for an easy solution then Contact Form 7 is the best option to choose. This plugin is highly customizable and absolutely free to use.

This contact form is totally free, easy to use, and can be set up within a minute. It supports custom SMTP and Google reCaptcha. One can use the [pirate_forms] shortcode to create a contact form. So, after installation and activation of this plugin, you just need to copy shortcode and post anywhere in the contact form such as widget, page, etc.
With SMTP option, you are assured that the emails are delivered securely from source to the personal e-mail address.

Main features:

Free of cost contact form plugin for WordPress.


Best for building basic contact forms.


Full customization including field labels, CSS, and HTML code.


Can be configured to use with a custom SMTP server.

HappyForms WordPress form builder plugin comes with 16 pre-built form elements such as email, website, phone number, etc which are fully customizable.
This is absolutely free and you can build unlimited forms using this plugin. You can view you all messages in the filterable list. Therefore, using this plugin, you can build simple contact forms without paying money. Skip the trouble of spam messages and start more conversions with HappyForms.
These forms are optimized to boost conversions with your WordPress site and easily track your conversion all the time.

Some popular features include:

Live preview forms


Easily duplicate forms


Confirmation messages on successful submission


Easy drag & drop form builder


Unlimited emails, messages, forms, and parts

NEX-Forms is packed with many customization options that include more than 70 animations, 1200 fonts, and 660 icons, etc. This a unique grid layout system which enables you to create stylish and functional forms.

It includes 40 form elements & functionality like conditional logic, math logic, & file upload options. This is one of the best contact forms that is worth to install to build stylish forms.

Key Features:

Multi-step forms.


Special design features.


Auto email responder.


Sidebar widget option.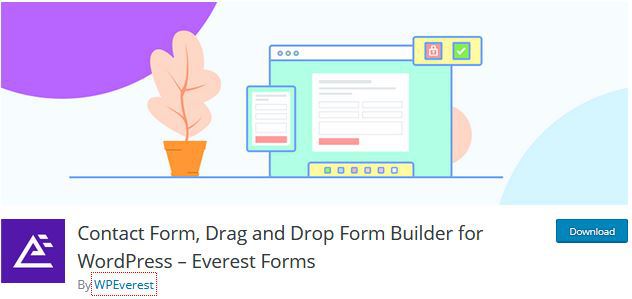 This is useful to create more attractive and beautiful contact form which can convenience more visitors. The intuitive field and amazing drag-and-drop functionality enable you to develop top-class forms.

Everest Forms are 100% mobile responsive and lightweight. It brings you with maximum usability and simplicity along with highly intuitive form settings to the admin panels. The pre-built templates enable you to design multi-column forms that look stunning and different.

Features & Options:

Responsive form template


Support Shortcode


Multiple email notifications


Unlimited forms building plugin


Extensively supports fields like radio, checkboxes, dropdowns, date and many others.

Form Builder

Form-Builder WordPress contact form builder plugin comes with 10 default templates that enable you to create simple contact forms.
It comes with both paid and free versions and with the premium one you get 37 themes which are based on different fonts, colors, submission section, and has the ability to export the XML or CSV formats.

Key Features:

Email options for both users and administrators.

Integration of Google Maps.

Different redirect options.

You can build more professional looking forms with the help of Visual Form Builder easily & quickly. It contains various layout options & 18 field types. You can place different forms on a single page and duplicate forms with just one click. One can automatically store form entries in the WordPress database and manage it directly from your dashboard.

Some of the key features include:

Simple drag-and-drop interface.


Several field layout options


Export entries to a CSV file.

Wrap Up:

It is quite difficult to build a fully functional website that can fulfill all modern needs of a business without using a form builder plugin. And, if you are creating forms for your WordPress website then installing a contact form makes a huge improvement with that particular site.
In the above-mentioned blog, we have discussed the top 13 contact form builder plugins for WordPress. These plugins can play a crucial role in the success of any WordPress website. Build strong communication with your customers/clients with the help of these contact form plugins and increase your website revenues.