Getting the best social media sharing icon can be a daunting task for most every day webmasters.
No one can really underrate the effect of social media icons in modern websites and how much viral your content can go with a social media sharing presence, hence our reason for bringing to you the list of top and best social media sharing buttons to use for any website, fora, blog and/or online shops.
In our list, we'll feature tools that have mobile friendly sharing buttons and have support for Whatsapp, Instagram, Facebook and all other popular social media, VOIP, Chat and social bookmarking apps.
Related –
1. Add This
Add this is the forerunner for social media sharing buttons, social media follow icons and social interactivity apps.
They shook the social media world at their earlier launch and really helped most bloggers go viral with their contents by making it possible to share contents across all social platforms at a single click.
Addthis supports wide selection of icons and has scalable customization option to let you give your user's the best options for sharing your website's contents.
There's a free analytics tool to monitor how and where your contents gets shared. There's also a free counter to see how many times your post has been shared on the social media.
Addthis works with blogger, WordPress, Joomla, custom html website, forums and eCommerce websites. You can preview addthis sample icons and installation guide from http://addthis.com
2. Sumome
Sumome is another great social media sharing tool that works for all popular website platforms to include; blogger, joomla, open cart, SMF, WordPress, Drupal and custom html/php websites.
One thing I love about Sumome is its support for Whatsapp icon and floating social media bar for easy content sharing. It works great on mobile devices and combines all known tools to make your content go viral.
Using all the social media tools provided by sumome can also help your organic traffic by building a strong social media presence for all your great contents.
You can view all of its features from https://sumome.com or jump straight to the installation guide at https://sumome.com/instructions
3. Filament (Social Flare)
Filament is as good as Sumome and provides something more than just social media sharing buttons by integrating other metrics that is fully focused on making your post, videos and images go viral.
Filament social tools can increase your blog's traffic by 50% as the tools works flawlessly on mobile phone and tablets.
The free version works great and support all popular content management systems (CMS) and social networking platforms.
The website is seated at http://filament.io
4. Share This
ShareThis is great tool that helps you get viral and organic traffic by making it easy for your visitors/readers to share your website's content across all social networks and social bookmarking platforms.
It is often refereed to as the best addthis alternative by our in-house editors as we came to know about addthis before testing the awesomeness of sharethis utility.
It is free and offers a wide range of services that makes it easy for your contents to go viral.
Just the other options in our list, it does work with all kinds of website and comes with traffic monitoring tools that lets you see how much of your post is getting shared and how much visitors are coming as a result of the social love by your readers.
More features and customization options can be seen from the sharethis website.
5. Shareaholic
Shareaholic is no mean player in the game of getting viral traffic via social media platforms. The tools are well-tailored to meet every website's need.
From bloggers, internet marketers to eCommerce websites, forums and regular websites; Shareholic social media sharing icons offers a great tool for getting good traffic from the social networks.
The icons can be customized to suit every website and the buttons are non-clustered, thereby, marking for a better user's experience.
Bloggers can choose to earn from the shareaholic affiliate partnership or even advertise via the platform for targeted traffic. You can take a quick glance at the shareaholic website for more.
6. Addtoany
Addtoany works just a great as sharethis and addthis and works with all kinds of website and apps. It is sleek, simple and very user-friendly.
There's the customization and analytical tools to help you get the best from all popular social media platforms. One great feature that separates it from the other tools in our list is that anyone can use the tool without any form of registration.
It is completely "free to sign up", "free to use" and an open source solution for getting social media sharing buttons to any website and/or blog.
Here's the addtoany's official website.
7. donReach
donReach isn't as popular as the other six options above, but offers something really different by making 100% responsive social media icons with count bubbles effect on hover.
donReach is HTML5 compliant and isn't as heavy as the other newer social share counters that makes ones website heavy and slow-loading.
There's much more to get with donreach social media tools and icons. You can visit the donReach's official webpage for full features.
8. GetSocial.io
GetSocial.io isn't just a social media sharing tool but one that has so many useful components such as: –
Floating Social Media Follow Bar
Mobile Sharing Bar
Horizontal Feature-filled Social Sharing Bar
Newsletter Subscribe Bar
Social Media Sharing Icons for images
and a host of other splendid add-ons that lets your readers share and/or promote your contents on all popular social media platforms.
There's more to get from the GetSocial.io awesome apps. See prove from their official webpage. Note also that their app readily integrates with blogger, tumblr, Drupal, WordPress, Joomla and regular HTML5 websites.
9. Sharexy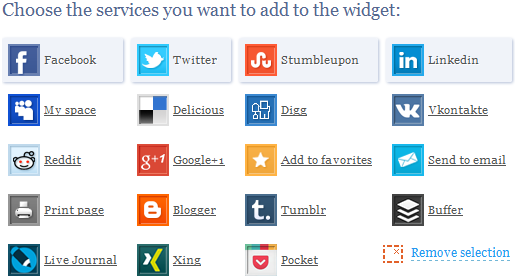 Sharexy is sexy! Trust me on this! The awesomeness of sharexy social media icons and social media sharing buttons makes it a good enough option to be included in our list of top 10 social media sharing tool for all websites.
Sharexy just like the options above works on all platform that supports HTML5 and its fully customizable.  Their official website sits here.
10. share42
Share42 is another good Social Media Sharing Buttons Script that works on all kind of website irrespective of the technology and/or software.
From HTML5, PHP to WordPress, Drupal and Joomla: Share42 social media icon's sharing script works seamlessly with all popular CMS, helping you get high quality reach and viral traffic.
You can see about share42 social sharing buttons from their official website.
What More?
You have seen our list of top 10 Free and Best Social Sharing Button for all Websites, it is now left for you to visit their websites and see which one is best suited for your blog and/or website.
There are other popular ones that didn't make it to our top 10 list such as sharebar (http://sharebar.net) and sharebutton (http://sharebutton.net), this is because the ones we have listed is good enough for all kinds of websites including eCommerce and custom websites.
If you are interested in automating the sharing of your contents so it gets published to all social media fans pages one you hit the publish button on your website, look through our bonus tip below.
Bonus Tip –
Top 3 Tools to Automate the Sharing of your Contents to Social Media Pages
Since we are writing about the best social media sharing icons for all websites, we thought it necessary to talk about the tools that can help you get social media presence for your post once there's a new update on your website.
We'll go straight to the list and hope you do find them useful as they have been to us these many years.
1. Buffer
Buffer lets you schedule your post so it gets published to your social media fan pages and sundry one there's a new update on your website.
It is free and works for all platforms and software that supports rss and/or atom feed.
2. Hootsuite
Hootsuite is a collection of social media flare and promotional tools that helps your contents go viral.
You can automate the posting of updates to your social media fan pages from your website with a free hootsuite account.
Hootsuite allows team collaboration by giving you the option to add managers and users to enable you get the best from your social media marketing (SMM) strategies.
3. ifttt
ifttt is another feature-filled social media marketing tools that lets you share your post, images and videos automatically.
All you need do is create events and hook them up to your social media fan pages for automation. Users can also add your contents as recipes and get them promoted with a free ifttt.com account.
Your Turn
That's all for today! We wish you success with whatever social media icon and/or strategy you've chosen to go with and will advice you choose the ones that's best suited to your kind of website.
We'll be all happy with your comments, shares, contributions and questions. Feel free to use this thread for support and tips on social media icons and sharing buttons.