Yudala has announced a black Friday deal that will cover both its online E-store and offline retail shops customers. It promises up to 90% OFF discount on selected products.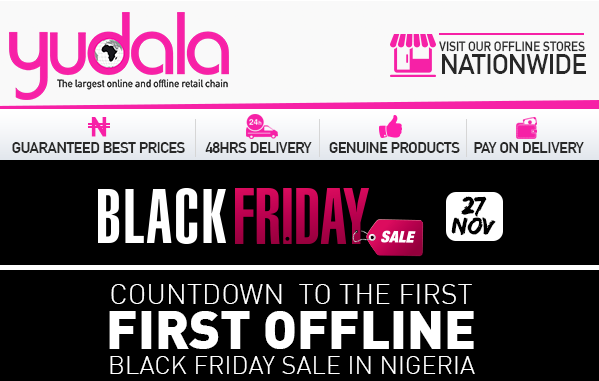 Yudala entered the Nigerian cyber-space around September 2015 after operating their offline divisions successfully and have since proven to be a force in the Nigerian E-commerce space.

Yudala business model was clear from the onset, having physical retail shops was also a step in the right direction considering the trust issues with most Nigerian consumers.
How Black Friday Deals Work
Black Friday and cyber-Monday shopping is always laced with maximum discounts on selected goods and services. Participating stores will feature some items with high discount as well as run flash sales with up to 91% discount from time to time.
The beauty of shopping on black Friday lies on your level of preparedness, you can shop for all your Christmas needs at a very low-cost by identifying the participating stores and the products of importance.
Winning flash sales and largest discount deals will even cut your budgets by a good percentage and give you room to buy for friends, family and colleagues.
Yudala will be participating fully in this year's black Friday sales and would be available online and offline. Just walk into any of the Yudala's retail store closest to you on November 27th and 30th to buy selected products at a give-away price.
You can read more about Yudala's black Friday sales by visiting their official deals page here. Do not forget about Konga.com yakata sales – the best black Friday deals in Nigeria would be live at http://www.konga.com/yakata
,
Share with this Short-link: