A lot has changed from the last time we updated this post. Hence, the need for a thorough revision to make sure you're receiving the right details to subscribe to your favorite Airtel Android data subscription plan.
2017 Update on Airtel Android Internet Data Bundle Plans
The current Android data bundle subscription plans for Airtel Nigeria looks like what we have in the small table below.
 Airtel Android Plans
Price
Data Cap
Validity
Activation Code
Name
Recommended for?
1
₦ 1,000
1.5GB
30 days
*496#
Android 1.0
SmartPhones
 2
₦ 2,000
3.5GB
30 days
*437#
Android 2.0
Tablet Devices
 3
N2,500
5GB
30 days
*437*1#
Android 2.5
PC/Big Screens
4

N3,500
 7GB
30 days
*438#
Android 3.5
PC/Mi-Fi
 5
N4,000
9GB
30 days
*438*1#
Android 4.0
Mi-Fi/HotSpot
We'll keep you posted on this by updating this figures with new activation codes as soon as they are introduced. You can use *140# to check your balance for any of the data bundle plans.
The Archive
Airtel The Airtel Nigeria Android Data Bundle Plans seems to be the very cheapest android internet subscription plan around. It starts with the 2GB plan that goes for N2,000 and extends to the 4.5GB that goes for N3,500.
Recently, they have introduced a 1+1 offer for most of their eligible customers that allows you to get double the data value for same amount, this means that for:
N2,000 eligible customers gets 4GB
N2,500 (Android Night Bundle) eligible Sims gets 6GB
N3,500 Eligible Sims gets 9GB
This is a very big step up from the last time we discussed about the Internet Data Bundle Plans and Activation Codes for Networks in Nigeria. At least, android users in Nigeria have got something to smile about while still waiting for other competitive data bundle rate from the other telecommunication giants in the country.
There are currently 3 android plans offered by Airtel Nigeria, Each is stated below followed by their subscription and/or activation codes.  
Main Android Data Bundle Plans
2GB plan – goes for N2,000 : Dial *437# to activate
3GB night plan – goes for N2,500 : Dial *141*1# for prompt to select this plan
4.5GB Plan – goes for N3,500 : Dial *438# to activate
1+1 Android Data Bundle Plans
This works for only eligible Sims that must have received a message from Airtel informing them of their eligibility. The message will look similar to what you have in the image below as I received that from Airtel few days back.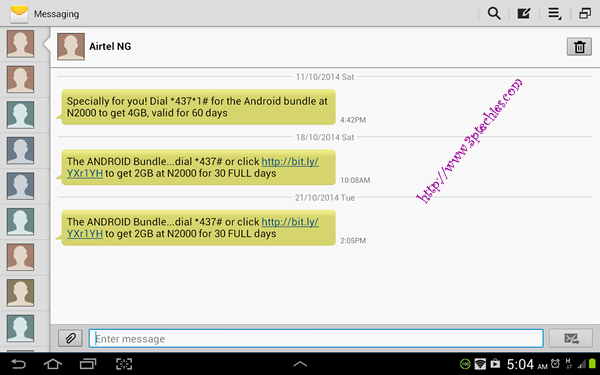 You can also dial the codes in your phone without actually having money to confirm if your line is eligible; if eligible, you'll be greeted with the "Dear customer, you do not have sufficient balance for this plan" message and "Dear customer, you do not qualify for this plan" message when not eligible.
Dial:
*437*1# for the 4GB bundle @ N2,ooo and
*438*1# for the 9GB bundle @ N3,500
Checking the Data Balance
It is normal to wanna see how much data is left on your device from time to time. To check your Airtel android data bundle subscription balance, dial *223#.
Other Things to Know About the Airtel Android Data Bundle Plans
It works on all devices including your computer, iPad, iPhone, Tabs and smartphones
At "peak time" (6AM to 10PM) you're charged at 1.5Kobo/Kb data rate
At "Off-Peak time" (10PM to 6AM) you're charged at 1Kobo/Kb date rate
The 1+1 data bundles will last for 2 months
It doesn't roll back unused data after the 30 or 60 days expiration period
Your airtime is charged at  5kobo/kb once your allocated data  is exhausted
Update! May 2016.
Airtel Android Data Bundle Plan Reviewed
Airtel Nigeria has just reviewed their Android data bundle plans downward to meet up with the aggressive competition from other mobile telecommunication service providers.
Their newly introduced data bundle plan is cheaper when compared with the data cap saddled with it. It just rhymes perfectly with the recent data market trend.
Here's the reviewed data bundle subscription plans and the USSD code to subscribe  to it.
Android 1.0 data bundle plan with a data cap of 1.5GB and validity period of 30 days now goes for NGN1,000. The code to subscribe is *496#.
Android 2.0 data bundle plan with a data cap of 3.5GB and validity period of 30 days now goes for NGN2,000. The code to subscribe remains *437#.
Daily data bundle subscription plan of NGN100 and validity period of a day now comes with a data cap of 30MB instead of the previous 10MB. The code to subscribe is *410#
Easy bundle data bundle subscription plan with a data cap of 500MB and validity period of 14 days now goes for NGN500. The code to subscribe is *418#.
The code to check your data bundle balance remains *223#.