Summary
Disk Drill is A data recovery software from CleverFiles
Disk Drill is a brilliant, reliable and very efficient data recovery solution for  Mac OS X. The tools lets you backup failing disks, scan, preview and recover lost data from storage devices.
It is also a great utility software for maintaining stability and well-functioning of hard disk drives; can be used effectively for data protection and disk optimization.
Disk Drill for Mac OS X can recover from various types of storage devices including Micro-SD Cards and pen drives. I was able to view lost (deleted) photos from an SD card connected to a Mac OS X during the preview of this awesome tool.
Once the storage disk drive can be connected to a Mac OS X computer, there's always the possibility of Disk Drill software recovering lost data and images from the drive.
It is always advisable to try the free (basic) version first to see the preview of your data(s) before going for one of the other premium versions of the software.
Why Disk Drill?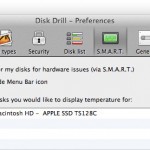 In our earlier post about top 20 data recovery software for Mac, Windows, Linux and Mobile Devices, we missed out on Disk Drill because it wasn't known to our editors as of then.
Having had a first class experience with disk drill; I will admit it is a nice recovery solution and regretted not knowing about it early enough.
The best part of Disk Drill is that it can recover from various file formats and allows you to preview data before hitting the "recover" button.
Disk Drill monitors your drive's health providing state of the art data protection as well as notifying users of a possible disk failure. It comes in three versions;
The Basic:  Provides necessary backup and data protection features
The Pro : Provides all the "basic features" and  other premium features
The Enterprise: Provides all features as well as give access for multiple users and multiple Mac OS X machines
The basic version is free, the pro and enterprise version goes for $89 and $399 respectively.
Also See : ReclaiMe Data Recovery Software Review
Main Features
Recovers Data from Mac and Storage Devices
Supports various file formats including;  HFS & HFS+, FAT/FAT32/exFAT, NTFS and EXT3/EXT4
Provides Data-Loss Prevention and Drive Security
A Light weight software that doesn't need much system resources
Very User Friendly
Allows for Free Scan and Preview of Lost data
S.M.A.R.T. Monitoring
Can Backup Disk Into DMG Image
Supports Partition Recovery
The free version allows you to scan and preview files
Provides data protection and disk drive security
Can recover files from external storage media
Partition recovery and Multilevel scans
Can't recover data in the basic version
Not the cheapest around
Doesn't allow for the recovery of an individual file without having to scan the entire drive directories
  The Verdict
Disk Drill is a great utility for recovering lost files from  Mac OS X and storage disk drives, rivals its competitors with the added security, data-loss prevention and disk protection (S.M.A.R.T. Monitoring) features.
The interface is quite easy and very user-friendly, the only part that seems a bit cumbersome is going through the entire directory to see recovered data as the recovered files are listed in folder.
You can see all of disk drill's features by visiting their official website.