No doubt, the choice of a good web hosting is one of the primary steps a prospective successful business venture must try to take. We did that some years back.
I have been a past regular with Hostgator, Godaddy, Atspace and Bluehost before discovering arvixe hosting.
After "my not too great" experience with Hostgator, I decided never to patronize hosting services that promises unlimited bandwidth and disk space as previously advised by the tech heads over there at Simple Machines support forum.
The Journey to arvixe web hosting started when I posted about my search for a perfect web hosting company at bloggerslab (one of the most interactive facebook group built for bloggers and internet marketers). Then I got a lot of friends recommending them, including some of the two tech heads over there.
At this point, I paused and said to myself, hey why not give these guys a try. I immediately headed over to their official website and opened a chat with one of their sales rep who assured me of 99.9% service uptime and future support with any challenges I might face while hosting with them.
He also reminded me of their migration services, which is free for every new customer. These convincing words were just what I wanted to hear. So I immediately brought out my CC and initiated a new order which was processed in no time with my account verified as well.
Hurray! I am now hosting with arvixe!  What next?
See ===>
My 7 Reasons for Remaining with them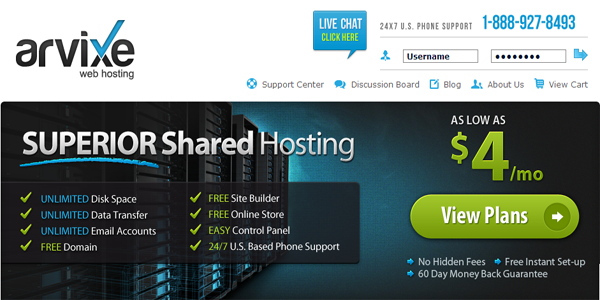 1. Awesome Support.
Arvixe support is second only to the one I got from these guys at Namesilo (that handles my domain name registration); every ill-moment has always gotten the needed attention, starting from my free migration service to server challenges, Arvixe has always been there to render the much-needed helping hand.
The only time I got messed up by arvixe support was when a client of mine wanted to move his site from Hostgator to arvixe, the support's person told me it's impossible to move websites larger than 5GB to arvixe free, and didn't border to give a clear "one-time fee" for such.
At this point, the good guys over there at site5 did a wonderful job by helping me Migrate the site of over 15GB to their server for free.
2. Reliability
I have never experienced a single pro-longed service downtime since I started using arvixe web hosting services. The only time I had a major downtime was caused by a bad configuration in my .htaccess file which was corrected by their support.
Do not think I'm the only one testifying about how reliable arvixe hosting have been over the years 'cos the guys in the picture below seems to be 100% in support of them.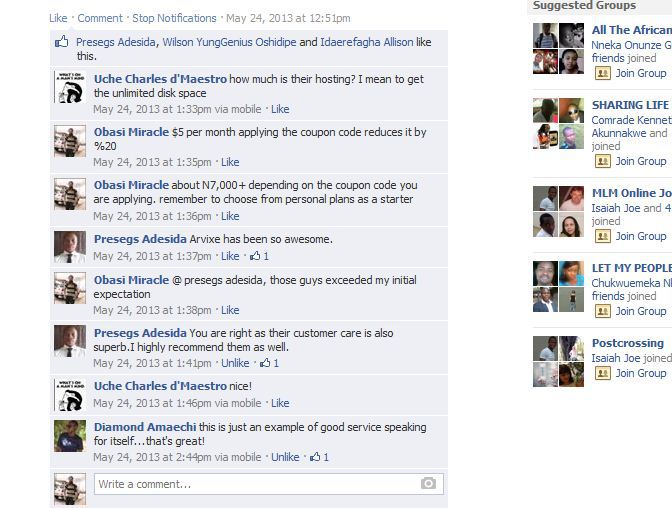 3. Accountability
Arvixe, being a great web hosting provider has remained highly accountable counting by the several years I have been with them.
I have even referred more persons to them than I have ever done before; none of them has had a single complain regards their accountability.
Recently, after a minor server crash that affected some of us in one of their US-based servers, a refund was carried out to reward us for the little damage done.
4. Understandability
No doubt, most web hosting companies will buy into the idea of using machine-like response to buy time from their clients when a support ticket is opened.
I have been a victim of this kind of treatment before now when I was still using Atspace.com services. Nobody likes automated response that neither provides clue nor solve their problems, this is one area arvixe has impressed me beyond measure.
They do not only solve the issue but will attempt to explain the cause of the challenges to help you solve it by yourself another time it occurs.
5. Easy Sign Up Process
Never a time, has any of my clients complained, even the ones that aren't too good with internet forms still finds their way around the arvixe services order interface.
I rate their cart idea as one of the best out there, one can easily order for upgrades such as "dedicated IP Address", "SSL certificate" "VPS class plans" "Expert WordPress Hosting Plans"and the likes without having to contact their support.
6. Latest Cpanel
Irrespective of Windows or Linus server, arvixe will deliver with all plans the latest version of Cpanel® Software with all their mouth-watering add-ons.
Their dedicated class plans aren't exempted from such possibilities too, if the client sure needs it.
Most of our client prefers Cpanel® to direct admin and any other management solution out there, this is what makes Arvixe hosting superior to other affordable hosting providing companies out there.
7. Awesome Discount for New Customers
This makes it so easy for us to refer new users to Arvixe, almost every person out there enjoys when a percentage of premium is deducted from new services they intend using or about purchasing.
The 7 coupon codes below will work for every new user until January 2016, they can be easily applied from their shopping cart where you have "Promo/Coupon Code:" after placing your order.
Grab the now working codes (N/B they will stop working by January 2016) below;
arvixe20easy
Facebook2016
anyJuice4me
joinarvixe
premium2016
arvixerulez
twitter2016
All these seven coupon codes will give you 20% discounts on every order you make during the signup. It works for all hosting plans and classes starting from 6 Months upwards.
Bonus Point
Another awesome reason arvixe has always worked for myself, my clients and pals is the fact that arvixe offers new customers a grace period of 2 full months. Within this two months (60 days), you can check out the superiority of their services against the 7 up-votes above.
If any flaw is discovered within this period, you can easily ask for a full refund without obliging to them.
You can easily sign up to arvixe hosting plan of your choice using this link and any of the provided Coupon codes.