The web host server you're using for your website is critical. It can affect your website performance and cause you to lose money (if your site should go offline at any time). Apparently, that aspect of losing money is what you wouldn't like to see at all. But then, if you ignore good web hosting servers when choosing the best web hosting for your website/blog, chances are that your website will face downtime frequently or once in a while. Nevertheless, websites can experience downtime for several reasons, but most times, the cause is host-server-related.
For the sake of reliability and stability, Google's Cloud Platform (GCP) is one of the best Cloud hosting servers to look out for. Interestingly, there are many web hosting companies that utilize GCP – and they are one of the best options for you to choose from to host your WordPress website. It may also interest you to know that YouTube, Gmail, and many other Google products/services are powered with Google Cloud server.
Before I dive down to the lists, I'll like to highlight what managed WordPress hosting and Google Cloud Platform (GCP) are all about.
What Is Managed WordPress Hosting and Google Cloud Platform?

Managed WordPress hosting differs from traditional shared hosting – and it is also more expensive. However, the major difference between shared hosting and managed WordPress hosting is that managed hosting does not require you to manually install WordPress and configure other manual settings that you may need to do if you choose to go with shared hosting.
Also, managed WordPress hosting comes with WordPress-specific supports, dedicated staging tools, cloud servers, etc., while shared hosting goes with hardware-based web hosting infrastructures.
On the other hand, Google Cloud Platform (GCP) is a cloud computing infrastructure for hosting websites, apps, and databases. It's lightning-fast and built with the industry's best hardware specifications.
So, for some, it may be surprising to know that Google also offers web hosting services, and of course, it powers your site(s) with its super-charged cloud platform. Google Cloud Web Hosting allows you to deploy WordPress in a managed environment and provide you with a wide range of hosting options.
The 10 Best Google Cloud Hosting For WordPress
Hereunder are the best web hosting companies that offer managed WordPress hosting with Google Cloud Platform. They're famous for providing dedicated Google Cloud WordPress hosting services.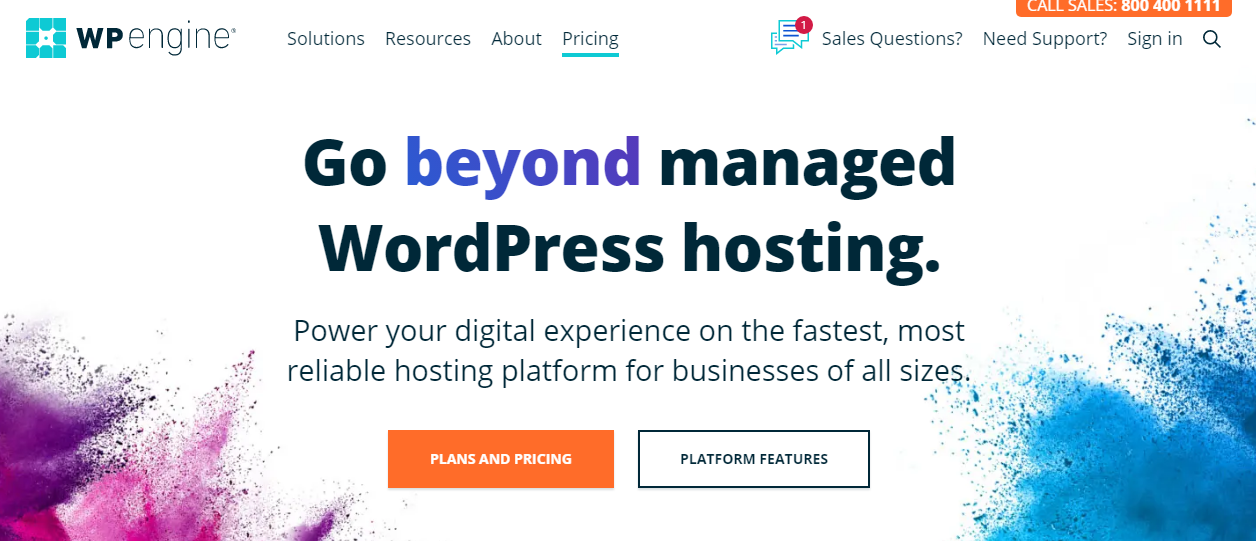 Most big websites trust WP Engine, and it currently hosts over 90,000 websites on the internet. It is a fully managed WordPress hosting company that offers quite a lot of features, along with a responsive support team. Interestingly, WP Engine has different plans for all businesses, whether small or big.
With WP Engine, you are sure that your website will be up all the time, thanks to Google Cloud Platform, which is the base host server powering your site. The cheapest price offered by WP Engine is available at $27 per month, and it provides 24/7 support, 30+ premium themes, free automated migrations, daily backups, free SSL and SSH, and a one-click staging site among all other benefits of opting for a managed hosting plan.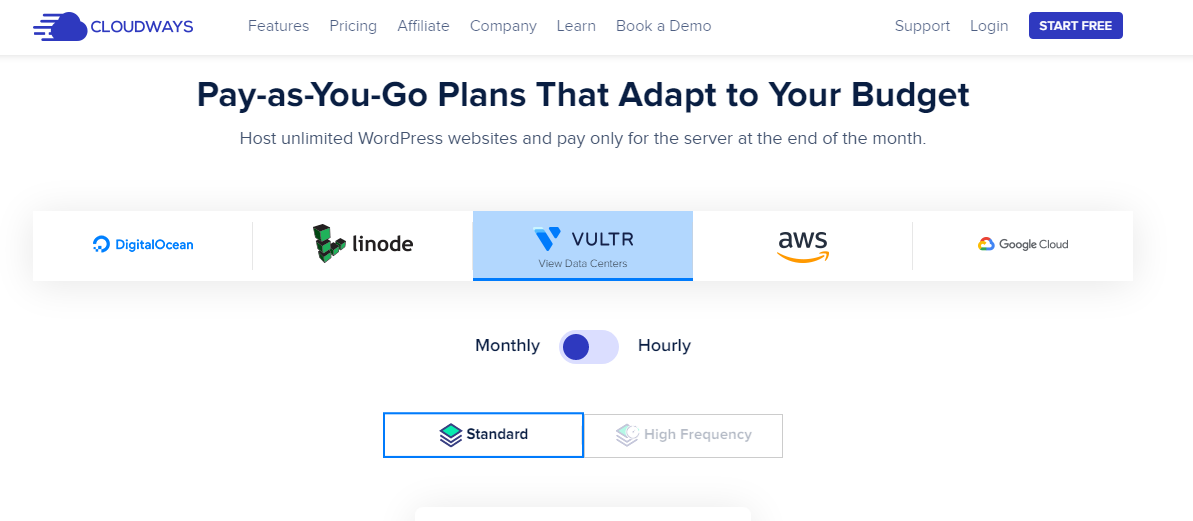 Cloudways is practically one of the best cloud-based managed WordPress hosting service providers. On the Cloudways platform, you also pay-as-you-go, which means you're billed monthly based on your resource usage. More interestingly, Cloudways lets you choose from several cloud platforms, including Digital Ocean, Vultr, Google Cloud Platform, AWS, and Linode.
However, regardless of your plan, Cloudways managed WP hosting provides the following: free SSL, CDN add-on, dedicated firewalls, 24/7 real-time monitoring, staging environment, HTTP/2 enabled servers, and much more. Furthermore, Cloudways has over 60 data centers across the globe – you will be hosting your website in the exact location your customers are located to offer them a better experience.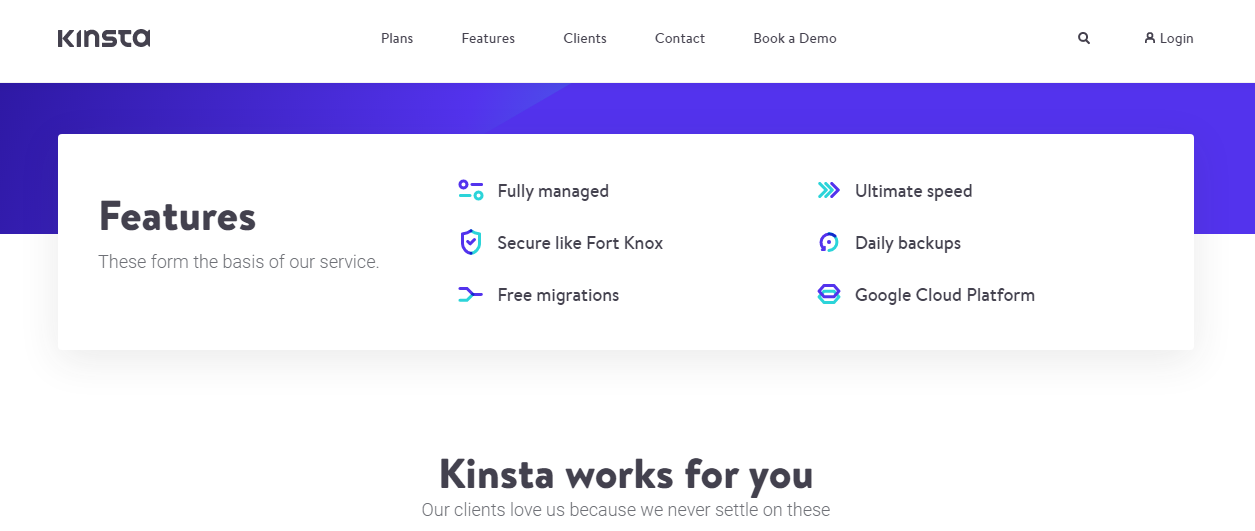 Kinsta is a popular managed WordPress hosting service provider with palatable plans and enchanting features. Kinsta's managed WP hosting runs with Google Cloud Platform premium tier. This premium tier of GCP offers premium servers and more cutting-edge features that ensure fast speed and zero downtime. More interestingly, Kinsta plans are scalable right from the dashboard, so you can easily upgrade when your site starts driving millions of monthly visitors.
With Kinsta, you get to choose from 18 different locations. The most basic managed hosting plan offered by Kinsta provides you with a free CDN and 50GB bandwidth. There are many other things to benefit from hosting with Kinsta; the benefits include 24/7 customer support, daily backups, and lots more. All Kinsta packages host your site on Google's Cloud Platform.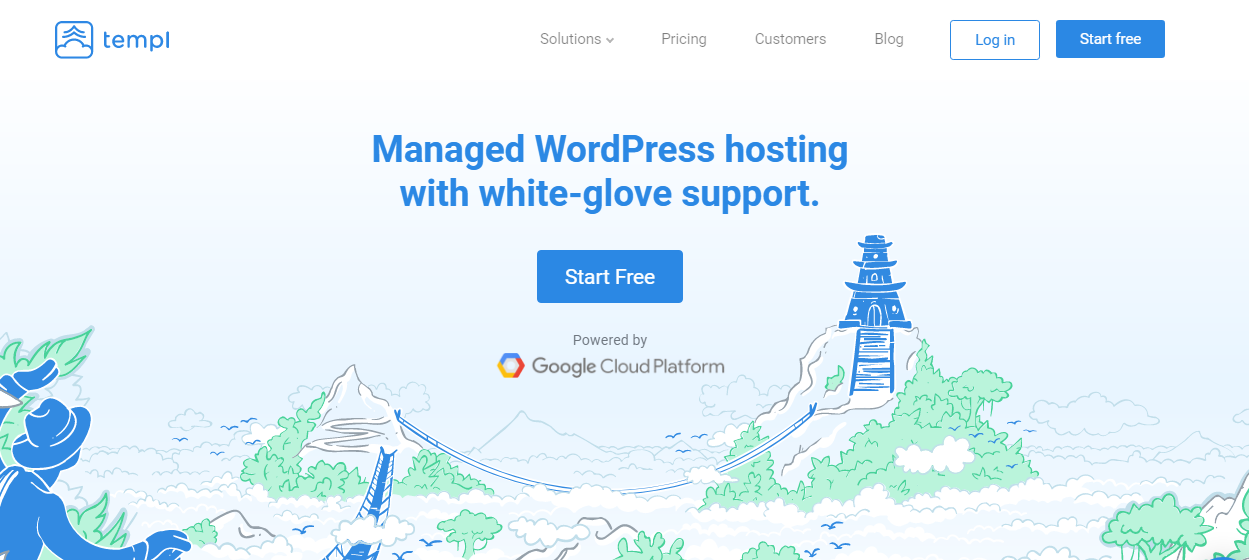 Templ.io is a WordPress cloud hosting service built solely on Google Cloud Platform (GCP). It offers decent features on its basic plans and allows you to scale your server as your website/business grows. Arguably, Templ is easier and simpler to use than most other managed WP hosting services; it provides a simpler, intuitive dashboard to manage your website's information.
As with other alternatives listed in this article, all Templ plans offers Free SSL and migration. In addition to the features offered by Templ, you'd also get Google Cloud CDN (not available on all plans). It is an affordable cloud-based managed WordPress hosting for small and enterprise businesses.

Bionicwp is hands down a super solid managed WordPress hosting platform to entrust your business with. Their server is housed with Google Cloud Platform's super-computing machines, while their backend is powered by highly optimized PHP stacks that do one thing well – supercharging your WordPress sites to their very limit.
With Bionicwp, you have the freedom to choose what matters and what doesn't during the signup process. You can select application-level support (if you need lots of hand-holding) or opt for the stack alone (if you belong to the WordPress superheroes class that hardly needs WordPress-level support with your hosting infrastructure).
Their starting price is $27.5/mo for a single website without any of their services add-on, while a single site with all their extra add-ons selected is billed at $63.5/mo.

One good thing about Closte is that it offers pay-as-you-go cloud hosting plans. So, whether your website traffic is reducing or increasing, you'll be charged based on your usage. Also, Closte uses GCP and Litespeed to power your websites hosted on its platform; thus, it's almost certain that your site would never go offline at any point. Other interesting offerings from Closte include Google Cloud CDN and Google Cloud DNS.
Closte's dashboard interface is easy to use and navigate, and there are lots of information to view there. With Litespeed servers and Google Cloud CDN, your website hosted on the Closte platform will run at blazing speed. There's no definite pricing for using Closte's cloud-based hosting; you're billed as per your resource usage.

Siteground moves to using Google Cloud Platform in 2020 – it has been one of the most affordable WordPress hosting service providers with reliable support and decent features. You will also get a free CDN and SG Optimizer caching plugin, along with other interesting benefits exclusive to Siteground's customers. The basic plan starts at $6.99 per month (annual billing cycle).
Furthermore, SiteGroundFlywheels offers several other web hosting packages, and they are quite affordable, too. However, focusing on the cloud hosting packages, which run with GCP, SiteGround handles everything on your behalf, with the reliable support team being ready to help you at any point you need their service.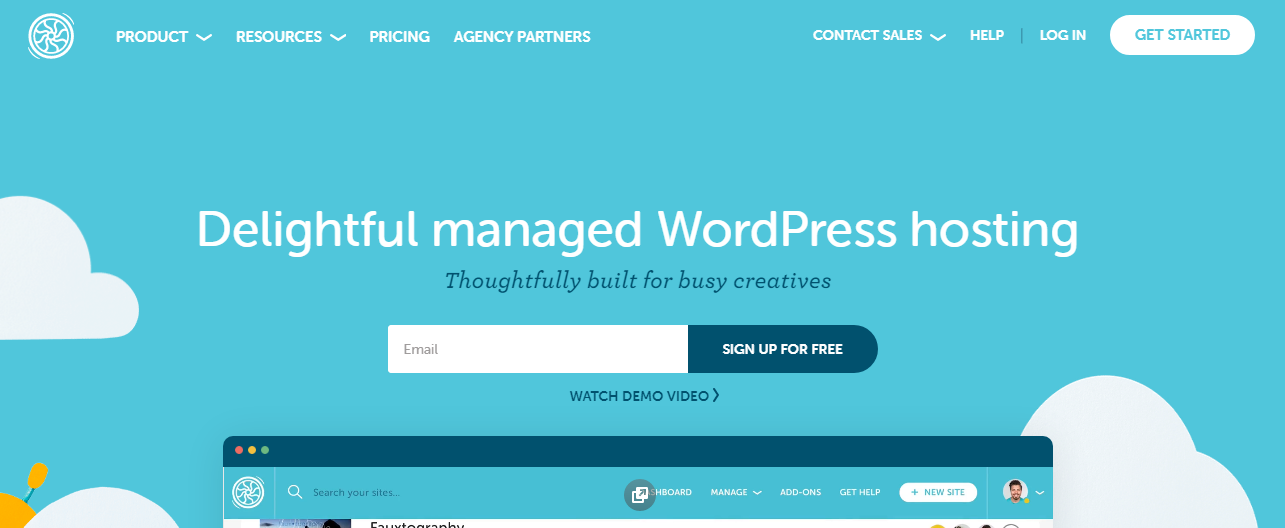 The name already sends a message, "Fly Wheel." Well, actually, Flywheel is a good managed WP hosting service provider – it supports Google Cloud Platform and offers different packages suitable for all kinds of businesses. The packages all include free SSL, free CDN & custom caching, SFTP, staging, collaboration tools, and a bunch of other built-in tools to thrive your business.
Flywheel WordPress hosting is suitable for kinds of websites built with WordPress. More so, the support team is readily available to attend to your needs. Quite a number of big-name websites are running with Flywheel, and you should consider them too.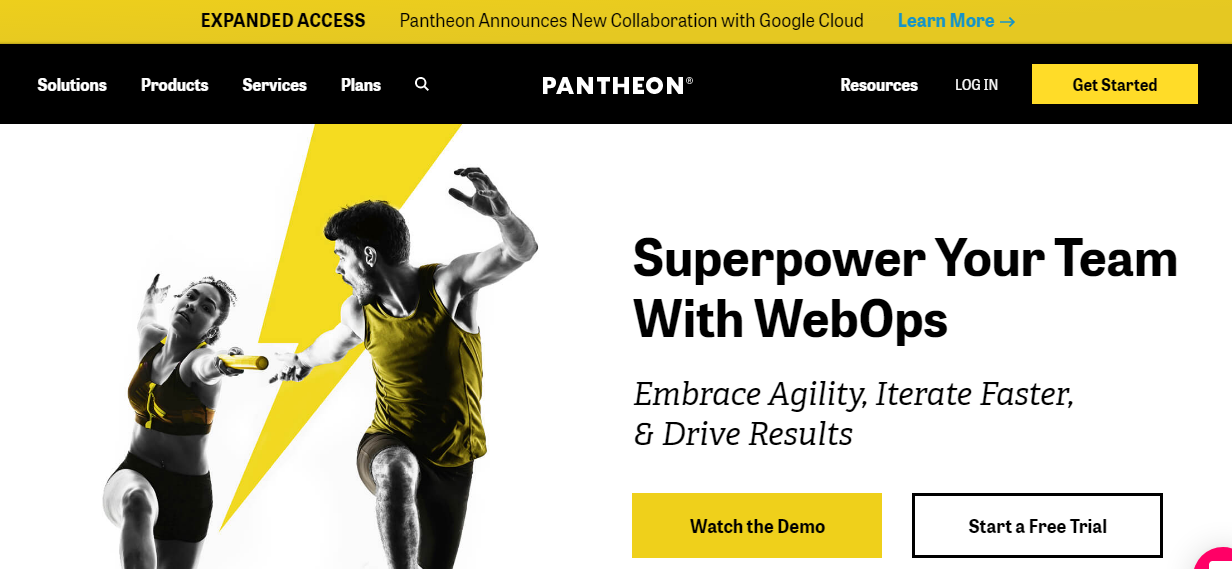 Pantheon moved to use Google Cloud Platform (GCP) in 2018, and to date, Pantheon's primary hosting infrastructure provider is Google Cloud. There are quite a couple of hosting plans offered by Pantheon, and you can find the one that is best suited for your website traffic.
With Pantheon, it is almost certain that your website will not experience downtime, and the support team is responsive, so you can get help at any time you're stuck at something that may affect your website performance.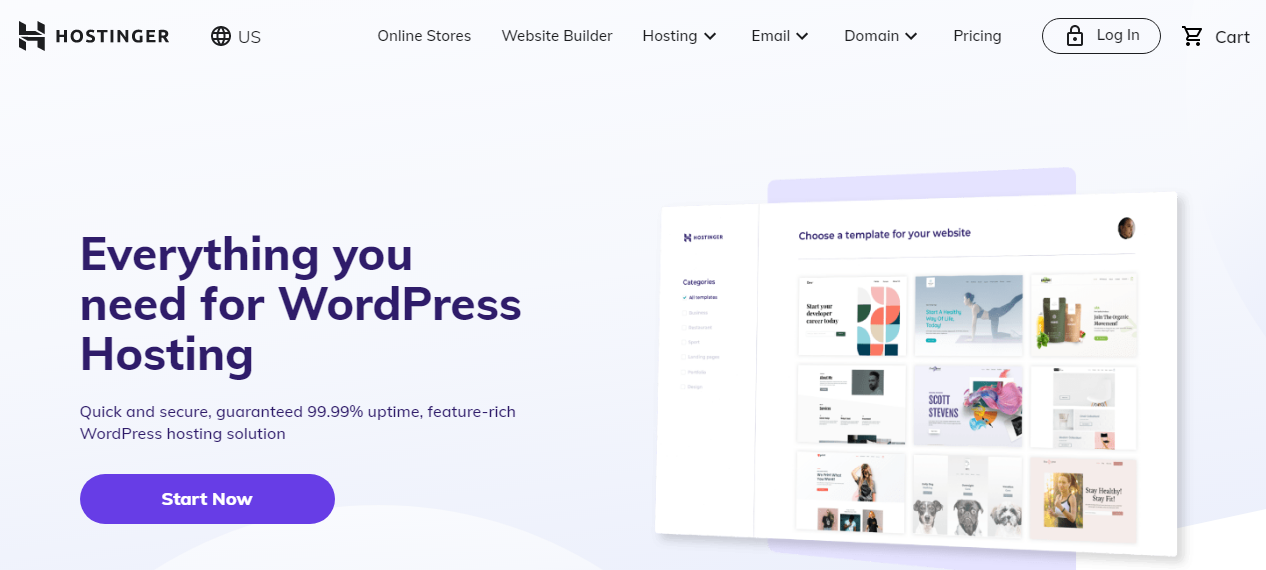 Just like the other ones mentioned so far, Hostinger is a popular WordPress hosting service provider. It supports LiteSpeed and uses GCP for its managed WordPress hosting packages. This implies that your WordPress site is sure to run at blazing speed with Hostinger. More interestingly, Hostinger has plans for all websites; whether you're just starting new or already getting lots of daily traffic, there's a plan for you.
Hostinger's "Starter" plan is available at $7/mo and offers the following: 100 websites, 100GB SSD storage, free SSL, unlimited bandwidth, Google ads credit, WordPress multisite, WP-CLI, unlimited databases, SSH access, and more.
In Summary
These are the top web hosting companies that offer Google Cloud Hosting with their managed WordPress packages. You can choose from any of them to launch your new WP site or move an existing one to them.