This isn't just a random collection of Godaddy hosting alternatives or just a list of 1&1 hosting alternatives: but a well-researched list of best hosts for business hosting.
Last time on 3ptechies, We shared our negative EIG hosting experiences, as well as gave out some recommendations for those interested in moving their websites to a better host.
As already pointed out in our list of worst web hosting services, We aren't a big fan of Godaddy, 1and1 and AtSpace hosting and as such; would like to share some better Godaddy hosting alternatives for businesses.
If you want to run a successful business, you'll need a great website. That means – you need to have a great hosting. Think of it this way: the page may have amazing content and be absolutely brilliant. Yet if it's slow and constantly down, you will have no success whatsoever.
Whatever is put on the website, depends completely on you. And it is an outside company dealing with most of the technical things, so it has to be good and reliable.
In addition to user experience, website's speed also determines how high you're going to be ranked on Google and other search engines.
Therefore, if you run a simple personal blog you have no intention of making big and successful, it is not that important. For an ambitious company, however, speed is crucial and a terrific hosting provider is not a luxury – it's a necessity. This is why businesses spend a lot of time researching and looking for the best hosting providers.
Godaddy and 1and1 hosting is a popular option for many business users. Fairly quick and boasting worldwide servers, this company has many clients all around the world. Yet it needs to be asked – is it the perfect option?
We think there may be some other terrific hosts just waiting for your attention. This is what we are going to talk about. Listing some of the best 1and1 and Godaddy hosting alternatives for business hosting.
List of 1and1 & Godaddy Hosting Alternatives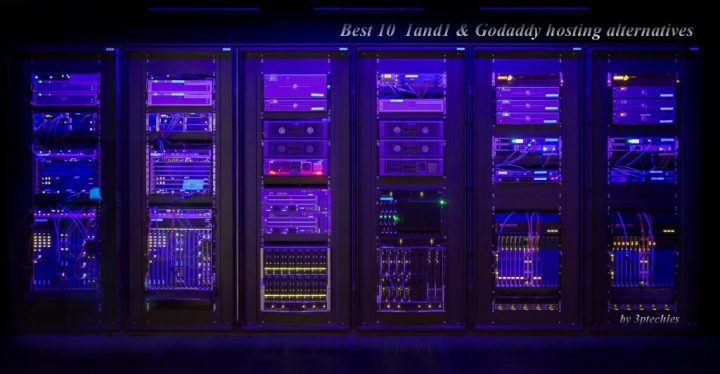 This business hosting list, unlike similar lists on our website, isn't compiled by the 3ptechies editorial team, but with the valuable contribution of Paul M., who is armed with a 360° knowledge of hosting servers, website optimization, and website security.
Like We've said earlier, this is not going to be a random collection of Godaddy hosting alternatives or just a list of 1and1 hosting alternatives: but a well-researched list of best hosts for those moving away from poor hosting services.
MDD Hosting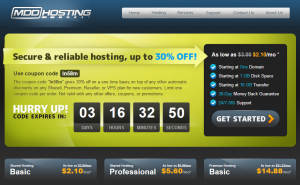 MDDHosting has consistently made our list of good hosting companies. They aren't a powerhouse in the hosting business but are tailored to meet every customer's need.
So far, their tech support team is unrivaled when it comes to resolving customer's challenges in the shortest time possible. Their server speed and response times are up there with the best of hosts.
It might be a fairly expensive option, considering the meager storage space on their basic hosting plans – but many could argue you're getting your money's worth.
We did share our MDDHosting experiences here and recommends you read it through or visit their homepage at mddhosting.com for more.
A2 Hosting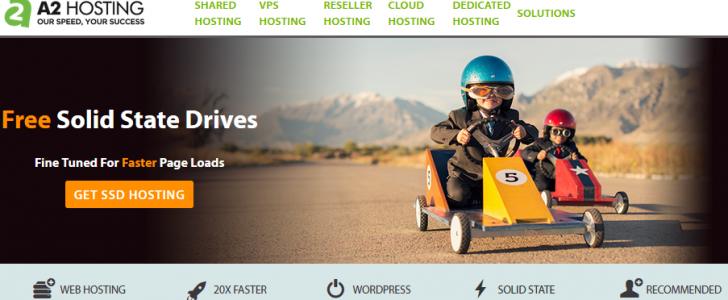 Putting a lot of emphasis on "superior performance", A2 hosting is fulfilling the promise quite well. Premium "super quick" plans are living up to the expectations and while they don't blow anyone away – they're good.  As mentioned earlier in the article, speed is an important thing, so you may want to consider this host.
Quickness isn't the only thing they try to attract clients with. A free SSL certificate in every plan is a nice added bonus – it's a must if you want to do any kind of e-commerce or handle sensitive data. Those data transfers are going to be quick and worldwide, as A2 has data centers in 3 continents.
All in all – A2 hosting is a solid solution, putting emphasis on speed and offering free SSL certificates with worldwide servers. With any time money-back guarantee promise, the lowest discount possible (above 50%) for new users, and a highly optimized server, A2 hosting is definitely worth considering.
Strengths: Speed, Supports Linux  & Windows hosting alike, Free SSL Certificate in Every Plan.
Inmotion hosting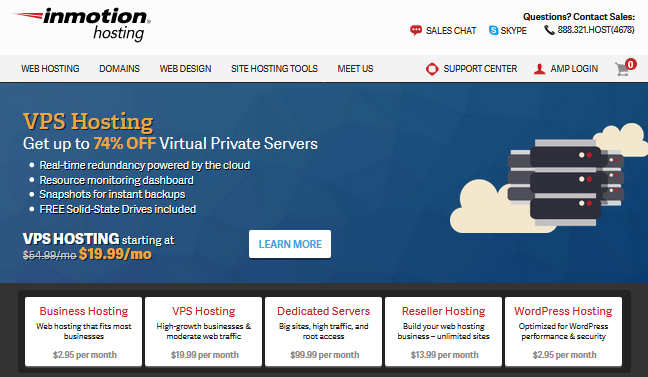 Inmotion hosting is a decent host for those looking out for the best Godaddy hosting alternatives. We have used their shared server in the past but would greatly recommend their VPS hosting services for businesses that have outgrown shared hosting servers.
Inmotion VPS is managed and gives you access to root, Cpanel, WHM, and secure shell (SSH). A massive 75GB SSD storage space and 4GB of RAM on their lowest VPS plan make it a solid option for high-traffic websites.
Their tech support staff works and would migrate all VPS sites not later than 48 hours. Our positive experience with Inmotion VPS makes them a reliable option for the best Godaddy & 1and1 hosting alternatives.
Inmotion Hosting Promo Codes: as it is with most popular web hosts, there's always a discount code for new customers. But Inmotion hosting does not use coupon codes. Instead, they've created a promo page here for persons looking out for their best offer and/or cheapest hosting plans possible.
Hostinger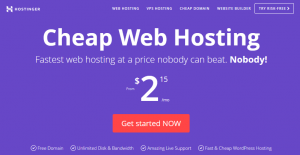 This hosting provider has all the tools to be called an ultimate business hosting provider. That's how: first, add free-to-choose data centers in 4 continents. Then, mix that in with modern SSD disks used in the servers. Finally, add perfect optimization which means visitors all around the world are going to enjoy blazingly fast speeds all the time.
That makes a perfect combination, as many hosts lack one or another thing. Hostinger has them all. However, that is not everything.
With prices starting at $2.15 a month, Hostinger is also one of the cheapest providers in the list – many plans even include a free domain name and a free SSL certificate!
If any problems arise? 24/7 chat and ticket support are ready to help you. This a good addiction, considering you want your business to run without any unplanned interruptions.
Strengths: Great Performance, Datacenters in 4 Continents.
SiteGround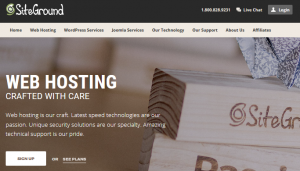 The Bulgarian hosting provider has a serious fan base and it is easy to see why. With similar strengths to Hostinger, it may slightly lack in performance – but the host makes it up with its great customer support.
There is no denying that responsive customer service is important to any business. 24/7 ticket, chat, and phone support is super quick and it won't take more than 10 minutes for you to get an answer. You can read more about their customer service (with videos included) in this SiteGround review.
However, it is not only client support this provider can be proud in. Datacenters in 3 continents make this host worldwide and you can choose your preferred location with ease.
Even though We do have some reservation with their hosting services (as pointed out in the CONS section of our review here.), they're overall – a great little hosting provider, ready to help your business with terrific chats, emails, and phone calls.
Strengths: Customer Support.
NameCheap Hosting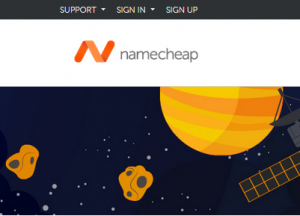 Sometimes, we want to avoid serious investments. If your business is small, every dollar matters! In the moments like this, NameCheap shines through. Offering to pick either British or American servers, this host offers a yearly plan, starting with less than 9 dollars!
After seeing this offer, an obvious question arises – how's the performance? Oddly enough, it's pretty good. Rarely ever going down and offering stable speeds, NameCheap is a good option for people in need for a cheap hosting provider. So far, it is our preferred host for Niche and SEO blogs hosting.
Sure, after the starting period the prices will increase but that is still better than the majority of the providers in this list. Every plan offers an opportunity to host more than one website and SSD-accelerated storage keeps your website up with the competition. The speediest choice? Probably not – but value in the first year is nothing to shake a fist at.
Strengths: Price.
Stable Host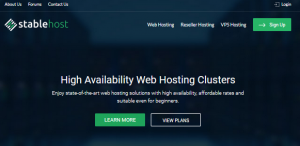 Stable host, just like MDD hosting uses the award-winning Litespeed server and delivers web pages in the fastest speed possible.
Their VPS plans are UN-managed, while their shared hosting plans uses the latest version of Cpanel software to simplify the management of files, apps installation and database management.
Stable Host's shared server works well with WordPress and would normally install LiteSpeed Cache plugin to every installation. Their support staff responds fast to ticket requests and would normally migrate websites free for new clients.
In addiction to free website migration, new users can make use of gostablenow coupon code to get a whooping 40% off discount on their favorite hosting plans.
One noticeable disappointment with stable-host is this:- Unlike NameCheap and Hostinger that lets users gain access to SSH clients on their shared servers, Stablehost does not.
You'd have to pay a one-time fee of $2.5 to use SSH clients such as PuTTY on Stable host shared servers. All-in-all, Stable host is a top Godaddy and 1and1 hosting alternative for businesses.
Cloudways

Cloudways is not like your everyday hosting service. They did something different; creating a hosting platform that lets you enjoy the best UNmanaged VPS/Dedicated servers around the cyber-space.
With a qualifying plan on CloudWays, you need not border about shell commands, console instruction and all those programming jargon that's needed to manage sites hosted on self-manged VPS servers.
They have support for:
Digital Ocean
VULTR
Amazon web services
Linode
Google cloud platform live and
Kyup
Cloudways server is optimized for speed and great for high-traffic websites. They have good tools for managing WordPress, Joomla, Drupal and e-commerce websites. You can view their features in-full from their official website at cloudways.com.
Squidix Hosting


Squidix hosting is a solid 1and1 hosting alternative for business hosting. Their VPS plans are pricey, when compared with that of Inmotion Hosting.
But for the speed of their shared hosting and semi-dedicated server plans – We rate them high enough. They're a great option for serious business hosting and a competent Godaddy hosting alternative.
Unlike 1&1 login and admin interface that uses a complex control tools, Squidix uses the first-rate Cpanel software to deliver awesomeness to its clients.
OVH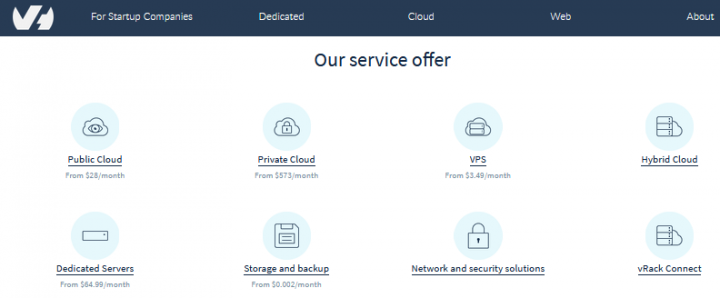 One more surprise card in this list, OVH is rarely mentioned between the biggest hosting providers in the planet. Undeservedly so, as the French Internet giant has plenty of clients and hosts many big-name sites, such as Wikileaks. Therefore, it is more than capable to hold your business as well.
One of OVH main strengths is its localizations. With pages and customer support tailored to 19 different countries, it is truly a worldwide company.
A very advanced content delivery system is also going to make sure no visitor in the world gets left behind. OVH has experience with big clients and worldwide visitors – it won't have difficulties with your business as well.
Strengths: Localizations, Worldwide Content Delivery.
Notable Mentions
Here are some other business hosting options for those moving away from Godaddy and/or 1and1 hosting services. They were confidently recommended by Paul M., whom We've already credited with the research and making of this content.
BlueHost
Both big and small businesses use WordPress. It comes as no surprise – it's a very popular content management system that is both incredibly versatile and easy to use. If you plan to use it for your business website, you can't really go wrong with BlueHost. This host puts a lot of emphasis on making WordPress work as well as possible.
Even though BlueHost has no worldwide servers, the ones they have are optimized well enough to deliver good performance. Add that to daily backups, and you have a great package for good business hosting.
Strengths: WordPress optimization, Backups.
DreamHost
Many hosts have very similar problems. Here we are going to talk about two of them. First one is domain privacy. It is actually seriously important.
By doing a WHOIS check on unprotected domains you may see a lot of sensitive information about their owners. When running a business, that may be a problem – hey, who wants to give an angry customer a direct home address to mail glitter and rotten eggs to?
The second problem is restricted plans – by picking a plan with limited disk space and bandwidth, you may get a nasty surprise just as you receive an influx of visitors. Suddenly, your website could be taken offline because it exceeded the plan you purchased!
DreamHost beats both of those problems from the very start. Domain privacy is included and there are no set limits on disk space and bandwidth. Abusive usage may still get you suspended – but successful regular users won't run into unexpected problems.
Strengths: Privacy, Unlimited Plans.
iPage
With only one plan available, iPage doesn't exactly spoil you with choice. Regardless of that, the available plan is actually pretty solid.
One of the more interesting things is the included SiteLock protection. It comes without saying – for businesses online, their website security is very important.
iPage sees that and offers a decent option for many businesses people looking to host their websites. With a starting price of $1.99, it is also a great deal for the first year. Definitely, an alternative worth considering.
Strengths: Price, Security.
HostGator
With no set limits on bandwidth and top-of-the-line up–time, HostGator still has a few tricks up its sleeve. Offering a huge variety of add-ons for purchase, this host allows every client to pick a perfect plan, suitable entirely for their needs.
Extra protection? A better SSL? Additional monitoring? For an added price, perhaps, but almost everything is available in HostGator. It's a definition of a one-stop web hosting shop and with reliable servers like that, it's a good alternative to Godaddy & 1and1 business hosting.
Strengths: Customizations, Reliability.
In conclusion:
These are the top 10 1and1 & Godaddy hosting alternatives for business hosting. They are all very different – in their own brilliant way, but that is the best thing about them. From hosts so different, I have no worries – you will find a perfect place to host your website. Good luck!