Hostinger Hosting
$0.80 to $7.95
Speed & Pricing

UPtime & Support

hPanel Features

Security & Performance
Summary
Hostinger is a European based hosting company with data centers in Europe, the USA, and Asia. They're based out of Kaunas, Lithuania, but with several international divisions, and data center locations.
Pros
Has support for PHP 7.XX, MariaDB and InnoDB
Great price and value for money
Offers free migrations, even for their entry level plans
Great server performance and fantastic server UPtime
Comes with a solid website builder and has support for GIT and Curl SSL
Vertical scaling for their cloud hosting plan is a lovely addiction
Automated backups and 1-click software/scripts installer is a big plus for them
There are so many payment options to choose from
Cons
I didn't have a good experience with hPanel
Didn't play well with some WordPress plugins
Too many Upsells can mislead new users into buying what they have no need for
Must improve on the way they handle add-on domain names
Hostinger review is a post that should have been published since last year, but for lack of time. Today is making it a full year since we started using Hostinger hosting services on a real website.
Well, it started when we acquired AndroidVillage and needed to move it to a different host. We opted for NameCheap stellar plan, but moved on to Hostinger on 13th of October, 2017. AndroidVillage.com was hosted on Hostinger shared hosting plan until a few days ago, when we decided it was right to have it on 3ptechies instead.
In this review, I'll be sharing my experiences with Hostinger shared hosting, VPS hosting, Email hosting, WordPress hosting, and SSL.
Hostinger Company Overview
Hostinger is an European hosting company with data centers in Europe, USA, and Asia. They're based in Kaunas, Lithuania, but with several international divisions.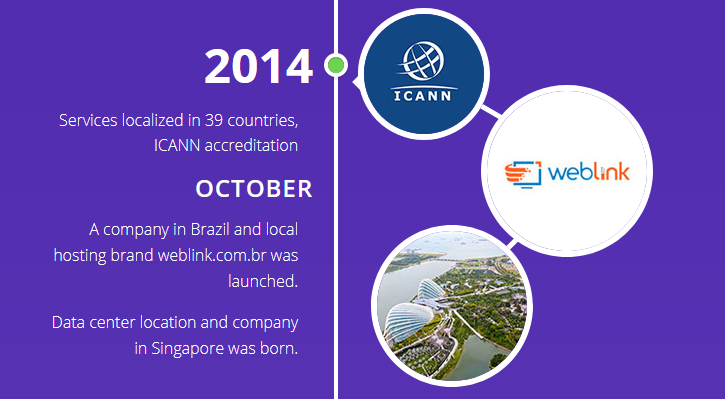 They have been around for more than a decade and offers: shared hosting, VPS hosting, cloud hosting, email hosting, and domain name registration services.
Hostinger International Ltd. is a parent company to several hosting companies including: 000Webhost, Hosting24, Niagahoster and Weblink.
They have tickets, email, and live chat support system. Their affiliate program lets users earn by promoting or referring other customers to them.
Hostinger Shared Hosting Plans and Pricing
10GB Storage
100GB Bandwidth
1x RAM/CPU
1 Email Account
1 database
1 Website
Unlimited Storage
Unlimited Bandwidth
2x RAM/CPU
Unlimited Emails
Unlimited databases
Unlimited Websites
Unlimited Storage
Unlimited Bandwidth
4x RAM/CPU
Unlimited Emails
Unlimited databases
Unlimited Websites
Note: All Hostinger shared hosting plans comes with hPanel (and not Cpanel as the management dashboard), and only the business plan comes with free SSL, and free daily Backups. Backups in other plans is done weekly or once in 14 days.
Hostinger Cloud Hosting Plans and Pricing
Plan Name
Space
CPU
Bandwidth
Speed
Price
Startup
40 GB
2
3 GB
Unlimited
1X
$15.90
Professional
80 GB
4
6 GB
Unlimited
2X
$31.80
Enterprise
120 GB
6
12 GB
Unlimited
3X
$71.55
Note: All Hostinger cloud hosting plans comes with a free domain name, free SSL certificate, isolated resources, daily backups, integrated caching, and a free dedicated IP address.
Hostinger VPS Hosting Plans and Pricing
Plans
Space
CPU
Bandwidth
Burst RAM

Price
Plan 1
20 GB
2.4 GHz
1 GB
1000 GB
2 GB
$4.99
Plan 2
40 GB
4.8 GHz
2 GB
2000 GB
4 GB
$14.34
Plan 3
60 GB
7.2 GHz
3 GB
3000 GB
6 GB
$24.56
Plan 4
80 GB
9.6 GHz
4 GB
4000 GB
8 GB
$32.76
Plan 5
120 GB
12 GHz
6 GB
5000 GB
12 GB
$49.16
Plan 6

160 GB
14.4 GHz
8 GB
6000 GB
16 GB
$65.56
Note: All Hostinger VPS hosting plans comes with 100% free branding and you can install Cpanel, DirectAdmin, VestaCP and/or any other host management dashboard of your choice.
There's a dedicated IP address, Full Root Access, SSD disk drives, and IPv6 Support with every Hostinger VPS hosting plans you buy. Webuzo, VestaCP, and most open source hosting management software is pre-loaded by default and you can choose from 3 (US, Europe, and Asia) server locations.
Hostinger Hosting Features, Cons and Pros

Before I dive into the Hostinger review content proper, I'll like to show a few things about their services in a glance. These includes their strongest point, weak points, and the areas that's hugely disappointing for me.
Automated backups
Auto Software/Scripts Installer
An Easy Website Builder with flexible toolset
Free migrations
Support for GIT and Curl SSL
Support for PHP 7.XX, MariaDB, and InnoDB
Free domain name
Support for Cloud Linux, Webmail, and DNS management interface.
Good uptime and responsive support
Fast servers and automated backups
Insanely cheap VPS plans
Great price and value for money
hPanel is full of bugs (problems with unzipping large archives, poor add-on domain handling, etc.).
Didn't play quite well with WordPress backup and file management plugins.
Hosting a busy CMS (or dynamic website) on their basic shared hosting plan could be "a pain in the ass".
Too many Upsells (second only to Godaddy and 1and1 hosting).
My Hostinger Review and Detailed Experiences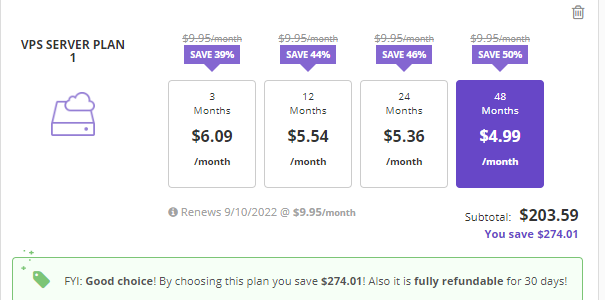 Well, my first impression with Hostinger was stellar as they helped migrate the website from NameCheap without any problem. The only job I did was to recreate the email address, do email forwarding, and point my domain DNS to hostinger's DNS servers.
In this section, I'll tell my experiences with their shared hosting plans, VPS plans, hPanel and DNS management options. As it is with our reviews, being brutally honest is very important; so – no detail is going to be left untouched.
My Experiences with Hostinger Shared Hosting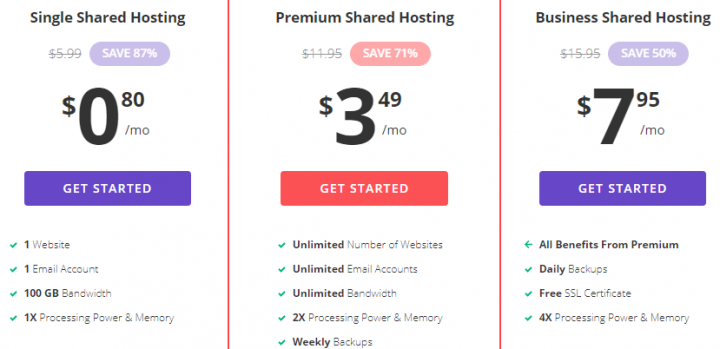 Well, Hostinger servers are really fast. I was impressed with the speed and response time and can tell it's a big improvement from what you'll normally get from other budget hosting companies in this price range.
Coming from someone who has used iPage, 1and1, and Godaddy economy hosting in the past; I can tell it's a huge improvement from what you'll expect from a budget hosting company.

Another good thing with Hostinger shared hosting offer is their solid delivery on UPtime. Throughout my stay with them, I didn't experience a downtime of more than 1 hour, 10 minutes (which is the highest I ever got).
It is usually a downtime of 3 minutes, 2 minutes or thereabout. Longer downtime happens less than 3 times in 7 months and there's a dedicated status page for monitoring their server UPtime.
Everything else (such as webmails, email forwarding, ftp and etc.) worked great, except for these few negative remarks below:
hPanel Bugs
Hostinger, just like iPage uses a custom management dashboard code-named hPanel. It isn't as robust as cPanel, Plesk and/or DirectAdmin, but lets you manage your websites easily.
Managing a dynamic website (such as Drupal, SMF, Joomla, et al) that's busy on this dashboard isn't one of the easiest things to do. I had so many problems with it and had to get in touch with their support for WordPress related ones. Simple things as database duplication, and import can be a problem, except with the help of their tech support.
Creating a simple staging environment (that'd normally take a few minutes on Cpanel) could take hours (or days) as you'll need to download all public files and manually upload it to the directory you've created for your staging environment. This is irrespective of subdomain or add-on domain.
There's no easy way to copy/move files between add-on domain names. They are assigned a different path and folder entirely, without an option to point the domain name to an existing folder. The worst of it all is the inability to change the SSL domain name, except by buying a new SSL certificate for each domain name you add.
Another giant bug with Hostinger hPanel is the inability to unzip large archive with their built-in file manager. Even WordPress file management plugins fails (or does nothing) when trying to unzip large archives with it.
The last noticeable bug is the inability to use UPdraftplus and similar plugins on Hostinger basic plan. I had to rely on their weekly backups for taking offsite backups. Each time I contacted their support about it, their response is always urging me to contact the plugin developer instead. While this shouldn't be an issue for most persons, it was for me.
There's no Free SSL Certificate
With LetsEncrypt, free SSL is like the norm with almost all popular hosting companies. MDD hosting, Siteground, A2 and several other hosting companies lets you use this feature freely.
While this is available on their business hosting plan, it is sold for a one-time fee of $9.99 (what I paid for mine) or $11.99 (Lifetime) on their single and premium shared hosting plan.
Lack of Monthly Billing and Too Many UPSells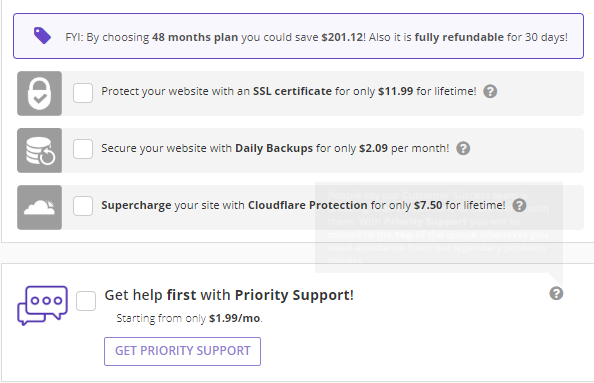 While UPSelling is normal with budget hosting companies, it is something we usually frown at. Needless to say that I was able to use Cloudflare services (including their free SSL) without paying their one-time fee of $7.50.
This shouldn't be a big problem to most users as they can easily be skipped by ignoring the check boxes. I didn't notice intrusive UPsells during live chats.
Monthly billing is something a lot of users would like to switch to after their long-term plans are expired. This is not available on any of their hosting plans. A minimum of 3 months down payment is what is obtainable on each of their hosting plans.
My Experiences with Hostinger VPS Hosting

So far, My experience with Hostinger's UNmanaged VPS hosting is awesome. I went for the 48 months billing circle and have had nothing but awesomeness.
Their server performance, IP reputation, UPtime and overall experience is nothing short of awesomeness. I scanned the IPv4 address on multiple blacklist and spam list directories without any trace of negative remark.
Needless to say that their VPS hosting plans comes with full root access (as expected), dedicated IP address, SSD disk drives, IPv6 Support, Webuzo, VestaCP, CentOS, Debian 7, and several open source hosting management software options pre-loaded by default.
My Verdict and Recommendations
Will I recommend Hostinger hosting for business websites? My answer is yes. Hostinger shared hosting plans can be used for static HTML websites, small business websites, personal blogs and forums.
Dynamic or busy business websites should opt for their cloud hosting plan as it gives more power, functionality, and it's highly scalable as well.
Their UNmanaged VPS hosting server is great for Resellers that wants white label branding and/or any other person that needs more power for less and doesn't have a problem with server management.
All in all, Hostinger is great option for startups that doesn't have a fat budget for hosting. They are a solid option for businesses that doesn't have an issue with the few remarks in our CONS section.
Their Price Vs Feature is great and UPtime is fantastic for a budget host of this price range. Above all, there's a 30 days (risk-free) money back guarantee for users who are not satisfied with their hosting services.