Online music streaming services are taking up a large proportion of people's daily life. Spotify, as the world's largest music provider, has served millions of users with its rich music library, enabling users to access music categories of all types for grasping the songs which are their favorites.
However, although online music streaming is convenient, we still have some situations when need to download the songs for offline playback, for example, when we are doing sports, flying on an airplane, or staying away from the city, which provides very poor network condition, etc.
To fulfill such demands, Spotify has provided the official premium plans available for its users to use the download feature for streaming the songs offline. However, they are downloaded in OGG format, which is encrypted by DRM, meaning that you are unavailable to take them outside Spotify or transfer them to portable devices such as an MP3 player for offline listening.
So how can we overcome it? Actually, only one software is able to help us fix the problem. Before going to it, let's firstly grasp the understanding of why the Spotify songs are unavailable to be downloaded to MP3.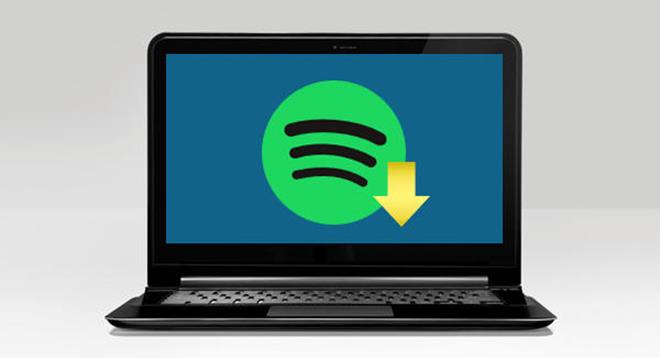 Why Can't We Directly Download Songs to MP3 Files from Spotify?
It is a common situation when most music providers employ DRM to protect the streaming content, from music to videos. Hence, DRM is the main reason stopping us from downloading Spotify songs freely or converting them to MP3 format for transferring them to devices or media players compatible with its playback.
With DRM, only Spotify Premium subscribers are able to download Spotify songs for listening offline. Even if they grasp the download functionality, the downloaded songs are saved in the encrypted OGG format, which limits users to transfer the downloaded music for preservation outside Spotify desktop software or the mobile apps for realizing the "real" offline music playback. Therefore, DRM is the main reason stopping us from downloading Spotify songs or converting them to MP3 format.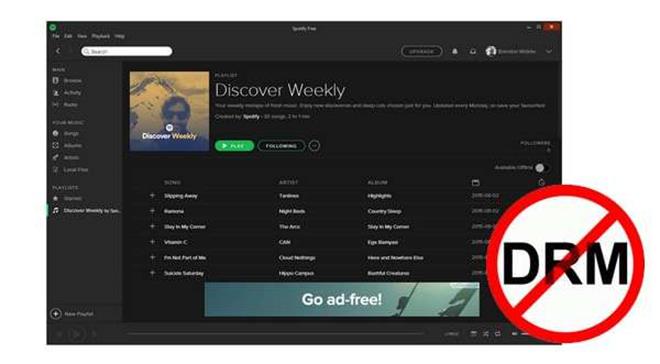 Introducing MuConvert Spotify Music Downloader
When we know the exact fact stopping us from downloading Spotify songs to MP3 offline, we also know the problem we have to focus on fixing – strip the DRM encryption from Spotify's OGG songs. By decrypting the DRM protection, we are also able to bring freedom to the songs for downloading them or converting them to popular formats for listening on more devices and use on any media player we have installed.
To download Spotify songs without the negative effects brought by DRM, you can use MuConvert Spotify Music Converter, a trustworthy software that helps to decrypt DRM from Spotify songs and convert them to mainstream formats such as MP3, M4A, WAV, and FLAC that's fully compatible with most devices and players. With only one software, users will be able to overcome the limitations set by Spotify and enjoy the free Spotify songs for offline listening, and without hassles.
Highlighted Features of MuConvert Spotify Music Converter
Here are some of the most prominent features of MuConvert Spotify music converter software:
Can Download All Spotify Content: With full compatibility with Spotify platforms, MuConvert Spotify Music Converter is able to detect and download Spotify singles, albums, playlists, and podcasts to offline music files in mainstream formats with ease.
Process DRM Removal and Format Conversion at Once: The software takes only one click to remove DRM encryption and process the format conversion at the same time, enabling users to get Spotify songs downloaded offline and available to transfer for playback on any device using all media players.
Built-in Spotify Web Player for Playlist Adding in One Click: MuConvert Spotify Music Converter applied the built-in Spotify web player, which is available for processing auto-playlist reading functionality by directly adding the songs to the conversion queue, getting rid of the traditional copy-and-paste method, highly boosting the convenience and efficiency.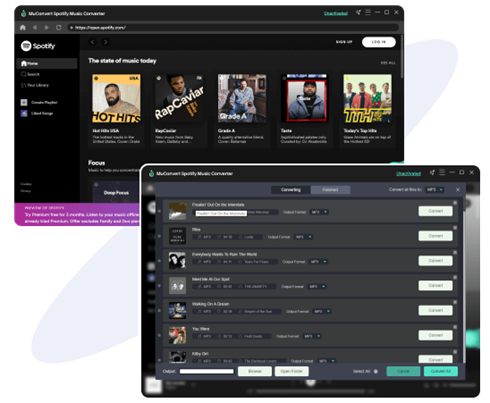 Efficient Music Conversion Speed: By supporting up to 5X faster conversion speed with the embedded acceleration tech applied, MuConvert Spotify Music Converter helps users to complete the Spotify songs download within a minute. It even supports batch download, which greatly brings up the conversion speed, thereby, saving much of your time.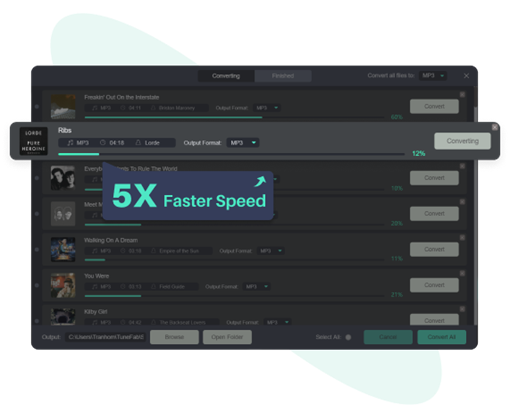 Auto ID3 Tags Preservation Enabled: MuConvert Spotify Music Converter also enables the auto preservation of full ID3 and metadata tags of the original Spotify songs for easily checking back the information after the songs are downloaded for offline playback.
Maintain the Best Quality to Download Spotify Songs: With 100% original quality maintained for outputting the Spotify songs without any loss, MuConvert Spotify Music Converter highly guarantees the streaming experience can be maintained at the same level before the Spotify songs are downloaded offline.
Other Benefits Provided by MuConvert Spotify Music Converter
Intuitive interface to boost easy-to-grasp software operations;
100% secure in-app environment without adware or malware embedded;
Multiple foreign languages are supported by the software to bring convenience to global users;
Lifetime updates are provided for users to enjoy the enhanced functionality timely;
7/24 customer support is provided to help fix any problem while using or purchasing the software.
Currently, MuConvert Spotify Music Converter provides a free trial, enabling users to freely try the functionality provided by the program before paying for the registered version.
How to Download Spotify Songs to MP3 with MuConvert
MuConvert Spotify Music Converter aims at bringing the most efficient and easy-to-grasp functionality for its dear users to download Spotify songs without hassle.
Hence, from the interface to the logical DRM decryption and music downloading processes, MuConvert Spotify Music Converter designs to be simple but powerful. Now, you will see how it works by going through the brief guide provided here.
STEP 1. Install MuConvert Spotify Music Converter
To get started, complete installing MuConvert Spotify Music Converter for getting the software on the desktop. Then, locate the icon to launch the software, and it will provide a large icon "Open the Spotify web player" in the middle. Hit it for entering the main interface of the built-in Spotify web player provided by MuConvert.
NOTE: You are not required to install the Spotify app extra like the old way. Only one MuConvert Spotify Music Converter is able to help you download Spotify songs offline.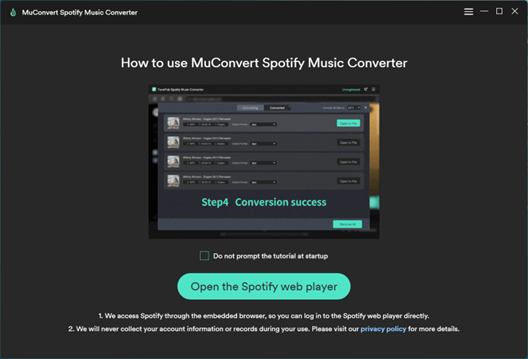 STEP 2. Log in to Spotify Web Player for Converting Playlists
You are not allowed to convert any content without login into the Spotify account. This is done by hitting the "Login" icon on the upper-right corner of the web player interface and using your Spotify account to authorize the software. It is available for you to use a free account instead of the premium one.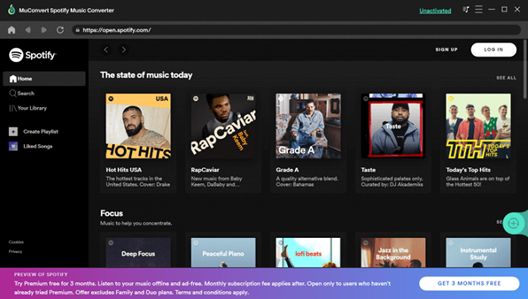 STEP 3. Add Spotify Songs to Conversion Queue
After login into the web player, you are able to search for the Spotify songs on the library, and simply drag the singles or playlists to the floating "+" icon for adding the music to the conversion queue.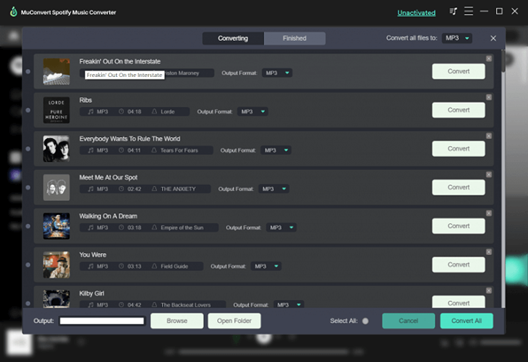 STEP 4. Customize The Output Settings
It is available for users to freely customize the output settings such as the format, sample rate, and bitrate of the songs. You just need to go to "Menu" > "Preferences" > "Advanced" for selecting the options you prefer before starting the conversion process. To enable the downloaded Spotify songs to be compatible with all devices, MP3, the universally supported audio format is recommended.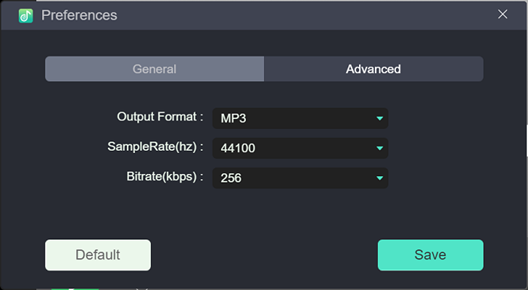 STEP 5. Download Spotify Songs Offline
Finally, when the parameters are set, it is time for you to start downloading the Spotify songs by hitting the "Convert All" button in the lower-right corner. The added Spotify songs in the conversion queue will be downloaded to DRM-free files offline in batch now. Wait for it to complete patiently!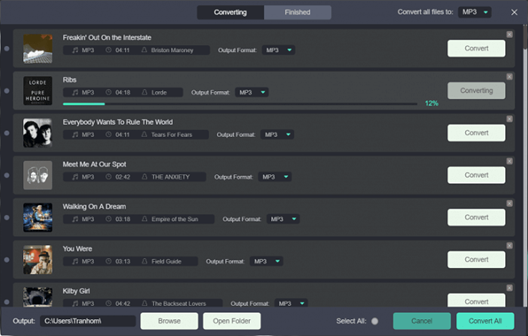 Although the offline Spotify songs playback experience is limited by DRM, we still have a way to decrypt it and realize Spotify songs downloading for converting them to MP3 or other mainstream audio formats for offline listening.
To do this, MuConvert Spotify Music Converter has brought the needed help. Now, go to the official website, free install the software, and give it a try to get Spotify songs downloaded without a premium account anymore!