MOGABI is an ALL-IN-ONE portable electronic Guitar that's Foldable and, Carry-on Friendly, with Amp-less Playing, Recording, & Sharing features. In today's publication, we're going to give you a short MOGABI electronic Guitar review, along with its features, pricing, and availability.
Let's proceed to meet MOGABI ALL-IN-ONE portable electronic Guitar.
Introducing MOGABI ALL-IN-ONE Electronic Guitar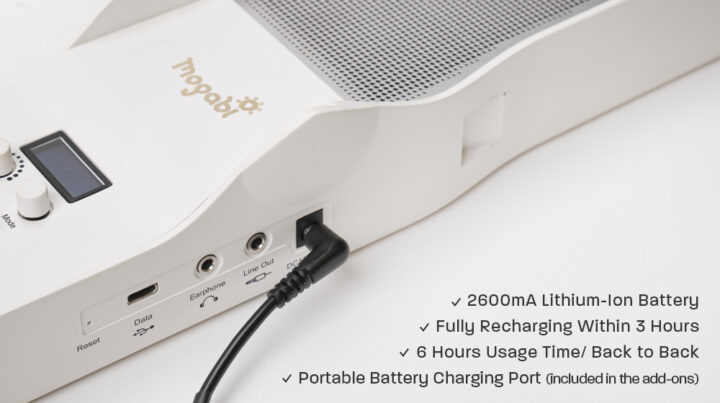 Are you a guitar player who has dreamed of traveling the world with your guitar, but your guitar is too big and heavy to carry, and now you're concerned about how to record your playing with all the noise of the people, wind, and city? Well, these are what MOGABI portable electronic Guitar is meant to solve.
As a modern portable electronic guitar, it solves all these and more without leaving a hole in your pocket. In general, when there's a need for better products, inventors fill in that need. That's how Mogabi invented its Portable Guitar! We're used to playing classic and electronic guitars, but this innovative guitar with its ' Foldable Body' is creating a fresh buzz with its 21st-century design.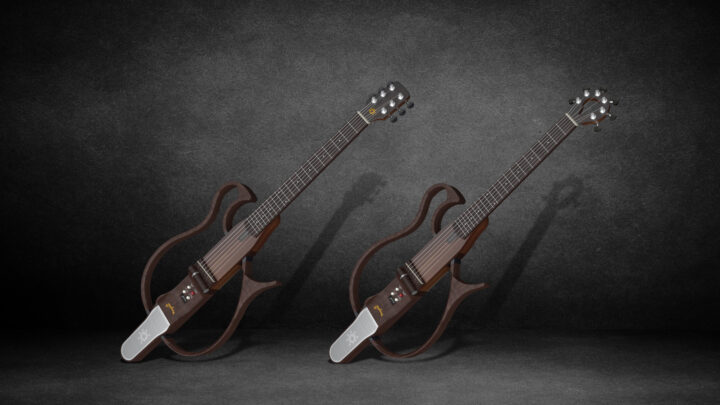 In addition, it even has its 'Original Recording' function, which enables noise canceling in any noisy circumstances. For those who doubt that, please find the video of MOGABI in the middle of a windy storm. Plus, Mogabi's 32GB of built-in storage is a plus for everyone, which enables storing of up to 300 songs.
Another advantage of using MOGABI is that you can fully charge it within 3 hours thanks to the 2600mA lithium-ion battery and use it for 6 hours straight without any charging device. Now, there's no need to worry about busking for long hours.
You've got a good voice? Try recording your voice with Mogabi's microphone connection port. Now you can be a singer-songwriter by recording your voice with the guitar performance. There is also a Multi-recording function that enables playing new audio on older audio.
Of course, you'd want to listen to your recorded plays to see if they went well. A powerful speaker is built into Mogabi, and its own MCU Chip enables output of 40mm, full-range speakers. Now you can busk without an amp.
In case you made a mistake while recording, you can easily cancel the recording. Avoid saving unnecessary recordings by pressing on the 3rd nob. It's another fun thing when you can cancel what you don't like and save only the best performances.
When playing in quiet places, you can connect your headset or earphones to the port for totally silent play. There is also a Type -C USB port for firmware updates and sending recorded data.
In terms of design, Mogabi combines analog vibes and smartness with a cutting-edge DA-Converter, creating an analog feeling. The headstock has two design options: a classic rectangular shape, or Mogabi's round shape. You can choose whichever headstock you want. The detachable rest frame is ergonomically designed to stabilize your playing posture. The mahogany neck and rosewood board add a touch of warmth, and the ox-bone saddles and nuts express a solid and clear sound.

Working with MOGABI ALL-IN-ONE Portable Electronic Guitar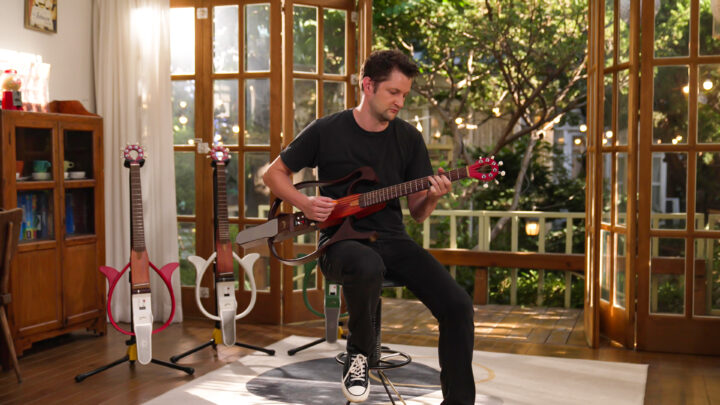 Now, let's check out Mogabi's detailed instructions: The first thing you should do is to unfold the folded guitar. There is a hinge at the end of the folded guitar, which you can press for locking and unlocking. Before you start playing, make sure to lock the hinge, or it can get folded up.
After unfolding and locking the guitar, it's time to attach the rest frames. Simply attach them to the body by using the grooves on both sides, curving the hornlike parts toward the guitar's head. Once you hear the clicking sound, it's time to start pressing buttons.
The first button is the Power Button ('Power On/Off Master Vol.'), which turns on the guitar. Like it says, you can also adjust the volume with that button. Turn up the volume when playing at the beach and turn it down when playing indoors.
There is also a Sleep Mode, which shuts off noises from the speaker. You can use it by pressing the power button one more time when it is on. Sleep mode is great for coffee or tea time.
The second button is the Mode Button, and there are three modes. The first mode is used for the ordinary playing of the guitar. The second one is a Bluetooth mode used during a break or when listening to music through the speaker. Make sure to pair your smartphone to the guitar for this mode. The third mode is a mix option, which enables playing the guitar on top of another music file. This mode is good for improvisation with MR.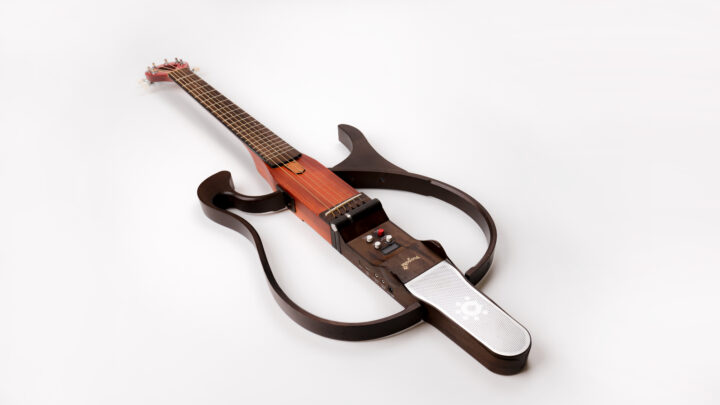 The fourth button is a red 'Reverb ●/■ Record' button with two functions. You can start recording by pressing the button and finish recording by pressing it one more time. The wonderful thing about this button is that you can also play new songs with recorded songs played, letting you overlay loops on top of one another.
You can select and listen to recorded songs using the 'Select
/■ Play' button. The songs are transmittable to and storable on a PC or smartphone through the Data Cable. The reverb option is especially useful to guitarists. Use the echo when singing, and this function will take Mogabi one step further. TURN AND ENJOY.
To learn more about MOGABI all-in-one portable Electronic Guitar, check out their official Kickstarter page here.