Exhaust fumes from other vehicles, UV rays from various sources, dirt, and quite other factors can cause your car's headlight to fade. This is normal and almost inevitable; however, you can always restore your car's headlight without visiting a mechanic workshop. Yes, all you'd need to achieve this, is a car headlight restoration kit.
Interestingly, these DIY kits are very affordable and easy to use. They'd help you to get rid of that annoying "yellowish" layer that has prevented your headlights from shining as bright as before. It's going to be a long, interesting read with straight points.
The Best Headlight Restoration Kit for Car DIY Enthusiasts
There's no need to visit a mechanic shop just to brighten your car's headlights. These DIY kits will help you to do that in just one (1) hour or so.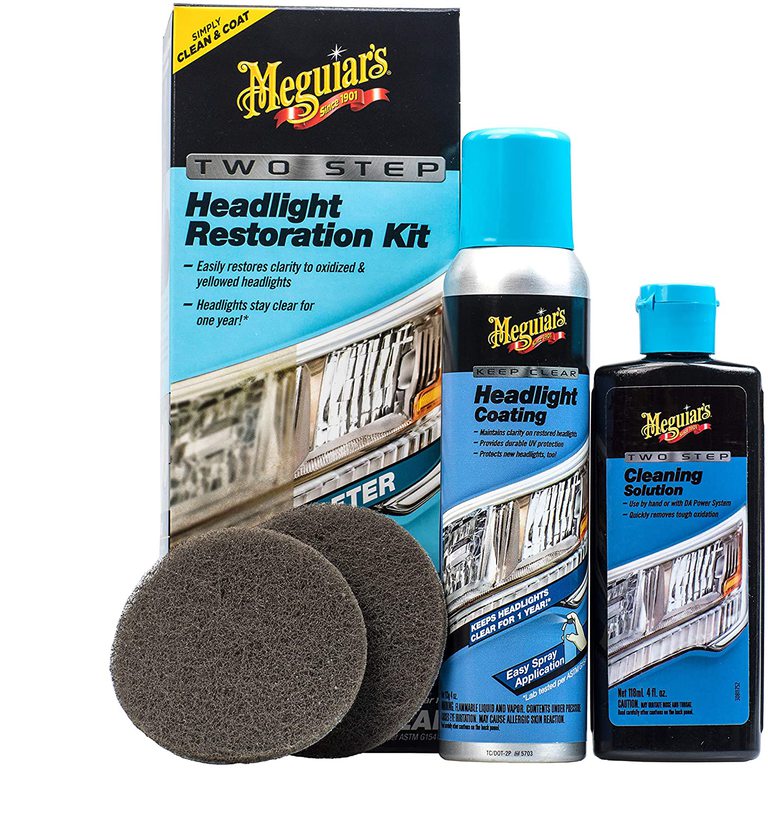 Meguiar is one of the top brands that manufacture original auto car products. This headlight restoration kit from the brand works in two simple steps (just as the name implies). Firstly, you need to apply a small glob on the cleaning pad and rub it on the headlight lens. Afterward, use a paper towel to wipe it off and check the appearance.
Secondly, apply the spray lens coating after you have wiped off the initial solid blend. This will brighten your headlights and prevent them from oxidation for up to 12 months.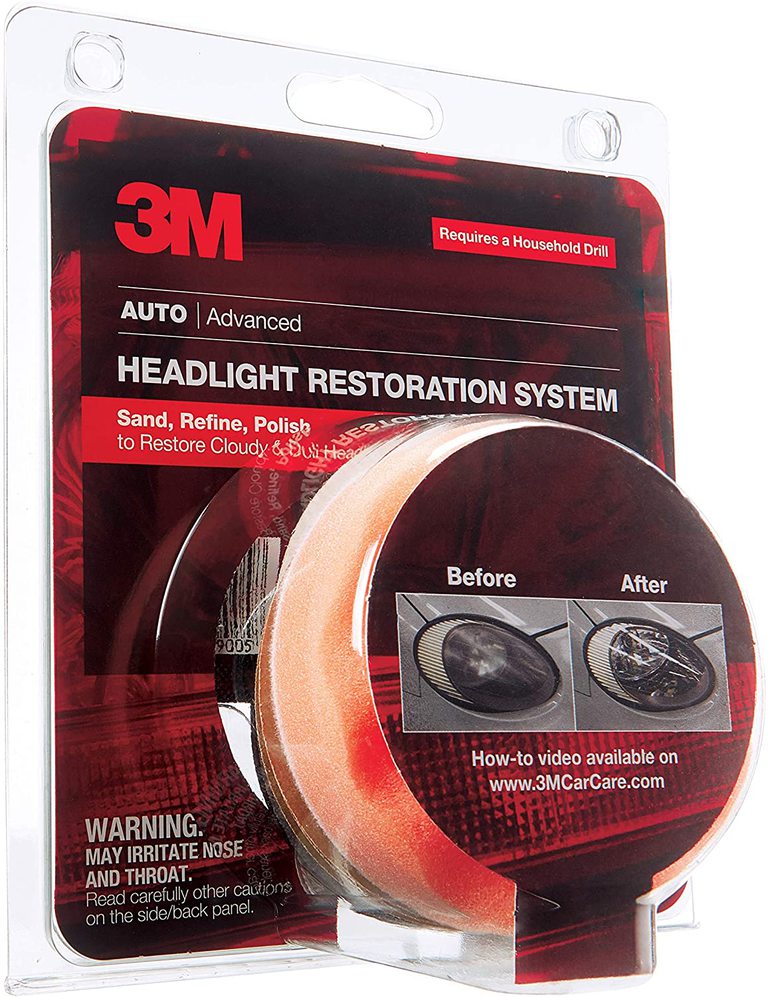 The 3M 39008 is a compact headlight restoration kit with all the necessary gears you need to carry out the DIY task. It includes a masking tape, light sanding discs, wax protectant, and other packages. This headlight restoration kit will make your car headlights appear like new.
It removes even the harshest yellowish layers that have clogged your headlights. Interestingly, this kit is sold at an affordable price, and it is easy to use. You can use the 3M 39008 package on all your car lights, including plastic lens headlights, taillights, fog lights, etc.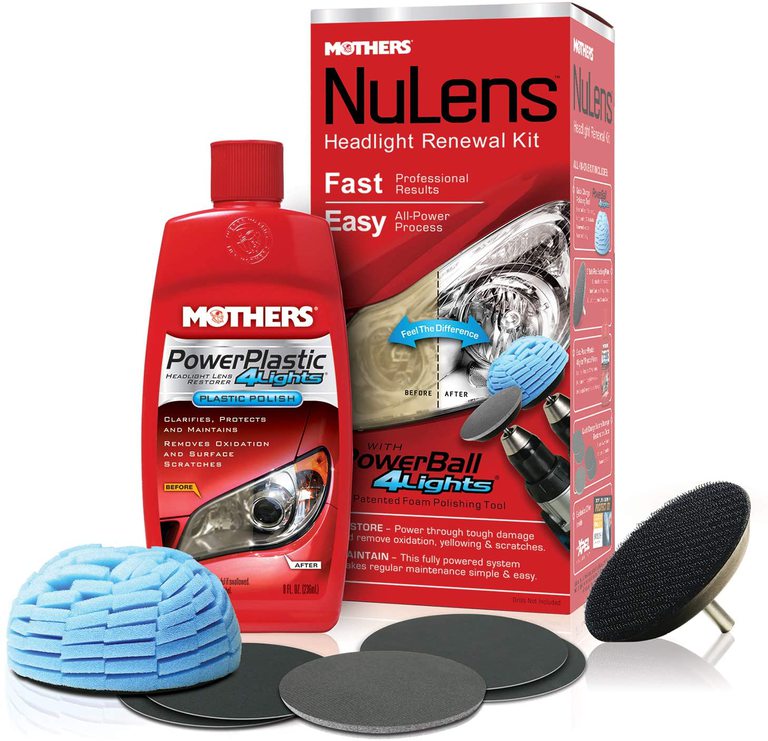 This is a reliable auto DIY kit for renewing car headlights easily and faster. It is specially designed for all kinds of cars and headlights. Mothers 07251 headlights renewal kit helps to restore, maintain, and protect your car lights, making them shine brighter all the time. The kit works for plastic and acrylic headlights.
Inside the box are headlights restoration discs, PowerPlastic 4Lights polish, a 3-inch backing plate, 8 oz. polish, and more. This package assures crystal clarity and leaves a protective, polymer layer to repel oxidation.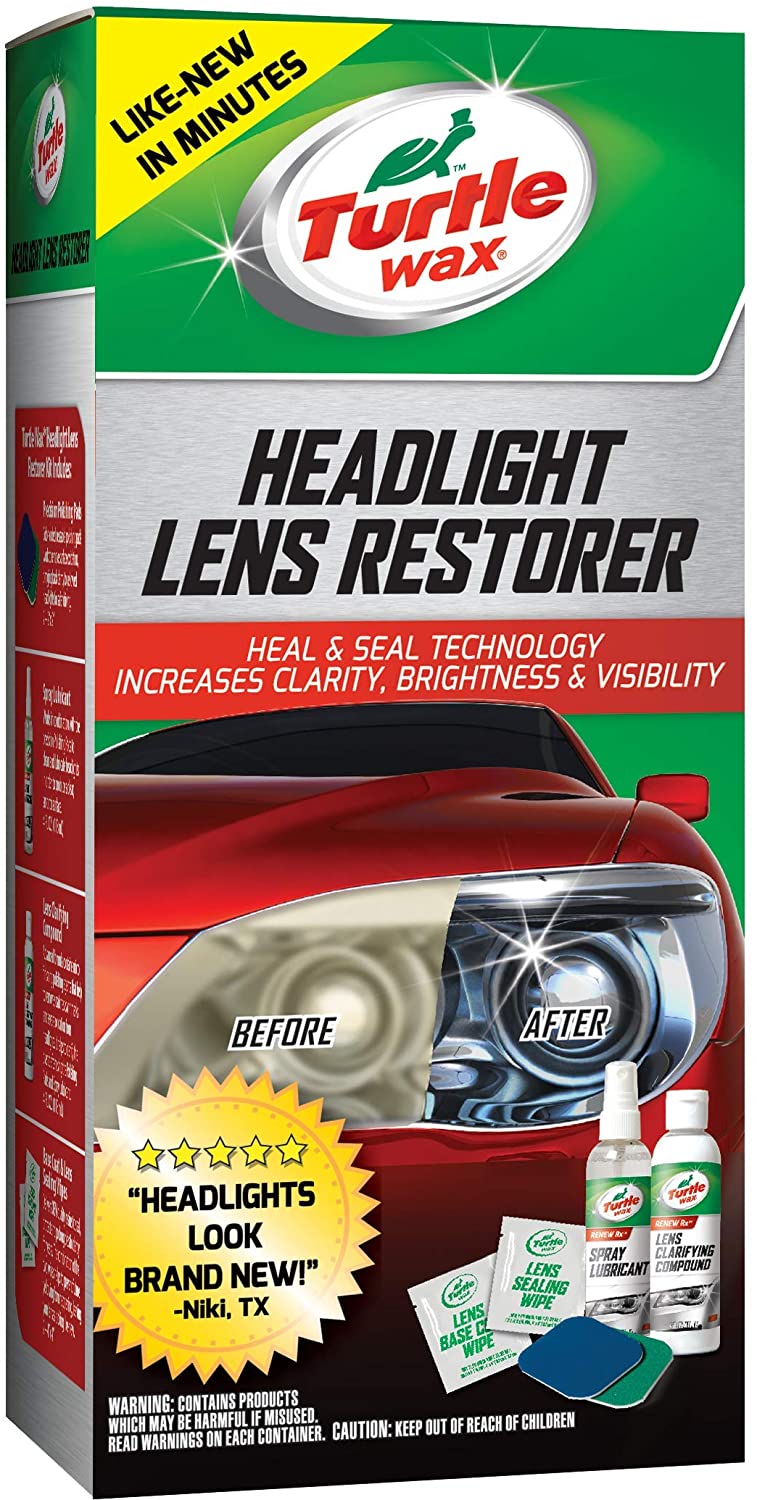 Packed with up to 3 restoration pads of various grits (2400 – 8000 grit), a 4 oz. Spray lubricant, lens clarifying compound, and a lens sealing wipe (4×4 inches), this headlight restoration kit is one of the best in the market. It works on plexiglasses and plastic headlights.
Also, the Turtle Wax T-240KT kit works faster than most other headlight kits. The "Lens Clarifying Compound" cleans surface discoloration, while the "All-new Sealing Wipes" adds a protection layer to prevent future discoloration.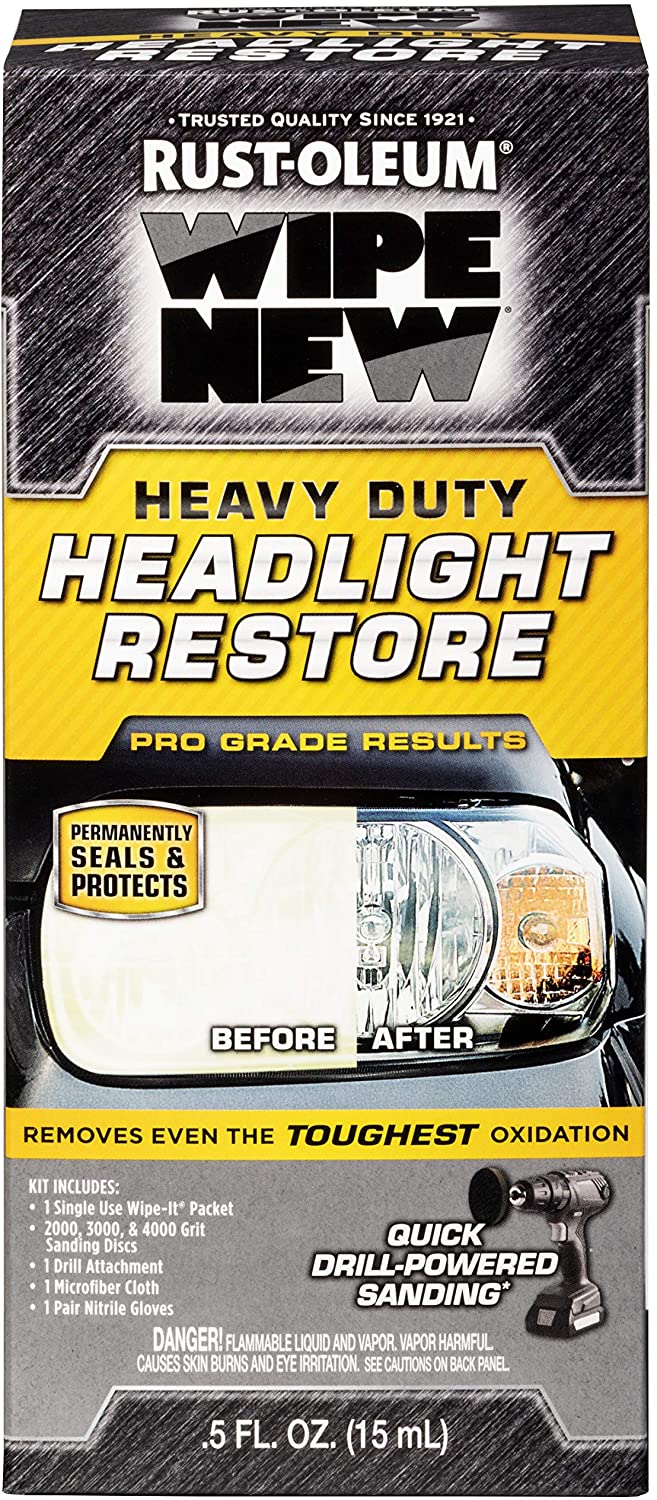 As a heavy-duty headlight restoration kit, this package works on all types of vehicle headlights, as well as cleans heavily oxidized lenses. The package includes a pro-grade formula that provides long-lasting protection against oxidization, so there is nothing to worry about.
Interestingly, this kit includes a pre-saturated Wipe-It package that removes fading and seals on headlights. The drill-powered sanding discs are there to tackle tough oxidation for astonishing results. Using this headlight restoration kit will make your headlights look like new.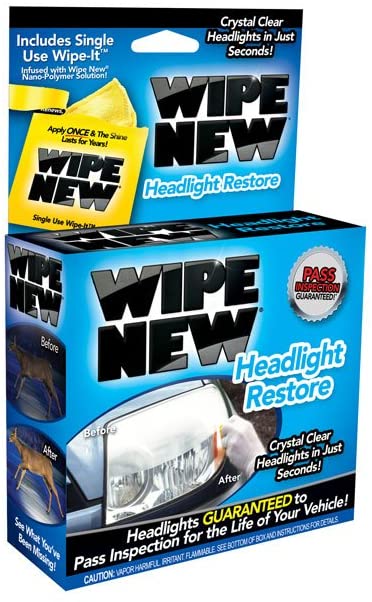 One reason to go with this headlight restoration kit is that it lasts through hundreds of car washes. This kit also adds a protection layer to prevent your headlights from degrading or fading away.
More so, Wipe New HDL6PCMTRRT retails at a cheap price – it can be bought from various auto shops (online and offline). The application is easy using the included pad and packages. It takes around 30 minutes to clean your car headlights with this kit.
7. Visbella Headlight Restoration Kit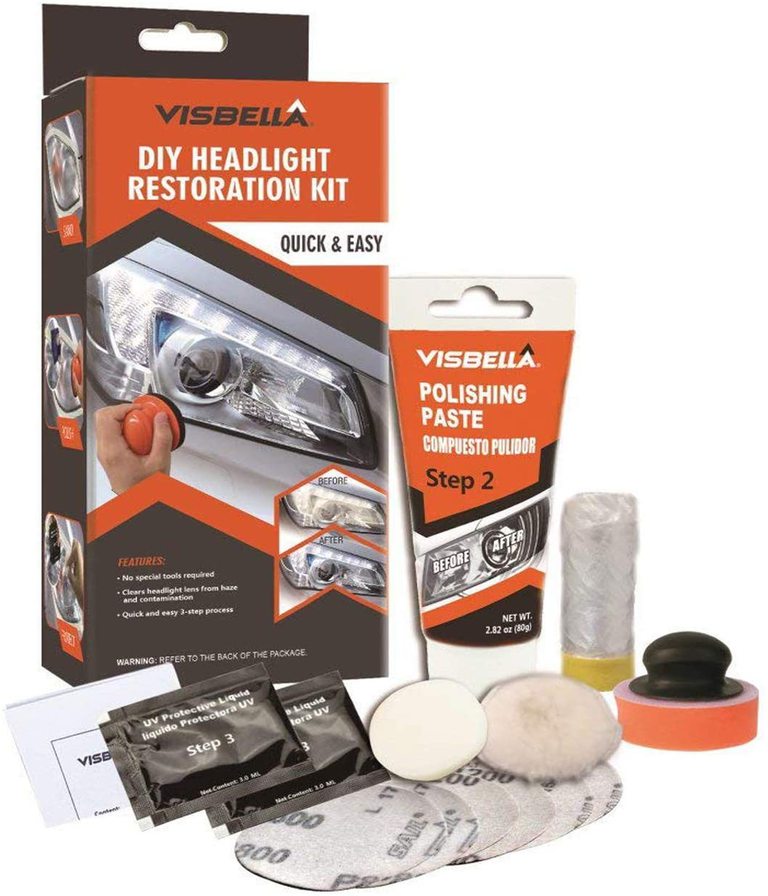 The Visbella DIY headlight restoration kit is suitable for all cars. It helps to remove clogginess and yellowish layers from auto headlights. This package can be used for any car as it comes with a bunch of handy tools inside the box.
Visbella's restoration kit works in three (3) simple steps. Firstly, you'll use the sander to scrape the clogged headlight; secondly, use the polisher to clean the surface; and lastly, apply the protection compound.
However, the kit does not come with a domestic polishing machine inside the box. You'll have to get one for your usage.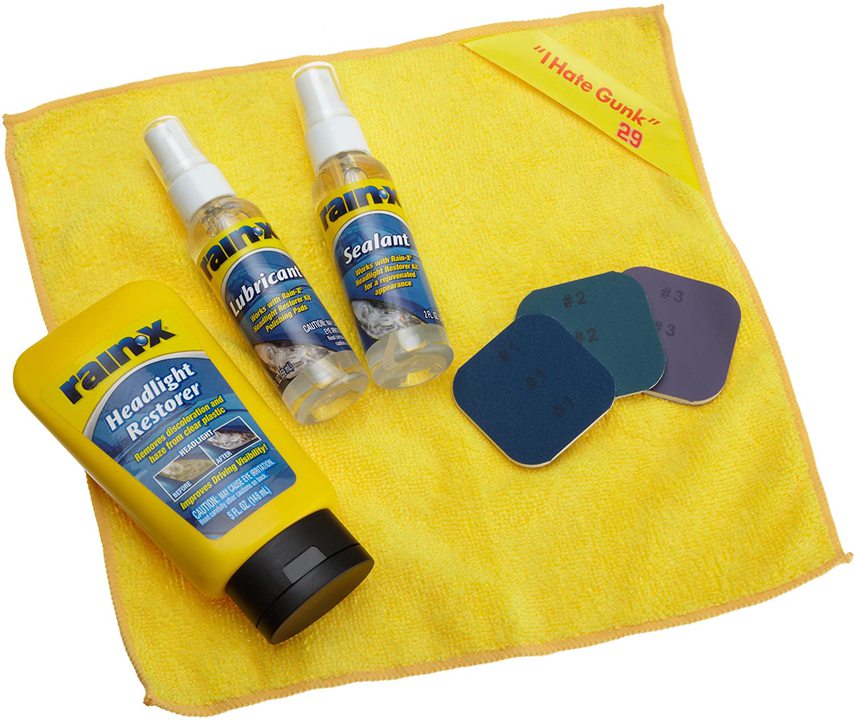 Rain-X 800001809 restore clear plastics by removing haze and discoloration. It'd help to restore clearer headlights lenses and improve visibility when driving at night. The kit comes along with a bunch of tools for its purpose.
Practically, Rain-X 800001809 includes up to 3 grain-levels of sandpapers, a polish cream, and sealant towelettes for finishing. Also, this headlight restoration kit removes scratches and minor imperfections, thanks to the polishing compound.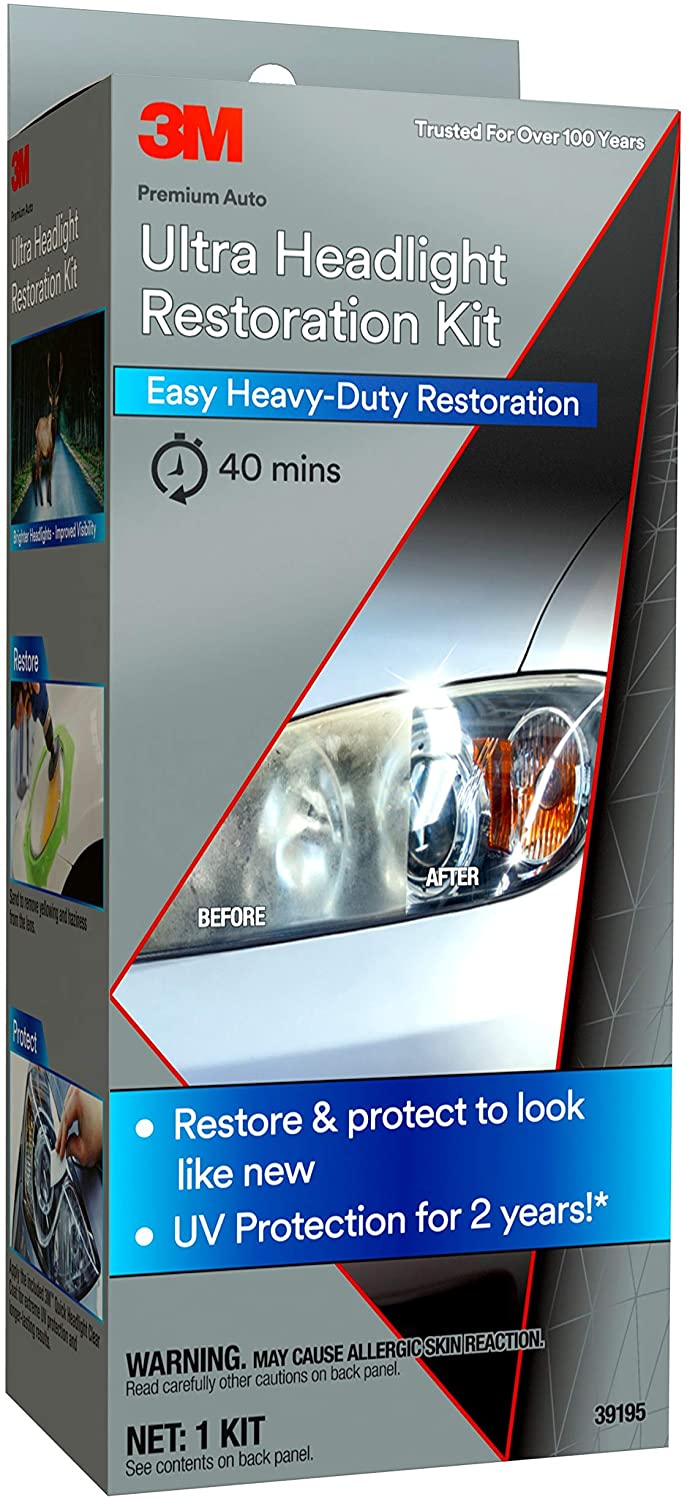 This headlight restoration kit from 3M is reliable and works perfectly for the need. It is a full-packaged DIY kit with all the needed tools and compounds. 3M 39195 works on plastic lenses, including headlights, fog lights, taillights, directional lights, etc.
Thanks to 3M's abrasive technology, this DIY kit is capable of cleaning yellowish fogs and buildups without scratching your lights' plastic lens surface. More so, you can apply this solution using a common household drill.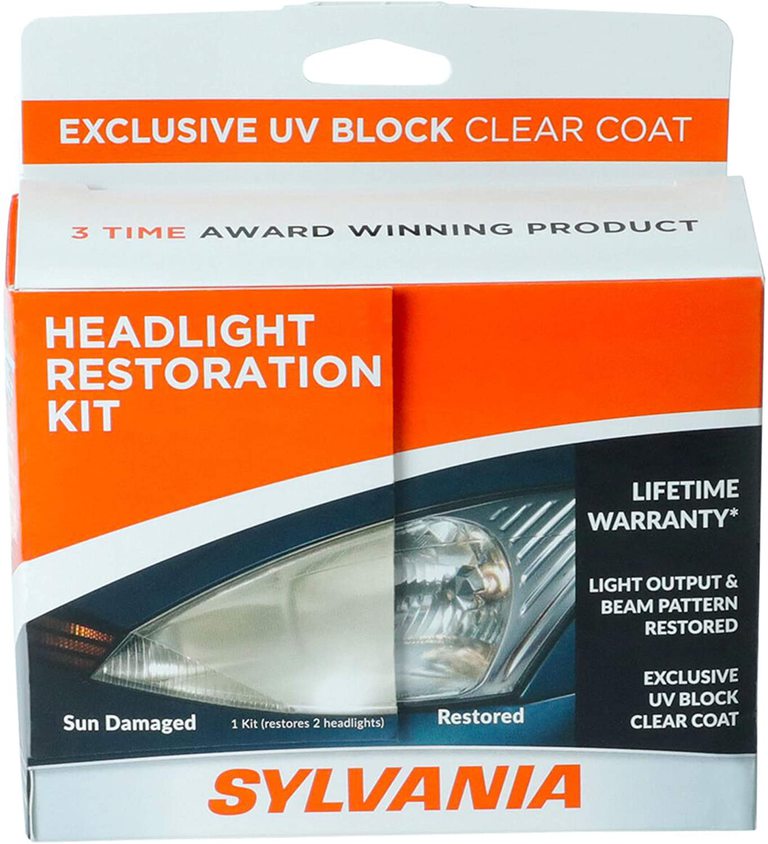 Sylvania is a renowned auto care product brand. This headlight restoration kit from the brand is one of the best in the market. It helps to restore your headlights and make them appear like new ones. The kit can remove haze and corrosion to restore the clarity and shine for more visibility while driving at night.
Interestingly, Sylvania offers a lifetime warranty for this product. To use this DIY kit in restoring your headlights, there is a Surface Activator that plastics and make them ready for smooth sanding and polishing. Also, it includes a UV Block Clear Coat applicator for finishing.
In Summary:
These are the best headlight restoration kit for car DIY enthusiasts. They are not costly, and you can find them in various auto care stores. Also, these restoration kits include a protection compound to prevent future oxidation.