Virtually all industries use CRM solutions right now. Customer Relationship Management (CRM) solutions are pretty advanced, integrating several features and tools that can be used to track various customer activities and satisfaction.
In the healthcare industry, CRM solutions can be used by clinics and hospitals to keep comprehensive records of their patients; their medical history, and also for marketing purposes. Also, CRM solutions can help in prescribing medication for patients, appointment bookings, and historical patient communication.
Now, with the vast and rapid investment in healthcare CRM software development, many tools can be integrated into a CRM solution, and that makes it an innovative product for modern clinics and hospitals.
The 10 Best Healthcare CRM Software for Clinic and Hospitals
Come along with me as I walk you through the 10 best CRM software for clinics and hospitals. They are practically some of the very best CRM solutions for hospitals, clinics, and organizations in the healthcare industry.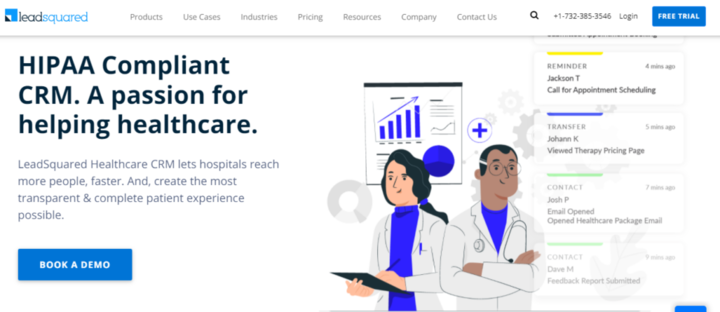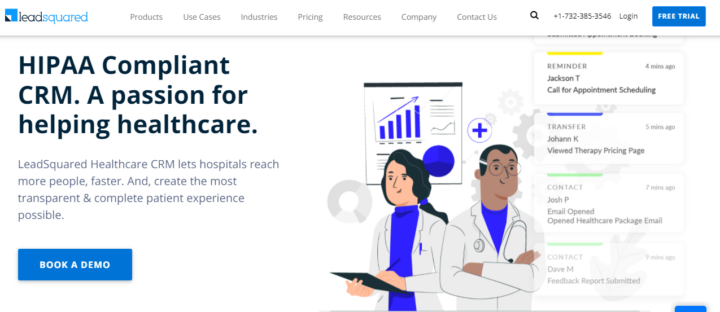 The LeadSquared Healthcare CRM software is a HIPAA-complaint solution that empowers hospitals and clinics to communicate effectively and reach out to their patients and clients in the most transparent manner. It is an advanced solution that supports integration with many top-level business software solutions.
LeadSquared Healthcare CRM provides a single platform for a hospital info system, patient management system, call center, appointment scheduling, EMRs, and patient portals. It supports API and webhooks for bidirectional information sharing between systems.
2. Veeva Medical CRM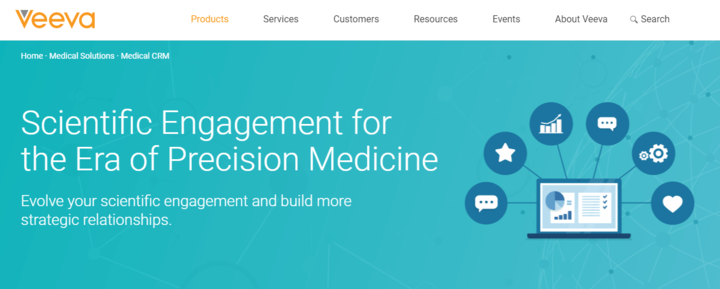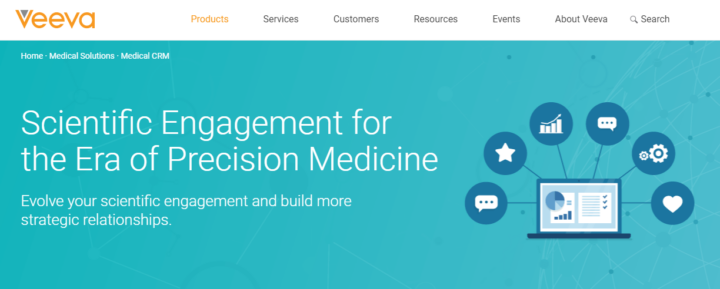 Veeva Medical CRM is a pretty advanced CRM software for hospitals and clinics. It supports integration with 3rd-party business solutions and features several built-in modules and tools for planning and engagement.
This CRM solution integrates commercial modules that provide you with actionable insights and detailed analysis about your clients and patients. Veeva Medical CRM is a full-featured, comprehensive CRM solution for the healthcare industry.

Here's a cloud-based CRM solution with tons of features you'd find handy. The hc1 Precision Health Cloud software collects patient health data sources from various silos in health IT to provide your team with actionable signals and details that help you to make individual patient care decisions.
This cloud-based solution is powered by the Amazon Web Services platform; it provides real-time information and grants you instant access to various tools on any device. Precision Health Cloud is HIPAA-compliant and reliable.

Onpipeline Healthcare CRM is a feature-rich HIPAA-compliant solution for hospitals and clinics. It supports APIs and widgets for external data integrations. This CRM solution is built with solid security algorithms to ensure that all data is well preserved and safe from unauthorized usage.
Some of the security features of Onpipeline Healthcare CRM include 2-Factor Authentication (2FA), automatic account lockdowns, SSL connections, and more. You can also automate with this software to simplify repetitive processes and activities.

Zendest Healthcare CRM is a comprehensive solution built for businesses, hospitals, and clinics. It integrates various professional tools, and also supports further integration with other 3rd-party solutions you may want to add. The interface is superb and easy to navigate.
With the Zendesk CRM solution, you get a secure, flexible, and easy-to-use solution for seamless, patient-centric support. This CRM supports communication tools for phone calls, SMS, and other mediums to keep up with your patients.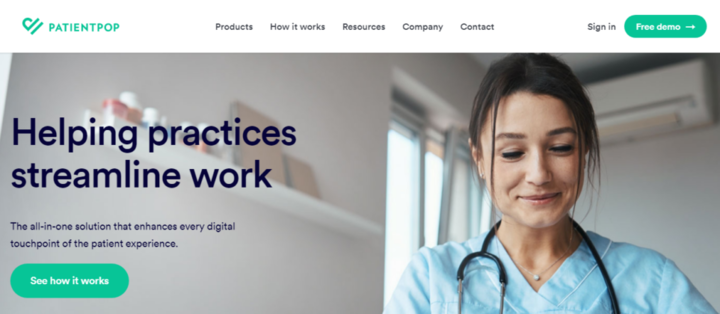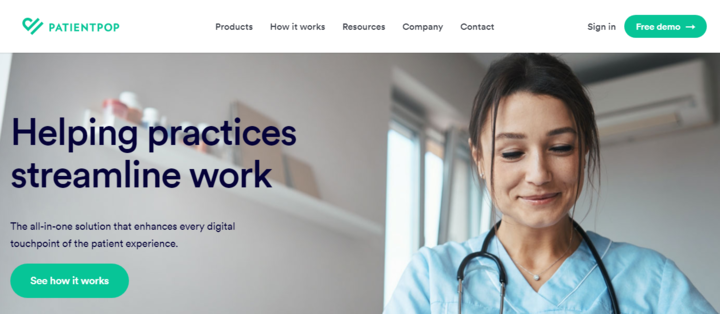 PatientPop is a HIPAA-compliant healthcare CRM packed with tailored tools that are designed to help hospitals and clinics communicate effectively and retain their patients. This healthcare CRM supports online appointment bookings on any device, thanks to the intuitive interface.
With PatientPop, your old and current patients can easily schedule appointments at any time. Furthermore, you can automate tasks with this CRM solution. It provides you with EMR & EHR tools. More interestingly, the PatientPop team would help you establish a prominent web presence and improve your clinic's search result rankings so you can reach more patients.
A full-featured, comprehensive solution for every healthcare-related need. HIPAA CRM integrates tools for patient tracking, treatment & sales pipeline, calls & voice, online forms/bookings/appointments/surveys, detailed reporting, and marketing campaigns. This CRM has everything you need and still supports 3rd-party integrations if you need more.
Furthermore, HIPAA CRM lets you track treatments given to patients, tasks assigned to different team members, and more. It is possible to import and export data with HIPAA CRM – in Excel format. This CRM solution goes on to support direct mail and mail merge campaigns. It is simply an all-in-one healthcare CRM built with advanced security algorithms.

Mercury Healthcare is a complex, yet intuitive solution for hospitals, clinics, and other businesses in the healthcare industry. The platform comprises several proven clinical propensity models and runs through the cloud; hence, it is accessible across devices.
The Mercury Healthcare CRM provides analytics tools to help you with actionable insights gotten from self-learning data science. It also integrates engagement solutions with healthcare-tailored workflow tools. Practically everything you need to take your patient management to another level is available with this CRM.

Veriomed Healthcare CRM provides clinics and hospitals with tailored tools to help them connect, collaborate, and accelerate customer relationships. It features a health meter action-board that provides a prioritized summary of patients' health information to guide your decisions at all times.
Interestingly, this healthcare CRM integrates with 3rd-party solutions to offer more features for effective customer relations and management. With automation support, you can easily monitor and track various activities, and instantly alert appropriate departmental staff to attend to issues faster.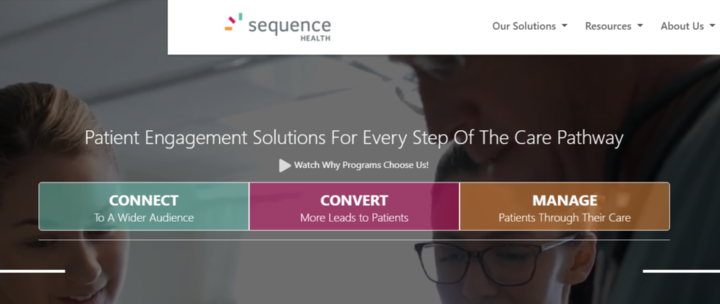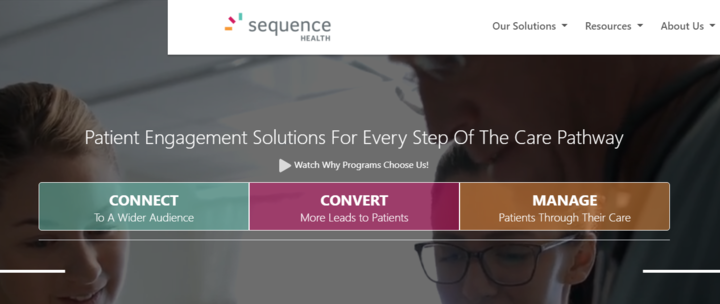 Sequence Health provides HIPAA-compliant solutions to hospitals and clinics to help them improve patient engagement and follow-ups. The Sequence Health software comes with tools and modules that are tailored to boost how you communicate and attend to your patients. It is one of the best healthcare CRM solutions for hospitals and clinics.
Summary
These healthcare CRM solutions are HIPAA-compliant and integrate many important features you'd find handy. They are basically SaaS solutions – deployed on the cloud to run on any device; so you don't need a specific hardware where you can install them. CRM software apps are recommended for all businesses, regardless of the industry.