The benefits of ensuring that your customers are duly satisfied cannot be overstated. Apparently, offering your customers and clientele the best responsive support – using the right CRM tools – will improve their loyalty to your business. There are a bunch of Customer Relationship Software (CRM) apps out there, but Sales Desk tends to have specific features that make it stand out from the rest.
Before going on with this Sales Desk review, let's quickly understand what CRM software apps do and why they are an important tool for virtually all kinds of businesses.
What is Sales CRM Software?
To put it in a simpler manner that anyone can easily understand, sales CRM software is a program that helps your business sales team to build and manage strong customer relationships, which can lead to an increase in sales and conversions.
CRM is the acronym for Customer Relationship Management, and it's a term used to explain the relationship between a business (company) and its customers (clientele). A good CRM software is such that can gather various useful information about your customers for sales purposes.
Sales Desk CRM Software Overview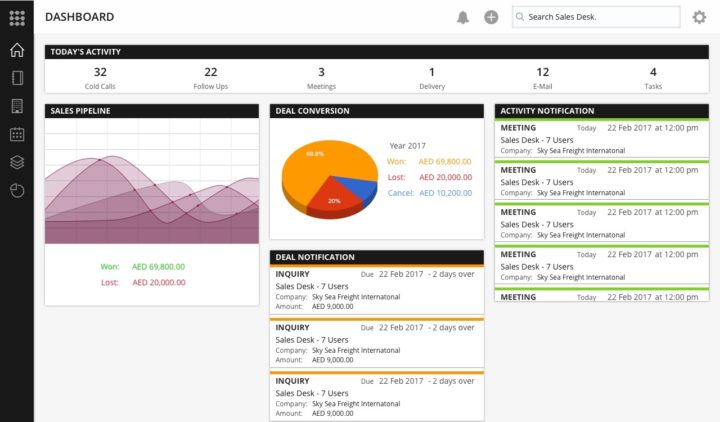 The Sales Desk CRM software is a comprehensive customer relationship software solution meant for businesses at all levels in different industries. This CRM software is packed with many handy features and offers an intuitive interface that any salesperson can easily understand.
Sales Desk is flexible – lets you convert your CRM to an ERP solution with an external module from the developers' partner. It generally tends to be a cost-effective, easy-to-use sales management solution for businesses that want to take leads, improve their productivity, and also improve sales.
With Sales Desk, you can manage and track your sales team's daily activities, organize & close more deals, receive real-time notifications and follow-ups, track the status of the quotation of each of the sales reps, and more.
Sales Desk Pricing and Availability
Sales Desk offers "User-Based" pricing at $300 per user. This covers all the features the software has to offer. More so, the CRM software is deployed in a cloud environment; hence, you can safely get your sales data at any time from any device.
In contrast to the user-based pricing, you can choose to pay a one-time fee for the modules/features you need for your business. The fee varies based on different factors, particularly based on the selected modules.
However, new users are entitled to a 15-day free trial, and you don't need to enter any payment or credit card details to activate this free trial.
There are equally mobile app versions of Sales Desk CRM, available for Android and iOS platforms.
Features of Sales Desk
One of the interesting features of Sales Desk is its ability to provide you with real-time data generated while your sales team is still at their work. This makes it easy to figure out the best-performing or most active sales rep(s).
1. Dashboard
The dashboard is pretty intuitive and comprehensive; it lets you have a glance at everything the software has to offer. You can view daily activities, top opportunities, monthly sales records, notifications, and much other handy information from the dashboard.
2. Contact Book
On the Contact Book page, you will be able to view valuable information and data regarding your clients. You can easily add new "contacts." In addition, the clients' company info is displayed in a tab, too.
3. Activities
The Activity Base page is where you can access and manage all daily activities, as well as track upcoming or pending activities. This page includes information regarding follow-ups, cold calls, appointments, marketing, tasks, and more.
4. Quotations
As the name connotes, this feature provides detailed information about your quotations. From here, you can link every opportunity with a quotation, and it can be updated at any time. Creating quotes from this tab works in three simple steps: choosing a product, stating the quantity, and printing the quotation.
5. Inventory
On the "Inventory" tab, you will be able to track and manage your company's products and services.
6. Deals
Thanks to this feature, you will likely never let a deal slip through your hands again. This feature provides you with clear and detailed information regarding ongoing deals and inquiries.
7. Accounts with Tally
Connect your accounts, create invoices, and manage payments; that's what this feature lets you do seamlessly.
8. Reports
The report page provides clear details and a somewhat summary of various activities and opportunities.
How To Use Sales Desk CRM Software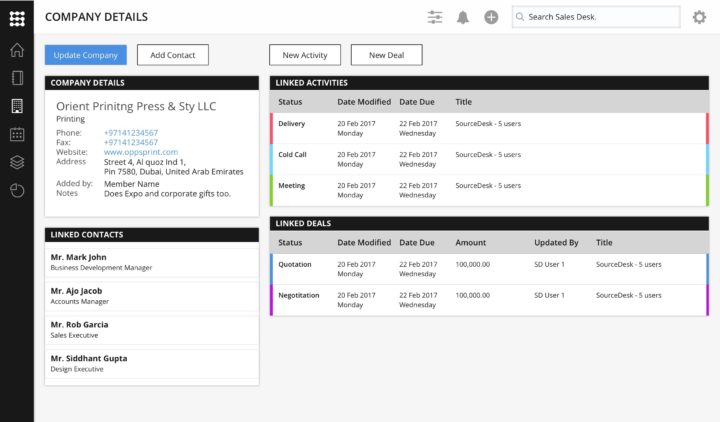 You will need to contact the support team and request a demo. This will take you through filling a concise form, where you're required to provide your company info. The information you provide through the form is what determines the demo you'll get from the Sales Desk support team.
Sales Desk insists on providing tailored solutions to business – since no two businesses require the same exact technique to thrive in the industry.
What More?
Sales Desk CRM software offers a wealth of features for a considerable price. The software is highly customizable and supports ERP integration. It has mobile app versions so that you can manage and track your sales reports on the go.
The app supports "Communication History," which saves all your customer communication, both old and new customers, for future reference purposes. When you request a demo, you'll also receive full-guide documentation on using this CRM software.
Summarily, Sales Desk is one of the most reliable CRM software that can help boost your sales and promote productivity.