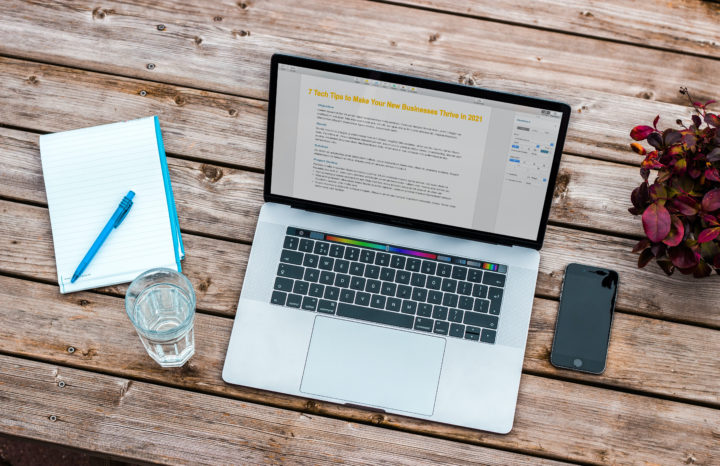 Having the courage, discipline, and determination to make a bold and brave move in today's world is inspiring in itself. All it takes is an idea to change it all, and make things bigger and better. So if you have some big plans for your small business in 2021, then don't let nasty little hurdles diminish your hope. If you're determined, diligent, and have a worked-out way to success with realistic goals along the route, then fortune is set to favor you.
Tech tools that businesses use for marketing, security, and communication can have a significant impact on their success and technology is continually changing. So, if you plan on making the most of tech in 2021 and avoiding pitfalls on the way, then these essential tech-tips can go a long way. So here are some minor tech-related things that can make a major difference in your revenue and brand image in 2021:

Beware of Data Breaches
A data breach can lead to disastrous consequences for a small business. Apart from losing proprietary data, confidential and financial information, you can also lose the trust of your customers which is the worst that can happen to any small business.
To avoid these, it is imperative to develop a comprehensive cybersecurity plan. Criminals that are always on the lookout to breach your systems are sophisticated and organized. Thus, it is important to strike back when such a situation arises. Cybersecurity plans for small businesses don't need to be highly expensive and complicated, rather they should be tailored to fit the unique needs of your business.
Amplify your Social Media Marketing Strategy
2021 will be the year of massive technological change and online appeal. If you make use of social media for your marketing, it is the right time to step up your strategy and amplify your reach on the internet.
The impact of good social media marketing cannot be undermined and it will show in your consumer base growth as well. Catering to a selective audience becomes a lot better when done online via specifically designed social media strategies that not just amplify your reach but also help build your brand.
'Debug' your Business
Bugs may sound like simple faults and errors that can be implemented and worked on easily or even be ignored. However, it can cause a range of issues that can threaten your mobile security.
Security bugs can allow criminals to inject malicious code into vulnerable apps which can give access to the same resources of the hosting application. They can even wipe clean all sensitive information such as login details, passwords, and other financial information if they are not fixed.
This issue cannot be overlooked and may need a sophisticated bug reporting tool like Shake SDK which ensures that there are minimum bugs and hassles. A tailored tool like this can help you get valid updates on your app in the form of actionable reports, thus making your work simpler altogether.
Reap the Benefits of Telecommuting
Telecommuting has been one of the most beneficial trends for small businesses to grow. There are tonnes of potential benefits that your business can realize from letting employees telecommute.
Instilling this new business model and work environment may involve some basics like managing a common online workspace, setting up reliable antiviruses, and so on but once it is established it can be a win-win situation for both the employer and the employees.
Optimize Mobile Marketing
With increased screen time patterns among most users, mobile marketing may be your most effective tool of 2021. With the evolution of mobile marketing more and more channels are becoming available to provide real results.
Chalk out a multi-channel, digital marketing strategy that's aimed at reaching your target consumers on their smartphones.
Stay Up-to-date on Deals and Integrations Shaping Marketing Technology
The tech landscape for marketers is an ever-changing environment. To be able to take advantage and incorporate the latest technological tools and concepts, you need to stay up-to-date with industry news.
Such things as automated marketing, video marketing, chatbot marketing, and social proof integration apps are reshaping modern marketing. Every tech business of 2021 must be on the lookout for tools to supercharge their marketing tactics and make their business thrive beyond the reach of even their fiercest competitor.
Extensive Use of SEO Header Tags
Creating a successful SEO strategy means putting in a lot of different tech concepts and header tags are an essential part of that. For an SEO amateur, it is essential to read up the basics and then work on creating a strong SEO that puts your business ahead of your competitors.
Such things as metadata optimization, technical SEO, On-page optimization, local citation, social proofing, and off-page optimization should never be ignored completely. They must be added to the business' long-term marketing plans.
In Conclusion:
Understanding the basics of technology and incorporating them for the betterment of your small business can make a stark difference in your revenues and consumer base. The tech-era is here to stay and it's imperative to understand the massive potential that a good technological backing has. It won't be wrong to say that it truly can make or break your small business.