This comprehensive guide will clear all possible ambiguity concerning VPS and shared web hosting plans or services. Questions such as – should I use shared hosting, which is better between shared hosting and VPS, what type of website can I host in a shared hosting server, etc., are treated in this post.
What's the Difference between VPS and Shared Web Hosting?
The difference between these two is about the type of resources allocated and how they should be used. More about this popular server question is clearly solved in this complete guide.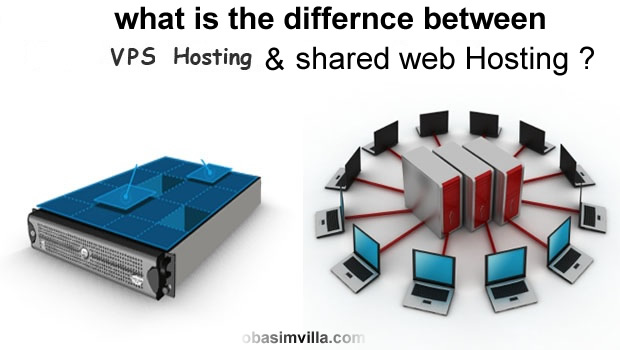 There are two major types of web hosting; VPS and shared hosting. This becomes an issue when purchasing a web hosting package to put your new website on the Internet.  The type of hosting service dictates what you can do and where your limitations lie. Different people will have alternate requirements. It's vital to take into account the differences between VPS and shared web hosting.
Brief Guide to VPS
VPS stands for Virtual Private Server. A server is what hosts use to run websites. When you purchase a VPS package, you should expect to pay much more than any other hosting type. Instead of sharing the server, like in most cases, you're renting it all for yourself. Whilst you can't make any physical changes to the server during your contract, it's yours to do with as you wish. Think of it as like having another computer.
It's a far more personalized service for customers. You can configure the server software and upgrade your security with the company. Larger companies and corporations will opt for VPS as you get more RAM, larger disk space, and additional bandwidth. These extra benefits must come at a price, though.
Brief Guide to Shared Hosting
Shared hosting makes up the majority of the hosting industry. If VPS involves renting an entire server, shared hosting is renting part of the server. Think of it as staying in a hotel. When you book into a hotel, you don't own the whole building. Since you're sharing resources with others, you naturally have less RAM and disk space.
The company takes full control of the server's security and any required maintenance. All you have to do is take care of your webspace. As expected, it's a much cheaper service.
VPS and the Company
Managed VPS, unlike unmanaged VPS Cloud services, doesn't give you as much control as you'd like to think or have. Some would call it an executive hotel room with a shared bathroom.
You're still under the jurisdiction of the company, and it's still their server. You'd get a lot of benefits for your money, but you have to share everything else your host has to offer.
The Limitations of Shared Hosting
Shared hosting comes with severe limitations. It's like sharing a room with someone. You can't have an unlimited amount of traffic without bringing the server down. Furthermore, you only have a small number of resources dedicated to your website. It's why the service is so cost-effective.
VPS Hosting Plans
There's more than one type of hosting plan for VPS. Different hosting plans will offer differing levels of performance. Hosts classify and price them based on data transfer speeds, disk space, and RAM. For the best performance and the most control, a VPS hosting plan works best. The only downside is you have to take some responsibility for its security.
Taking responsibility for a whole server might seem daunting. Beginners shouldn't use this sort of package. It's something for people who have experience and know what they're doing.
Some plans will even allow you to purchase administration rights. Your hosting company still owns the server, but they have allowed you to do what you want with it. In return for them relinquishing control, you can add your own software and manipulate it in any way you please.
Sectioned Servers
Shared servers are always split into sections. It cuts everything into sections to make it appear as if you have a server all to yourself. This isn't true. You're renting a tiny bit of this server. A common issue in the hosting industry is overselling. The organization sells too many of these sections, and it begins to impact the server's performance, especially during peak hours.
Another factor is maintenance. If you really owned your own server, you could decide when it's time to update it. You can't do this with shared hosting. The company decides when it's time for an update. If they do it at an inconvenient time, it could damage your website's reputation.
You'll soon realize if your hosting company does this by the slew of angry complaints posted around the Internet.
Advantages of Shared Hosting
Shared hosting's concept of sharing makes it seem unattractive. It works the other way too. You share resources, but you also share the maintenance costs. Customers will come and go all the time. You can buy additional space and upgrade your disk space and RAM as and when you please.
VPS hosting doesn't have this feature. The only way to upgrade is to spend more on another server. Growing companies benefit more from shared hosting as they can expand as their company becomes more successful.
Shared hosting is the most popular form of hosting because of its economic advantages for individuals and commercial entities. VPS simply isn't economically viable for the majority of web admins.