It's not just you; many other homeowners are out there searching for how to build a steam shower in their homes. Steam showers and steam rooms are rapidly becoming an integral part of modern homes; adding one to your home can increase the value and save you a reasonable amount – you would have spent on spas.
What is a Steam Shower Room?
Think of it as a home "spa" room where you go in to relax and have a warm bath (steam bath) altogether. A steam shower is simply a type of modern bathing, but with specific additional features installed in an enclosed humidified room (a steamed room). It has been proven that steam shower offers pretty many health benefits, and as such, the practice is increasingly gaining popularity by the day – many people are gradually replacing their regular bathrooms with steam rooms to enjoy the health benefits of steam shower.
Steam showers are designed with different materials, including tiles, fiberglass, stone, glass, acrylic, and wood. A steam shower uses a steam generator to humidify the steam room; the shower(s) may have digital controls to regulate the inside temperature and generate cold water when needed. When feeling stressed, bothered, or just need to "cool off," a steam shower can come in handy. Adding a steam shower can significantly increase your house's value and save you that money you're going to pay at a spa.
How Do Steam Showers Work?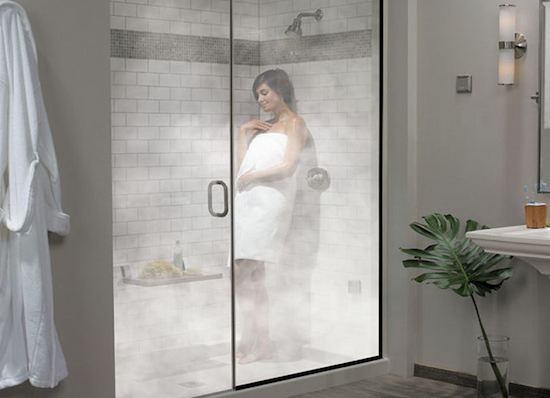 To set up a steam shower, you need a "steam generator" and a hot water reservoir. The steam generator is installed and connected to the hot water reservoir – which is controllable using a switch. The hot water reservoir is typically connected to the shower outlet – through pipelines, from where the steams get off and circulate gradually across the room.
So, when you get into the steam room/shower, you simply flip the switch to trigger the steam generator to boil the water in the reservoir; as the water starts boiling (steaming), the steam – from the boiling water – gradually circulates the room in a matter of seconds. That's it! The room or stall gets steamed up, and you have your steam shower/bath.
Where to Build a Steam Shower?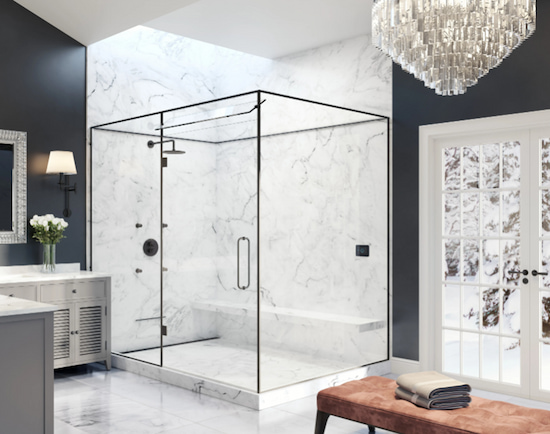 The truth is that there's no particular place to install a steam shower. However, there are things you must consider before installing or building a steam shower – these include:
The selected room or space must be entirely enclosed with no space for moisture or steam to escape when the enclosure gets heated up.
The steam room or shower must not have skylights; windows can be installed, but professionally to ensure moisture doesn't get out from there.
The steam shower/room should not have outside walls – a steam shower with an outside wall will be so cold during winter or cold seasons.
The interior of the steam room has to be spacious – to an extent – and provide enough space for bench seating. Also, the bench or sitting provision has to be close to the shower controls.
The steam shower generator would be installed about 25 feet away, but it can be closed anyway.
Now, these are the things to consider to decide on the exact space you'd want to convert to a steam shower, or you can pick a room in your house that meets these requirements. More so, there are prefabricated steam showers you can buy and install in any suitable free space in your home.
Step By Step Guide on How to Build a Steam Shower
The good thing is that you can build a steam shower at any time of the year. But to get started, you need to have some tools and materials ready. Also, you need to have a design in mind; you can get many steam shower design ideas from the internet for free. Here – for this guide – we're going to install a prefabricated steam shower.
Required Tools:
Safety glasses
Pencil
Screwdrivers
Pliers
Utility knife
24-inch level
Wrenches
Allen wrenches
Rubber mallet
Tape measure
Materials
Steam shower enclosure kit
Steam generator kit
The Steps:
1. Prepare the Site
Indicate the space in your home that meets the requirements explained earlier in this article – it could be your existing bathroom. Now, start with preparing the site – insulate the walls and remove any fittings or features in the bathroom; some people may also apply mold-resistant bathroom paint to the walls.
2. Buy The Steam Shower Enclosure Kit
Ensure that you have the accurate measurement of the space you want to install your steam shower; using the measurement, purchase a steam shower enclosure kit that matches the space perfectly.
3. Do the Plumbing for the Steam Generator
No doubt, your bathroom already had some plumbing work done there, but you may need to adjust the plumbing system and channels to match what you need for the steam shower. You may hire a professional to help here. Let the plumber install the steam generator at a suitable location (based on your design model).
4. Electrical Installations
Again, you may need to hire an electrician to do the necessary electrical wiring and install fittings such as the required 240-volt, GFCI-protected circuit for you.
5. Install the Enclosure
With the initial – important – plumbing and electrical installations done, you should proceed with installing the shower enclosure; the guidelines on how to install the kit you purchased should be found in the manual or instructional book. Follow the directions carefully and sequentially.
6. Finish up the Plumbing and Electrical Fitting
After the steam shower enclosure is installed, you may need to finish up the required plumbing and electrical installations. Once these remainders are fixed, and you're done with your steam shower installation, you should proceed to test it and see if it works well – as expected.
The Main Benefits of Installing a Steam Shower
There are pretty many benefits of having a steam bath, which means there are many benefits of having a steam shower at home; these benefits include:
It significantly lowers blood pressure
It Clears congestion
Can boost immune system functionality
It Reduces stress
It Promotes skin health
Would greatly help to get you to recover quickly when feeling unwell
It helps you burn calories and loosens stiff joints
It enhances vitality in no small manner
Conclusion
So, this is how to build a steam shower in your home; it doesn't seem too difficult, does it? Having a home steam shower gives you a more convenient and comfortable spa experience right in the comfort of your home – you'd definitely love it. Modern steam showers may feature different digital controls, depending on the number of components installed inside.
Frequently Asked Questions
Here are some regularly asked questions about building and maintaining a steam shower in these modern times:
What are the benefits of a Steam Shower?
Installing a steam shower at home offers many health and fitness benefits such as quick recovery from illness, relaxed joints, and several others.
How Much Does A Steam Shower Cost?
The final cost may vary greatly depending on which type you're going for – fabricated or built from scratch. Setting up a prefabricated steam shower costs between $2,000 and $5,000; the enclosure unit costs from $1,500 upwards – the price is based on per square foot. Usually, on average, prefabricated steam shows costs from $70 per square foot.
Can You Make Any Shower a Steam Shower?
Practically, yes, you can. If your traditional shower has enough space and doesn't have skylights and outside walls, then you can convert it to a steam shower. You only need to purchase a steam generator. But in some cases, you may need to hire a contractor to remodel the bathroom.