While smart brooms aren't among the most trending topics of the day, they are the Very Best Broom for Indoor Cleaning. Now, let's move on to explore Broombi and the new things it presents for making the home cleaner and much fresher.
We clean regularly around the house to keep our spaces fresh. But are your methods of cleaning the most efficient way? Do you use various cleaning tools for picking up debris, wiping, and sweeping, but still find specks of contaminants that remain? Though they may be unseen, vacuums and ordinary brooms will scatter and redistribute dust. Not being able to clean to perfection can increase stress levels and the frequency of cleaning!

You can use Broombi to clean any mess perfectly and efficiently with a single sweep. You can view all the features of Broombi smart cleaning gadget as well as support their innovative tech via their Kickstarter page here.

BROOMBI Smart Broom Overview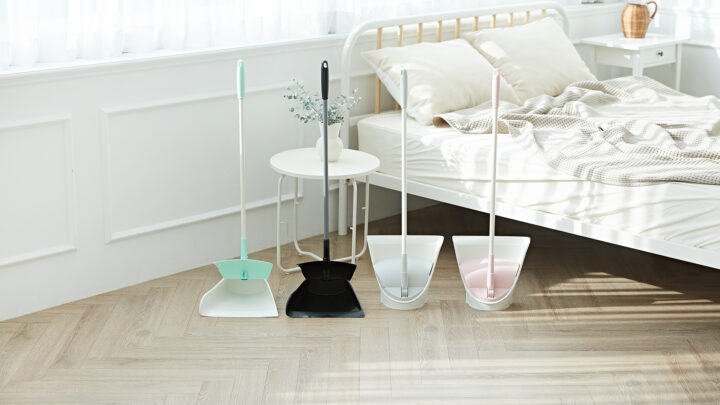 Broombi is extremely effective in sweeping up various debris, fine dust, liquids, human hair, pet hair, and broken glass pieces. Here are some of the most prominent features of Broombi smart cleaner for homes: 
✅ Patented 4-blade edge with quadruple cleaning power

✅ Reach hard to clean areas effortlessly

✅ Easy to clean and maintain – just rinse

✅ Adjustable length handle – up to 55″ for any type of cleaning job

✅ Pet owners will love Broombi – clean pet hair on so many things

✅ Very durable – made from strong, flexible materials

✅ Ordinary brooms will leave unseen shards and get caught in bristles.

But Broombi will pick up every last speck.

Features and How it Works

Broombi is an innovative and revolutionary tech that has come to galvanize the way you clean your home and offices. Here are a few of the many features to expect with the Broombi smart broom.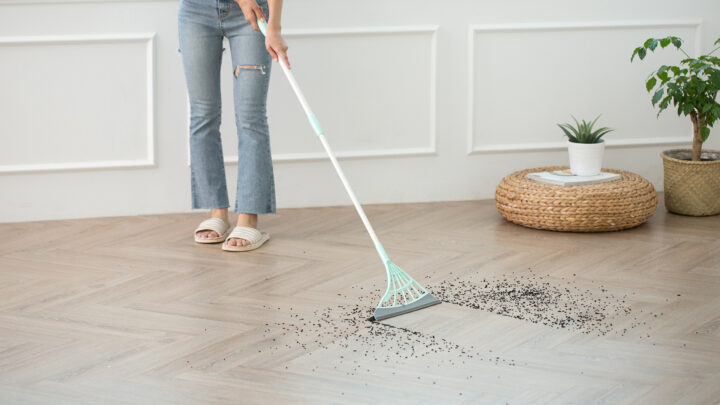 Patented Quadruple Blade

The Broombi was designed with a quadruple-layered silicon blade. Each blade is optimally shaped to clean various surfaces. The special patented frame design directs wind flow to prevent dust particles from escaping the electro-statically activated broom blades.

1. The first blade attracts dust particles with static electricity that activates when rubbing against the floor. The static electricity acts like a magnet, sucking in even the tiniest dust particles.

2. The second blade specializes in collecting hair – perfect for pet owners. The second blade layer scrapes out hair and dust particles deeply planted in rugs, carpets, and fabric.

3. The third blade sweeps in and attracts the dust and hair that has been scraped out.

4. The last blade once again sweeps in the tiniest dust particles that still might exist. With a single sweep, your cleaning results are quadrupled!

Electrostatic Power

Static electricity is activated when used, attracting dust like a magnet!

Electrostatic Power is activated when in use

Patented Dustpan



The Broombi Dustpan works in perfect harmony with the smart broom. It includes a patented semi-automatic retractable bin – a unique feature not seen in any other dustpan until now! This addition alone where the dustpan easily "opens and closes" without having to do so manually,

It frees up your hand and saves your back from constant bending. The Broombi Dustpans' innovative ergonomic design, with other several "smart features" make cleaning a breeze!

We've all had experiences where the litter you swept up into your dustpan overflows. The Broombi Dustpan was designed with an asymmetrical 0.04″ slim edge, different than regular straight-lined rubber edge openings. This design enables the Broombi Dustpan to stick to the floor tightly and scrape up liquid contaminants and tiny glass shards with ease. The Broombi Dustpan's unique design incorporates a 15°retaining wall that prevents any litter from escaping, eliminating the need to sweep up twice.

NO SPILLAGE WHEN EMPTYING!

No spills – no mess –when emptying the Dustpan smart design!
We can't say that we're done cleaning without being able to dump everything out. Don't let your litter overflow or spill onto the floor again before it reaches the trashcan. The smart design incorporates a curved "retaining wall" that enables you to easily remove debris without spilling. The debris in the dustpan is collected to one side and can be dumped into an opening as small as a food jar without spilling!

This is not your ordinary broom. Broombi is a super-efficient daily cleaning tool – no need for rags, washcloths, scrapers, or other cleaning equipment. Broombi handles fine dust and liquids with one sweep and removes contaminants from so many surfaces including carpets, all indoor floors, rugs, tiles, and more like a charm.

Ordinary brooms can weigh 2 ~ 5 lbs. The Broombi Ver. 2 is made from lightweight materials – weighing in at only 0.7 lbs! Broombi is lighter than a can of soda (or beer) and easy enough to use with one hand, yet extremely durable.

The adjustable length handle can stretch up to 55″ to tackle any job around the house – under beds, couches, and high windows.

Broombi relieves stress o your neck, waist, shoulders, and joints by being able to adjust the length to match your height.

SEMI-AUTOMATIC – SMART DESIGN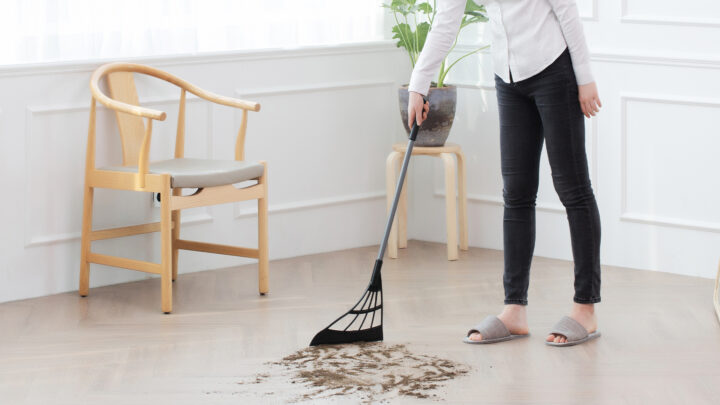 A semi-automatic folding feature allows users to open and close the dustpan without touching or bending over. This keeps hands clean from contaminants in the dustpan and saves your back from constant bending. You can easily open the dustpan with the tip of your feet. When finished, simply tilt back the handle to activate the semi-automatic closing feature.

A PERFECT PAIR

The Broombi and the Broombi Standing Dustpan are great pairs that work in perfect harmony. The dustpan comes with a tightening clip made specifically to attach the broom. Broombi and the Broombi Dustpan combined in one can be stored without taking up much space, completing its duty as the perfect electronic cleaning gadget for modern living.

EXTREMELY EFFICIENT

We've all purchased different tools to keep our houses clean.  Products such as sticky rollers or disposable mop wipes are used to pick up dust and pet hair, but they require numerous refills. Other cleaning tools, including standard brooms and vacuum cleaners, can redistribute some of the dust particles again. But the Broombi Ver. 2 patented design works "magically" by utilizing the magnetizing power of static electricity created from the quadruple blade design to clean and capture all dust particles.  And best of all, it doesn't require any wasted refills.

ECONOMICAL

Standard brooms have their issues like bristles splitting or getting worn down require replacements. Due to the short life span of brooms and other disposables on the market, the average annual cost of cleaning products has  steadily increased from $139 back in 2007 to nearly $190 in 2019 and rising

DURABLE AND ECO-FRIENDLY

Broombi is made from high-performance materials that can handle high heat and low temperatures. With a durable non-slip handle and no disposable or replacement parts, Broombi will last for years. This amounts to hundreds of dollars saved and a great reduction in disposable waste products.

 A PRODUCT YOU CAN TRUST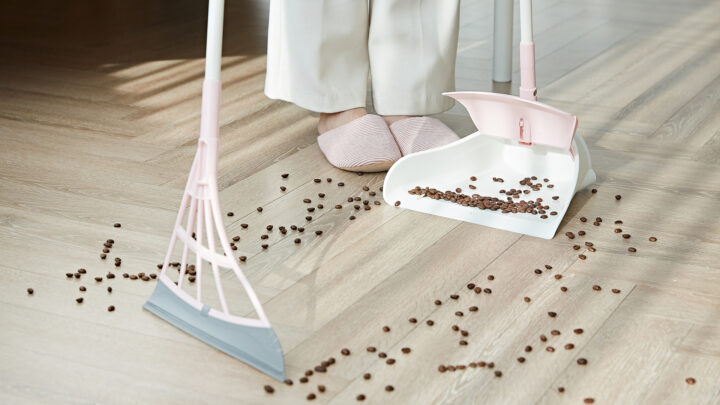 We put Broombi through numerous tests for safety from accredited labs. The frame's special materials were designed and chosen after conducting over 50k+ tests for durability and anti-bacterial efficiency

The only bad point of the product is that it might get you addicted to cleaning!

They're better at cleaning up small dust than vacuum cleaners, and they're even better at removing pet's fur than pet brooms!

Try the Super Cleaning Tool Broombi and Dustpan right away!