If you're looking for a vehicle that has the convenience of a car with the utility of a truck, you'll be pleased to know that there are a variety of cars with a truck bed. These truck cars offer the versatility and capability of a truck while still providing a comfortable, car-like driving experience.
In this blog post, we'll be looking at the top 6 cars with a truck bed. We'll discuss the features, performance, and styling of each of these vehicles so you can make an informed decision about which one best suits your needs.
1. Honda Ridgeline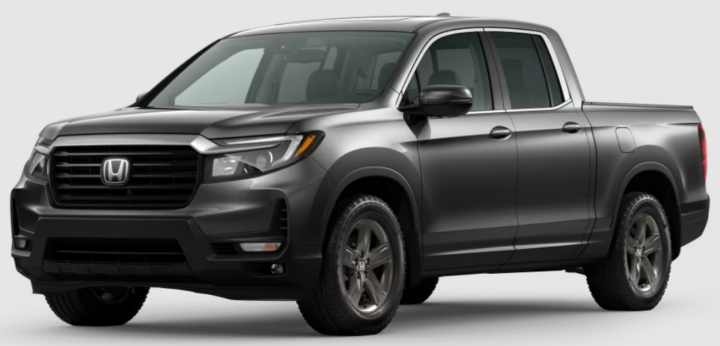 The Honda Ridgeline is often overlooked by truck enthusiasts because of its unibody construction. However, don't let that fool you. This truck is more than capable of handling your hauling needs. Its unique design includes a lockable in-bed trunk, a dual-action tailgate, and a truck bed audio system, making it perfect for tailgating or weekend trips.
The 2021 Ridgeline comes equipped with a 3.5-liter V6 engine, generating 280 horsepower and 262 lb-ft of torque. It also has a payload capacity of 1,580 pounds and a towing capacity of up to 5,000 pounds, making it one of the most capable trucks on this list. Additionally, the Ridgeline has a smooth ride and excellent handling, which is a bonus for those who will be using it as a daily driver.
Honda has always been known for their reliability, and the Ridgeline is no exception. With its solid build quality and exceptional safety features, it's no wonder this truck has a reputation for being one of the most reliable on the market. If you're in the market for a mid-size truck with plenty of amenities and capabilities, the Honda Ridgeline is worth a test drive.
2. Ford Ranger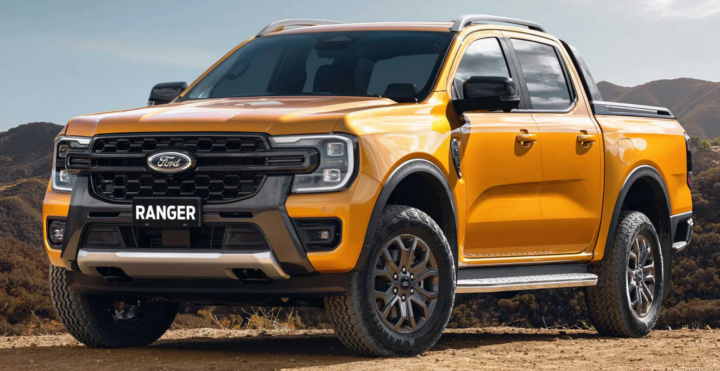 The Ford Ranger is another great option for those looking for a car with a truck bed. The latest model of the Ranger features a 2.3-liter EcoBoost engine that offers plenty of power and performance. It has a maximum towing capacity of up to 7,500 pounds and can haul a payload of up to 1,860 pounds.
The Ranger's interior is also spacious and comfortable, making it a great choice for long road trips.
One of the standout features of the Ford Ranger is its Terrain Management System, which allows drivers to choose between various drive modes to optimize performance on different types of terrain. This includes Normal, Grass/Gravel/Snow, Mud/Ruts, and Sand.
The Ford Ranger also has a range of available safety features, including automatic emergency braking, lane departure warning, and adaptive cruise control. Plus, its infotainment system includes an 8-inch touchscreen, Apple CarPlay, Android Auto compatibility, and a Wi-Fi hotspot.
Overall, the Ford Ranger is a great choice for those looking for a car with a truck bed that can handle tough terrain and offers plenty of towing and hauling capabilities.
3. Chevrolet Colorado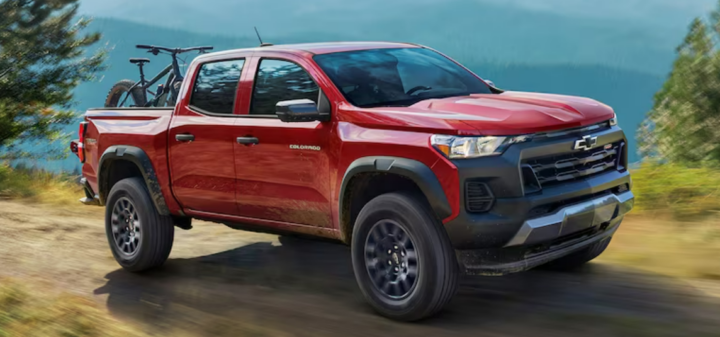 The Chevrolet Colorado is another popular mid-size pickup truck that features a spacious truck bed, perfect for hauling cargo and gear. The Colorado is designed with durability and performance in mind, making it a great option for off-road adventures. It offers a range of engine options, including a turbo-diesel engine that provides excellent fuel efficiency and towing capacity.
The truck bed can also be customized with a range of accessories, such as cargo dividers, bed extenders, and cargo nets. With its rugged construction, versatile capabilities, and impressive towing and hauling capacity, the Chevrolet Colorado is a top choice for those in need of a reliable pickup truck.
4. Toyota Tacoma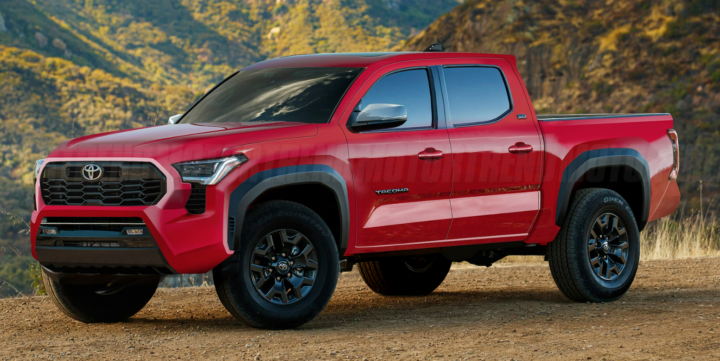 The Toyota Tacoma has been a staple in the midsize truck market for years. With a starting price of around $26,000, the Tacoma offers great value for the features it comes with. The truck bed on the Tacoma ranges from 5 to 6.1 feet depending on the configuration, providing plenty of space for hauling cargo.
The Tacoma also comes with a towing capacity of up to 6,800 pounds, making it a great choice for those who need to tow trailers or other equipment.
The Tacoma comes standard with a 2.7-liter four-cylinder engine, which delivers 159 horsepower.
For those who need more power, there's an available 3.5-liter V6 that produces 278 horsepower. The Tacoma's fuel economy is competitive for its class, with an EPA-estimated 20 mpg in the city and 23 mpg on the highway with the base engine.
Inside the cabin, the Tacoma is spacious and comfortable, with a straightforward infotainment system and user-friendly controls. The higher trims come with advanced safety features like blind-spot monitoring and rear cross-traffic alert.
The Tacoma also has excellent off-road capabilities, making it a great choice for those who like to explore the great outdoors.
Overall, the Toyota Tacoma is a reliable, capable truck that's well-suited for work and play. It offers a good mix of performance, features, and value, making it a top choice for midsize truck buyers.
5. Nissan Frontier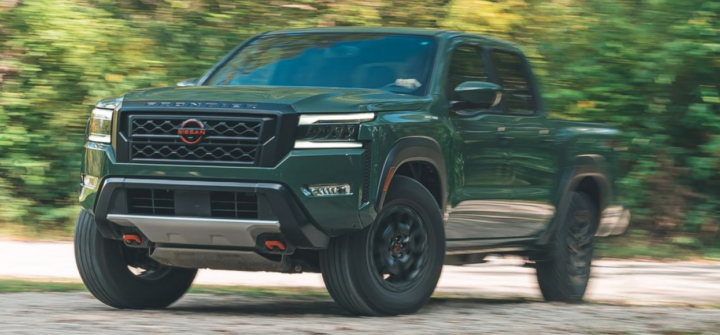 The Nissan Frontier is another popular choice among truck-bed vehicles. With a starting price of around $27,190, the Frontier is an affordable option for those who need a reliable truck bed for work or play.
The Frontier comes with a 3.8-liter V6 engine that can produce up to 310 horsepower and 281 lb-ft of torque. It also comes with a six-speed manual or nine-speed automatic transmission, giving drivers more control over their driving experience.
One of the most notable features of the Frontier is its towing capacity, which ranges from 3,790 pounds to 6,720 pounds, depending on the configuration. Additionally, it has a payload capacity of up to 1,460 pounds, making it ideal for hauling large items or materials.
In terms of fuel efficiency, the Frontier is estimated to get around 18-19 mpg in the city and 23-24 mpg on the highway. While it may not be the most fuel-efficient option on the market, it offers a good balance between power and fuel economy.
Overall, the Nissan Frontier is a great choice for those who need a practical and dependable truck bed vehicle. Its towing and payload capacities make it a reliable option for work, while its stylish design and comfortable interior make it a comfortable ride for weekend adventures.
6. Kia Bongo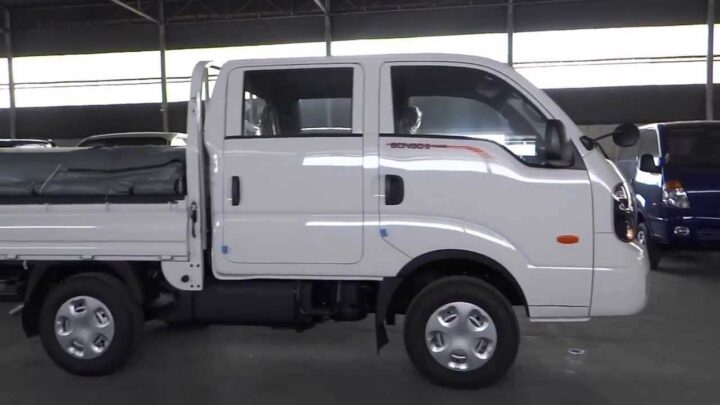 While popular trucks like Tacoma, Thundra, and Rangler dominate this segment, The Kia Bongo is making waves lately. It features a rugged design with seat space for 4 persons and a truck bed for heavy handling.
Unlike the Toyota Tundra that's popular among the youth, Kia Bongo is mostly used by commercial services providers in manufacturing, hospitality, agric, and health.
Conclusion
In conclusion, there are many great options for drivers who want the functionality of a pickup truck but prefer the convenience and comfort of a car. The Honda Ridgeline, Ford Ranger, Chevrolet Colorado, Toyota Tacoma, and Nissan Frontier all offer reliable performance, impressive hauling capabilities, and unique features that set them apart from one another.
Whether you need a truck for work or play, these cars with a truck bed are worth considering. Ultimately, the best choice will depend on your personal preferences and needs, but any of these top 6 vehicles would be a solid choice for anyone in the market for a car with a truck bed.