Are you tired of your local hosting provider that offers nothing but steady downtime and meager resources, or looking for an affordable means to break away from the local retailer that's reselling tired servers?
Here are great options for hosting your business websites for next-to-nothing. They're cheap, reputable, solid, and comes with responsive tech support.
NameCheap Domain and Hosting Services

Namecheap is a renown hosting company with flexible plans and unbeatable prices. Their lowest business hosting plan is sold for only $2.88 and you can host up to 3 websites on it.
Trust me, this is far better than what you're getting with your local hosting provider. This is so because; with Namecheap SSD hosting plans, you'll get access to the following features without additional payments:
Really fast SSD hosting with Railgun Speed Optimizer and free SSL certificate.
A feature-filled website builder and Unmetered (unlimited) monthly traffic
30 professional custom domain name email accounts with free email forwarding.
PHP 7.*, SSH access, 30 days money back guarantee and lots more.
Note: The link to get access to the $0.88 domain name registration offer is here, while that of $2.88 premium shared hosting offer is here.
A2 Hosting
A2 Hosting is a highly reputable web hosting provider with good rating here at 3rd planet techies and across the cyberspace.

Their servers are fast, secure, and highly reliable. Their huge discount offering for 2019 sales spans from November 29th through December 2nd, 2019. With these huge offerings, you can buy A2 shared hosting account for as low as $1.98/mo in their black Friday and Cyber Monday deals.
The Deals

Shared Hosting Server Plans: From $1.98/m – 67% off with discount code: SAVEBIG
Fully Managed WordPress Hosting Plans: From $8.74 – 67% off with discount code: SAVEBIG
Managed and Core VPS Hosting Servers: From $25.00 – 50% off with discount code: BLKVPS
Select SSD Dedicated Server Plans: From $96.50 – 50% off with discount code: 50DEDI
How to Use: The promo discount would be automatically applied to your order so you won't have to manually enter the code in the shopping cart.
Note that this year's A2 hosting deal is scheduled to Start on 29th November & Ends on 2nd December 2019. Enjoying Huge A2 hosting discounts with these dirt cheap promo codes.
Hostinger 87% Off Hosting Deal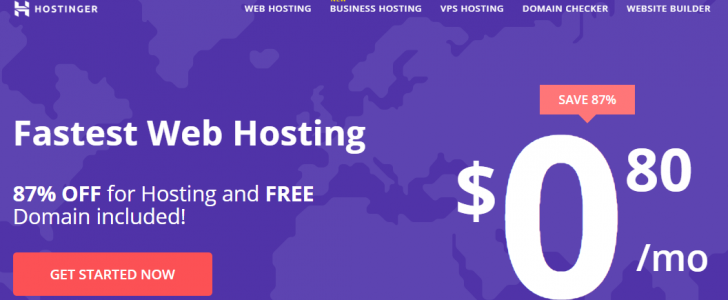 Hostinger's $0.8 hosting plan is great for small businesses. With it, you can create a usable website with their free website builder, get access to the latest version of PHP and MariaDB, Park domains, and/or install any website CMS software of your choice.
While their lowest hosting plan allows you to host only a single domain name, the others can be used for unlimited domain names. The features to expect from Hostinger business hosting plan is as follows:
Access to over 90 CMS Software Auto-Installer Scripts.
Unlimited sub-domains, advanced cron Job, curl SSL, weekly backups, and unlimited domain name parking.
Multiple PHP Versions, FTP over SSL, and SSH Access.
MariaDB database, InnoDB database, FTP Access, and PHPMyAdmin tool.
30 days money back guarantee.
Their VPS Hosting Offer: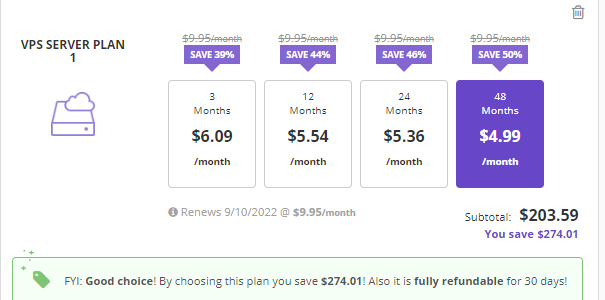 This is our favorite! For only $203.59, you'll get access to 4 years of VPS hosting with a monthly bandwidth of 1TB. This is perfect for hosting resellers that wish to resell hostinger services to their local clients.
It comes with 100% free branding: you can brand it with your business name (plus custom Nameservers) and install Cpanel, DirectAdmin, VestaCP and/or any other host management dashboard of your choice.
There's a dedicated IP address, SSD disk drives, Full Root Access, and IPv6 Support with Hostinger VPS hosting plans. Webuzo, VestaCP, and most open source hosting management software are preloaded by default and you can choose from 3 (US, Europe, and Asia) server locations.
iPage 75% Off Hosting Deal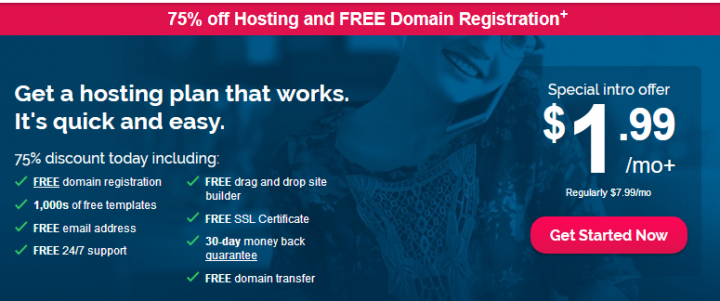 iPage hosting isn't one of the best hosting companies for e-commerce, but does come in handy for simple HTML sites, business portfolio websites, personal WordPress and private blog networks (PBN).
They are offering more than 75% off discount across their hosting plans and you can even pick a single domain name of your choice FREE. You can pay as low as $1.99/month (or even $1/month) as well as enjoy over $200 free marketing credits and a robust website builder.
It doesn't matter if you are transferring your domain name from another registrar, or signing up for a new one, the free domain name offer covers all scenarios.
Stable Host's 80% Hosting Deal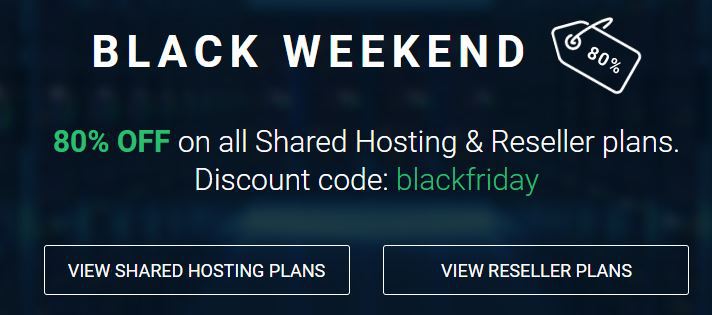 Yeah, here's another hosting deal that's really an upgrade to any local and/or EIG hosts. For a moment, you'll have access to hosting servers that are really fast and that for a fraction of its actual price.
The 80% OFF discount is for all their shared and reseller hosting plans. Even their enterprise shared hosting plan (which is great for eCommerce websites) is qualified for this promotion and there's no limitation to the number of years you can pay for.
To enjoy these mouth-watering hosting deal, use this special link and the blackfriday coupon code. Offers end on December 4th, 2019.
InMotion Hosting 'Exclusive' Deal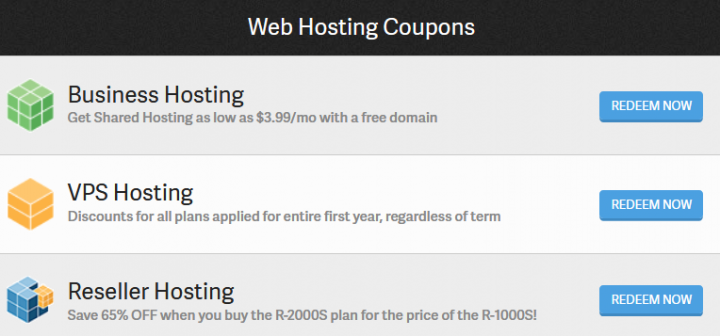 Regular promo sales are not something that's regular with InMotion hosting, but their amazing customer support is worth every extra cent. With inMotion hosting, you'll get access to phone support, Skype, email, and online tickets.
Their WordPress hosting plan comes with generous resources that's fit for business/eCommerce websites, while their VPS servers are priced reasonably.
We have used their VPS and Dedicated server hosting in the past, and was very satisfied with the quality of support/services. While there are no coupon codes for these amazing deals, the special link below will take you straight to their page for exclusive hosting deals.
Past, but Valid 2019 Domain/Hosting Deals
There's no better time to shop for huge discounts on reliable products and/or services than now. This is why we chose to share the best discount on top hosting companies and domain name registrars in black Friday and Cyber Monday deals.
As it is with our culture, we aren't going to share just any host with a huge discount, but the top hosts with great discount on-sale. That way, any buy would be a huge upgrade to your website, tools and/or apps.
Here are the best hosting deals that are best for your business. You can bank on any of them as our team of editors has carefully selected them for your convenience.
SiteGround Hosting
SiteGround is no mean name in the web hosting industry and comes highly recommended by WordPress.org, 3ptechies, and other digital marketers.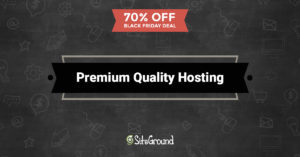 Their bragging right includes:- superb support, top-notched servers, and huge client base. You can hardly go wrong with any of their customer-oriented products and services.
The Deal: SiteGround's black Friday hosting deal for this year is very attractive. There's 70% OFF discount automatically applied to all annual shared hosting plans. It is one of the best Siteground's black Friday and Cyber Monday hosting deal ever.
[Activate SiteGround Hosting Deal]
NameCheap Hosting Deal [

Best Offer so far

]
Surprisingly Namecheap hosting has improved greatly from what it used to be despite their cheap prices. I only use them to host short-term projects before now, but was awed with my recent findings.
While optimizing mirobas.com (one of my projects hosted on NameCheap server) for speed, I was shocked to realize that the award-winning Railgun applet is active on NameCheap hosting accounts by default.
This coupled with their easy management features would greatly improve SEO and response rate of dynamic websites.
Their black Friday and Cyber Monday offering are 91% off discount across the board. The offer would run throughout this festive date and doesn't need a coupon code to work.
All you're required to do is ––>hit the activate deal button below to grab this limited-time NameCheap 91% Off hosting deal.
Hostinger 90% OFF Hosting

Hostinger is that new guy in our Godaddy & 1and1 hosting alternatives list. We started using them recently and would be sharing a comprehensive review of their hosting services a few months from now.
At the moment, We're hosted to their premium hosting server for one of our websites and haven't had a negative experience yet.
Their black Friday hosting deal is one of the cheapest so far. Single domain web hosting goes for $0.79/month, while premium and business class hosting go for $0.89 and $1.49 respectively. This means that –– you can host a single domain name 3 months for only $2.37.
Hostinger's 90% Off hosting deal is on and would run through black Friday and cyber Monday sales. No coupon code is needed for this deal. Just click on the activate button below to grab this hosting deal.
Fast Web Host [70% Off Across board]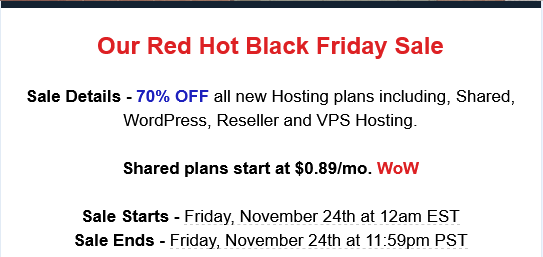 FastWebHost black Friday hosting deal is worth it really. For 24hrs you'll have the chance to enjoy a 70% Off discount for all their hosting plans.
Fast Web Host is popular among bloggers and does have a reliable data center in Europe, US, and Asia. Their black Friday and Cyber Monday hosting deal are scheduled for 24hrs only.
Just like Hostinger, there's no coupon code needed for this deal. All you'd need to do is be around at the scheduled time to benefit from this awesome offer.
Bluehost
BlueHost is another top hosting company that's recommended by WordPress and other digital marketing gurus. We have used their VPS plan and was only dissatisfied by their below-par technical support.
With BlueHost, you are going to enjoy as much as 75% OFF discount across the board and over $150 free marketing credit. The promo is scheduled for black Friday, Cyber Monday and until the 1st day of December.
[Activate Bluehost BF/CM Hosting Deal]
InMotion Hosting
InMotion hosting is the last host we're going to feature for this year's Black Friday/Cyber Monday deals. They are offering a flat 50% off discount across the board.
There's no coupon code required. All you need do is use the 'activate deal' link below to buy a hosting plan of choice before November 27.
[Activate InMotion BF Hosting Deal]
Best Domain Deals in this Year's Shopping Events
Domain registration is usually cheap, except for premium ones. Huge savings can be made on new domain names during the black Friday and Cyber Monday shopping events.
Here are some good deals from the top domain name registrars. They are for a limited time and covers most top-level domain names (TLD) and country-code top-level domain names (ccTLD).
NameCheap Domains
This year, Namecheap is offering domain registration, website hosting, and SSL at up to 99% off. You can grab a new domain, level-up your hosting package, and lock up your business security with an SSL, all for less than $3.
It is their biggest sale of the year, as top-level domain names can be bought for almost nothing. Just 0.99$ for any .com, .net, .org, .xyz and .us domain names.
[Visit to Activate NameCheap Domain Deal]
NameSilo
NameSilo (our favorite domain registrar) will be offering a few .com coupons for Black Friday.

Here are the details:
Coupon code: BLACKFRIDAY2017REG will discount 22.2% from any .com registration order up to $50 in savings. That is just $6.99 per year! Limit 5 uses per customer. Up to first 2,000 total redemption. It works for new domain registrations only.
Coupon code: BLACKFRIDAY2017TRANS will discount 10% from all .com transfer orders up to $50 in savings. That is just $7.55 per transfer, and don't forget transferring adds 1 year to the current expiration date of your domains. Limit 5 uses per customer. Up to first 2,000 redemptions.
In Conclusion:
These are the best hosting/domain deals for bloggers, digital marketers, freelancers and web developers. You can share your personal experiences with us in the comment section below.
Thanks and happy shopping!