Siteground Hosting review along with SiteGround hosting cons is one of the most-searched topics by web developers and bloggers alike. This is because the name SiteGround is no mean name in the hosting industry as they have been here for as long as I could remember.
They caught our fancy about three years and so far, we haven't had a nasty experience with them but would share as soon as there is any.
In this review, I am going to be very straight-forward, sharing my detailed assessment, evaluation and all the experiences (good or bad) I have had with them as well as give tips for maintaining a stable website for business and personal uses.
SiteGround Hosting OverView
SiteGround hosting is a privately owned web hosting company and has been in business for more than a decade already. They have their data centers in Europe, Africa, and the United States.
Their plans and services include and not limited to – WordPress hosting, Joomla hosting, Cloud hosting, Email hosting, VPS hosting, and dedicated servers.
Their tech support team (based on our experiences) is equipped with staff that understands the needs of their clients. They are one of the big hosting companies with a customer-oriented support department.
Siteground Pricing
While many might consider Siteground a pricey option, it is actually very competitive considering the features and premium tools that comes with every one of their plans.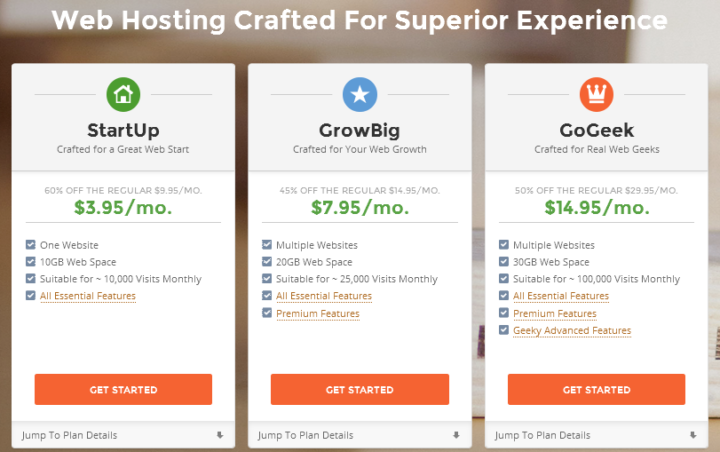 Their start-up plan for shared server hosting goes for less than $4 (first year) while their lowest plan for the cloud server and dedicated server is $60 and $229 respectively.
The 30 days money-back guarantee means that you can test their service risk-free for 30 days without fear of any kind.
Siteground Hosting Plans
Just like every other popular hosting company, Siteground does have a plethora of plans to choose from, depending on what's going to work best for your business.

We found their services to be really top-notched for the times we've used their platform. They offer:-
Shared server hosting
WordPress Hosting
Email Hosting
Cloud Server Hosting
Dedicated servers
Reseller plans, etc.
The SiteGround Hosting Advantage
This section outlines some of the features we like about the Siteground hosting offers and how they have proven to be helpful over the years.
Security
The issue of security is treated without any form of laxity on the Siteground hosting platform, their unique account isolation technology makes it difficult for a single infected website to affect the functioning of the other websites that are sharing the server with it.
This is usually a big issue on most shared hosting platform (we once experienced a similar problem on Arvixe) without a good security framework in place. An infected/blacklisted website can easily influence the other website sharing the same server/IP address with it.
SiteGround security isn't limited to the unique account isolation technology as they usually update their system software and fix any vulnerability as soon as they appear. They also offer an automatic upgrade option for plugins and themes installed via the Cpanel dashboard.
Support
SiteGround hosting does well in proving helpful tips, tweaks and customer-oriented support to every one of their clients. They do not only respond to support tickets but does that with the desire to correct the challenges.
The support we received from Siteground so far is second only to that of MDD hosting (judging from the other hosting companies in our list) and has always been helpful for the issues we contacted them for.
Their phone support works, and the wait time is usually cost-effective even for international callers. Our issues have always been handled professionally by their support staff.
In all, it doesn't matter if it is email ticket or phone support; the SiteGround hosting techs would work with you until all issues are resolved.
WordPress Solutions
SiteGround WordPress hosting is top-notched and works better than the offering from other shared hosting providers.
Even though their WordPress hosting isn't fully managed, it does provides tools that automate the management of your WordPress servers, giving you the experiences you will normally have on any other expensive managed WordPress hosting platform.
There is the highly optimized SG CachePress plugin that lets you use the SiteGround dynamic cache and Memcached to optimize the performance of your WordPress website, top-notched WordPress tutorials, one-click installer and the award-winning WordPress Staging solution that makes it easy to duplicate a website in seconds.
The video below explains all you need to know about the staging tool (accessible from your Cpanel) and how it works for WordPress and Joomla websites.
Siteground WordPress hosting package is competitive enough for business of all sizes and works flawlessly with all WordPress features, plugins, themes, and popular frameworks.
eCommerce/CMS support
This is another angle we did test the Siteground hosting capabilities.  We had no single issue running Magento web app for a client as everything worked as expected without a noticeable fault, slow-loading, and related hitches.
We also had a great experience with Oxwall (Skadate) and Drupal software and can boldly state that the Siteground hosting platform supports most content management system (CMS) as their server usually respond as expected and hardly goes down.
Siteground is one of those hosting companies you can run your dynamic software on with confidence as their servers are fast and highly responsive.
Uptime/Speed
Although we did experience down-time with one of our shared server (GoGeek) on Siteground hosting, it was very little and hardly exceeded 2 minutes.
For the period we monitored it, we can easily rate them 99.998% which is commendable for shared hosting server on a popular hosting company with such a vast clientele.
There is the downtime prevention tool that identifies server issues in real-time and fixes them without human intervention (as advertised on their homepage).
Speed and excellent response rate is another aspect of Siteground hosting we love; their servers are greatly optimized for speed while their in-house caching plugin makes it blazing fast for dynamic websites such as ours.
The award-winning Google Page Speed tool which was designed by Google to reduce page load time and increase website response is easily accessible from the dashboard and with a comprehensive tutorial for new users.
So far, we are 100% satisfied with the overall performance of the websites running on Siteground hosting servers.
The SiteGround Hosting Cons
Even though we are fully satisfied with the Siteground hosting offer, there are some areas we are aren't comfortable with, some of which includes:-
Pricing Model
Apart from being a bit pricey for hobby bloggers, the GoGeek plan (highest in their shared hosting plans) does not allow monthly billing.
With this policy in place, you can't switch from the annual billing circle to monthly, quarterly, and semi-annual billing as offered by other hosts.
For us, this was an issue as we would normally prefer monthly billing for some of our websites and yearly for the others. We usually love when such option is given as it lets us choose the payment circle that's best suited to us.
Payment Options
Siteground hosting supports credit card as the only method for paying for their services, while this is not really an issue for most persons, it was for us as we normally prefer using Paypal for paying for internet services.
Warning Methods
It is usually normal for a website to outgrow the resources allocated to it, for most of the hosts, you would be notified (via email) about the abnormal resource usage thrice before account suspension.
On Siteground hosting, the system doesn't work this way; the server would automatically activate "resource misuse" warning message publicly with some annoying details that could appear embarrassing for most popular websites.
Even though the silly message would normally disappear after 24hrs, we were honestly dissatisfied with such a method.
The best resolve here would have been to load a blank page or so while a detailed message is sent to the website administrator to either upgrade to a higher plan or remove the bloated plugins from the website.
Our Review and Verdict
Siteground hosting is good for small business, personal blogs, and large enterprise websites. They are one of the very few web hosts that supports Memcached, SuperCacher, and PageSpeed module for shared server hosting.
Their support (irrespective of phone or email) is usually fast; we hardly exceed 45 minutes without getting a human response to support tickets.
Only MDD hosting support is faster, judging from our previous hosting experiences. Their hardware and server infrastructure is amazingly top-notched and works great for all the apps we have used on their platform.
Their free account setup, free migration, caching tools, SSL Certificate, PCI Compliance, and other useful apps makes it quite easy to move from other hosting companies to Siteground without any hassle.
In all, Siteground hosting is highly rated [See prove from real users]and fits into what kind of hosting company we can easily recommend to starters, professionals and web-developers alike.
Siteground Promotions: SiteGround hosting uses no promo codes but offers an above 50% off first year discount for their new customers.
click to Visit SiteGround Hosting Homepage
More?: Sure, we will update you as soon as there's anything else we think you should know about our SiteGround hosting experiences and SiteGround hosting cons in general.
Do not forget to share your personal SiteGround hosting experiences and review (irrespective of a negative review or a positive one) by using the comment form below.