In literal terms, automation refers to the process of getting things done "automatically," with minimal or no human input. So, email automation in the e-commerce industry is the process of setting rules – triggers – to control how emails are sent to your customers at specific times.
Email automation simply takes repetitive tasks off your to-do list so that you can have time for other important tasks. For e-commerce businesses, automated emails will encourage your customers to keep coming back or notify them of recent/ongoing discount offers and deals.
There are quite a lot of benefits you stand to enjoy as an e-commerce business owner – when you embrace email automation, which is now one of the most powerful marketing tools with high ROI.
Email Automation Software For eCommerce Businesses
Before delving into the importance/benefits of running automated email campaigns for your online stores, let me quickly highlight the mediums or the apps and software services you can use to achieve the best ROI.
Actually, there are different email automation software tools you can use to achieve great results. Among the top options is eSputnik, an email automation service that offers a wealth of impressive marketing tools for various businesses, including e-commerce businesses.
With the eSputnik email marketing software, you can launch several campaigns through channels such as emails, SMS, Viber, and Web Push notifications. It comes with eCommerce-specific features such as triggered emails, product recommendations for websites, automated scenarios for abandoned carts, etc., making it one of the best options for online stores and eCommerce business owners.
eSputnik email marketing service is much flexible to customize and easy to understand. More so, there are several templates you can use/build to run tailored campaigns for your customers. However, while eSputnik happens to be one of the top email automation services for eCommerce businesses, several other ones guarantee impressive results.
Why Email Automation is Important for E-Commerce Businesses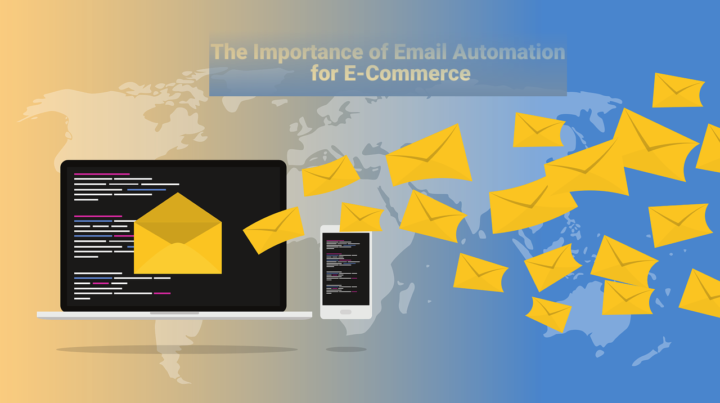 There are many benefits of using an email automation tool or software apps for your eCommerce business, but there are the core ones.
1. Higher Return On Investment (ROI)
This remains the number one reason why email marketing is never going to die. It has a higher ROI than various other forms of marketing. A research infographic by the Litmus blog showed that email marketing produces at least 20% higher ROI than other forms of marketing. The research also shows that email marketing can guarantee a $40 return for each $1 spent in running a campaign.
2. Improves Customer Retention
When you set up different automated campaigns, it can help bring back your customers by alerting them about discount offers, new items, and other enticing stuff. Studies have proven that it is easier to sell to an existing customer than a new one – email automation helps you keep your existing customers abreast with every latest offer, item, and discount on your store.
Automation lets you personalize and schedule your messages to be delivered at the best time your customers are going to see them and open to read the content. However, it would be best if you were careful with the captions and headlines. For example, an email that reads, "Hey, it's been long we heard from you. Visit our store today!" is likely going to end in the trash.
In contrast, an email that reads, "Dear Mark, we haven't heard from you in a while, here are some new items you'd love to see – offered at decent discounts just for you." is more likely to trigger the customer to revisit your store.
3. Improves Employees Productivity
Actually, this is one of the core benefits of automation in all industries and sectors. It improves employees' productivity by relieving some of the tedious tasks that were done manually prior. When you switch to email automation, you relieve your marketing team from a tedious task. Now, they can focus on other important aspects to scale and grow your business.
4. Personalized Customer Experience
As an eCommerce store owner, personalized email message(s) is very important. That is why most email automation software tools include "audience targeting" features. These features let you deliver tailored messages to different customers – based on their previous activities or shopping experience.
A good percentage of consumers find personalized content appealing. Also, studies show that 91% of buyers are likely to patronize businesses that provide them with individual recommendations and offers. Now, with email automation, you can create series of automated emails to engage your customers and build a strong relationship between them and your store.
How To Get Started With Email Automation?
You'd need to signup to use an email automation service. There are so many of them out there, but eSputnik (as mentioned earlier) is one of the best options for eCommerce businesses. Also, you'd need to understand the art of email marketing; how to configure "triggers (user actions)" and "responses (emails)."
For example, a good number of buyers do abandon their cart – for different reasons – and go away. You can set a "trigger" to remind your customers that they have certain items in their shopping cart. The automation campaign may appear like this:
Trigger: Cart abandonment
Email: "Forget something?"
Similarly, you can set various triggers and emails, including a "Welcome" email to welcome new customers that just subscribed to your mailing list.
When you use the right email automation software, you'll get the options to set up as many triggers as you need. Furthermore, always remember to set up tracking to keep an eye on your campaign conversions.
What More?
Apparently, the importance of email automation in eCommerce cannot be overemphasized. It grants your marketing team more time to focus on other things and improves consumer retention tremendously. With good and modern automation software, you will have access to lots of marketing tools to drive massive sales and ROI.