Not long ago, we wrote about ransomware and computer viruses as well as launched a 20 license giveaway of internet security program to our tech audience.
This is in a bid to keep you acquainted with  the best and safest methods to keep your computer system, mobile phones and internet enabled devices free from PC viruses, malicious programs and other forms of internet threats.
FixMeStick is one of such utility tool for scanning and removing viruses from infected machines. Just like rescue disks of then days, it lets you disinfect virus-infected computers from cold/warm boot.
This post is aimed at introducing the Fix Me Stick USB hardware, along with its features, availability, OS Compatibility and price.
FixMeStick Overview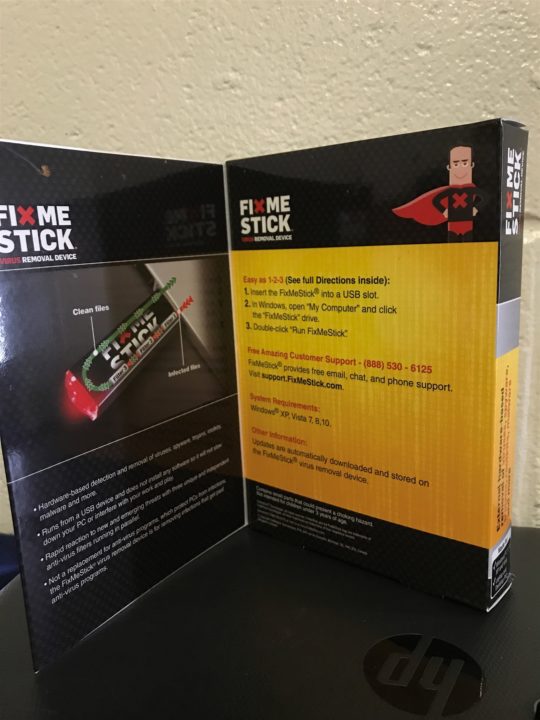 FixMeStick is a bootable, self-updating, Linux OS-powered USB anti-virus device that lets you remove virus and malware infections from Windows PCs and MacOS machines.
It works even for PCs that's been rendered unbootable by OS-tampering viruses. This means that the fix me USB stick can be used on PCs with damaged OS core files/registry values.
It combines the intelligence of Kaspersky lab, effectiveness of Sophos and huge virus database of Avira to do a comprehensive scan on infected systems.
FixMeStick scanner can detect malicious browser add-ons, adware and disguised malware files on PCs and lets you connect to a knowledgeable tech person once there's a complication of any kind.
Fix Me Stick Features
Unlike regular anti-virus software, Fix me USB anti-virus hardware is bootable and can scan your PC from cold boot. It is a better alternative to rescue-Disks/Live CDs that usually need some expert knowledge to create one.
Some of the features that separates it from everyday anti-virus software includes;
The ability to scan systems using an updated virus database of 3 popular Anti-viral tools.
The ability to detect viruses that get past the active internet security program (anti-virus software) on file.
Can detect and connect automatically to cable or available wireless networks to update virus engines before performing a scan.
The ability to scan computers from cold boot, combating stealth viruses or malware that runs while PC is on.
Works with basic system need as no software installation is required. Just 512 MB  of RAM, and you are good to go.
Although the features above is similar to what you can do with some free rescue disks (such as Anvi, Bitdefender and AVG rescue disk), the flexibility, huge virus database, ease of use and VIP support that comes with Fix Me Stick is worth its salt.
FixMeStick Availability and Pricing
Fix Me Stick comes with a whooping 45 days money-back guarantee and would be shipped to you free (for paid version) or $9.95 for trial versions.  It is available on Amazon, Walmart, their official website, and other popular e-Shopping malls.
The retail price for FixMeStick is $59.99 for 3 PC license and $299.99 for unlimited PC license. The product comes with a promise of lifetime Warranty and lifetime dedicated technical Support.
FixMeStick Tutorials [How to Use]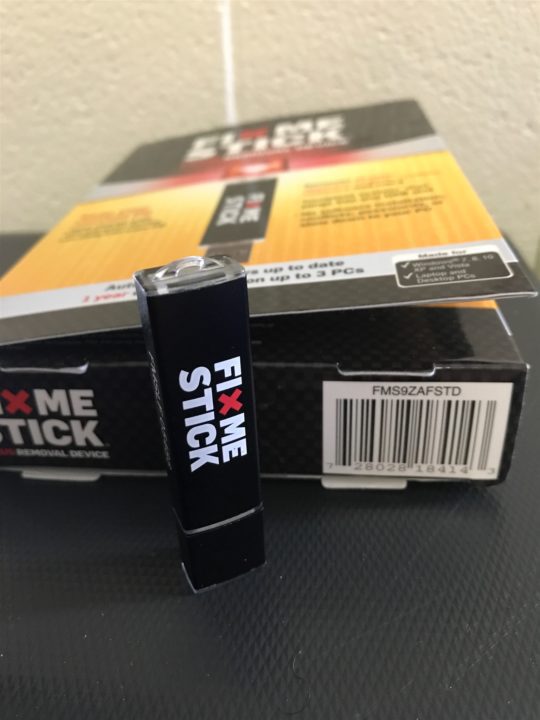 Unlike anti-virus utility apps that requires a download/installation to work, Fix-Me-Stick uses the USB port of your computer and works out of the box.
From Cold Boot: Assuming that your PC (MacOS or Windows) is already infected heavily; resulting to lags, annoying pop-ups and several start-up texts, you can fix such by using the cold boot method.
Plug the FixMeStick device to a free USB port on your PC and boot to bios setup screen.
Go to boot (or start-up) priority and select USB drive.
Press F10 to save and exit the bios setup screen.
Follow the FixMeStick on-screen instructions to scan and fix as soon as your PC boots into it.
From Warn Boot/Active desktop: This is the method for most computers. Necessary for routine scan and/or deep virus removal.
Simply connect the device to a free USB port on your machine.
Follow the auto-run prompt or click on the drive letter from Windows explore/Mac OS X Finder and use the executable (.exe, .dmg) file to launch.
Configure the necessary options and allow the intelligent scan to run.
Our Review, Impression, and Verdict
The copy of FixMeStick we got, was received by Kyle Stevens, who is more of internet marketing and blogging tips expert than one that wrangles with tech gadgets.
His opinion of FixMeStick device so far is on the positive. The device is extremely useful for fixing virus-infected PCs and would come in handy for scanning computers with little or no adult supervision such as Kids/guest PCs.
The unlimited license version would be a good fit for use on supervised estates, cyber café and/or other public facilities that have to do with 5 or more computers.
Mac OS X compatibility of FixMeStick is a big plus as it lets a buyer that owns both MacOS and Windows PC scan and fix his machines with a single USB stick.
In all, FixMeStick and its Montreal-based manufacturers have created a niche for themselves as the most popular vendor for anti-virus on USB sticks.
Wrap Up
Investing $60 for a badly infected PC is cheaper than paying a dedicated tech store for a fix. But then, it is important to note that FixMeStick is not a direct substitute to your internet security software as it offers no real-time protection.
Another important thing to note is that; "every lag or slowness on PCs is not caused by a virus infection". FixMeStick would only remove viruses, malware, rootkits, spyware, adware and malicious browser plugins (or add-ons) and never for defragmenting system disks or optimizing operating system (OS) registry.
It can fix most ransomware that locks you out of your machine (like most Rescue disks does), but never for the aggressive ones that encrypts files and archives. Our ransomware protection plan (linked above) would come in handy for ransomware scar.