Some years back, We wrote a compelling piece on how to create a professional website free with some PC software. We explained that any of those 7 apps could be used to create a business and/or personal portfolio website.
Today's article provides a different perspective, but still on brands and/or website creation.  Talking about a perfect solution on how to create a professional company logo for free. We will use a free logo maker – DesignEvo to get this done.
For those who don't want any installer, then you come to the right place since this logo app is absolutely installation-free. DesignEvo is an easy online logo generator for everybody's use, and the steps it provides are relatively brief and intuitive.
Days ago, I was contacted by a PearlMountain staff and introduced to DesignEvo, which helps to create a professional company logo in the least steps.
I turned interested immediately, since I know there's a demand in logo designing, e.g. for company, blog, or even social media. Unfortunately, professional logo designing always comes with a heck of a price tag when we speak of generating a brilliantly compelling logo.
For designing a free logo(s). Here are the steps to create a company logo in no demeaning way. Prepare to enjoy a cheerful experience with the DesignEvo logo maker.
Before Starting:
We still suggest you review a group of popular logo(s) ahead, since you may find some inspirations from these cases, e.g. Nike Logo, NASA Logo, Google Logo, etc. Based on our couple of years' experiences, simple & effective logo designs are vital and a hit these days.
Simple:
Keep your company logo simple! Simple words are easy to be caught and interpreted by audiences. To keep your logo simple is to make your logo memorable.
Effective:
What's effective? How can we make sure a logo is effective? Simply put, effective is practical, which is the same to "what you say is what you get". Audiences understand your company mission, spirit, goal immediately after viewing your logo.
Make sure you have used the right shapes, and texts for your logo. Not the other way around. Take your company elements into account when drafting your company logo.
What's your business? What's your flagship products? Borrow some essential elements from these things and add them to form your company logo.
How to Create a Professional Logo Free with DesignEvo App
After the preparation work is finished, we shall start designing the logo with DesignEvo, a free web app that's publicly available to everyone.
Open the app's official website at designevo.com
Click on "make a logo".
Pick a category of choice and follow the tips below to complete your logo design project.
Note that it's always necessary to outline a company logo in advance. Design logo in B&W and evaluate it in the very first step. Ever Design Bible puts it: if a logo is ugly in B&W, it won't look good in colors.
DesignEvo logo maker follows this principle: in most cases, logo shapes and logo texts are dropped in B&W in the first place, and it enables you to change the color instantly.
Adding Logo Texts
Prepare logo texts and ask a group of target audiences to test it. If they like it, Congrats, you can move to the next practical phrase. Always keep in mind that: UX is crucial for any design, especially for logo creation.
Go for [Text] in DesignEvo, you will be given two options – Classic and Art. Art stores a selection of professional slogan samples, which can be dragged and dropped for immediate use with professional look guarantees. Here, We will take the normal path to design logo text and choose the [Classic] option.
Considering that 3PTechies is a tech-savvy site and is dedicated to providing professional tips, we will opt for a font with a strict look.
That's "Alfa Slab One". Double-click to copy and paste our logo text – "3PTechies Tips". Dragging textbox to adjust its position. During the dragging process, you will see center lines.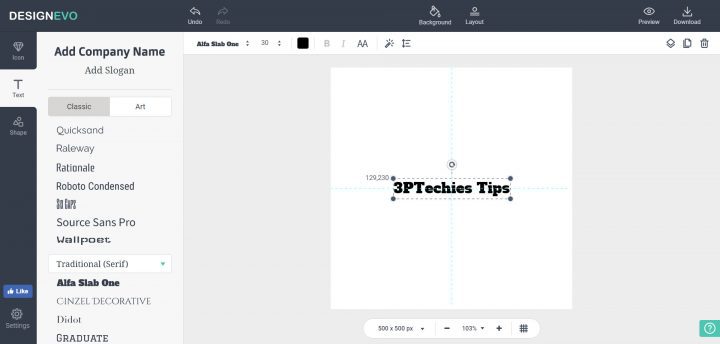 The next step is to add logo shapes.
Adding Logo Shapes
Press [Shape] to find your logo shape. DesignEvo collects some logo shapes for your creation and they are well-classified. Now, we are about to add a decent banner in the program.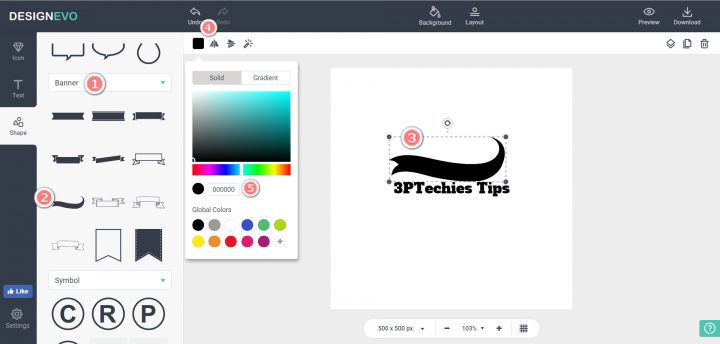 After choosing the banner suitable for the design, we have changed its color back to pure black and moved its position. In final, it looks good for us and looks like a normal geek.
Coloring Your Logo
When the design is done, we shall fill in colors. Red stands for passion, which is in accord with the spirits that we hold on to – "We are always passionate about technology."
Gradient style can be more proper for us, since the logo text is in serious black and gradient color can bridge the two, making our logo whole.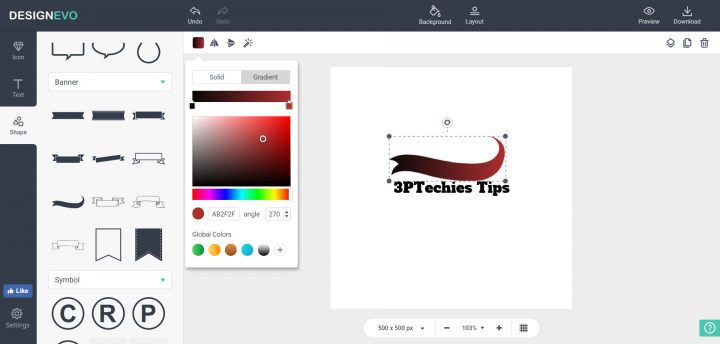 Printing Logo
The last step is to print out the logo for our own use. At the top of the user interface, there's a "Download" button. Give it a click, and allow the automatic download to complete.
Eventually, you will have a zip file containing 3 logo files labeled with "PNG", "JPG" and "PNG with transparent". It's easy to guess what these files are from the labels.
Some Other Features
DesignEvo gathers a large number of icons in case of icon requirements. It leaves a search box, which allows users to find icons in no time.
Keeping powerful and smart, the image search engine gives you the freedom to input anything you can think of, and, in return, will retrieve an array of related icons in this category of your choice.
Besides that, the preview feature in DesignEvo is very practical. There are logos printed on a business card, on a document-banner, on a notebook cover, in a website, on a T-shirt, and printed on the screen.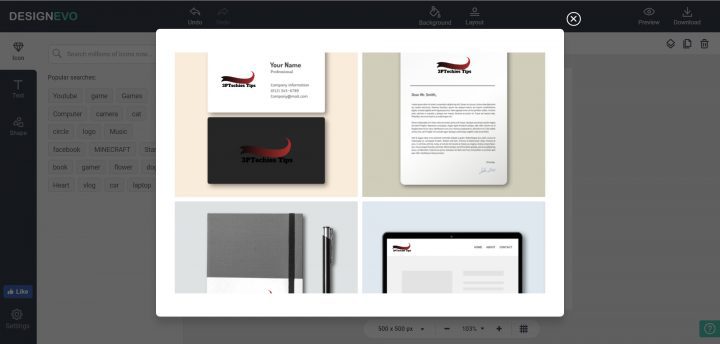 Wrap Up:
DesignEvo logo maker is at the moment, 100% free and works well with most modern internet browsers. Looking at it from here, it is a better alternative to Cool Text.
We find this tool time-saving and convenient, even for new users. This is our reason for coming up with this short guide on how to create a professional company logo free with the DesignEvo app.
Feel free to ask us any questions on graphic design or suggest some other logo design apps in the comments section below.