To effectively manage and scale a business in this modern age, you need the right cutting-edge software tools. However, the tools you need depend on your niche or business segment. For Audio Video companies, the iPoint software looks to be an ideal solution for streamlining daily operations, optimizing workflows, and converting prospects faster.  The software offers a full suite of tools but maintained an intuitive interface.
The iPoint software makes business management a breeze by simplifying a lot of tasks. Interestingly, you'll get trained by the iPoint expert team to get you to familiarize yourself with the tool's features before using it.
iPoint Software Solution Overview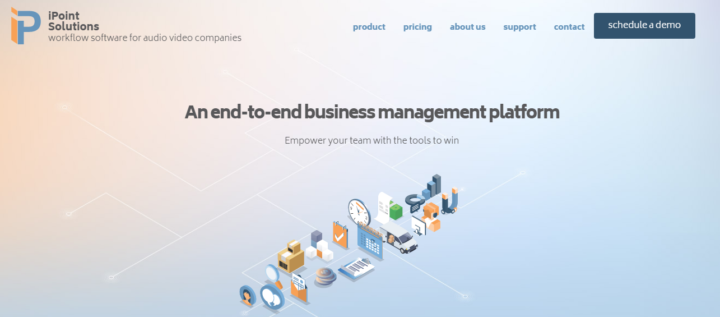 The iPoint software provides all its features in the form of modules, and it is available for iOS mobile devices (iPhones and iPad). The mobile version for iOS is intended to make iPoint users access the platform's modules and features at any time, even while on the go; this will help to improve the experience, reduce paperwork, and also improve customer service.
iPoint software modules perform specific tasks and integrate with one another to offer a comprehensive, all-inclusive solution for businesses. Simply put, the iPoint software is a simple, but comprehensive solution for audio-video businesses of all sizes; to help them mitigate wastes, achieve seamless & better collaboration, make communication more effective, and also promote workflow efficiency.
iPoint Pricing
The one-time setup fee is $3,499 and $299 for additional user setup. Furthermore, the monthly service charge is $150 and $45 for additional user support.
Features of iPoint Software
The iPoint software comes with a bunch of handy features, which are arranged into modules; they are all explained below.

1. Client Relations Manager (Module)
There are three features available in this iPoint software module:
A. Managing contact
This feature helps you to simply a lot of contact management actions. The "contacts" here refer to your customers, clients, partners, and suppliers. With this Client Relations Manager module, you will be able to record, track, search, and organize all your contacts in one place.
Interestingly, this module synchronizes with QuickBooks, and you can use tags to monitor custom properties or create custom "fields" to track more details.
B. Assign Jobs To Customers
With the customer jobs feature, you will be able to necessitate customer projects individually – each having a set of records for more effective tracking of the details, which can include financials, time, and history.
C. Create Custom Alerts Per Client
This feature lets you attach assignments, keep important documents, files & images, and receive update alerts automatically. Furthermore, this feature provides special work-order-related instructions for technicians.
2. The Proposals Module
The features of this module supercharge your sales by providing you with streamlined tools to generate and track proposals.
A. Customize Proposals
You can actually set custom pricing and description information that for each proposal you create. More so, you can hide unit prices, labor lines, accessories, and locations, or display the project phase. There are templates to work with, and the table of contents is generated automatically as you make entries. Everything is customizable.
B. Cloned Proposals
Interestingly, there you can clone proposals to fasten your bid process. This comes in handy when dealing with frequently used designs; for example, a builder that's tasked to build multiple versions of the same house can use cloned proposals.
C. Advanced Proposal Features
The advanced proposal features here include the ability to set custom locations for/to each customer proposal, the ability to view parts and labor costs and profit margin even while still creating a proposal, and the ability to add customer-facing sales notes and technician notes. You can also add photos to your proposals for clearer directions.
3. Sales Orders Module
In the sales order module, you're presented with tools that simplify allocating products from your stock or those to be purchased.
A. Sale Orders Management
This allows you to assign stock products, submit product requests to the purchasing manager, or create purchase orders. You can also stage products in bulk using this tool as it saves you more time. More so, this feature lets you quickly view the parts that have been ordered, staged, and delivered.
B. Integration With Other Modules
You can integrate the sales order module with other models to generate deposit invoices, create tasks from products, link multiple sales orders, and do achieve more tasks.
C. Efficient Order Tracking
Track orders' changes, change nested orders, remove items, automatically add new in the field, and many other actions.
4. The Inventory Module
This module provides you with the tools you need to track, in real-time, stocks on-hand, on-order, staged, or delivered inventory. You will also get to view detailed inventory reports, customize inventory thresholds, and scan items with an imager.
5. Purchasing Module
In this module, you can create and manage purchase orders for as many jobs as possible. You can also combine items for two or more jobs in a single purchase order.
6. Projects Module
Provided in the projects module are tools that allow you to set things in motion with tasks, times, parts, and records for jobs. This module is the parent directory for parts, tasks, times, job records.
7. Work Orders
The work order module provides tools that help you coordinate work with your techs in the field or at the office. You can create work orders from a project or calendar.
8. Assignment Module
On the assignment module, you will find tools to create to-dos and track them in a calendar. Thus, you can create to-dos for your staff or yourself. Notwithstanding, you can also delegate assignments from most other iPoint modules.
9. The Calendar Module
Typically of what calendars do, the calendar module on iPoint software lets you access all your tasks, events, and activities in smart calendars. Also, you can plan out projects via milestones to make everything much easier.
10. The Automobile Module
This module is for automobile operators; this module lets you manage the vehicles in your fleet; tracking their mileage, VIN, etc., and keeping up with their maintenance.
11. The Time Clock Module
Here, you can monitor and manage your employees' work to calculate their precise salaries. This module features hour tracking for hourly-paid employees. You can also, as an admin, adjust employee clock-in and clock-out time.
12. The Reporting Module
Lastly is the reporting module; as the name connotes, here is where to access and view various reports, individual or group reports, in detail. The reports can be easily generated based on categories; sales, accounting, project management, inventory control, and purchasing, etc.
How To Use iPoint Software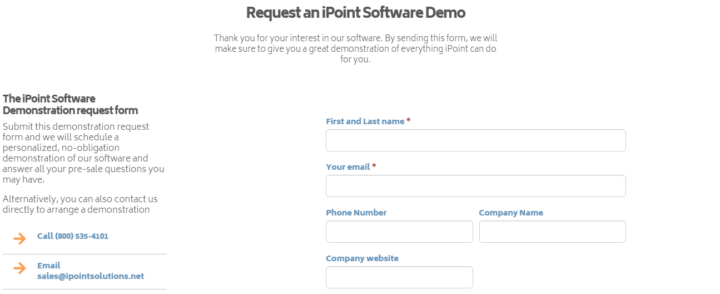 The iPoint software is quite different from other software applications you may have used in the time past. Unlike other apps that may offer free trials for you to check out their features and offerings, iPoint urges you to "Schedule a DEMO" with them to get started.
While scheduling the demo, you will be asked to present a couple of information about your company and business. The provided information will be used to provide a tailored demo that answers your pre-sale questions and every other thing you need to know about using the application.
Verdict
The iPoint software is a comprehensive end-to-end business management solution for companies/businesses in the audio-video, and automobile industries. It offers a wealth of handy features (available in modules); plus, the app is accessible on iPhones and iPad for on-the-go business management.
iPoint supports two-way QuickBooks sync. In addition, you can migrate your existing data from QuickBooks to complete a job task. Generally, the software is intuitive and pretty easy to use.