The Cloud Tutorial is a fast-rising KB Saas app that's created to help companies, businesses, and sole agencies to create sellable knowledge bases with little to zero hassles. In this detailed The Cloud Tutorial Review, you'll learn about their core services and how their knowledge base creation platform helps startups, companies, and enterprises to organize and greatly improve sales/customer relationships.
It's widely known that providing excellent customer support services has been a problem for many companies and small businesses alike: however, with the aid of various tech-based solutions, it is now easier to provide top-notched support services to your customers and clients. TheCloudTutorial is one of those functional platforms that provide you with a wealth of features and tools to create a comprehensive knowledge base of your business' services and how they work for all your clientele.
The Cloud Tutorial Overview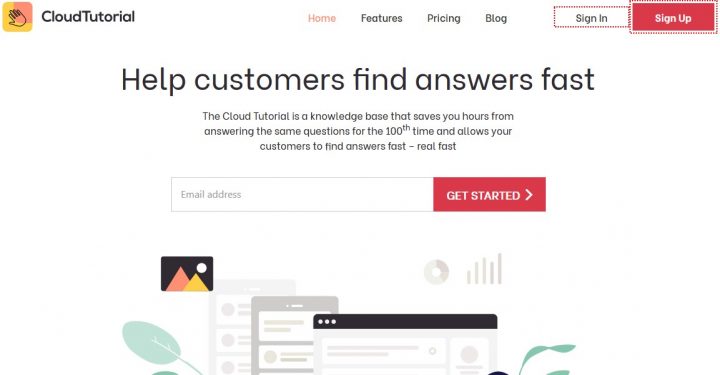 The Cloud Tutorial is a knowledge base platform with lots of tools that could help organizations, enterprises, companies, and startups to create an all-inclusive customer support page. The KB SaaS platform grants you access to a plethora of features depending on the plan you purchase. However, the free plan is quite limited in many ways, but the paid plans include little-to-many flexibility.
Having a comprehensive knowledge base that includes "how-to" guides about the services/products your business offers, FAQs, process & procedure documents, and other handy information can help improve customer engagement and relieve your support team from incessant queries. Your customers would not always have to reach out to your support team for every issue they face using your services or products.
The platform is all about guiding your customers correctly and completely eliminating repetitive questions, reports, and queries. Interestingly, The Cloud Tutorial provides you with a clear-cut dashboard where you can manage the knowledge bases for all your sites.
Their Pricing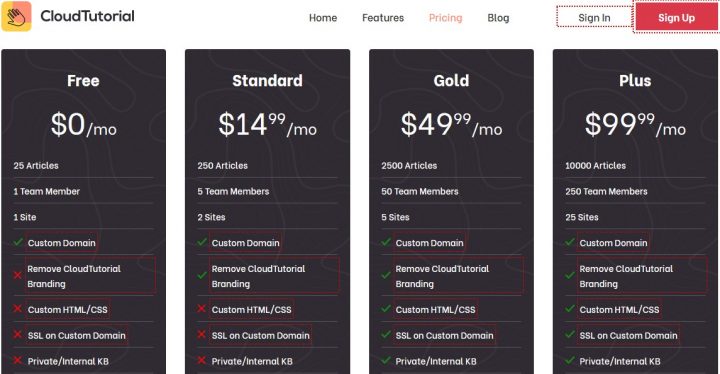 The Cloud Tutorial pricing is super competitive and offers a good value for the money spent. They have four different pricing plans, which are: Free, Standard, Gold, and Plus plans at $0/month, $14.99/month, $49.99/month, and $99.99/month, respectively. The Free version allows just one team member, while the Plus plan allows up to 250 team members.
Features of "The Cloud Tutorial" Knowledge Base Platform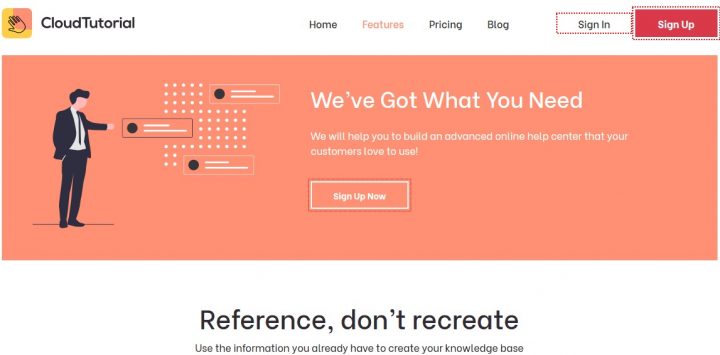 Here are some of the most prominent features of the cloud tutorial SaaS knowledge base platform and how they can help startups and thriving businesses.
1. Fully Customized Platform
The Cloud Tutorial KB platform is fully customizable, which makes it possible for different businesses to create a unique FAQ page, help desk, and any other page that provides customers with a bunch of handy resources.
However, the customization feature is not enabled on all plans; only Gold and Plus plan subscribers are granted access to this feature.
2. Create Categories and Sub-Categories
Arranged the knowledge base content into categories and sub-categories will make it easier for your customers to access the knowledge/help they need quickly. This will also help designated members of the support team to access information quickly, too.
3. Add Up To 250 Team Members
When you create your business's knowledge base with Cloud Tutorial, you can add up to 250 team members depending on your plan. The team members will oversee and manage the articles, FAQs, and help desk resources on your knowledge base.
4. Flexible Contact Form
Cloud Tutorial's KMS platform provides you with an editable contact form; you can edit the contact fields to match the information you need to collect from a querying customer.
5. Have Your Custom Domain
The paid plans offered by Cloud Tutorial allow you to use a custom domain name for your knowledge base. This means you use your brand name and ditch the platform's default URL.
6. Import Files In-between Categories
The added team members that manage your knowledge base can easily move articles in-between categories easily without going through processes. This happens when a resource is mistakenly published in another category, or there's a new category that's best-suit for certain help topics.
7. Tracking and Reports
Cloud Tutorial provides tracking tools that allow you to keep tabs on your help desk articles and resources. There are quite a lot of things to track on Cloud Tutorial's KMS platform.
8. SSL (HTTPS) hosting
Interestingly, The Cloud Tutorial platform provides SSL (HTTPS) hosting for your website. If you do not use a custom domain name, which would make your KB URL appear like this – https://yourname.thecloudtutorial.com, the KB URL will automatically load in HTTPS.
My Review of The Cloud Tutorial Platform
A comprehensive knowledge base is a necessity for business of all classes: This is because it saves the customer support representatives from attending to almost the same complaints from customers by providing the customers with handy articles that would solve common complaints.
The Cloud Tutorial offers so many important features that are needed to create an all-inclusive knowledge base. It also features an intuitive interface that grants one quick access to the tools which are available on the account. Using this KMS platform is generally easy and suitable for any kind of business.
More so, The Cloud Tutorial offers good pricing with commensurate features to match. It is generally a decent KMS platform that's packed with everything you typically need to provide your customers with sufficient help desk resources.
How To Create A Knowledge Base With The Cloud Tutorial
First, you'd need to sign up on the Cloud Tutorial's official website. The signup process is swift, and you will receive an activation code to your (provided) email address to complete your registration. However, you will have to select a plan during the signup process; you can start with the "Free" plan and then upgrade later.
Creating Help Desk Articles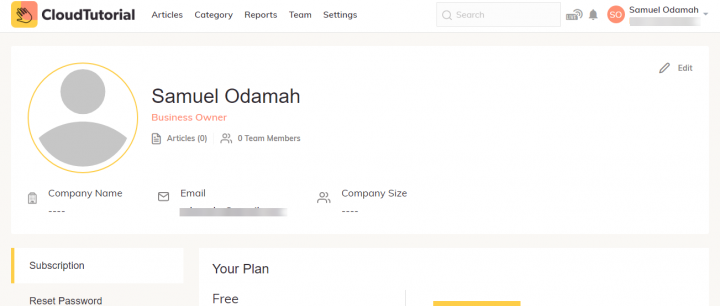 Open your dashboard "Profile" and click on "Articles" on the menu bar. In the "Articles" page, click on "New Article" to launch the editor interface where you can create and format help desk articles using the available tools. You can also create "Categories" from here or click on "Category" on the top menu bar.
Accessing Reports / Tracking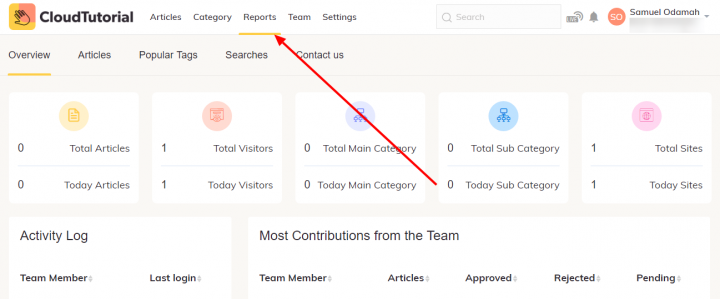 The "Report" page provides a variety of tabs and menus to help you discover the popular help topics your customers are searching for and reading. From here, you can also spot the diligent and low-performing team members; this information can help inmany ways.
Managing Team Members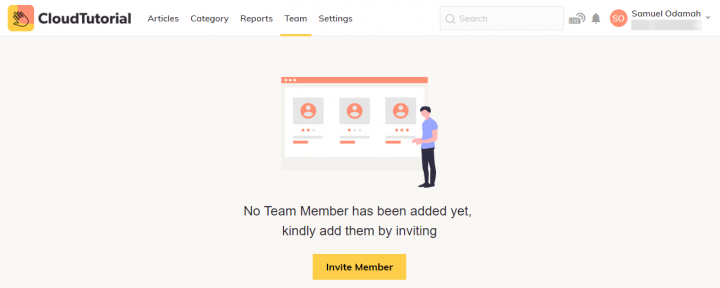 To add new team members or manage the existing ones, click on the "Team" menu option, and then use the "invite member" button to complete the process. You can add up to 250 team members depending on your plan.
In Summary:
The Cloud Tutorial KMS platform is an ideal option for all kinds and sizes of businesses. It supports a wide variety of handy tools for the need and provides a comprehensive "Reports" page. More interestingly, the platform is easy to use, and there are lots of things you can customize to match your business goals/objectives.