iSkysoft PDF Editor Pro for Mac
$99.95
Summary
iSkysoft PDF Editor Pro is an award-winning PDF editing software from iSkysoft Inc.
Portable Document Format (PDF) is one of the most used document type for eBooks, online journals and digital office notes. Companies and businesses have long switched to this format for creating digital notes, instruction and schedules; as its compatibility to all devices and across all operating system (OS) is second to none.
Sure, there are lots of PDF editors for Mac OS X, but not so many of them does what they are designed for professionally or even as advertised.
We have decided to make an introduction for iSkysoft PDF Editor Pro for Mac; a PDF utility app that let's you create and edit PDF documents with ease.
Introducing iSkysoft PDF Editor Pro for Mac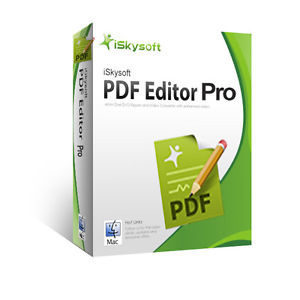 iSkysoft PDF Editor meritoriously sat in the middle of our list on best PC apps to convert PDF to Word and other documents format.
We tested the windows app already before getting in touch for the Mac software version and can attest it is really a user-friendly app with an intuitive interface.
The app lets you create and modify PDF documents professionally.
The Features
iSkysoft PDF Editor Pro for Mac software comes with lots of useful features and important tools that lets it work efficiently and at par with modern PDF editing apps.
Some of the striking functions includes and not limited to – the ability to:-
Modify scanned PDFs with the built-in OCR technology.
Convert scanned PDFs to Word, Excel, Power point, Texts and other document formats.
Add, delete, and edit text, images and pages in scanned PDF documents.
Create PDF from PDFs, Webpages, images, and text files.
Fill out PDF forms and create PDF forms from pre-designed templates.
Add passwords, watermarks, annotations, hyperlinks and comments to PDFs.
Merge multiple PDF documents into a single PDF file.
Add personalized signature and stamps to PDFs.
Pricing
$99.95 is the base price for the Mac OS X version of iSkysoft PDF Editor Pro. Customers are allowed to download a free trial version that lets one try out all the features of the app before paying for it.
iSkysoft Inc. also promises a 30 days money-back guarantee to clients that aren't satisfied with their product purchase.
For a limited time though, all readers can enjoy a whooping 40% OFF discount (courtesy of their back to work program) on either of Mac OS X  or Windows version of the PDF editing suit.
How to Use
iSkysoft PDF Editor Pro for Mac software is a light-weighted tool and quite easy to use. The interface is user-friendly and designed with an every-day Mac OS X user in mind.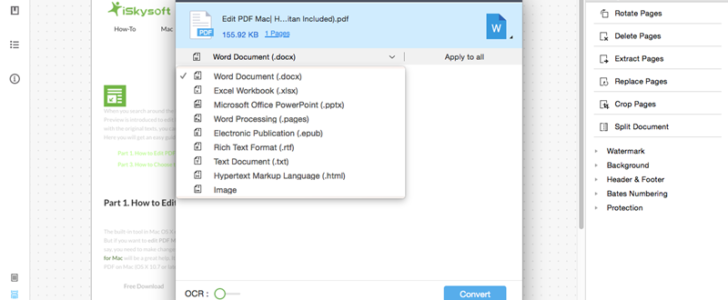 Here are some basic instruction to get you started with iSkysoft PDF Editor Pro for Mac OS X.
Buy or download a trial copy of the app from iSkysoft PDF Editor Pro for Mac official webpage here.
Install and activate the app by following-after the on-screen instructions.
Launch iSkysoft PDF Editor Pro for Mac software by locating the app's icon from the active desktop.
Locate and use the Menu Ribbon to get access to all tools and function.
Save, import more content for editing or export the edited PDF document to any file format of choice.
In Conclusion:
iSkysoft PDF Editor Pro for Mac software is a highly optimized PDF editing suit that's fully integrated with the award-winning OCR technology.
It lets one edit PDFs professionally and without any form of difficulty. We used the app for-a-while and can confirm it does work great on Mac PCs.