The 2015 edition of Konga Yakata (black Friday) sales is coming with a difference as we've just been tipped with details from the Konga's warehouse. Huge packages are revealed with the promise of temporarily suspending the accounts of Konga merchants with low shipment rate or less than 80% delivery rate.

A reliable source from Konga.com pitched the 3rd Planet Techies team on what to look out for in the 2015 edition of Konga Yakata black Friday sales.
The 2015 edition of Konga.com's highly anticipated annual sale, Yakata is just around the corner. Yakata is konga's version of the global Black Friday sales; only it's even better. This year, konga promises that the Yakata sales will feature mind-blowing discounts across ALL product categories on the konga platform. The sale will start from 6am, Thursday November 26th and will continue on Friday the 27th of November, 2015.

In anticipation of the sale, konga has just revealed some of the efforts it has made towards giving its shoppers across the country a truly memorable Yakata experience.

With the company's army of trusted partners committed to offering deep discounts via konga's marketplace; shoppers will have access to hundreds of thousands of heavily discounted products with the Yakata 2015 sales.

In addition to this, Konga has stocked up some products in its warehouse and has released some pictures to tease customers on what to expect.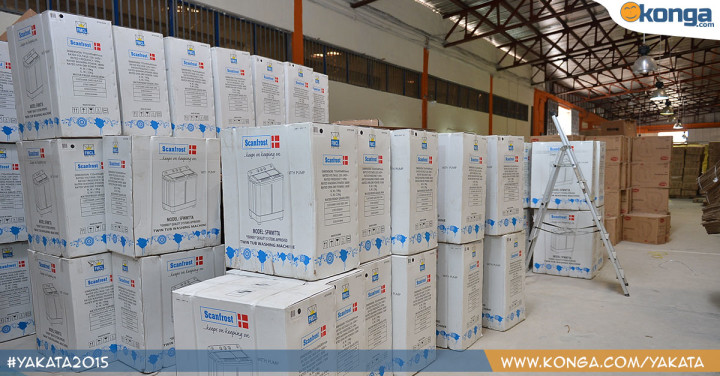 As seen in the first image above, there are glances of premium washing machines and home appliances that would be sold for ridiculous amount during the 2015 Yakata craze.
Other rare images of Konga yakata 2015 warehouse showcase are shared below to help prepare your mind for the biggest shopping event of the year.
How To Prepare for Konga Yakata 2015
This is the easiest part, to get the best from this year's blackfriday sales, you need :-
Set some funds aside for the cheapest shopping event
Sign up for KongaPay or use the "pay on delivery (pod)" options for flash sales and highly discounted goods.
Bookmark the yakata sales page for easy access
Buy from Konga and other highly rated merchants only. Remember to buy only what you really need or what you can sale for more money after the bonanza period.
The link to use during the Konga Yakata (BlackFriday) sales is http://www.konga.com/yakata