Here at 3ptechies, a lot has been said about free logo creation tools and top photo editors, but not so much about screen recorders and/or movie creation tools.
This is why Movavi screen recording app is a good topic to talk about. It is a cross-platform screen recorder that lets you capture your best moments on PC, MAC OS X, Android and iOS devices. It works seamlessly with desktop and Mac machines.
With it, you can record interesting gameplay, store live streams, create illustrative video tutorials and/or describe concepts to students and colleagues alike.
Introducing Movavi Screen Recorder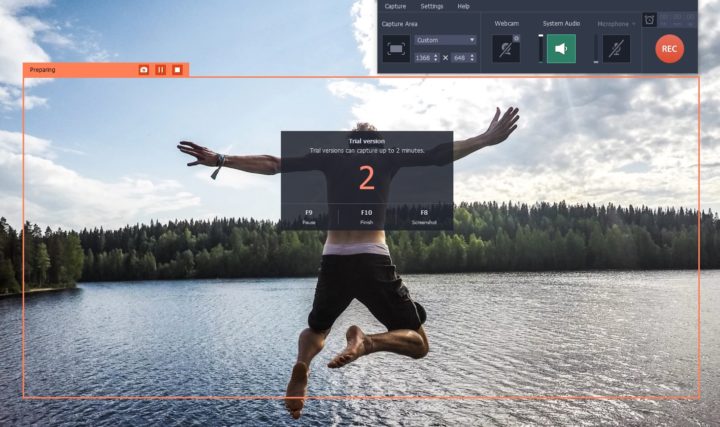 Are you interested in recording your screen? If so – what do you intend to use it for? It may surprise you to know that not all screen recorders are equal, and there are many options out there with varying features.
Some may be better at normal screen recording, while others may have specialized capabilities such as video game recording, and yet others may have added features such as video editors.
All that may seem a bit daunting – which is why Movavi aims to cover everyone by providing a line of PC screen recorder apps built for any occasion. Its apps are feature-packed, and designed to be specialized for certain uses.
Personal Screen Recording
If you want a general all-round screen recorder that can do pretty much anything – Movavi Screen Capture Studio will be a good fit. It will let you record your screen to save online streaming videos, video calls, livestreams, or even create content of your own for your blog or social media timeline.
Movavi Screen Capture Studio is a capable video editor that you can use to compile footage and enhance its quality, add background music, apply special effects, and more. In fact you can even record video from your webcam, digitize VHS tapes or TV tuners, or import footage from AVCHD cameras.

In the event that you would like something more specialized to record gameplay footage of your favorite video games then you could use Movavi Game Recorder instead. It is a convenient tool to record in-game footage, and is easy and quick to set up.
More importantly Movavi Game Recorder will let you record video from your webcam at the same time and overlay it on your in-game footage – just like you've probably seen in YouTube videos. In short you could create impressive game videos without any difficulty with its features.
Business Screen Recording
In addition to its personal screen recording apps, Movavi has a line of apps that are designed to be more suited for business needs – to help with a variety of tasks that can improve workflow.
The first of these is Movavi Screen Capture Pro that is a screen recorder that can not only record footage from your screen but also snap and edit screenshots easily.
Another powerful option is that Movavi Video Editor for Business is designed to be more robust and offers editing features alongside its screen recording capabilities.
It is mostly targeted at businesses that want to create content, such as video tutorials or training videos, software demonstrations, or even marketing videos.
Between all of the options that fall under Movavi's banner, it is safe to say that you should have no trouble finding the perfect screen recorder for your purposes.
As you can see each app has a very specific set of features, and depending on what you intend to use screen recording for – you should find one that fits. By covering all these bases, Movavi is truly able to offer a complete set of screen recording solutions.
Mobile Recording and More….
Apart from the PC recorder app, Movavi does have a creative video editing tool for mobile devices. There is Movavi clips video editor for Android and another for iOS devices.
With it, you edit footage, merge videos, crop clips, combine segments and remove unneeded parts from any chosen media. Edited videos can be uploaded to YouTube and/or any other social network of your choice. With Movavi Clips video editing app for mobile, you can make short video clips and use same as your Whatsapp media status.
In all, Movavi video recording tool is versatile and comes with modern features that makes recording with PC and mobile fun. You can try out the free apps or use the pro versions for more features.