Many expressed their uttermost happiness over those info-product giveaways found in this link [ https://www.3ptechies.com/summit-2/]. Today we have decided to launch a  new giveaway that will be lasting for 10days (2weeks approximately) .
This giveaway starts from today 12th July, 2013 and will run through till 22th July, 2013. The result will be published on Monday 22nd July, 2013 and 20 licenses shared among 20 of our blog readers who carefully follow the rules that will be stated below .
What is Blaze Video Magic ?
As already stated in the title above the products we are using for this awesome giveaway is the Blaze Video Magic Premium pc Video Editing software which is an all-in-one video conversion solution which lets you convert or rip all videos or DVDs to MP4, 3GP, AVI, MOV, WMA, ASF for better enjoyment on iPhone/iPad/iPod/PSP/HTC/Archos/Nokia, media players or other portable devices at fast video converting speed.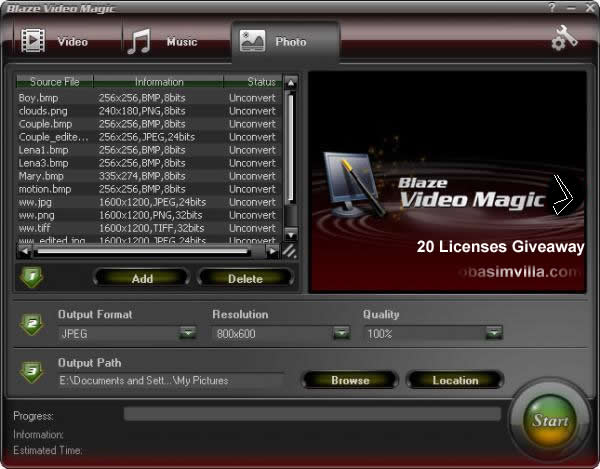 What Can I do with Blaze Video Magic ?
Many of us are already used to some other pc media conversion software like; the Total Video Converter from effectmatrix and Allok 3GP PSP MP4 iPod Video Converter from alloksoft but haven't got the chance to try out this all in one award winning Media conversion / Video ripping solution "Blaze Vidoe Magic" that can even be used for downloading videos from online video-sharing site like YouTube or Yahoo Video, making free custom ringtones for iPhone or creating unique picture slideshows for better viewing on-the-go.
In my own very words I will persuade you to grab this opportunity to own an Original copy of Blaze Video Magic for all your video or DVD editing and enjoy amazing features such as  the ability to edit video or DVD files (clip, crop, merge, add watermark, subtitle, special effects,etc.).
More about Blaze Video Magic can be found at their official website located at http://www.blazevideo.  com/video-converter/
Who Can Enjoy Blaze Video Magic Premium ?
With all that I have written  about Blaze Video Magic Video Editing  / Ripping Solution you shouldn't be asking the question of who will benefit from it Considering the fact that all of Us now owns one mobile digital product or the other.
For the sake of those of you who might want me to mention devices I will convincingly say that:
Computer System [laptop, Desktop, Mac & Netbook] Owners Need it
Ipad, Iphone & Ipad owners Need it
Android Phone & Tablet Owners Need it
Blackberry & Playbook Owners Need it
Nokia, Windows Mobile & Personal Digital Assistance Owners Needs it too
This is to say that we all need the Blaze Video Magic Solution software to enjoy high quality media & conversion in our digital products.
Rules To Qualify for this Giveaway :
This is our very first officially recognized giveaway as stated above and so will not be as stressful as most of our readers might have imagined it .
For the sake of some of our new readers who might have missed our previous unofficial giveaways we will be dropping links here for you to access and enjoy them. The list are as follows;
Download Tv on Computer Free
Now we can happily continue with rules for winning this Blaze Video Magic Solution .
The Process is as simple as this;
20 Premium Licenses will be distributed among participating Readers
Winners will emerge from 20 persons that follows the rules carefully
The Rules for wining Blaze Video Magic goes this way;
Drop your comments Regarding this software "Blaze Video Magic" below (this will increase your chances for wining)

Participate

in the

punchtab Widget Below

-following all the

listed actions

in sequence
Use your real email address while participating. You will be contacted via this email address
All steps (such as facebook, twitter & social actions in the punchtab widget below) must be completed to fully qualify
Winners will be announced on Monday 22nd of July, 2013
Here is the Widget to participate with:
Giveaway is already ended We will be publishing the winners very soon
Quick update :
Owing greatly to the request by our loyal subscribers, we have extended this giveaway to run till 12th August 2013 alongside our second giveaway that will be published soon.
Both results will be published on the 12th of August 2013 and winners rewarded appropriately. Please share this with the other of your friend's that might be interested in this awesome Video editing package.