After the 2020 Covid lockdown, businesses have come to embrace remote operations more than ever before. With the help of remotely working software tools, businesses can carry on with their various activities even when most of their employees are not physically present in the work environment. 
Also, remote business tools allow teams to work seamlessly and carry everyone along without even seeing each other. Talking of business remote tools, there are pretty many of them, and they are developed for specific tasks – packed with purpose-specific features and built-in tools.
For example, there are remote tools for collaboration, meetings, video conferencing, data virtualization, and many other purposes. This article lists and explains the best remote working software tools for different business purposes. 
The Best Remote Working Software Tools
When it comes to choosing the best remote working software tools, there are pretty many things to consider, but mainly, you should ascertain the following:
What type of remote working software does your business/team need (collaboration, file sharing/management, video conferencing, webinars, and so on)?

Available features on the software tool.

Intuitiveness and ease of usage.

Available plans and pricing.
To make things much easier, we have listed some of the best remote business tools across popular categories. Interestingly, some of these tools can be used for more than one purpose. For example, some of these apps allow you to perform file management tasks, as well as access time tracking, collaboration, and meeting scheduling features.
How Do Remote Working Software Tools Work?
When the term "Remotely" is used, it means that whatever is being talked about can be accessed, used, or utilized by two or more people that are not in the same environment or location. The way remote software tools (or apps) work is pretty simple; here's a relatable scenario.
Google Drive is a cloud storage application that doubles as a remote working tool for document/file management. It means that you can upload documents or files on Google Drive and share them with someone who's not in the same location/environment as you; the person receives the document/file, edits it (adds more info), and you'd be able to see those changes from your end. If need be, you may edit the document further, and the person on the other end will see your comments/corrections.
Remote working tools simply allow multiple people to work on a course (project, product, design, document, etc.) seamlessly from their different locations. As hinted earlier, there are many remote software applications and tools for carrying out different business tools remotely. Some teams may need to work with specific remote tools to achieve their desired results.
Best Remote Collaboration Tools
These tools are the best options to choose from when you're looking for business tools that allow you and your team(s) to communicate and collaborate in real-time to accomplish quite various projects or deals. 

Microsoft Teams software is a professional business suite that allows users to access several tools developed by Microsoft Corporation, including Word, Excel, and many others. Microsoft Teams supports file sharing and management, which means teams can share various files via the platform and contribute remotely in real-time.
With the Microsoft Teams software, team members can stay connected using any of their internet-enabled devices. Basic functions of the software include calls, meetings, collaboration, and chats. The "Meet" function lets you share your screen, change or blur your background, and be in a virtual space. 
Seamless real-time collaboration using Microsoft apps is the deal breaker for using Microsoft Teams. Asides from businesses, individuals can use Microsoft Teams to connect with clients to deliver their services remotely and get paid. 
Pricing
Whether you're getting the Microsoft Teams software for business or personal use, it has an entirely free plan that offers quite a ton of handy benefits. The free plan lets you do group meetings for up to 60 minutes, while one-to-one meetings can last up to 30 hours. Paid plans for the Business Package start at $4.00 per user per month.

Slack is the go-to collaboration app for development and coding teams, but it's still a decent option for any type of team. The Slack app is popular because it makes business communications and collaboration look so fun and easy. Basically, Slack is a cross-platform messaging app with multiple (extensive) features. 
Businesses and individuals use Slack to share ideas and files and pass any type of information across to their teams. The interface of Slack is superb and loads pretty fast across devices. Slack stands ahead of other remote collaboration applications because it supports audio/video clip sharing.
You can further integrate Slack with your existing business solutions; the free plan supports up to 10 integrations, while the paid plans give your much more flexibility. Furthermore, Slack supports 1:1 audio and video conversations with screen sharing.
Pricing
There is a completely free plan to start with; this free plan is best for individuals, notwithstanding, and newly opened businesses and startups can take advantage of this plan too. The paid plans start at $7.25 per active user per month.
Best Remote Tools for Meeting Scheduling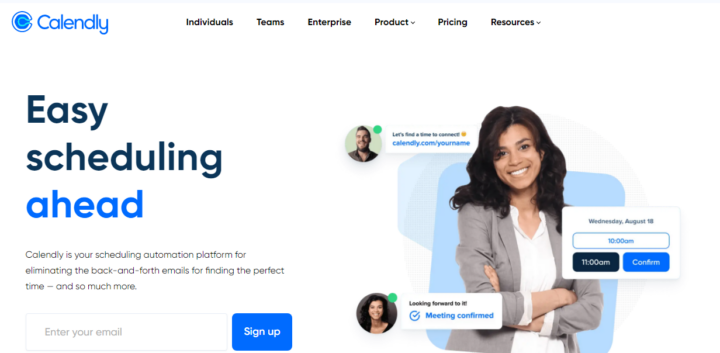 Calendly is the business software that takes away the hassles of scheduling and keeping tabs on a lot of business work. The software is basically a business communication platform with scheduling features; more so, it helps teams to plan, prepare, and follow up on external meetings. 
The Calendly app also works for automating a couple of business scheduling tasks to relieve business teams of repetitive/consecutive schedules. There are many things teams could do with the Calendly app. It is recommended for sales, marketing, customer service, and recruiting teams.
Pricing
Like most other business apps, the Calendly app has a free (Basic) plan you could start with. The paid plans start at $8 per seat per month and support powerful automation tools for all kinds of businesses.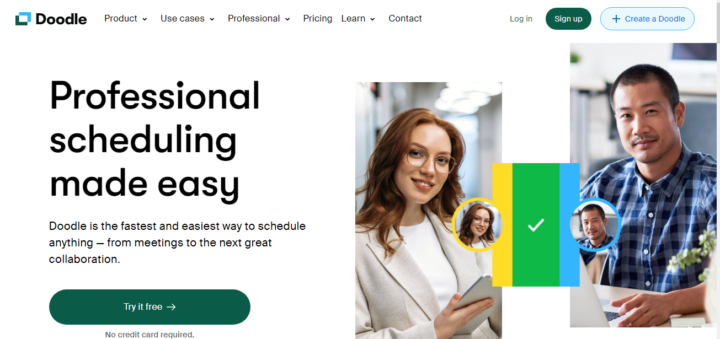 The Doodle software app lets you automate quite a bunch of business activities and relieve your team members of repetitive tasks. It is pretty fast and loads seamlessly across devices; Doodle is one of the top best meeting and scheduling software apps for large corporations and SME businesses, thanks to the friendly price plans.
Interestingly, the Doodle app doesn't only work for meeting schedules. It also comes in as a collaboration app for businesses and supports creating different types of polls. The main thing about Doodle is the fact that the interface is very easy to understand and navigate across platforms. With Doodle, you can schedule a meeting based on a variety of factors. 
Pricing
The free plan lets you create unlimited group polls, while the paid plans start from $6.95 per user per month. 
Video Conferencing
Video conferencing apps are software programs that allow you to host and join video meetings from any device. These software tools are also used for various other purposes, such as webinars, live shows, and other similar events. There are pretty many of these apps, but the top best ones to choose from are listed below.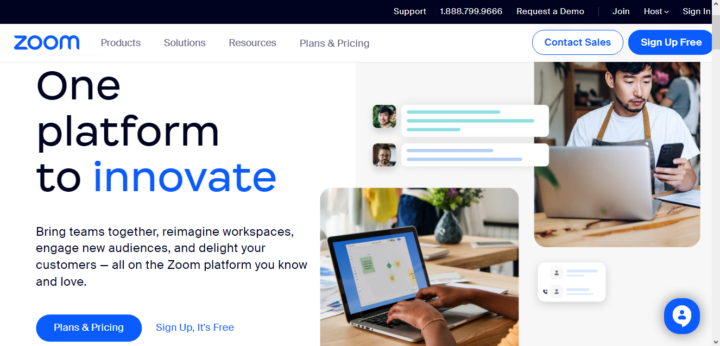 Zoom is one of the most popular video conferencing apps used by businesses and corporations worldwide. It integrates with so many apps, including business software solutions. The Zoom app is available across multiple platforms (web-based, iOS, Android, macOS, and Windows). There are multiple customizable settings available with the Zoom app. 
More reasons to choose Zoom isn't because it is very popular, but Zoom is also rated 5 out of 5 by most trusted websites and customer review platforms. Companies can also use Zoom as a collaboration remote working software, thanks to the Zoom Team Chat feature. There's a free version to start with, and anyone can join using the app or via a web link.
Pricing
Zoom's pricing options may not be the best, but they are quite considerable, and there's a forever-free plan. Paid plans start at $149.00 per year per user. You can also choose between general "Business/Personal" plan packages and Industry-Specific packages.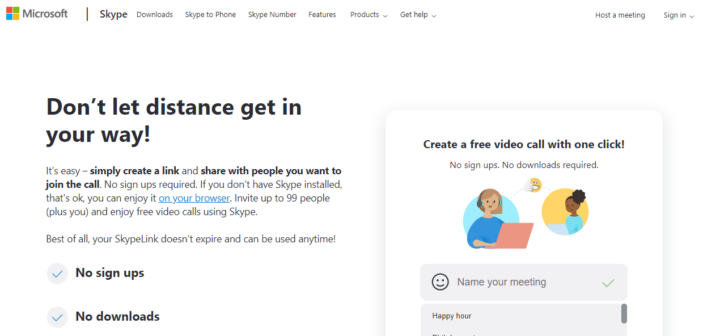 Skype has been around for a very long time – even before the likes of Zoom came into the limelight. The Skype app is available across operating systems and can also be accessed online using web browsers. Skype is a perfect alternative to Zoom, and it supports many functions, from video calling to chatting and webinars/conferencing.
In particular, Skype's Meet Now feature makes the platform one of the best remote video conferencing apps. More so, people can join meetings without creating an account – they just have to follow the meeting's link and participate fully. Skype doesn't displace the Microsoft Teams app anyways.
Pricing
The Skype video call/conferencing feature is available for free, and up to 100 participants can join. If you need more participants to join in your video conferencing, you'd need to upgrade to Microsoft Teams.
Document Management
Document management apps help teams share and manage business documents on the go from any location and device. They mostly support file management features too.

M-Files is a comprehensive document management software with an intuitive and easy-to-understand interface. It is used by companies of various sizes across many sectors, and it comes with a ton of handy features everyone needs for document management. 
With M-Files, you won't only organize your documents but can digitize large volumes of physical papers and automate workflow processes. M-Files offers an innovative metadata-driven document management software every business can benefit from. More so, the app is accessible across platforms and devices. 
Pricing
M-Files offers three pricing plans, which cost $39 per user per month. There is no free plan, and you have to contact the support team to get a quote for your business.

Yeah, Google Drive is right about the most popular cloud-based document management platform for individuals. However, the service is available for businesses and enterprises, as you can pay to upgrade the storage limit and access a wealth of other business tools offered by Google.
Google Drive is more than just a document management platform; it integrates with Google Docs and Spreadsheet, as well as integrates with external business applications to offer a complete cloud-based solution to synchronize and work collaboratively with your teams.
Pricing
Google Drive for businesses is available as a part of the Google Workspace suite, which offers various plans, starting from $6 per user per month for the Basic package.
Visualization
Data visualization helps you understand data better and drive actionable insights from multiple datasets. It is the new trend among product/project managers and businesses at large.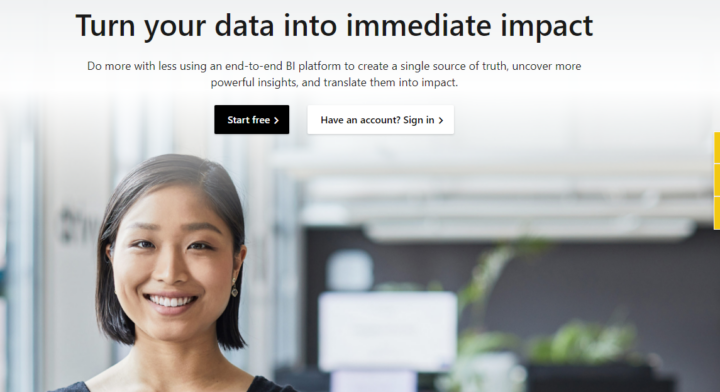 The Microsoft Power BI software is practically the best enterprise Business Intelligence tool with data visualization tools. It is quite complex – featuring a ton of built-in tools – but still easy to navigate and use across platforms. Microsoft Power BI makes it easy for every member of your team or employee to drive deep insights from the data available to them; the software is quite expensive but worth the price.
Pricing
There is no free plan available; the basic paid plan starts at $13.70 per user per month and comes with the Microsoft 365 E5 package.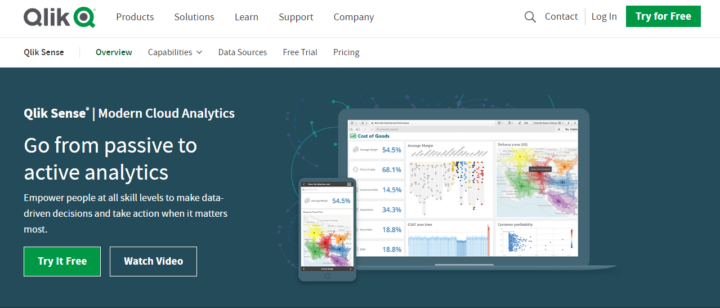 Qlik Sense is yet another powerful data analytics and visualization software app available to big and small businesses. It comes with a ton of features – built-in tools – and can be integrated with other external business solutions. The Qlik Sense app is available for desktop and mobile and delivered over the cloud. More so, with Qlik Sense, you can monitor real-time changes in datasets, access deep reporting and analytical tools, and utilize the interactive dashboard feature to monitor many activities.
Pricing
Qlik Sense falls among those business software apps that do not offer a free plan. The basic plan starts at $30.00 per user per month.
Summary
These are the best remote working software tools based on various business purposes. Actually, some of the tools can be used for multiple purposes and can also integrate with other apps to offer more extensive capabilities.