Sony Xperia E
Summary
Sony Xperia E  is an android smartphone from Sony Inc.
Sony has been doing really appreciative with its Xperia series Smartphone which are prolifically bestowed with incredible features to cheese the eye. In the past year, the company did excellent task by introducing its entry level Smartphones in the market, which in return were paid off handsomely.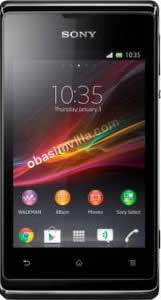 Adding to the its legacy of sorts, Sony has again launched its yet another entry level Smartphone, Sony Xperia E which is exclusively listed with naaptol.com. The Sony Xperia E price in India as listed with naaptol.com is Rs. 8,599. No doubt, the phone braves salient prolific features and promises to offer outstanding value to the money. Let us scratch a bit more to know how much does this phone has to offer us.
Also see : Gionee Dream D1 VS Tecno F7 (Phantom A) Android Phones: Review / Spec
Design and display:
Like other Xperia series mobile handsets, this new sibling has got captivating design. Weighing approximately about 115.7 grams, the handset is really sleek and easy to carry along. The front portion of the mobile phone sports an amazing 3.5 inches TFT capacitive touch screen under which one would discover three soft keys for- Menu, Home and Back options. The Smartphone promises a decent resolution of 320 x 480 pixels set at 262 K color dots promises brighter and clearer display output.
Processor and system configurations:
The new sibling in the Xperia series is powered by 1GHz Qualcomm Snapdragon MSM7227A processor which is smartly coupled with brilliant 512 MB of RAM. Thus, the compact multimedia device gives brilliant performance while handling the multitude of applications. It incorporates all the essentials to make you go bananas over its sheer performance and hence captivating your mind to win the user's admiration. Adding to the potential is the powerful Android 4.1.1 Jelly Bean operating system, which does and outstanding job in delivering the best of the whole performance in one single go. So, when it comes to the software, the device backs an additional brownie! Plus, the brilliant customizable home screens laden with engaging apps and Sony's astounding widgets like Timescape and Mediascape widgets.
Camera:
The rear part of the Smartphone flaunts amazing 3.2 Megapixels snapper which is smartly embedded on the back portion. The vivacity of the picture will definitely win your heart. Plus, the support of 4x Digital Zoom backed with LED flash brightens all your subject and renders breathtaking picture quality without breaking a sweat. So, it's no less than a delight for the amateur and casual photographers as a whole.
Also see : 5 Things to Know about Samsung Galaxy S4 vs. Samsung Galaxy S3
Memory:
Carry the entire digital world in your pocket with giant 4 Gigabytes of internal storage capacity. However, you can expand the stockpile via external memory card slot that promises an immersive storing experience of up to 32 GB.
Battery bank:
Thanks to the power management functionality of Sony for listing out the handy options for saving on the battery power. With 1530 mAh battery, one can rest assure about the lasting backup for hours without the mobile phone buzzing for frequent recharges.
Verdict:
The specs of Xperia E stand perfectly complementing to all the users and this makes the phone a great competitor for other in the same price range. The hardware of the phone is nothing to brag about for it has got a demanding 720p display. It has everything useful in it- powerful OS, amazing processor and wonderful memory. Any tech savvy or a techno buff can break a breath for an amazing gadget like this. The workaholic performance without crying out for lags and holdups makes it a best one in the Sony's list of the entry class Smartphones.
Must Read : Five Motorola Smartphones to Consider Buying: Their Spec and Features
Contributed by Alisha Singh of naaptol who advices you read Sony Xperia E price and many more.