TradingView is a social platform for traders and investors to share ideas, charts, and strategies. It has become one of the most popular platforms on the market with over 10 million monthly users. The success of TradingView can be attributed to its user-friendly interface, extensive features, and ability to integrate with other popular trading platforms.
As it is quite a notable name in the financial trading market, it is important to know the company in every aspect especially when you are about to decide to connect your trading experience with this platform. So if you are one of them, you need to check the details down below. We will help you to create realistic expectations about TradingView.
Analyses With Competitors And Prospects For 2023
There are many different financial trading platforms available to traders, but TradingView is one of the most popular. The main competitors of TradingView are other online brokerages and trading platforms. While there are some similarities between these services, TradingView offers a more diverse and useful set of features for both beginners and experienced traders.
One key advantage of TradingView over its competitors is the range of assets that it supports. In addition to traditional stocks and Forex pairs, users can also trade cryptocurrencies, commodities, and indices on the platform. Another strength of TradingView is its user-friendly interface. It includes features such as customizable charts and indicators, which can help users make better-informed decisions about their trades.
For example, there are many reasons why TradingView is a better platform compared to MT4, even after the latter is banned for Apple users. Here TradingView vs MT4 explained in detail but for the general picture, we can outline several reasons. For one, TradingView offers more comprehensive and detailed charts that allow traders to make better-informed decisions. The platform also has a much wider range of indicators and tools that can be used by traders, which gives them a significant advantage over those using MT4. Finally, TradingView's community features are unrivaled, allowing users to connect with other traders around the world and share ideas and strategies.
So, there are several reasons why TradingView is considered to be one of the best platforms for online trading. First and foremost, it is useful for any type of interested user. In addition, the platform is very user-friendly and easy to navigate. Finally, TradingView also offers competitive prices compared to its main competitors.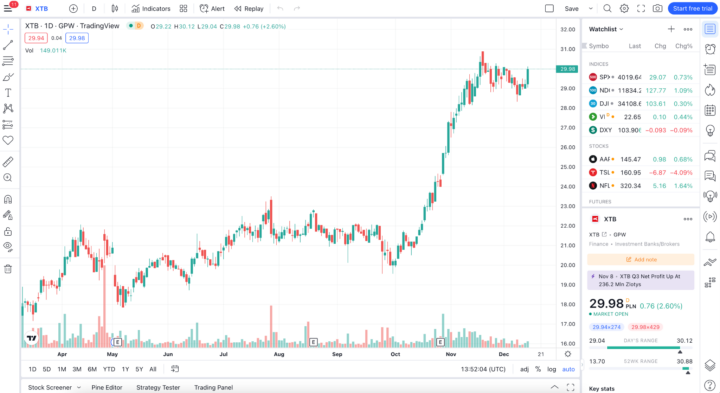 The company has established itself as a leading provider of financial data and analysis, and its platform is used by millions of traders around the world. In addition to its strong product offering, TradingView has also built a large and engaged community of users who contribute content and share ideas. This combination of factors gives TradingView a solid foundation for growth in the future.
Looking ahead to 2023, there are several areas where TradingView can continue to expand its business. First, the company can launch new products or services aimed at specific markets or customer segments. For example, it can develop tools specifically for day traders or those interested in cryptocurrencies. Second, TradingView is able to expand its geographical reach by entering new markets or partnering with local providers in key countries. Finally, the company can continue to grow its user base through aggressive marketing campaigns and partnerships with major financial institutions. So, to conclude, we can consider this platform quite useful and one of the notable on the market for 2023 as well as for the near future.
TradingView – The Main You Should Know To
Look first, Then leap – this is their main motto and the first phrase you will see while visiting TradingView official website. As they claim their main aim is to help you to be always informed about your investment decisions and be prepared for any future script, no matter its negative or positive results. This web-based charting platform offers a wide range of technical indicators, drawing tools, and other features for its users. Their users are the most active traders who are looking for an edge in the markets.
Some of the services that TradingView offers to its customers include real-time data, advanced charting tools, and access to their social network. They also offer premium memberships which give users access to more features and data sets. Their premium membership prices are also pretty acceptable and affordable, compared to other similar platform prices.
Overall, TradingView is a great platform for active traders who are looking for an edge in the markets. They offer a wide range of services and features that can help traders make better decisions in the market. With several million users, TradingView is one of the most reliable sources of information and data for traders and investors. The reason for this confidence likely stems from the fact that TradeStation (the parent company) has such a strong reputation in the industry.
If you're new to the stock market and don't have any experience, TradingView can be a great starting point. It's a user-friendly platform that offers real-time data and charts for stocks, Forex, cryptocurrencies, and more. So, consider this information and use it for a better experience in the trading market.