A lot of us cherish our privacy so much that we want to protect virtually everything on our phones by hiding apps and files. That notwithstanding, there could be some sensitive apps or files you wouldn't want anyone else to see on your phone.
In any of these scenarios, privacy applications that help to hide apps and files can come in handy. These apps listed below can help you protect your crucial files and private apps so that no one else can access them, even if they hack into your device.
The 12 Best Apps for Hiding Apps and Files on Android Devices
Here are the 12 best apps for hiding apps, games, and files on Android phones and tablet devices in 2023 and beyond: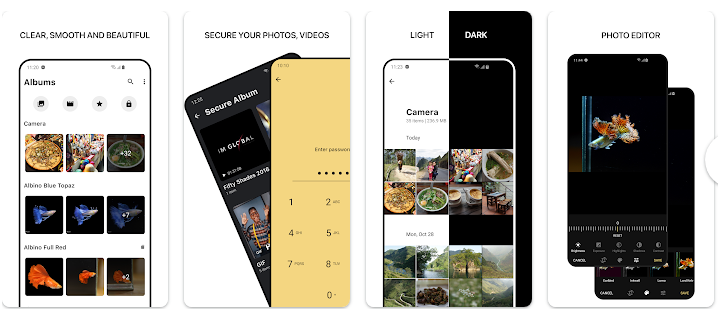 1Gallery is a free Android gallery app with unique features you'd like. It includes the option to lock/hide videos and photos from your device. There are three protection options available: Pin, Fingerprint, and Pattern. So, you get to choose the protection method that works for you.
The 1Gallery app features an intuitive and appealing interface while also integrating photo editing functions. It is an ideal alternative gallery app for Android users; you can switch between light and dark modes. 1Gallery's media encryption is top-notch and one of the finest you'd find.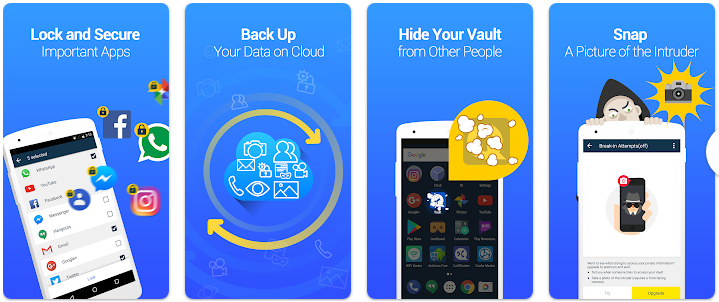 As the name implies, Vault is an Android mobile app for hiding sensitive and private media. The Vault app already has over 100 million users worldwide, which kind of hints at the usefulness of the app.
Vault doesn't only hide photos and videos; it also hides applications and integrates additional features such as an Incognito Browser, Cloud Backup, and Private Bookmarks. Interestingly, most features of the Vault app are available on the free version.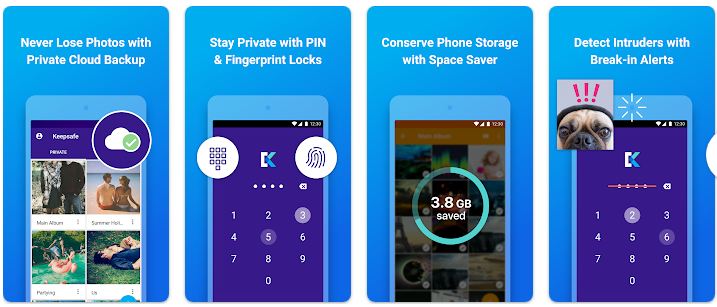 Keepsafe's app is one of the most-downloaded app/file locker applications on Play Store. It is a privacy app that helps you keep off certain media files from everyone else except you. This app flaunts a distinctive interface and also supports a number of needful features.
Keepsafe media locker lets you set up fake vaults and also allows you to properly arrange your albums. Well, unlike the Vault app, Keepsafe only works for pictures and videos; it offers military-grade encryption.
4. Hide Photos, Video, and App Loc (Download)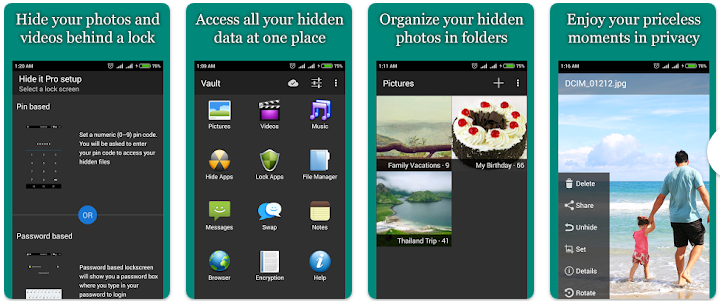 This free app lets you lock everything, from photos and videos to apps, messages, and call logs. The most interesting thing about using this app is the fact that virtually all of its features are available for free.
With this app, you only need to set up a private folder and secure it with a secret PIN code. You can lock up your finance apps so that no one else can access them and completely hide out sensitive media files. This app disguises itself as an Audio Manager in the app drawer.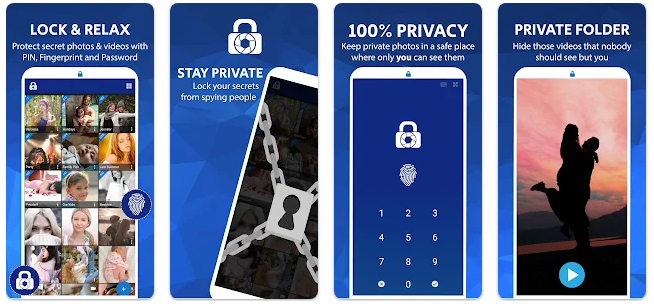 If you live with kids and you've got some adult contents on your phone, you'd want to hide those files because they're too sensitive for kids to see. This is especially if the kids have access to your device (maybe for watching movies or playing games).
LockMyPix is an intuitive free app that allows you to lock up certain pictures and videos so that only you can access them. More so, you can't take screenshots of what's contained in this app. Its encryption is top-notch, and you can use a PIN or pattern as your security pass.
6. Google Photos (Download)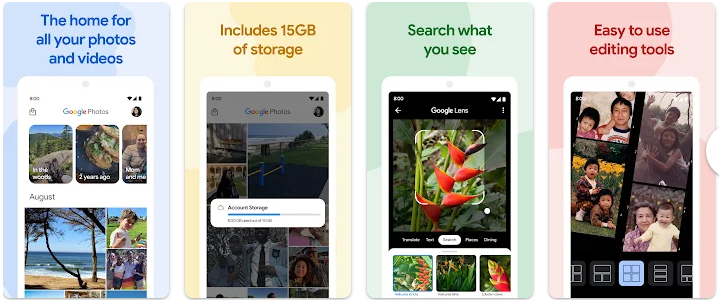 That Google Photo app on your Android device can actually help you in locking out private photos and videos. The media locker feature of Google Photos is named "Locked Folder." Once a file is added to the locked folder, Google Photos will not back up or synchronize it.
Also, when a photo or video is added to the locked folder, the file gets automatically removed from the Google Photos library. This means that no one will see those files again until you move them out of the locked folder.
7. FishingNet Calculator (Download)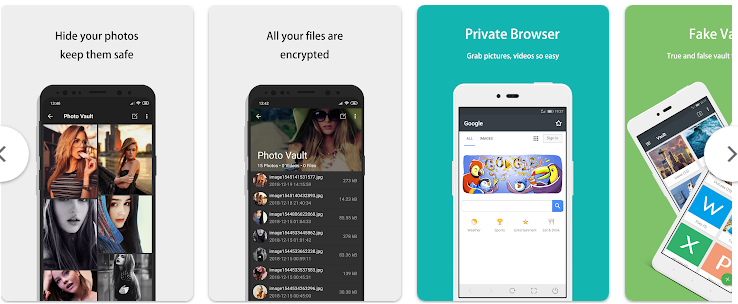 Relax, it's not fully a calculator. This app for hiding stuff on Android disguises itself as a calculator application – you must input the right pin to unlock the secret vault. FishingNet Calculator works for hiding photos, videos, and other files.
The calculator interface looks exactly like a standard calculator app. In addition to the AES-encrypted vault, this app features a built-in private browser and supports advanced features such as shake close, intruder selfie, fake vault, and fingerprint unlock.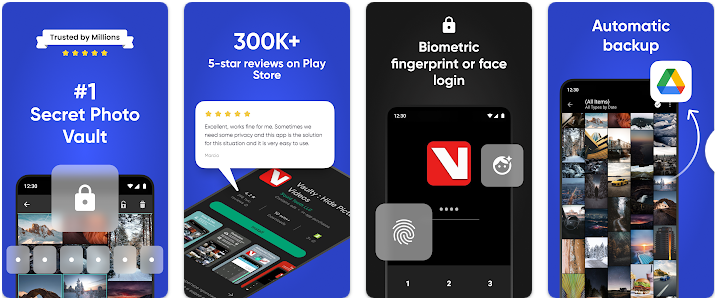 Vaulty is pretty easy to use, and although it offers in-app purchases, most of its file-locking features are completely free to use. This app works for hiding photos and videos – featuring an easy-to-navigate interface that makes it seamless for anyone to operate the app.
To access locked/hidden files on Vaulty, the user must input a secret pin. Sadly, this app can't be used for locking applications, but it can hide your files, and that includes music and videos. Automatic backup is supported on this app.
9. Private Zone (Download)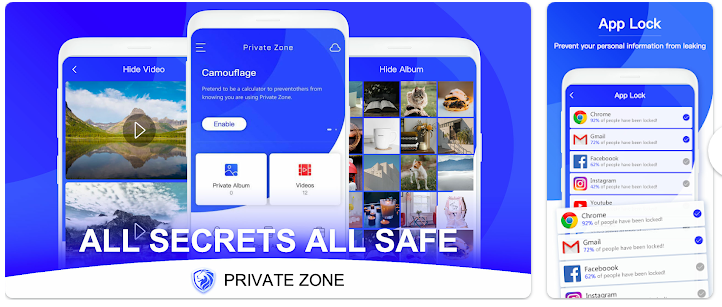 The name gives it away! Private Zone is a smart app lock with lots of other functions. It allows you to protect your private apps and files using a password, pattern, or fingerprint lock. It is simple and intuitive to use; more so, it works on all Android devices.
With this app, you can lock up anything on your Android device, including your gallery app. Private Zone also offers a lock screen feature that lets you protect your device from intruders – you can customize your lock screen using this app.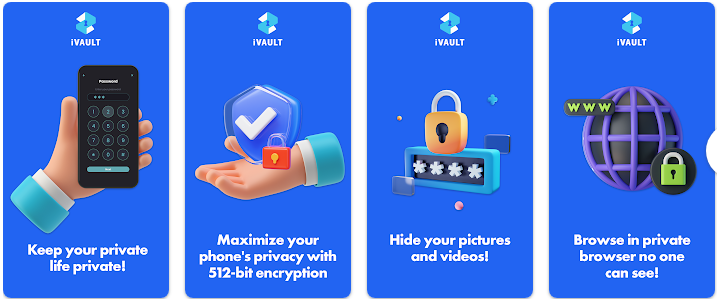 The iVault application helps you keep out the private data and apps on your Android phone, so no other eyes get to see them. iVault is one of the most advanced privacy apps for Android users; it basically hides photos and videos so they don't appear in the gallery.
More so, it features a private browser, lets you mark favorites, and you can access your personal history. If anyone tries to intrude on your vault, this app will record a screenshot of the person. Most features of iVault are completely free for users.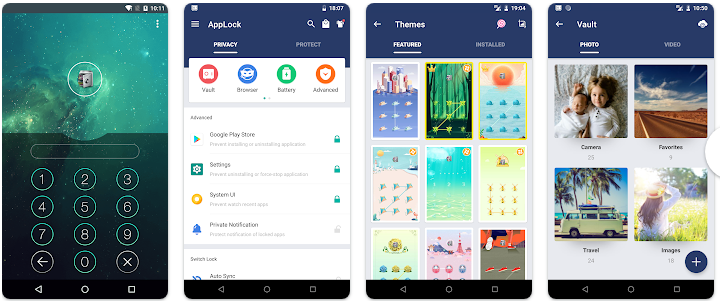 As the name implies, this application lets you lock other apps on your Android phone. It is free to download and works on virtually all Android devices/tablets. The AppLock application features a clear-cut interface and encrypts your apps with military-grade security.
It also supports hiding videos and photos by encrypting your Gallery app, so your little ones or any third party at all. Well, some advanced features of this app are paid – you have to pay for them from the app. But overall, AppLock is a good app for upscaling your privacy.
12. Nova Launcher (Download)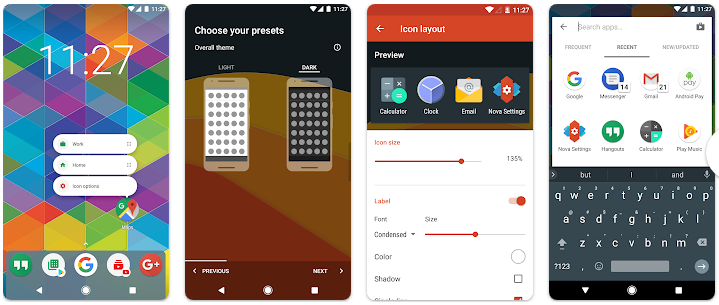 Nova Launcher is one of my favorite Android launchers to date. It comes with several impressive features for customizing virtually every part of your device. The Nova Launcher app also allows you to hide specific applications, so they don't appear in the app drawer menu.
This feature of Nova Launcher simply removes the app(s) from the app drawer and hides them in a place only you can access them. If you love customizing your device's appearance, Nova Launcher is equally a decent choice for that.
Summary
These are the top 12 best apps to hide apps and files on Android devices; notwithstanding, some file manager apps let you hide or lock sensitive files in a pin- or password-protected folder to restrict access. You may want to check if your file manager app supports that feature before trying out these apps.