Gone are the days you'd need to download a torrent tool before you could download movie series in clear HD quality. Today, websites and platforms like TVShows4Mobile allow you to do that without hassles. With TVShows4Mobile.com, you neither need a  VPN nor a third-party downloader tool to get your favorite movies. TVShows4Mobile offers thousands of downloadable movie series across various genres.
Whether you're looking for k-dramas, action movies, sitcoms, TV series, or any kind of movie, TVShows4Mobile surely got something you'd love. In this TVShows4Mobile review, you'll understand how to navigate the website and download as many movies as you wish to get for free.
TV Shows 4Mobile Overview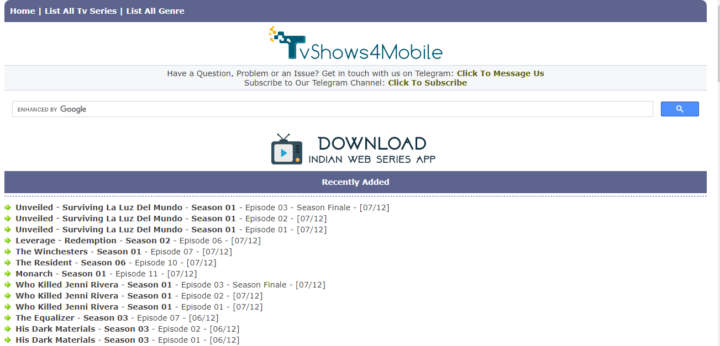 TV Shows 4Mobile, written together as TVShows4Mobile, is a movie download website where you can download thousands of movies for free. The website is pretty intuitive and looks like a typical movie download site (e.g., FZMovies). TVShows4Mobile has loads of genres you will love to explore. The website also features a "Search bar" where you can look up movie titles to find them faster.
However, one of the things you won't like about the TVShows4Mobile website is the unrelenting pop-up ads that take you to a new tab when you tap/click on any link or page on the website – and if you activate an adblocker, you won't be able to open the TVShows4Mobile website (you must have to disable your adblocker to access the site). That's quite annoying, and you just have to deal with it.
There are thousands of exciting movies and TV series on the TVShows4Mobile, including popular movies like the Unveiled – Surviving La Luz Del Mundo, George and Tammy, Granite Harbour, Our Only Chance, Dead End, The Creature Cases, Women in Taipei, Blood Sex and Royalty, Interrupting Chicken, 1899, The Santa Clauses, and many more.
TVShows4Mobile Genres
TVShows4Mobile offers numerous titles across twenty-six genres, which are: Action, Adventure, Animation, Biography, Comedy, Crime, Documentary, Drama, Family, Fantasy, Film-Noir, Game-Show, History, Horror, Music, Musical, Mystery, News, Reality-TV, Romance, Sci-Fi, Sport, Talk-Show, Thriller, War, and Western.
The good thing is you can easily navigate to any of these genres by clicking/tapping on the "Search Genre" menu item. Each genre offers over a thousand titles and series you can download in HD quality and MP4 format, which means the movies are playable on any media player you've got on your device.
TV Series on TVShows4Mobile
For sure, there are lots of TV series available on the TVShows4Mobile; some of them are already completely uploaded (all episodes), while some are still being updated regularly. To access the TV series on TVShows4Mobile, click/tap on the "List TV Series" option on the menu bar. Series are available in episodes; you have to download the episodes individually.
MY TV Shows 4Mobile Review
Generally, the TVShows4Mobile website is a go-to site for downloading TV series legally without needing to enable a VPN. The website loads very fast across devices, thanks to the interface design – it is also intuitive to navigate.
TVShows4Mobile is really a good place to download movies from; the only drawback is the incessant pop-ups that disrupt your navigation on the website. More so, every movie you find on this website is available for free download.
How To Download Movies from TVShows4Mobile?

Downloading a movie from TVShows4Mobile isn't that "so simple,' but it follows a pretty straightforward process.
First Step: Open The Website
Open your mobile or PC web browser and visit the TVShows4Mobile website (https://tvshows4mobile.com). If you have AdBlocker activated, you'd need to deactivate it before the website can load properly.
Second Step: Search For the Movie or TV Series
You can navigate using the genre lists to find the movie you want to watch or simply click on the search bar and look up the series/movie. Using the search bar is pretty intuitive; as you're typing the movie name, it gives you suggestions immediately.
Third Step: Open and Download
When you've found the series/title you want to download, click on it to open the movie info page. Here, you'd see all available episodes; click on the episodes individually and choose a download quality (3GP, MP4, or HD MP4). Of course, HD MP4 is the highest quality and also has the highest download size. Select the quality you want and complete a security -reCAPTCHA – process to proceed with the movie/episode download.
What More?
That's it! If you follow the above guide, you'll be able to download movies from the TVShows4Mobile for free. Every movie available on the TVShows4Mobile is free to download, you just have to deal with some annoying popups, and you can't disable ads.
If you can't download movies from the TVShows4Mobile website, simply take some time to go through the "Problems with Download" section on the website. This blog post is provided for informational purposes only. We're not affiliated with TVShows4Mobile.