Hard disk defragmentation is a maintenance routine done on hard disk drives (HDD) to help PC users access the files on the HDD much faster. It's typically an infrequent activity; however, it is one of the things to do if you want your PC to work faster. Using the best defrag tools, you'll force noncontiguous fragments of files to align together into smaller fragments. The importance of defragmentation is voluminous; and for PC gamers, it helps to improve game speed.

The 10 Best Tools to do Defragmentation in Windows 10
Here are the ten best PC defragmentation tools to use in 2019. They work seamlessly on all Windows 10 PCs.
1. Windows Default Defrag Tool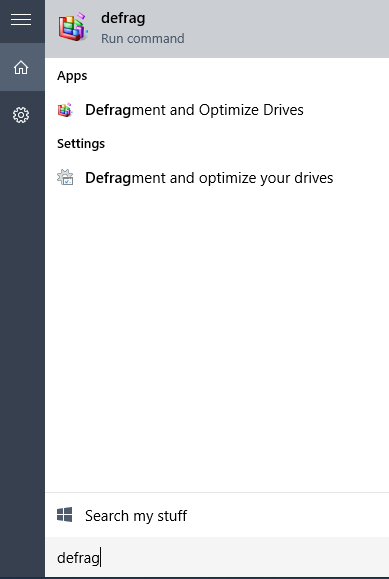 There's a pre-installed defrag tool on Windows 10, and it is capable of defragging your PC excellently. However, it is important to note that this built-in Windows 10 defragmentation tool has some limitations which are available on 3rd-party tools that also work for this purpose. This tool is ranked first because you don't have to download it from anywhere and it does necessary defragmentation very well.
You will find this built-in defragmentation app in the Administrative Tools menu in Control Panel. Alternatively, you can simply run the app directly by pressing Windows key + S and type "Defrag," click on the Defragment and Optimize Drives to launch the tool.
Pros:
It is already installed on all Windows 10 and 8 PCs
It has support for scheduled defragmentation
Works on internal and external HDD
Cons:
Skips locked files (there's no boot-time defrag option)

This freemium utility tool is a great PC defrag tool that works perfectly on Windows 10 PC. Piriform (the developers of the well-known PC optimization/cleaning app – Ccleaner) developed it. Defraggler is capable of defragging both internal and external hard disk drives. It is effective for individual files or groups of files; plus, it supports IA-32 and x64 versions Windows OS.
There are quite a lot more options available on this utility than you'll see on the default defrag program on Windows 10. Interestingly, there is equally a portable version of this app, which can be saved on a flash drive and run on any PC without physical installation.
Pros:
Comes with more options
Fully customizable settings
Scheduled defragmentation (automatic defragmentation)
Defrags free spaces too
It can run the defragmentation process on an HDD during boot
Cons:
During installation, it installs another app alongside itself if you don't uncheck the option
Doesn't support idle defragging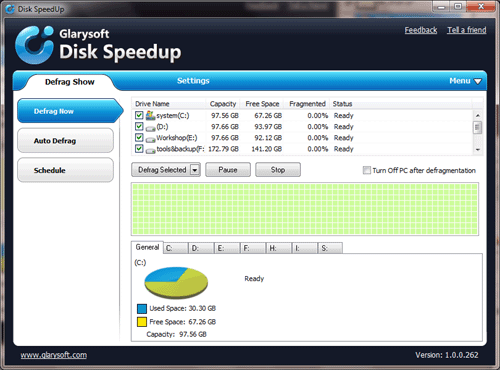 With this utility software application, you will be able to defragment your Windows 10 successfully. This tool comes with an intuitive interface and has a variety of configurable settings; you can customize how this tool automatically runs defragmentation at a specific time interval. Also, there are other customizable settings available. Disk Speedup is free to use, and it is available for all Windows PC users, irrespective of their Windows version.
Interestingly, this tool does not just defrag your hard drive, but it also defrags your files and folders. Furthermore, Disk SpeedUp can run a boot-time defrag, and you can mark files and folders that should be excluded.
Pros:
Intuitive and easy to understand interface
Scheduled defragmentation
Can run/defrag an idle system
Moves unusually used files to smaller parts of the HDD
Cons:
Doesn't work for removable drives
This tool does not integrate into Explorer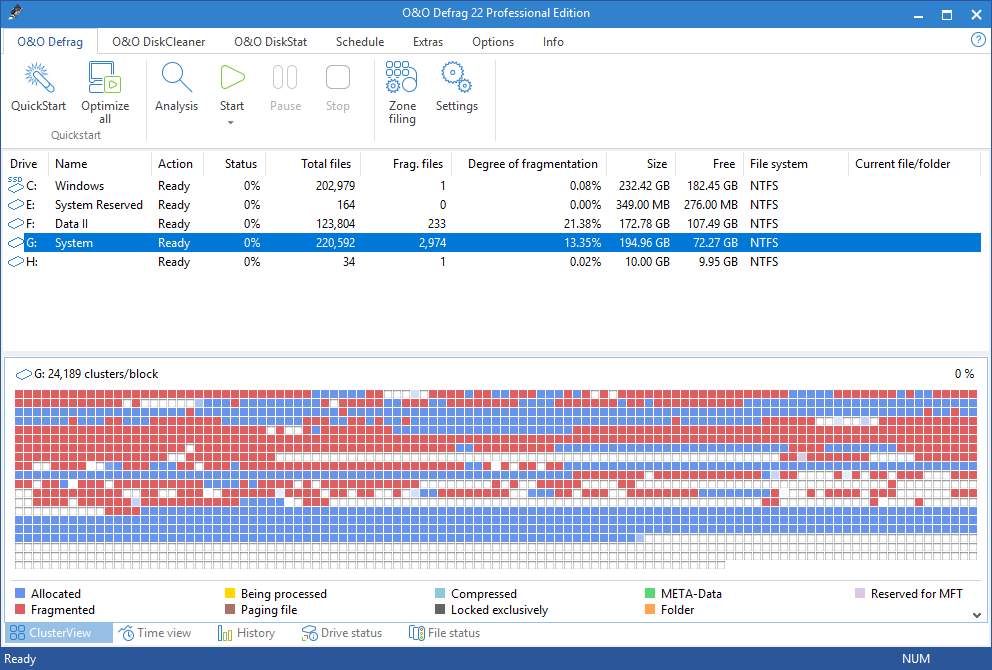 O&O Defrag is an award-winning, infamous defragmentation utility for Windows 10. Microsoft verified this utility for its new NTFS-based operating systems. Practically, every PC user can make use of this software because its interface is very much understandable. You'll find the common features that are expected to be found in a defrag tool available on O&O Defrag.
However, this tool has a free and paid version; there are quite a lot of features available on this tool, but you won't get to use them unless you upgrade to the pro version.
Pros:
Cons:
The free version has many limitations
Does not support boot-time defrag
Can't defrag removable drives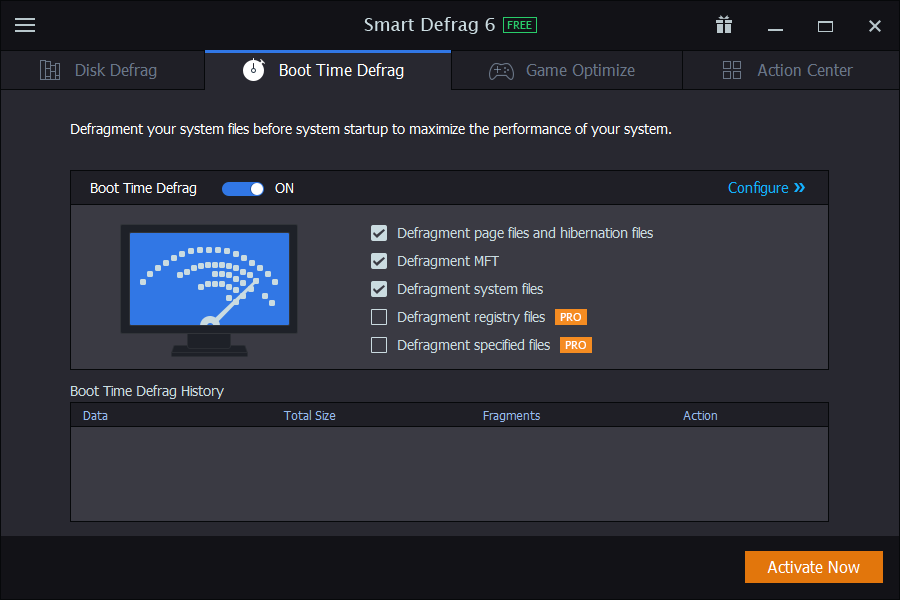 The developer of this defrag tool is a popular software developer – IObit. Smart Defrag is highly efficient and effective for its purpose. It supports to run scheduled defragmentation and comes with some flexible advanced settings.
Also, Smart Defrag can access locked files, and you can exclude some specific folders or files. Actually, there are a lot of useful setting/features available on this Windows utility tool.
There's a paid version of this software which provides you with all the features of the tool. However, you will still gain access to a lot of features for free.
Pros:
Automatic defragmentation on schedule
Has a portable version
Supports PC cleaning tools
Allows you to exclude specific files and folders
Quite a variety of configurable settings
Cons:
If you're not careful, this app will install another app during its installation
Crucial features not available in the free version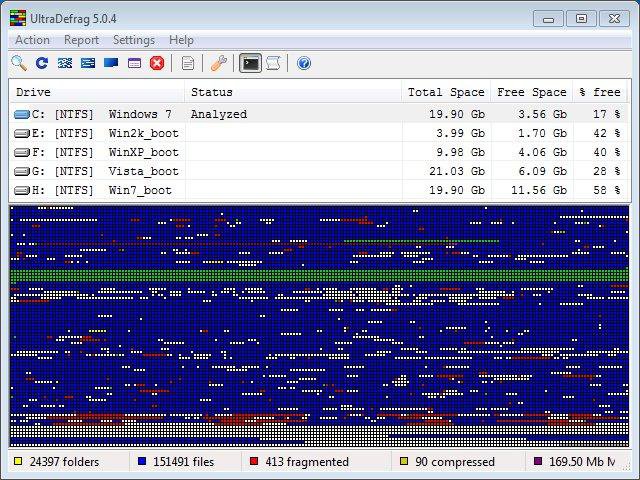 UltraDefrag is a powerful utility tool for defragmenting Windows 10 computers. It is an excellent tool that's stocked with a variety of useful features. The interface is user-friendly, and it is very efficient for its purpose. There are some advanced settings you can easily configure on this tool to make specific changes to its mode of operation.
UltrDefrag can be used to repair and optimize PC hard disks so that your PC can function much faster than before. However, even though this utility tool comes with an understandable interface; for some people, the interface may be challenging to read.
Pros:
Advanced settings for special actions
Checks fo hard disks errors
Supports file/folder defragmentation
Works for internal and external drives
Cons:
It is quite difficult to set schedule activities
Only a pro computer operator/user may be able to explore all feature of this tool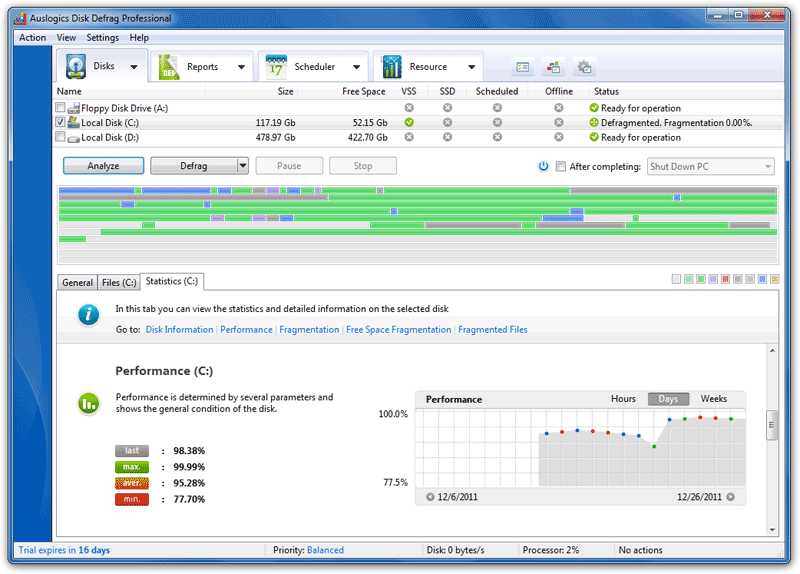 This is a freemium utility tool developed for PC users, and it can run defragmentation smoothly. Auslogics Disk Defrag comes with a lot of features that are easy to explore. It could defrag files and folders on any hard drive. One of the main features of this tool is its ability to display defragmented files hierarchically, showing their location on a disk map.
Pros:
This Windows 10 defrag utility is available for free
Ability to tick/untick specific files or folders
You can move vital files to the faster part of your drive
Cons:
You can't move custom files to the end of a drive
If you're not vigilant, this app can install other apps during installation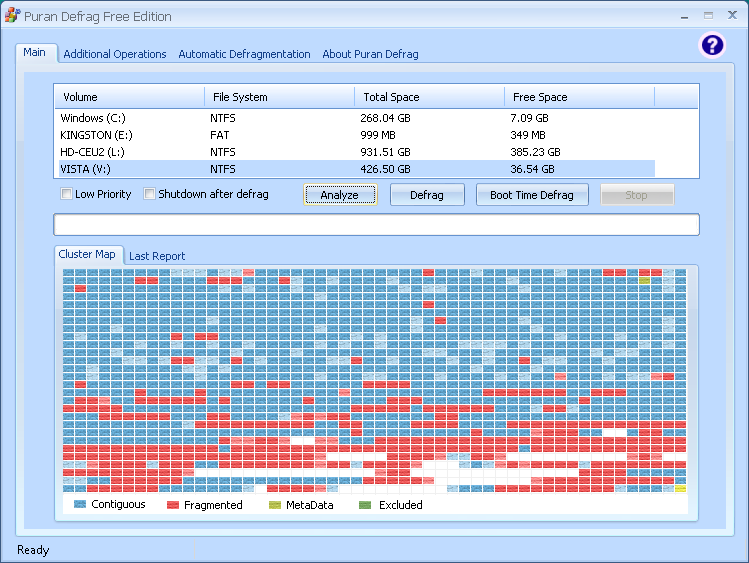 Without paying for a pro version or any premium package, you'll get to explore the tons of handy features available on this software. Puran Defrag supports a patented Intelligent Optimizer and automatic defragmentation.
It further supports a bunch of system files, which include MFT. Interestingly, advanced users, this software supports both Graphical User Interface (GUI) and Console Command-Line. It can also run of older versions of Windows OS.
Pros:
This app can check out for hard drive errors
It can run automatically during bootup
Supports older versions of Windows OS
Scheduled defrag is supported
Cons:
This software has not been updated by the developer for a while now
The results can be difficult to read
9. Diskeeper Home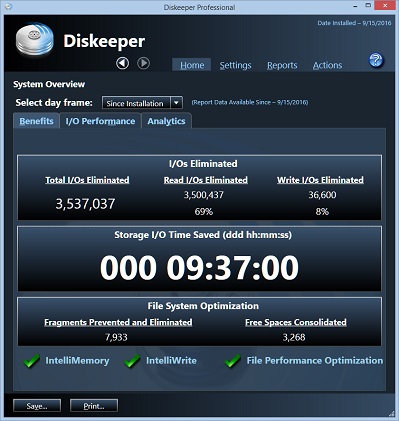 Diskeeper Home is a utility software that can help you defrag your PC hard drive, as well as clean up your PC. This utility will align all your files and cause your hard drive to perform faster, making it easier for you to access your local files. Also, this defrag tool comes with extensive features that are really handy and important for boosting your Windows 10 PC performance.
You'll be finally able to tackle fragmentation issues from occurring on your HDDs and even SSDs with the help of this handy software. The advanced patented technologies features by this tool are quite impressive.
Pros:
Works on HDDs and SSDs
Comes with a variety of advanced technologies
The interface is simple and easy to understand
Cons:
Not all the important features are available for free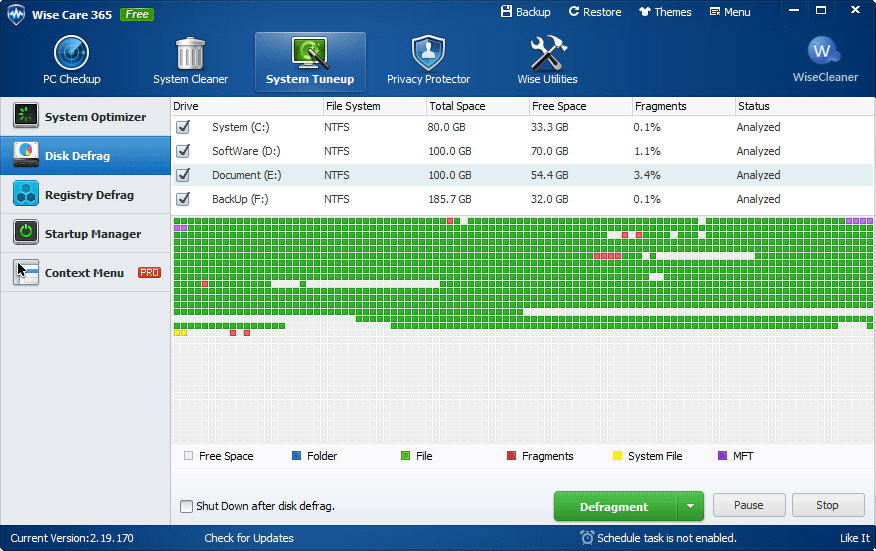 Wise Care 365 is simply an all-in-one Windows utility software which also helps you defragment your PC running on Windows 10. This software can run on 32 bits or 64 bits of Windows 10, and it also has a portable version. Also, this utility can scan for junk files in your PC, as well as fix privacy issues; it is a comprehensive software you should install on your PC.
To defragment your PC using Wise Care 365 the option is on the System Tuneup module. The interface is user-friendly, and just anyone can make use of it.
Pros:
Comes with other handy programs in one package
Option to automatically shut down PC at the completion of a defrag process
There's a portable version
Cons:
Does not support scheduled defragmentation
Wrap Up:
These are the best defrag utilities that work on Windows 10 PCs. Interestingly, they also work on older versions of Windows operating system. Utilizing any of these defrag tools, you will be able to boost your hard disk performance, as well as the performance of your PC in general. However, some of them need you to upgrade to a pro/premium plan before you can access all of its features.