Have you ever thought of customizing Windows OS to achieve certain personal goals? There are a couple of tools and software that allows you to do that. However, Winaero Tweaker is one of the best tools for all-inclusive Windows OS customization. This utility is a freeware app, and it runs on computers with Windows 7, 8, 10, or 11 installed.
There are quite many things you can do with this program, and here's a detailed guide on how to use Winaero Tweaker. Interestingly, this program doesn't use a lot of system resources, so it doesn't slow down your computer one bit.
Winaero Tweaker
This software program is developed by a Russian developer, Sergey Tkachenko. It is a comprehensive suite that comprises many tools for customizing all editions of the Windows operating system from version 7.0 – 11.0.
The Wiaero Tweaker software flaunts an intuitive interface that makes it pretty easy to use and understand. More so, this program does not contain ads, and it is updated regularly. Below are the many features of Winaero Tweaker that would have you craving to use the software.
Features of Winaero Tweaker
Some important features of this software app include the following:
Enable full context menus and Ribbon in File Explorer
Change taskbar screen position and taskbar size
Disable all background apps
Launch apps as an Administrator without UAC confirmation
Directly open Control Panel applets
Remove blue arrows from compressed files
Permanently disable Windows Telemetry and Data Collection
Permanently disable Windows Defender and Windows Update
Automatic Registry backup
Tune-up Windows appearance
Increase taskbar transparency
Add useful context menus using presets
Change the RDP port
Make mapped drives accessible for elevated apps
View detailed information about your PC hardware and OS
Change all Windows Aero settings
Disable Cortana in Windows 10
Where to Download Winaero Tweaker
You can get this tool from the developer's official website. Actually, there are two official websites of Winaero; the old winaero.com and the new winaerotweaker.com. The official executable Winaero Tweaker app is available on these websites.
How To Use Winaero Tweaker?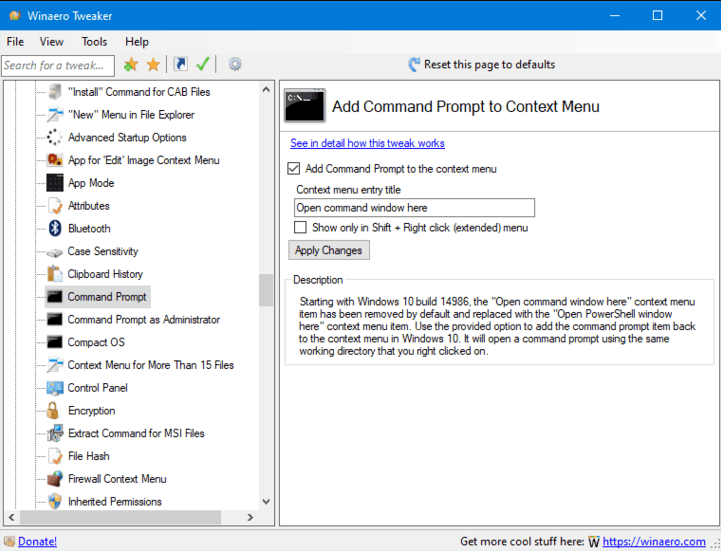 To get started you will need to download the app from either of the websites mentioned above. After you have successfully installed the app on your Windows PC, you can proceed to customize your PC as you wish.
First Step:
Launch the program and look at the left pane; all the possible tweaks you could do with this program are listed on the left pane. So, depending on the tweak you want to perform, you should click on the respective Settings option on the left pane of the Winaero Tweaker interface.
Second Step:
Let's assume you want to disable Windows Defender, simply click on the "Disable Windows Defender" option and you'd see the options to turn it off. Similarly, when you click on the tools on the left pane, you'd see the various sets of options and parameters to tweak them.
Winaero Tweaker Review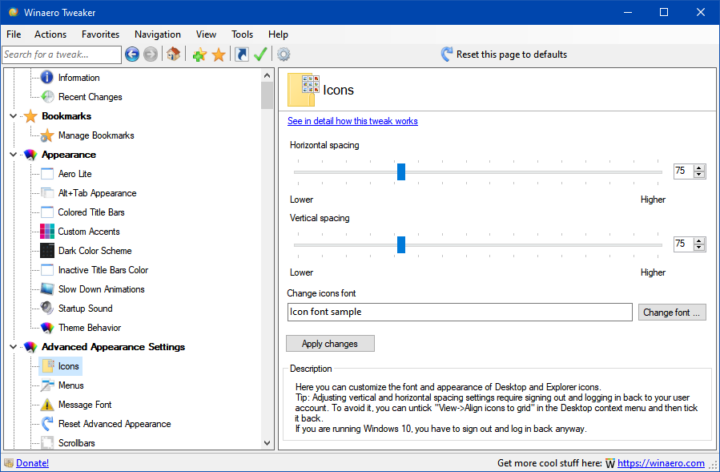 This app really works for various tasks; the most interesting part is the fact that it is a freeware program with zero premium features. With Winaero Tweaker, anyone can tweak and customize virtually every part of the Windows operating system. The interface is self-explanatory and intuitive; as you're clicking on the tools, you're seeing clear instructions on how to use the tools.
Overall, Winaero Tweaker is an all-in-one tweak app for Windows OS computers, and it can be used by virtually anyone, regardless of the person's IT knowledge level. You can use this program on all Windows OS editions from version 7.0 up to the latest version, Windows 11.
Summary:
If you've ever wished to customize your PC, disable background apps from running, and activate several advanced features, Winaero Tweaker is the tool you need for comprehensive PC Optimization.