In today's world of super-computers, no one loves a slow PC. If your PC takes a long time to respond and carry out a simple task, then it needs to be optimized. Optimizing your PC is no longer a tedious task, as there are many computer optimizer software-apps to help out and today we'll be listing the best free PC Optimizers for all use cases.
So you won't be breaking your pocket to get your PC optimized adequately for better performance. This guide is created to help you pick a good, reliable, and performance-oriented PC optimizer that would work effectively.
The slowness in the performance of a computer may be caused by invalid registry entries, malware attacks, over-used hard disk drive, or when many apps are running in the background.
Although Windows-powered PC's comes with some preinstalled system maintenance tools, these free apps will do a better job and ensure that your PC handles tasks faster than before.
The Best Free PC Optimization Tools for You
Most PC Optimization apps featured here are free to use, while some are freemium tools that expire after a period of 15 (or 30) days free trial period. Whichever way; they'll help you optimize your slow PCs for faster response, quick task handling, and better overall performance.
1. System Mechanic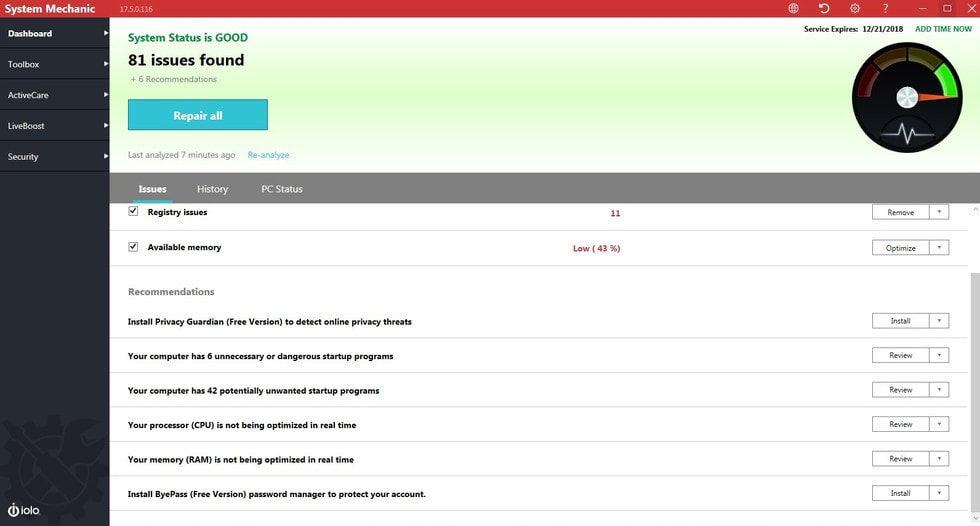 System Mechanic is a popular PC optimizer. Like the name sounds "Mechanic", this app goes deep into your PC files and folders to locate the bloatware/unused registry files that could be the reason your PC is performing sluggishly and gets them cleaned/optimized.
It further optimizes hidden Windows Internet settings so you can enjoy fast and smooth internet surfing.
More features include:-
Boosts PC speed
Cleans out clutter
Repair/fix your PC problems
Removes Bloatware
Ensures speedy and smooth internet experience
2. CCleaner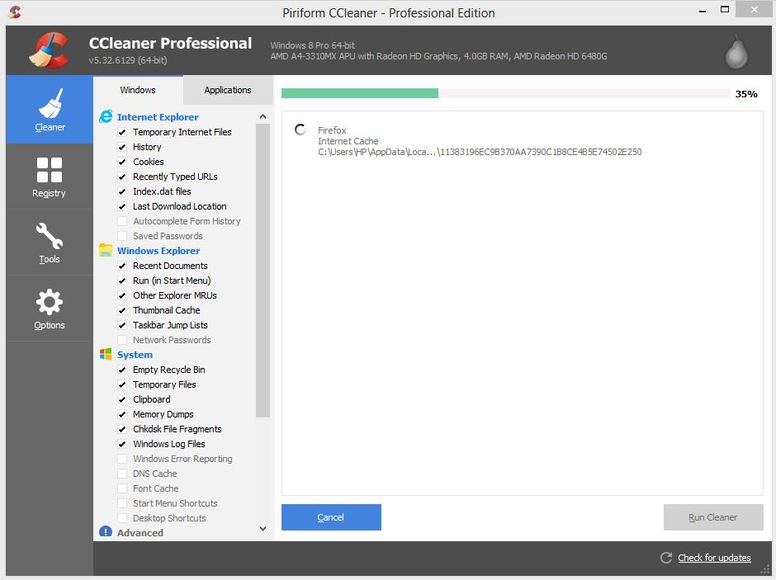 CCleaner is a professional software-app used by many PC users to optimize their desktops, laptops, and Chromebooks for better performance. It is developed by Piriform, a renowned PC software manufacturer.
CCleaner comes with lots of optimization tools that will help improve your PC performance rate. It also comes with other essential features that let you perform other necessary tweaks to improve your PC startup process.
More feature includes;
Faster computing
Quicker startup process
Ensures safe internet browsing
3. Ashampoo WinOptimizer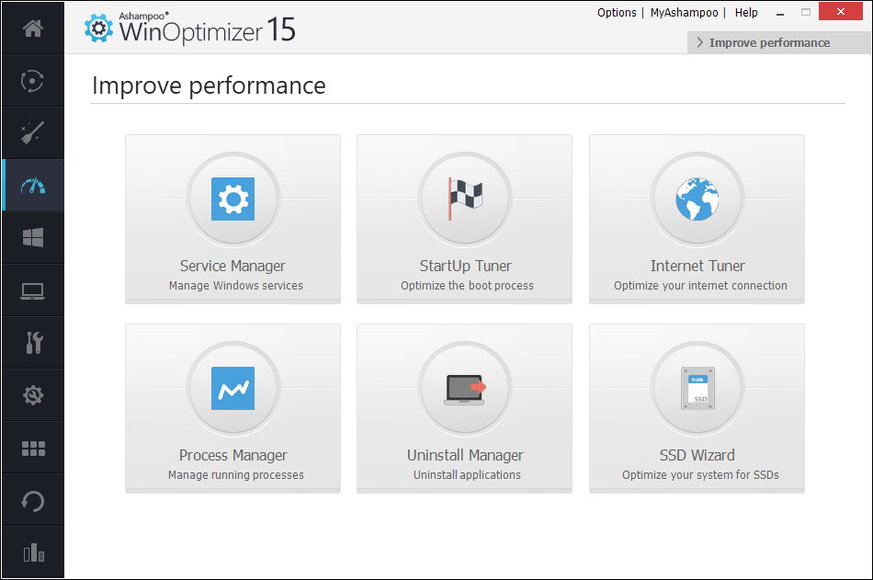 You can Tune-up your system's performance with this free powerful software app – Ashampo WniOptimizer. It is an efficient windows PC optimizer and comes at not cost at all.
The latest version of this software released this year comes with a lot of useful functions that will boost your PC Performance to its maximum.
More Features includes;
Internet Cleaner
Registry Optimizer
Drive Cleaner
One-Click Optimizer
AntiSpy module
4. Glary Utilities 5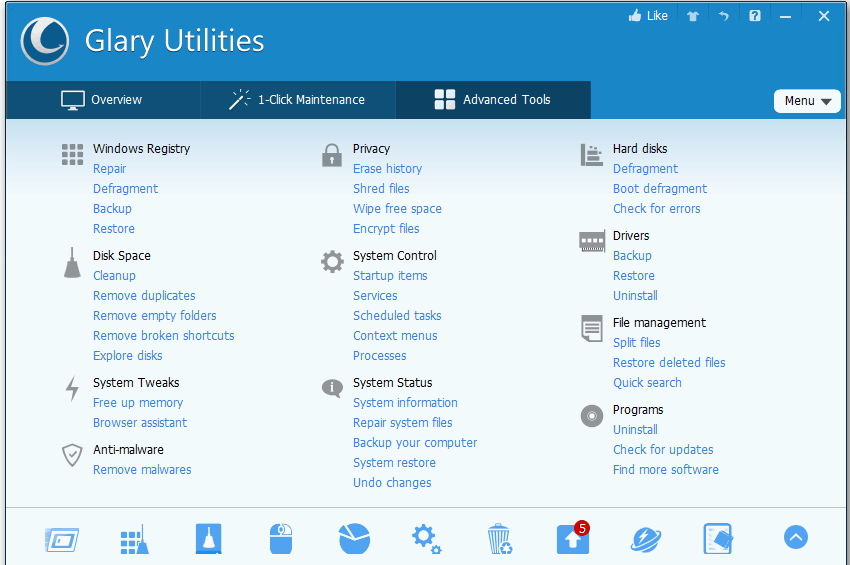 Here comes a super-premium, yet free PC optimizer. Glary Utilities PC optimizer comes with over 20 built-in PC optimization tools to clean up and boost your PC performance.
Glary Utilities PC optimizer goes down to the root of every folder on your PC, analyzes them, and come up with the possible issues why your PC is behaving sluggishly so you can fix/correct them.
More Features Includes:-
Fast and intuitive
Works on Windows 7/8/8.1/10
20+ PC Optimization tools
5. WinUtilities Free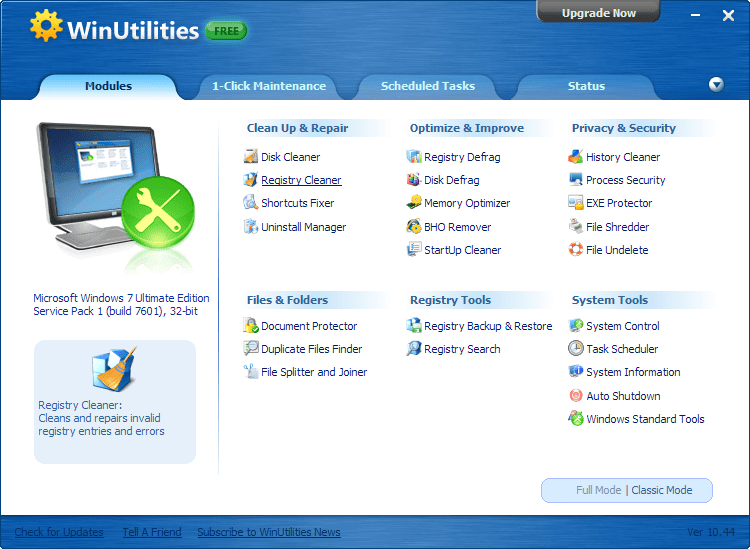 WinUtilities PC optimization tool lets you: Backup Drivers, lock .exe programmes, clean disks, Clean/Repair Registry, auto click mouse, encrypt files and many more lovely functions.
It prevents lagging, slow performance, and all the annoying registry error messages. WinUtilities works on all windows PC with version 7/8/8.1/10, and it is 100% free. Now you can make your computer perform faster and also save more hard disk drive space with this lite PC Optimization software.
More features include:-
Optimize, repair, tweak, clean up and speed up your computer.
Backup Drivers
Recover Deleted Files
Creates PC WiFi Internet Hotspot
Resource Extractor
6. iObit Advanced SystemCare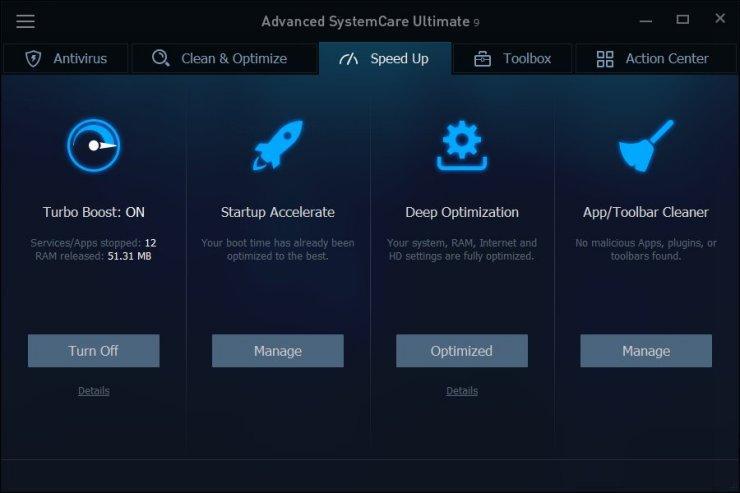 iObit SystemCare PC Optimization software fires up your PC's performance, speed and response rate. It packs lots of exciting tools and would improve the performance of slower PCs.
Features of iObit PC Optimizer
Enjoy swift and faster internet surfing.
Protects and monitors your PC activities full time.
Fix bugs, cleans the registry, and do perform other optimization functions.
8. Advanced System Optimizer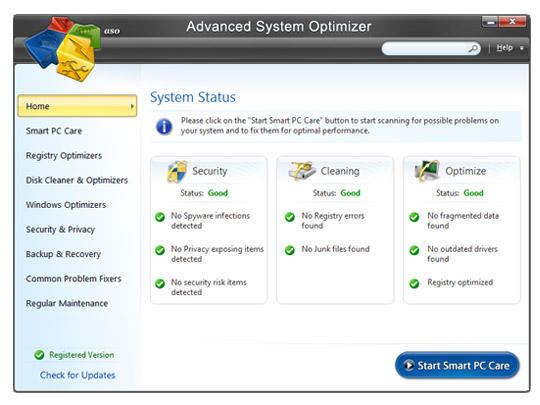 Advanced System Optimizer is a powerful PC optimization software that's available for free and is compatible with PC's running on Windows 10/8.1/8/7/Vista and XP service pack 3. It comes with lots of performance-tweaking tools like:
Customizes the look of your Windows PC
Efficient PC optimization
Locates and fixes any bug or problematic files
9. SlimCleaner Free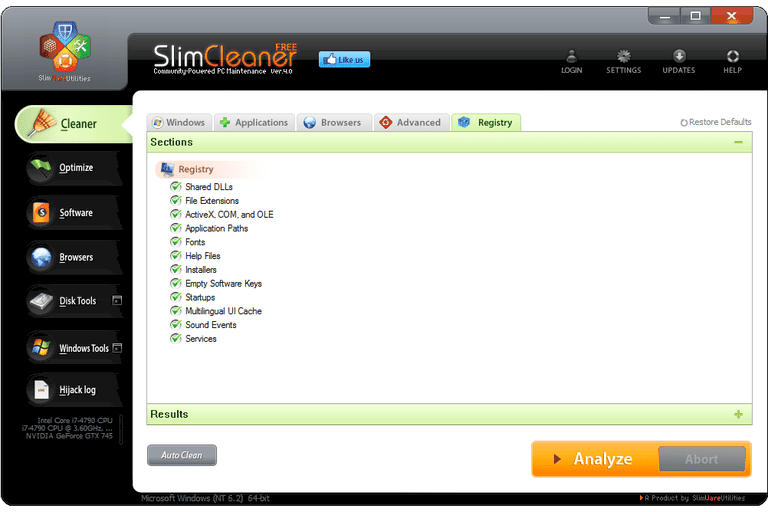 This system optimizer ensures your PC is up and doing at all times. It is a free PC optimizer with lots of cool features. SlimCleaner will super-clean your registry files, clear out all junk files, and do other PC improvement functions that will boost the overall performance of your computer.
Features
Restores your computer's stability
Compatible with Windows 7/8/8.1/10
Frees up space by removing bulky junks
10. The PC Decrapifier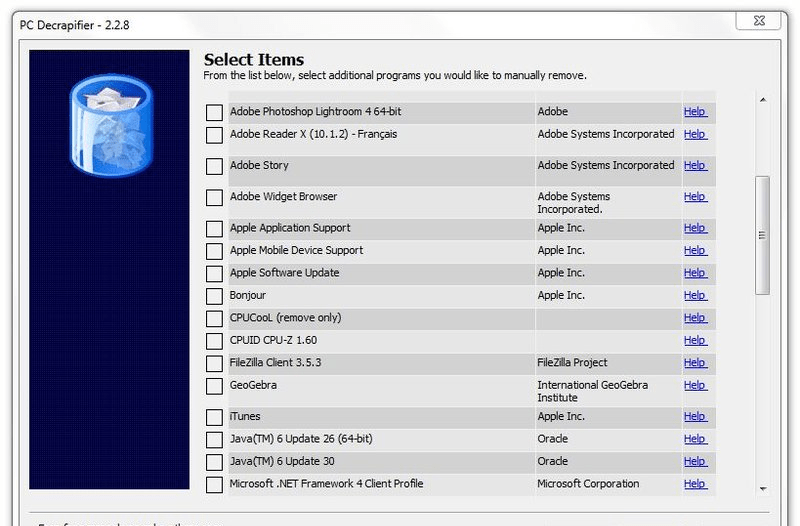 This is another good, and free PC  Optimization software. PC Decrapifier will boost your PC's performance and cause it to perform at its fastest speed. It is easy to use and works on Windows 7/8/8.1/10.
Features
Easy to use.
Tweaks your PC startup time.
Removes junk from PC registry
11. AVG PC TuneUp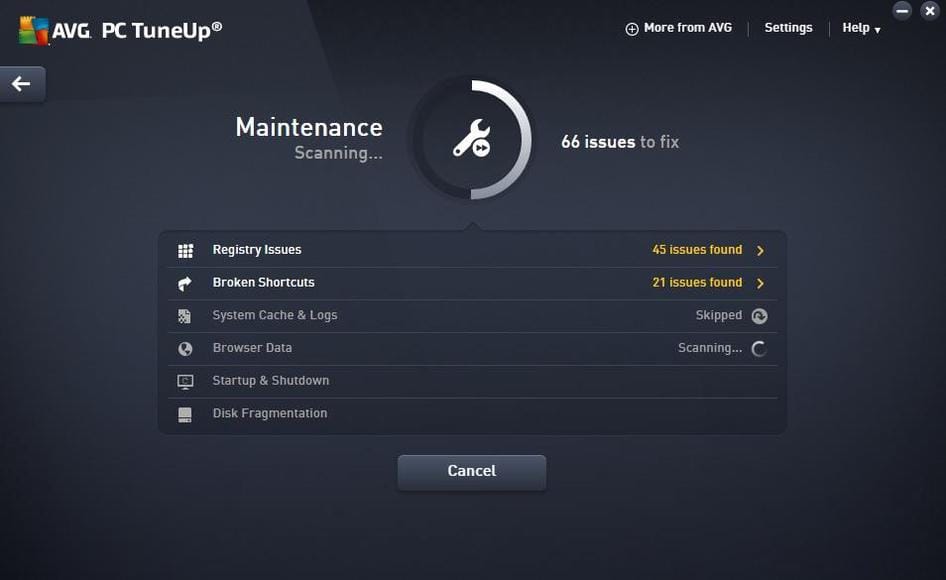 AVG PC TuneUp is an essential PC Maintenance software. It works thoroughly on your computer to bring out its best. The software app is a great choice for users who are looking out for a free, efficient PC optimizer.
Features
Easy and reliable
Cleans your mobile devices
Has a version for Mac and Android
12. SmartPC Booster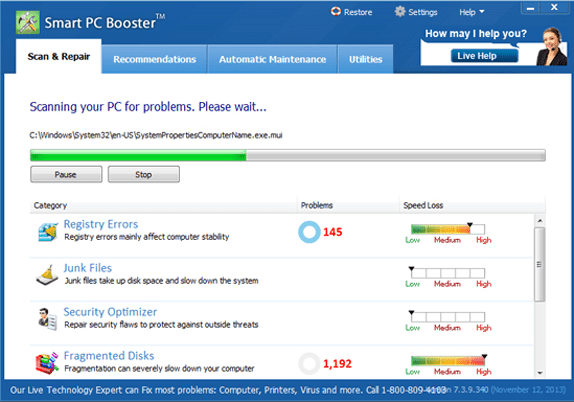 Like the name sounds – SmartPC Booster, is a smart PC Optimization software with lots of tools to tweak your computer and boost the overall performance.
Features
Expert cleaning
Deep Registry cleaning
13. 1-Click PC Tuneup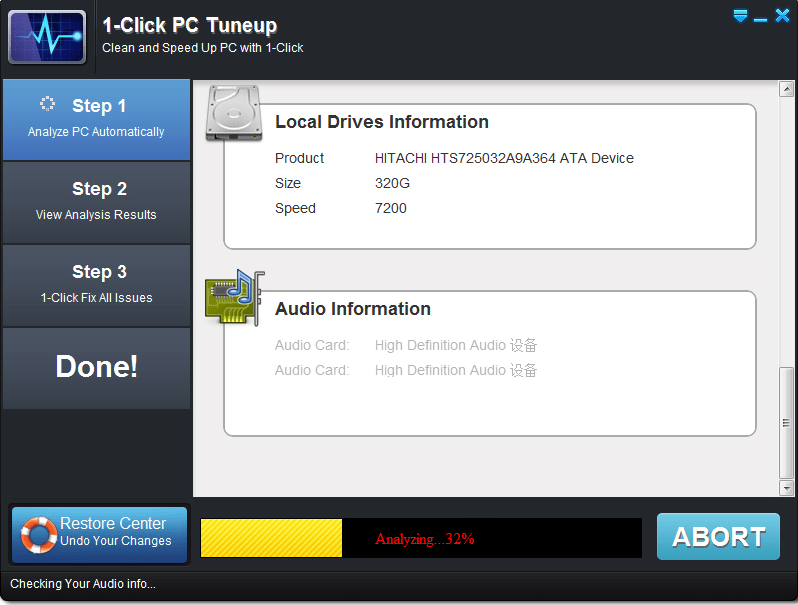 Wondershare 1-Click PC Tuneup is a superior PC optimizer that'd help Fix sluggish PCs. Just like other utility tools from Wondershare Inc., it works as should and helps make sluggish machines faster.
Features
Prevents your PC from malicious attacks
Boosts your PC performance
Comes with a built-in antivirus
Prevents Computer Freezing & Crashes
Comes with a good Internet security
Download
14. Anvisoft Cloud System Booster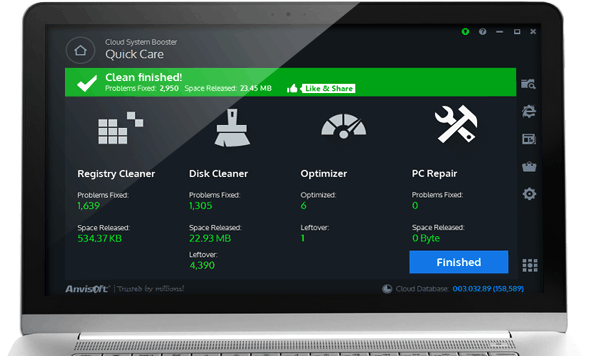 This free PC optimizer will treat every aspect of your computer and cause it to operate and process data faster and speedily. ACSB works on most Windows PC and packs lots of functional tools.
Features
PC repair
Mini booster
Startup Booster
Download
15. Comodo PC Tuneup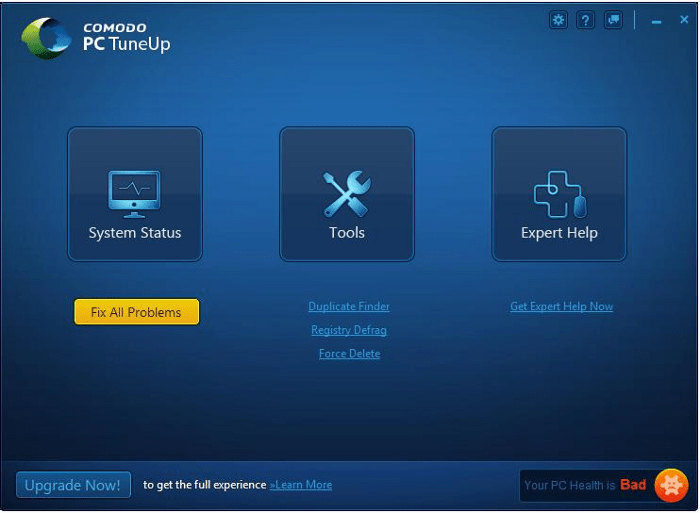 Comodo PC Tuneup is a good PC optimization software. It is free to download and free to use. The software is capable of fixing your PC, so it works faster and processes information at a great speed.
Features
Disk junk cleaner
Registry cleaner
Speeds up startup and shutdown processes.
Wrap Up
These are my pick for the top best free PC Optimization tools for all PC types. You can choose the one to use for boosting your PC performance. Their premium versions go for a fee once their trial version is expired. Feel free to list other PC optimizers you've used in the past.