In today's world of supercomputers, no one loves a slow PC. If your PC takes a long time to respond and carry out a simple task, then it needs to be optimized. Optimizing your PC is no longer a tedious task, as there are many computer optimizer software apps to help out and today we'll be listing the best free PC Optimizers for all use cases.
So you won't be breaking your pocket to get your PC optimized adequately for better performance. This guide is created to help you pick a good, reliable, and performance-oriented PC optimizer that would work effectively.
The slowness in the performance of a computer may be caused by invalid registry entries, malware attacks, an over-used hard disk drive, or when many apps are running in the background.
Although Windows-powered PCs comes with some preinstalled system maintenance tools, these free apps will do a better job and ensure that your PC handles tasks faster than before.
The Best Free PC Optimization Tools for You
Most PC Optimization apps featured here are free to use, while some are freemium tools that expire after a period of 15 (or 30) days free trial period. Whichever way; they'll help you optimize your slow PCs for faster response, quick task handling, and better overall performance.
1. System Mechanic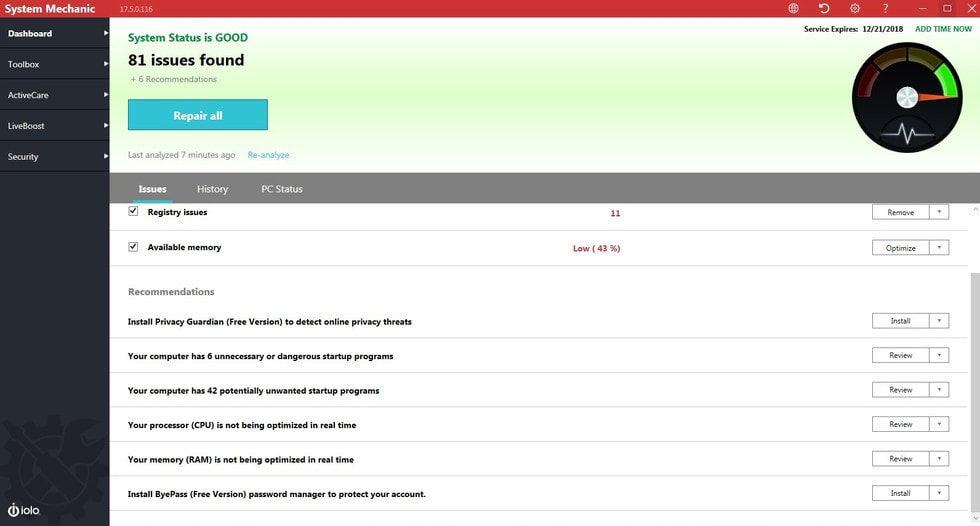 System Mechanic is a popular PC optimizer. Like the name sounds "Mechanic", this app goes deep into your PC files and folders to locate the bloatware/unused registry files that could be the reason your PC is performing sluggishly and gets them cleaned/optimized.
It further optimizes hidden Windows Internet settings so you can enjoy fast and smooth internet surfing.
More features include:-
Boosts PC speed
Cleans out clutter
Repair/fix your PC problems
Removes Bloatware
Ensures speedy and smooth internet experience
[Download]
2. CCleaner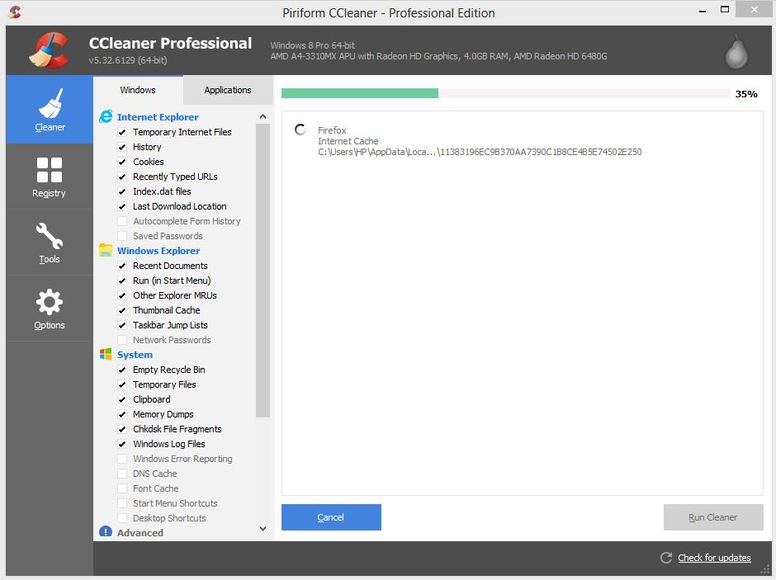 CCleaner is a professional software-app used by many PC users to optimize their desktops, laptops, and Chromebooks for better performance. It is developed by Piriform, a renowned PC software manufacturer.
CCleaner comes with lots of optimization tools that will help improve your PC performance rate. It also comes with other essential features that let you perform other necessary tweaks to improve your PC startup process.
More feature includes;
Faster computing
Quicker startup process
Ensures safe internet browsing
[Download]
3. Defencebyte Computer Optimizer

The world of computer optimization goes wonders for improving performance. Systems overtime take the upgrade but still need regular checks to ensure the best functions. The best system always stands still to the need for change with time. 
Defencebyte computer optimizer is one such PC software that works to raise enactment and offer perfection. It extends an ideal environment for the PC user and guarantees zero hindrance. It boosts performance with ease and ensures perfection at every step. With hassle-free functioning and constancy, it is the best any user could wish for working!
PC optimizer – All about it and its perks!
New technologies dive into the tech field now and then. Purchasing new devices is not a solution to keep things working. An optimizer comes with the role of molding system performance and boosting its functions. It aids the computer to work efficiently at an equivalent or lesser computer resources.
It comes with a specialization to take different roles according to the need of the hour. It can multitask!
It eliminates the need to check for threats or harmful files and links that damage the PC.
An optimizer is the sole means to lift without altering the structure or hardware of the PC one owns.
It is the key to an efficient technological asset. It helps in boosting performance at its best.
It can help focus on primary problems and handle minor issues and faults with repairs.
What does the Optimizer serve?
Defencebyte computer optimizer is all one needs for flawless PC performance. Learn the best of what it offers and ensure it delivers the best in its capabilities. The best software serves:
Removing unnecessary threats
To identify and eliminate unwanted URLs for safety and security. Let it be the blocker of issues and troubles that harm the computer in every way possible. It comes with the power of blocking!
Smart capabilities for replacements
To look up and care for the hardware parts of the computer. It can detect and check if any of the components need a replacement. It eliminates the need to open up the PC for inspection.
Uplifting system mood and work
To lift the system performance from every possible angle. Defencebyte computer optimizer increases the chance of quick startups and improves the work and CPU usage at every step.
Routine scans for security
Schedule regular scans and reviews to ensure the PC is safe and away from harm. It offers cleaning the computer periodically for improvement. With a set routine of checks, one can work peacefully!
Registry keys and entries
To empty the registry key and avoid erasing unwanted entries. It is smart enough to identify, detect and ensure the removal of files and programs that may be a threat to the computer.
Safety and protection
It increases security and privacy from a 360-degree angle for the PC. It offers to remove the paths and lessens the chances of tracking as a whole. An optimizer is all one needs for perfect functioning!
A computer optimizer is a multitasking software. Above all, it is a necessity that makes life smoother!
Defencebyte – Reasons to choose them as a partner!
Defencebyte computer optimizer can be the perfect pair to boost your PC performance. The following makes Defencebyte the best choice for your computer optimization needs:
Requirements: It brings you the best software with minimum desktop requirements. It is sure to fit all the systems without a second thought for hardware. With minimal demands, every PC is sure to accommodate it with perfection!
Space: In the digital world of memories and work, making space on a computer is challenging. We offer a companion that takes less space. All it needs is a minimum disc space of 500 MB. Make a little space, and there you have – a system that outwits all!
Cost: Their product prices are reasonable and worth the expense. They offer one of the best computer optimizer without burning holes in your pocket. With our efficient technological updates and mesmerizing features, your pennies are worth the spend!
Features: Benefits of the software are what drags a buyer towards it. They bring trending features of an optimizer and upgrade it from time to time. With them, you are sure to have the latest version of all the choices in the market!
Team: They come with an excellent team and service to ensure you have all you need. They tends to listen to customers and ensure they have the best expert for guidance. Defencebyte computer optimizer is the yield of expert and dedicated brains!
Trial: We do not extend our product for a purchase before you experience it. We offer a free demo to ensure you love the performance and features. It helps us gain your trust and lets you know that our product is what you seek!
Customer care: We take no risks or err when caring for our customers. We are 24 x 7 available to ensure client comfort and to listen to their queries and grievances. Your happiness and delight is our objective, and we stand to give you all!
Satisfaction: A product with excellence without a happy customer is nothing. We focus our services on ultimate client satisfaction. Defencebyte computer optimizer is sure to ensure the best delight for anyone who picks it for optimization.
Guarantee:  An assurance from our end means a lot, especially if you are new to our family. We build our products with knowledge and professionalism. We take responsibility and offer a warranty for every purchase. We always have your back!
Choosing the best service for computer performance can be overwhelming. The market is full of providers, but a few shine to the top. With the best providers like Defencebyte, one can rest assured and rely on them for performance and upliftment. It is a hope that offers perfection in systems and prepares it for the upcoming styles and trends. PC optimization takes you to another level of working and seamless performance. With Defencebyte computer optimizer in hand, your computer is sure to clean to its best!
[Download]
4. Ashampoo WinOptimizer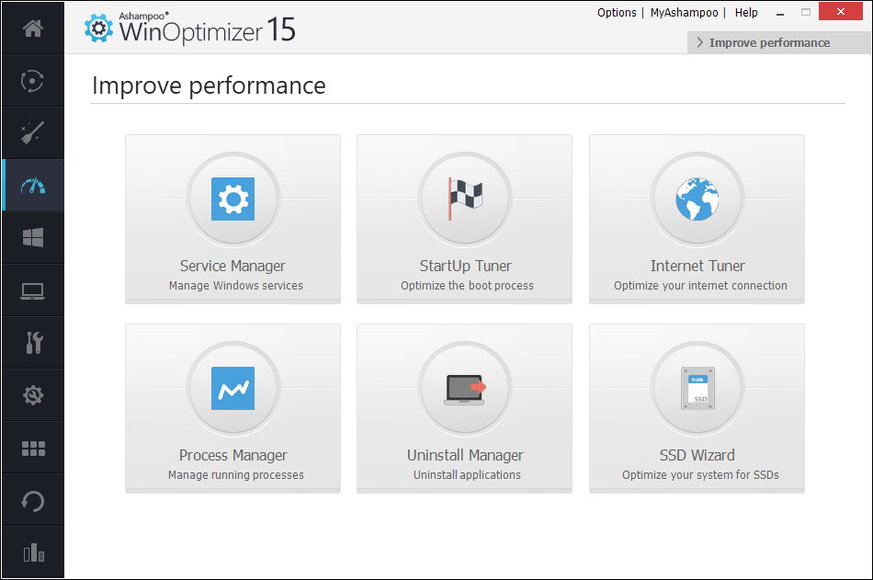 You can Tune-up your system's performance with this free powerful software app – Ashampo WniOptimizer. It is an efficient windows PC optimizer and comes at not cost at all.
The latest version of this software released this year comes with a lot of useful functions that will boost your PC Performance to its maximum.
More Features include;
Internet Cleaner
Registry Optimizer
Drive Cleaner
One-Click Optimizer
AntiSpy module
[Download]
5. Glary Utilities 5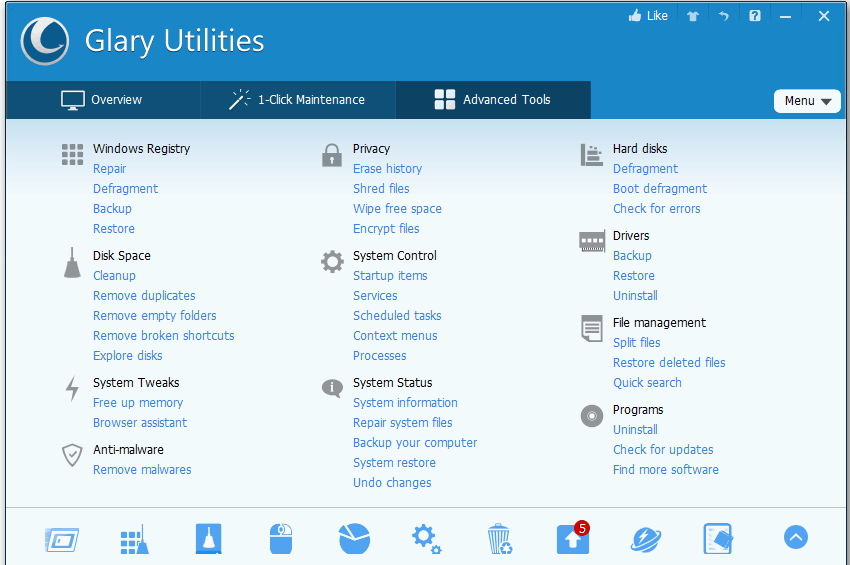 Here comes a super-premium, yet free PC optimizer. Glary Utilities PC optimizer comes with over 20 built-in PC optimization tools to clean up and boost your PC performance.
Glary Utilities PC optimizer goes down to the root of every folder on your PC, analyzes them, and comes up with the possible issues why your PC is behaving sluggishly so you can fix/correct them.
More Features Includes:-
Fast and intuitive
Works on Windows 7/8/8.1/10
20+ PC Optimization tools
[Download]
6. WinUtilities Free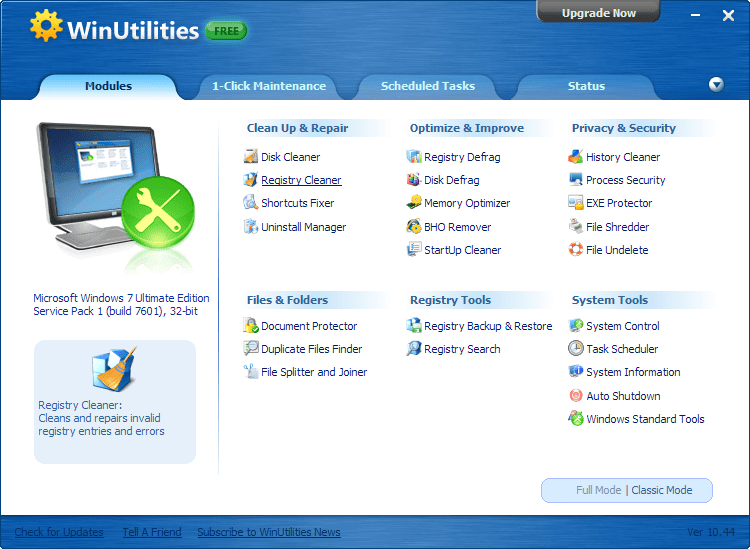 WinUtilities PC optimization tool lets you: Backup Drivers, lock .exe programs, clean disks, Clean/Repair Registry, auto-click mouse, encrypt files and many more lovely functions.
It prevents lagging, slow performance, and all the annoying registry error messages. WinUtilities works on all windows PC with version 7/8/8.1/10, and it is 100% free. Now you can make your computer perform faster and also save more hard disk drive space with this lite PC Optimization software.
More features include:-
Optimize, repair, tweak, clean up and speed up your computer.
Backup Drivers
Recover Deleted Files
Creates PC WiFi Internet Hotspot
Resource Extractor
[Download]
7. iObit Advanced SystemCare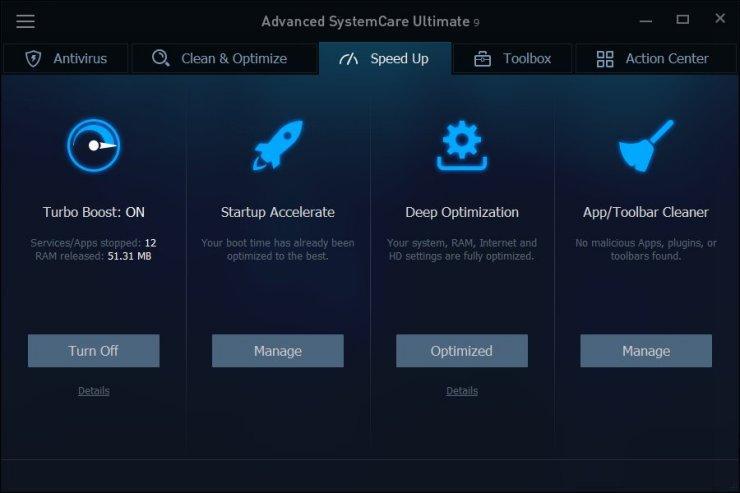 iObit SystemCare PC Optimization software fires up your PC's performance, speed and response rate. It packs lots of exciting tools and would improve the performance of slower PCs.
Features of iObit PC Optimizer
Enjoy swift and faster internet surfing.
Protects and monitors your PC activities full-time.
Fix bugs, cleans the registry, and do perform other optimization functions.
[Download]
8. Advanced System Optimizer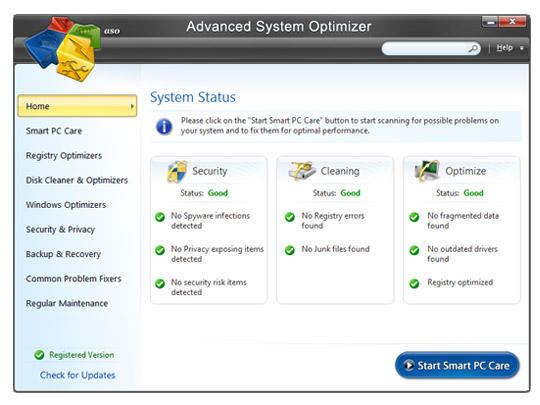 Advanced System Optimizer is a powerful PC optimization software that's available for free and is compatible with PC's running on Windows 10/8.1/8/7/Vista and XP service pack 3. It comes with lots of performance-tweaking tools like:
Customizes the look of your Windows PC
Efficient PC optimization
Locates and fixes any bug or problematic files
[Download]
9. SlimCleaner Free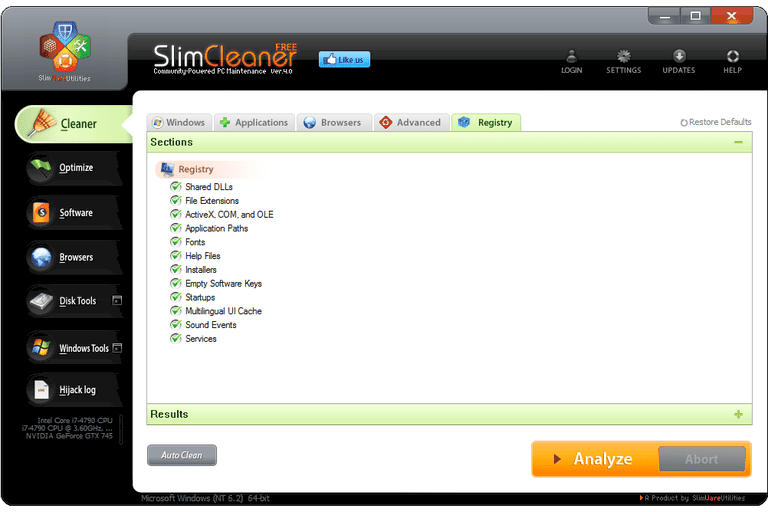 This system optimizer ensures your PC is up and doing at all times. It is a free PC optimizer with lots of cool features. SlimCleaner will super-clean your registry files, clear out all junk files, and do other PC improvement functions that will boost the overall performance of your computer.
Features
Restores your computer's stability
Compatible with Windows 7/8/8.1/10
Frees up space by removing bulky junks
[Download]
10. The PC Decrapifier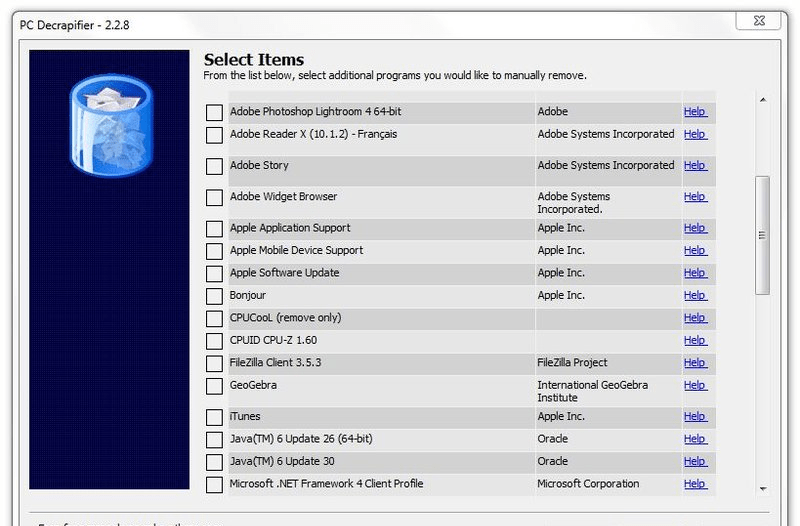 This is another good, and free PC  Optimization software. PC Decrapifier will boost your PC's performance and cause it to perform at its fastest speed. It is easy to use and works on Windows 7/8/8.1/10.
Features
Easy to use.
Tweaks your PC startup time.
Removes junk from the PC registry
[Download]
11. AVG PC TuneUp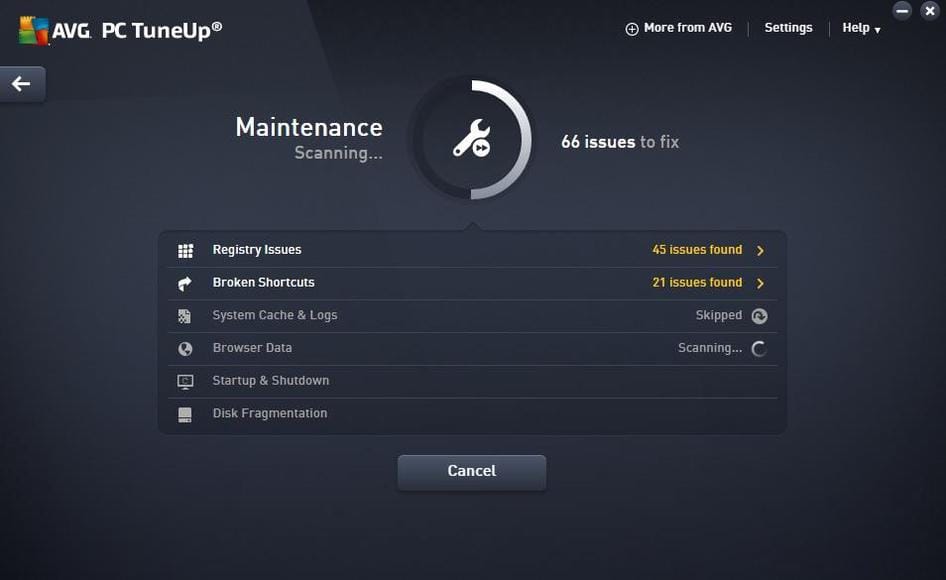 AVG PC TuneUp is an essential PC Maintenance software. It works thoroughly on your computer to bring out its best. The software app is a great choice for users who are looking out for a free, efficient PC optimizer.
Features
Easy and reliable
Cleans your mobile devices
Has a version for Mac and Android
[Download]
12. SmartPC Booster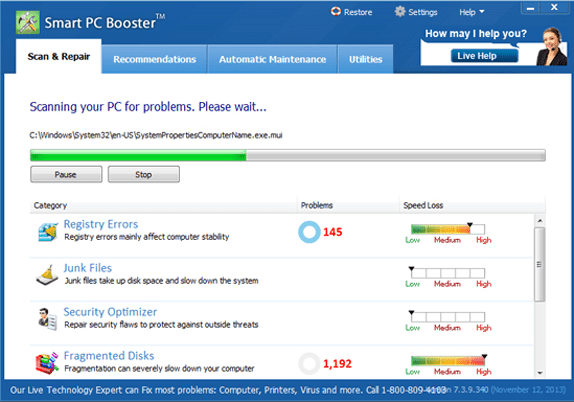 Like the name sounds – SmartPC Booster, is a smart PC Optimization software with lots of tools to tweak your computer and boost the overall performance.
Features
Expert cleaning
Deep Registry cleaning
13. 1-Click PC Tuneup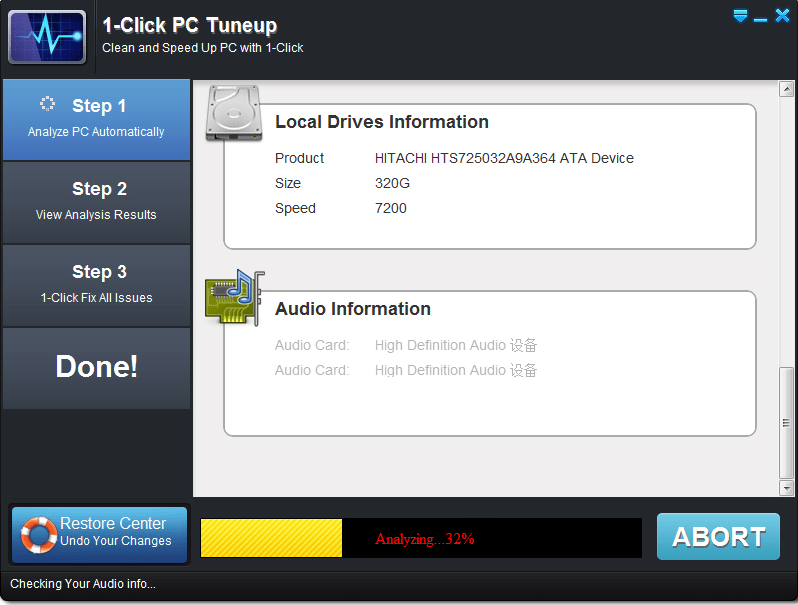 Wondershare 1-Click PC Tuneup is a superior PC optimizer that'd help Fix sluggish PCs. Just like other utility tools from Wondershare Inc., it works as should and helps make sluggish machines faster.
Features
Prevents your PC from malicious attacks
Boosts your PC performance
Comes with a built-in antivirus
Prevents Computer Freezing & Crashes
Comes with a good Internet security
14. Anvisoft Cloud System Booster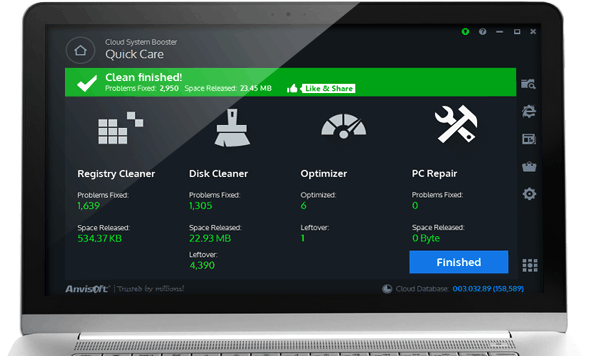 This free PC optimizer will treat every aspect of your computer and cause it to operate and process data faster and speedily. ACSB works on most Windows PC and packs lots of functional tools.
Features
PC repair
Mini booster
Startup Booster
15. Comodo PC Tuneup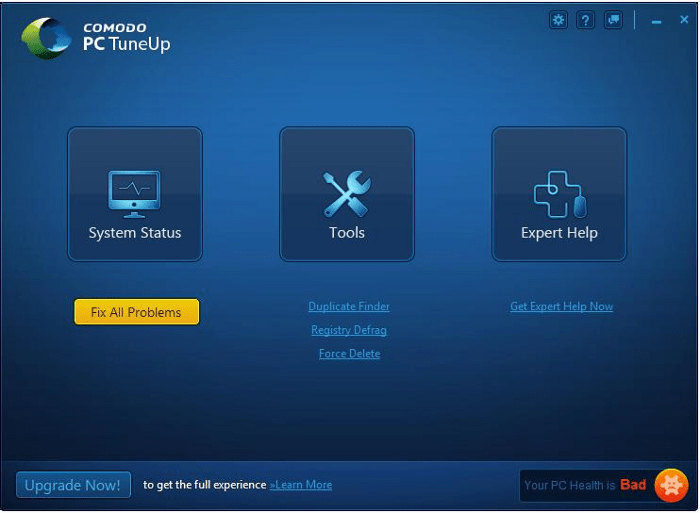 Comodo PC Tuneup is a good PC optimization software. It is free to download and free to use. The software is capable of fixing your PC, so it works faster and processes information at an incredible speed.
Features
Disk junk cleaner
Registry cleaner
Speeds up startup and shutdown processes.
Wrap Up
These are my pick for the top best free PC Optimization tools for all PC types. You can choose the one to use for boosting your PC performance. Their premium versions go for a fee once their trial version is expired. Feel free to list other PC optimizers you've used in the past.